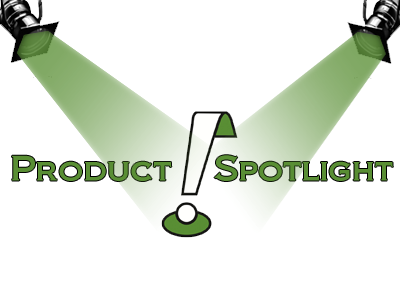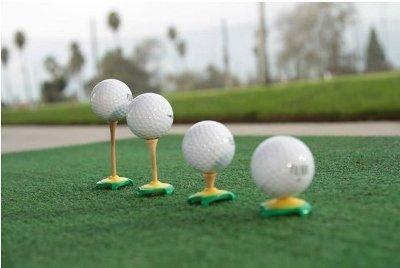 Seeking to eliminate the need for annoying and ill-performing rubber tees, Tee Claw is a solution for those players forced to practice off mats. It provides a stable platform to use standard tees when grass isn't available for practice sessions.
The Tee Claw Concept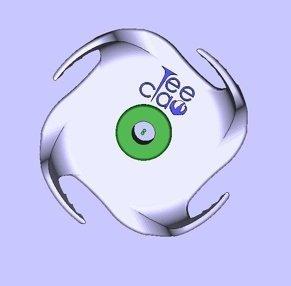 The Tee Claw concept was borne from a desire to play better golf from synthetic turf surfaces. This is where the Tee Claw is revolutionary because now, golfers can use any sized tee from anywhere on a synthetic mat, replacing the old fixed-position rubber tube. The elastic lanyard brings additional value as it provides golfers with a visual aid for correct swing path and foot alignment, replacing bulky alignment rods. The Tee Claw delivers an easy, consistent, and realistic transition from practice sessions to the links for golfers of all levels like never before.
The Tee Claw replaces flimsy rubber tubes that slow club speed, cause mishits and unwanted side-spin. The Tee Claw is designed to fasten into a synthetic mat with a clock-wise turn. The Tee Claw accepts real golf tees wood or plastic and even broken tees for desired tee heights. The product is available in multiple color ways and is printable for logo design making it the most convenient and diverse golf tee on the market.
The Tee Claw Design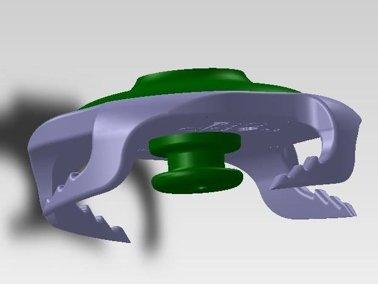 The Tee Claw disk platform is approximately 1 inch in diameter and ½ inch thick. It is constructed of both Poly Vinyl Chloride (PVC) and rubber and is equipped with four ¼-inch long PVC claws. The disk platform can be placed anywhere onto the synthetic turf mat surface and requires a 180 degree clockwise rotation "twist" to fasten and a counterclockwise twist to unfasten. The selected rubber or wood golf tee is inserted directly into the patented "CLAW" disk platform. The Tee Claw design provides a stable and level plane to strike the golf ball.
The Tee Claw Benefits
Hit from a synthetic turf mat with increased predictability providing the player more confidence at address.

Eliminates the laborious effort required to lift heavy and often water soaked mats to position a tee.

Provides the freedom for tee placement anywhere on the mat convenient for right and left-handed golfers alike

Reusable and cost efficient.

Golf course-groundskeeper friendly because it will keep golfers hitting from the synthetic turf mat surface and not from surrounding grass covered areas.

Makes playing golf more accessible to everyone and increases business for golf courses featuring synthetic turf mats.

Desirable and advantageous tool for golf instructors and indoor virtual-golf-training aid owners.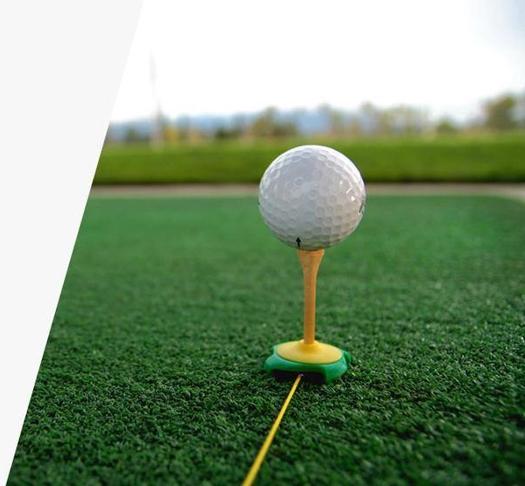 It should be noted that the Tee Claw is designed for and works best on mat surfaces that have at least some grass texture to them. Certain mats are truly just impenetrable and flat and they likely won't give the needed space for the claws to grab in to. Luckily, as time goes on it seems that more and more facilities are utilizing mats that will accommodate the product quite well.
Some will undoubtedly ask if this is yet another gimmick, but testing and experience has shown that Tee Claw is a valuable accessory to have in the bag. Early and late season golfers in cooler climates undoubtedly know the pain of having to use rubber tees, which (if they aren't damaged to begin with) are rarely the height desired for effective driver practice. In addition, practicing with fairway woods, hybrids, or irons off a tee is all but impossible with rubber tees. Tee Claw will allow the user to insert tee of varying sizes and to varying depths.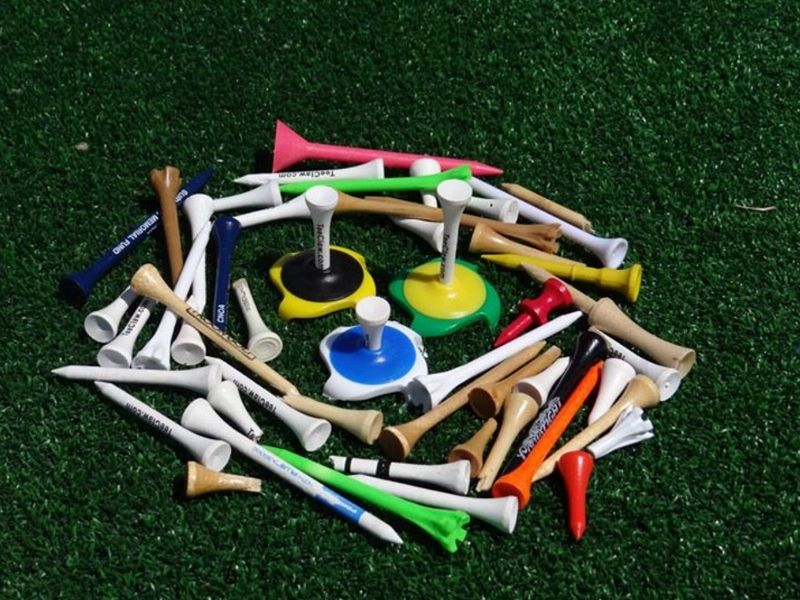 The Tee Claw package comes with three Tee Claws and four lanyards for $14.95. The lanyards are a welcome addition, as they give an anchor that prevents the claws from flying off into space. Also, they can be positioned in various spots on the mat to help practice alignment and aim. Testing showed better than expected durability with both the Tee Claw and lanyards, with no breakage. Sometimes it's the little things that help us practice more often and more effectively and the Tee Claw seems to fit that bill for the unfortunate among us that are bound to mats.
More information on Tee Claw can be found on the company's website, www.teeclaw.com.