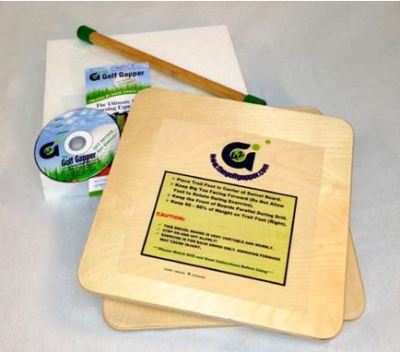 Dr. Jenni Martin, an LPGA teaching professional, has designed a training program called The Ground Force Trainer to help golfers learn to properly load their weight on the backswing. The program features use of a very unique device, Ground Force Training Discs, which she guarantees will increase a player's driving distance 5 to 15 yards in four weeks.
Included in the package are the Ground Force Training Discs, a lead leg foam support pad, the Power Pole, an instructional manual and DVD, and a carrying case. Retail price of the entire system is $119, and as mentioned, it comes with a guarantee.
The centerpiece of the Ground Force Trainer is the Ground Force Discs device, which is essentially two heavy duty square-shaped boards attached together with a rotating set of ball bearings. The top board rotates independently of the bottom board.
After reviewing the instructions and DVD carefully, it appeared use of the device was quite simple. The user simply assumes a golf stance, places his lead foot on the foam pad and his trailing foot on the Training Discs. From here, the user mimics a very slow backswing shoulder rotation while holding the Power Pole (basically a wooden dowel) like it is a golf club. The goal is to avoid any movement of the very unstable discs that the trailing foot stands on during the backswing, which will force a great deal of weight into the instep. It is important to keep the lead arm straight and to not to let the weight shift to the lead foot to ensure proper loading.  Martin recommends holding this position for five seconds a total of ten times each day.
It is important to note that to avoid injury, great caution should be taken while performing this exercise and a downswing should never be attempted.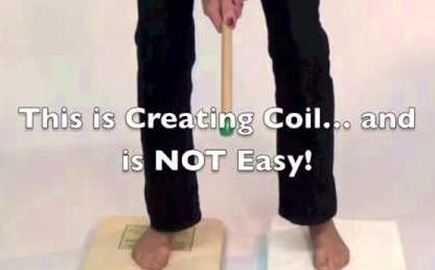 Testing showed the Ground Force Trainer was very effective in not only teaching the feeling of proper coil, but also the feeling of engaging the stabilizing muscles in the trailing leg that prevent golfers from over-swinging or swaying on the backswing. This actually came in quite useful, as both are issues this tester is currently working on. As for a cost-versus-benefit ratio, the price tag of $119 certainly causes a pause to consider lower cost options that could provide similar benefit. Still, the program does appear to deliver very well in terms of providing immediate feedback, as the top disc will quickly swivel without proper form.
According to Dr. Martin, "You have to see it, feel it and understand it in order to make meaningful, lasting improvement in the game of golf." The Ground Force Trainer certainly allowed not only an easy way to feel a proper coil, but also a decent understanding of the muscles that are engaged in the process. More information, including ordering instructions for The Ground Force Trainer, can be found on Martin's website, www.thegolfgapper.com.