INTRODUCTION
If you are a fan of golf on Tour, golf equipment, or club building, you are more than likely aware that Project X graphite shafts are common, successful, and even more so, noticeable in use. What you may not know is that Project X graphite shafts have recently experienced over 20 world-wide professional victories, two of which were Major Championships. With a resume that speaks for itself True Temper is back with an addition to the Project X family that breaks the mold and basis of previous models, not only technologically, but especially aesthetically.
With an introduction at the PGA Show held in Orlando, FL, True Temper unveiled the Project X Black graphite shaft and THP was fortunate enough to get this interview for our forum readers:
TECHNOLOGY
My first thought when learning I was going to be receiving the Project X Black for review was, "what are they going to do to improve their predecessor?" Sometimes I think that when you have something that works, and evidently works well based on the success we have seen from Project X on Tour, it can be risky completely over hauling the product. What True Temper has done is quite simply removing weight in order to help golfers of all skill levels increase speed. An increase in speed simply translates to more ball speed and more overall distance.
From True Temper:
The new Project X Black features reduced weight from the original Project X graphite for explosive power while preserving critical tip stability and low spin performance. Featuring proprietary Dual Torsional Control, Projext X Black reduces spin rates at impact for optimized peak trajectory with flatter descent angles for maximum carry and roll.
Well color me intrigued! I love the idea of a light weight shaft that offers low spin performance, yet helps me achieve maximum carry distance and roll. Initially, I was suspicious. How could True Temper make these claims? These claims almost seem like an oxymoron: low spin performance that maximizes carry and roll distance? In order to achieve this True Temper incorporated two critical components: TeXtreme and Dual Torsional Control.
1. TeXtreme: This is a revolutionary composite material that allowed True Temper engineers to eliminate weight compared to the original Project X design while maintaining the low torque, low spin properties that established Project X as the standard for all high-performance composite shafts.
2. Dual Torsional Control: DTC utilizes TeXtreme fibers oriented at 45-degrees on the outermost layers of the shaft and Super High Modulus axial plies inside to reduce dynamic shaft twisting by as much as 25% compared to traditional designs. As a result, Project X Black features unmatched torsional integrity and is the most stable lightweight composite shaft ever created.
Umm, True Temper had me at "most stable lightweight composite shaft ever created." One last thing I want to leave you guys with as far as how technologically wicked the Project X Black shaft is, and this also comes directly from True Temper:
The Project X Black has the same launch conditions as the original Project X Blue shafts. The TeXtreme material allows us to build a shaft that is 10% lighter than its predecessor but maintain the same play-ability and performance
characteristics. In our player testing 75% of respondents found the Project X Black to feel more stable than the Project X Blue even though it is lighter.

LOOKS
By now many of you know that I am a meat and potato's kind of guy when it comes to colors, styles, and aesthetics. My favorite color is black. It's mean without being aggressive or offensive. It's sleek and clean, and does a good job of not drawing attention to itself. If I were in charge of designing the finished product for True Temper for the Project X Black shaft, I would come up with exactly what they did themselves. I don't know if this makes me a genius in the design department or if someone at True Temper shares similar sentiments to someone like me. Either way, this shaft absolutely appeals to everything I want when it comes to physical appearance.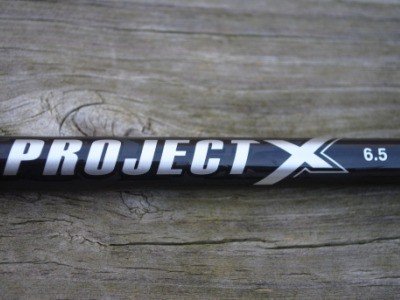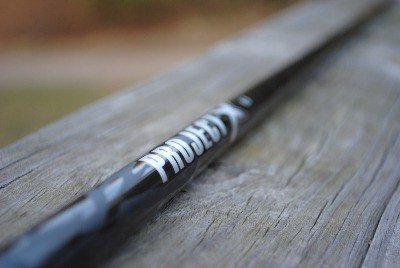 As you can see, this simplistic approach is something that is synonymous with Project X graphite shafts, but personally, I much prefer the Black base color. The black base color is what I would call "jet black". The "PROJECT X" script is almost a matte silver and it really pops in contrast to the base color, without being really bright and attention seeking. What really allows this shaft to absolutely shine for me in the looks department is the exceedingly intricate designs that weave amongst the base color black and the "PROJECT X" script. It's hardly noticeable unless you catch it from the right angle but for me, it adds a layer of cool to the shaft design. I would best describe it as a tribal design and perhaps you can get a sense of what I am referring to in the following photos: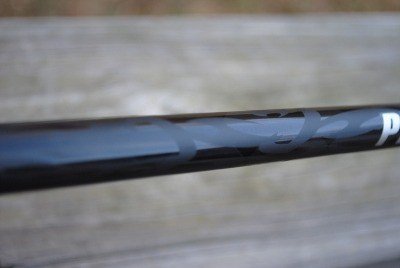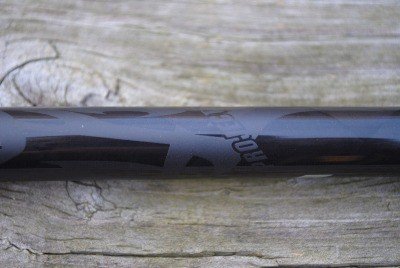 Without a doubt the Project X Black graphite shaft looks like it means business, but looks have little to do with performance so let's get down to how this shaft performed for me.
TESTING
True Temper was kind enough to send THP a Project X Black shaft with a 6.5 flex. The Project X Black 6.5 shaft comes uncut at 46'', has a .335 tip diameter and weighs 60grams. All of my testing occurred in a Taylormade R9 460 (9.5*), with a Golf Pride Tour Velvet grip, and at a length of 45.5''. My testing took place over the course of 6 rounds of golf and around 4 range sessions. What struck me immediately about this shaft was how stable it was through the impact zone. I have been fortunate to test quite a few of True Temper's competitor's shafts in a similar weight range and I would easily rate the Project X Black near the top for stability. For a 6.5 flex shaft to feel so effortless was what really surprised me. I would assume the weight itself plays a major role in this.
One thing I wanted to consciously observe in my experiences was this touted "maximum carry and roll". The truth is, this time of year, it's almost unfair to try to even conduct these observations. Even though we've had a mild Winter most of the courses here have been damp due to morning frosts and the amount of rain received. Roll out was almost nonexistent from this shaft but I believe 99% of that has to do with the conditions. What I can comment on is the carry distance and the Black lives up to the hype. I was seeing a lovely mid/high ball flight that was consistent and became very predictable.
In all honesty, the Project X Black performed so similarly to its Blue predecessors, but what it does not do is fatigue the user. In my opinion that is a massive selling point and highlight of the shaft.
CONCLUSION
True Temper is a spearhead in the shaft industry. They are tour proven and have been represented by Golf's elite. The Project X Black graphite shaft is proof of the direction in which True Temper is heading in the ever evolving shaft industry. I believe that as consumers, we are the ultimate beneficiaries of their progress. If you are looking for additional information concerning True Temper as a company or if you are interested in their products you can access that by visiting www.truetemper.com.
-TC