It wouldn't be a stretch to say that PUMA Golf is growing up more and more by the year. Now, before some go crazy on me for that comment, think about it. When PUMA came on to the golf scene it was on the back (literally) of Rickie Fowler and was a total disruptor of golf fashion, and it worked.  Everywhere you turned you saw bright colors, bright patterns, and bright personality. As time has gone on, Rickie has grown and so too has PUMA, not just in the sense of their professional staff, but in the manner of joining the popular trend of being not just a performance apparel brand, but a lifestyle brand as well.
Bright is still there, that part of PUMA Golf still exists and personally I hope it always does.  However,  wearing dayglow orange to work can be a bit difficult, so the foray we have seen into blending their apparel R&D into looks that can easily blend on the course as well as the workplace is for me a welcome thing.
It is with such things in mind that PUMA Golf is releasing their "FUSIONYARN" lineup of tops, and THP got the "Local Pro" polo in for a closer look.
What is FUSIONYARN?
As a company, PUMA has never been one to rest on development and evolution of material applications in their apparel, nor have they been one to create a technical sounding and catchy name for it. As mentioned, the trend out there now is towards not just being a golf apparel brand, but a lifestyle brand, and it makes sense as it expands a company's audience. Most brands who have blazed that pathway before PUMA have used not only pure performance materials but also possess a line blending the wicking ability of polyester blends with cotton, and FUSIONYARN is Puma's foray into just that.

The idea behind it is blending polyester with cotton in order to capture the best of all worlds. Cotton is always softest, but unless you are a big sweat stain guy then it becomes a no-go in the heat. Polyester wicks the moisture away in the heat, but it lacks that comfort and all-around classic look/feel off the course. So what PUMA has done with FUSIONYARN is to create a blend that works, in their opinion, to wick moisture, dry fast, breath, and keep a soft touch. More specifically, they have created an 85% Polyester and 15% Cotton blend.
The "Local Pro" Polo
For me, this is the prime example of PUMA creating a really grown up design not just in materials as we just discussed, but the overall look. The Local Pro is a clean single pocket polo with a three-button placket on a horizontal striped body. The stripes feature not just three color tones (I received the "Peacoat" version with three different blues), but each color/stripe has its own pattern too.  These patterns are heather, diagonal micro-stripes, and crisscross micro-stripes. The branding is clean with only a single PUMA placed on the upper corner of the pocket.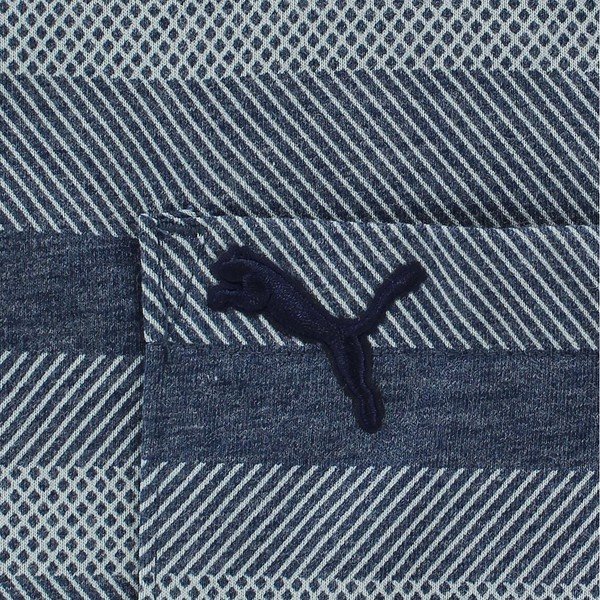 The shirt fits true to size and continues the trend of Puma following a more athletic cut without the euro-style taper. Still though, it maps the contours of the torso well and sits comfortably through the shoulders. Sleeve length is on the modern side without being too short, but thankfully its not getting down into the elbows either. After wearing it on the course I put it through the wash cycle a few times and it maintained quality well, of course, that story can only be told with long term wear and tear.
Parting Thoughts
The "Local Pro" is a winner, plain and simple. I was able to review earlier in the year the EVOKNIT tops and fell in love with them for the course, but they're still a bit technical for the workplace in my opinion. With this FUSIONYARN offering, PUMA has something that with further commitment to, and additional designs for, will stand well against the LinkSoul and Travis Mathew's of the world. Naturally, combo material or not, anything with cotton in it isn't going to breath as well as straight performance material, but on a non-scorched earth weather pattern like the summers here in Oklahoma, the versatility that this line offers is something we haven't seen from PUMA before.
The "Local Pro" is priced at $70.00, which is more than competitive for similarly designed shirts, and is available in Peacoat (blue), and Pomegranate (red/maroon).  For more on the FUSIONYARN line, head over to www.PumaGolf.com.