This week normally ushers in the rite of passage to Spring time and golf season. With the simple phrase "Hello Friends", golf fans everywhere know that azaleas will be seen, pimento cheese sandwiches will be discussed and the beauty of Augusta National will be front and center. This year, that is in a bit of a holding pattern, but that doesn't mean the celebration to the first major of the season shouldn't be introduced.
PUMA Golf is introducing the Experience Collection and it is an instantly recognizable homage to the traditions. Combining elements of the Masters, yet unique enough to be perfect for year round wear, the line has a little something for everybody and can outfit golfers head to toe.
Below is the breakdown of each item offered. Let us know which are your favorites.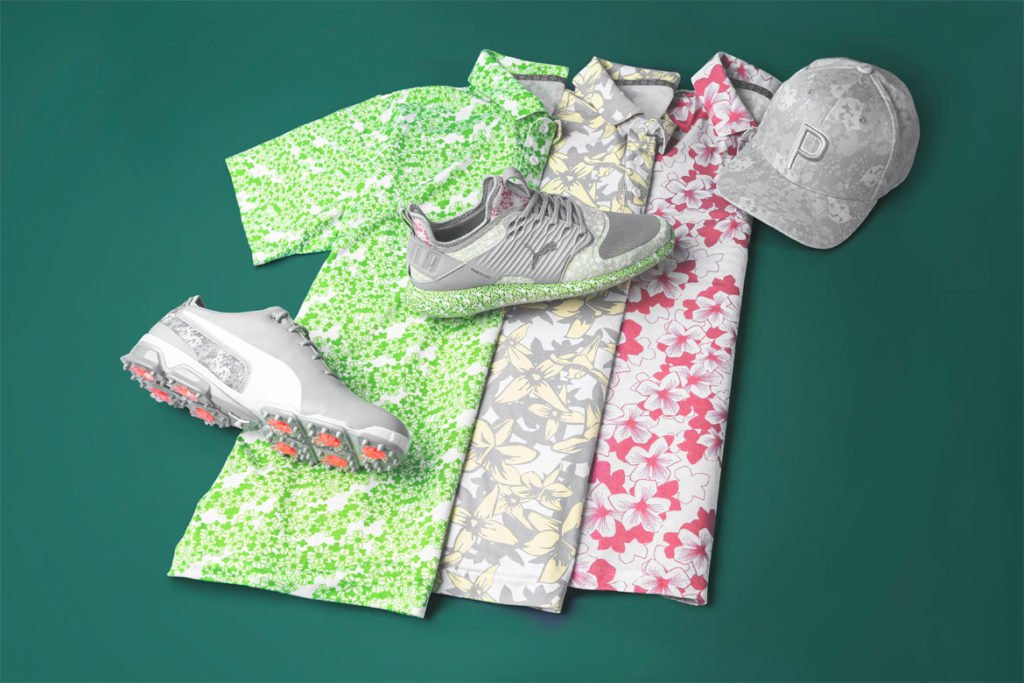 Eleven Polo ($75) – Designed with Puma's FUSIONYARN FLEX fabric blend, this performance polo is inspired by white dogwood flowers that line one of golf's most equally diabolical and picturesque par 4s.
Twelve Polo ($75) – Crafted from PUMA's proprietary FUSIONYARN FLEX fabric, the Twelve polo is inspired by the beautiful "golden bell" flowers surrounding the most iconic par 3 in all of golf.
Thirteen Polo ($75) – PUMA's Thirteen Polo takes its inspiration from the famous azalea flowers that dot the landscape of the 13th hole. Also constructed from the super comfortable, yet performance driven FUSIONYARN FLEX fabric.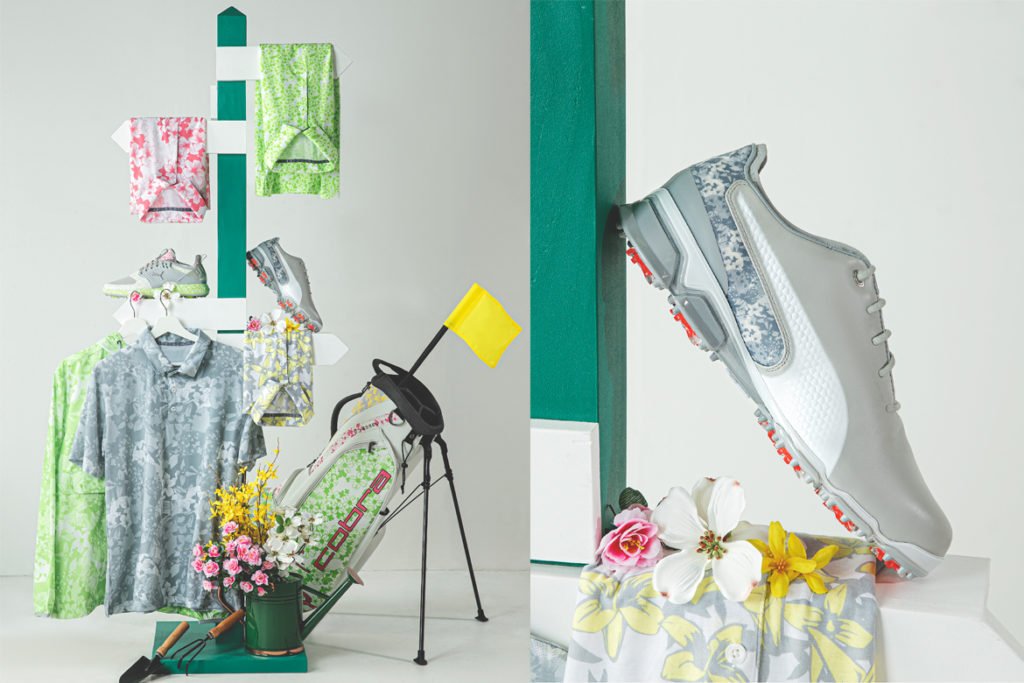 Tournament Polo ($75) – PUMA's Polo features a custom design that incorporates the flora that surrounds the much talked about three-hole stretch at the first major that has golfers praising a higher power, if they get through it unscathed. The FUSIONYARN FLEX constructed Tournament Polo comes in either a "Greenery" or "Quarry" colorway. The Tournament Polo is also available in a boys' version.
Tournament Jacket ($90) – This Jacket features a one-of-a-kind design inspired by the flowers that surround 11th, 12th and 13th holes. The jacket features a front Kangaroo pocket, a drawstring hood, and is built with windCELL technology that gives you breathable, water-resistant protection from the wind.
Tournament Patch Utility 110 Cap ($35) – This cool cap, in a Quarry body with white front, comes with an interchangeable tournAMENt pattered patch so you can customize your style.
P 110 Snapback Cap ($35) – a fresh, spring take on the popular P Cap Rickie wears on Tour, in a solid Quarry body with white embroidered P.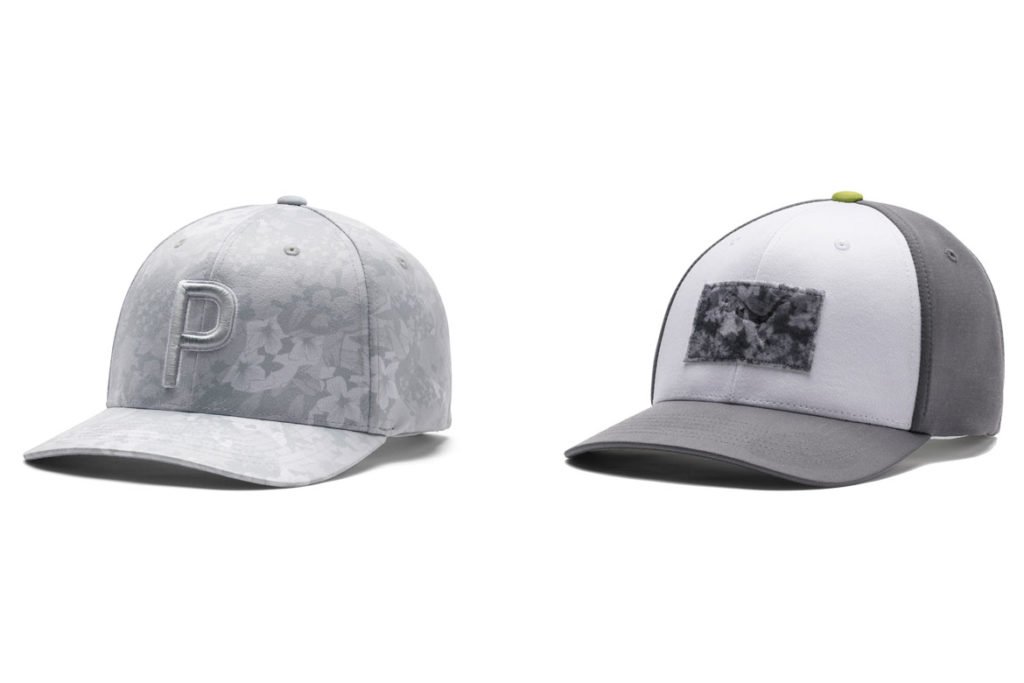 IGNITE PWRADAPT CAGED Tournament Shoes ($170) – The IGNITE PWRADAPT Caged have been anatomically designed to provide outstanding comfort and a perfect, tailored fit. These LE shoes feature the same floral design as the apparel and accessories, inspired by each of the flowers that surround the 11th, 12th and 13th holes that comprise the most famous three-hole stretch in golf. Available In sizes 7-14, PWRADAPT CAGED tournament come in a Quarry/White/Greenery/Rapture Rose colorway.
IGNITE PROADAPT Tournament Shoes ($220) – The IGNITE PROADAPT, PUMA's latest shoe introduction, employs tour-proven technologies trusted by the game's best, designed to adapt to any lie with stability, power and comfort. Comes in a White/Quarry/ colorway and features the floral pattern that can be found on coordinating headwear and apparel.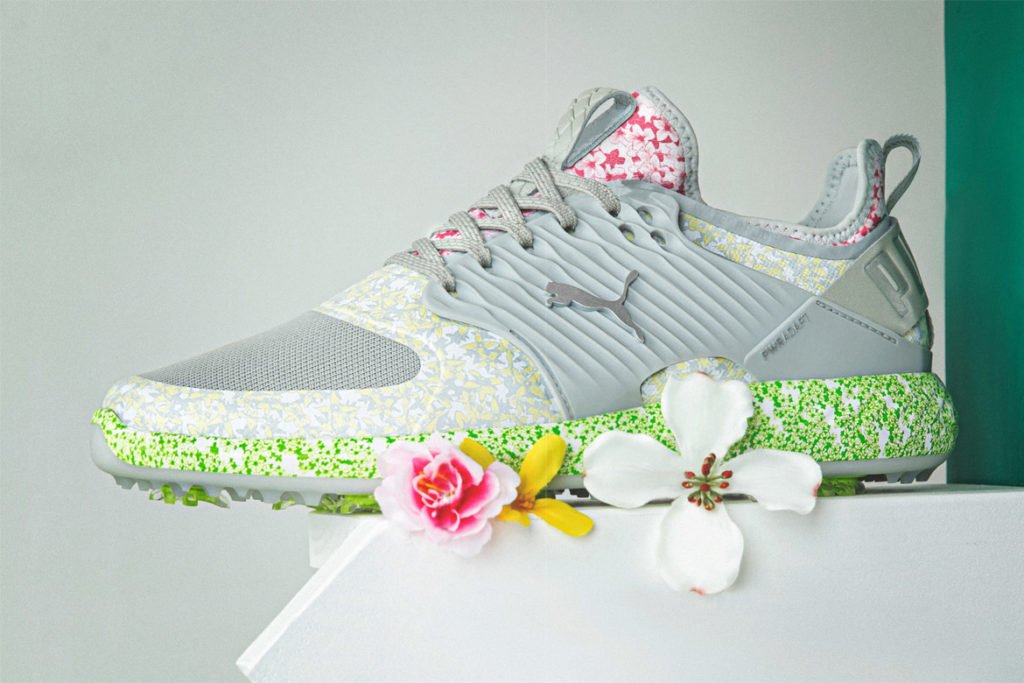 LE COBRA x VESSEL LE Tour Stand Bag ($599) – Spring has sprung! This Limited-Edition COBRA x VESSEL Tour Stand Bag, which features an allover floral pattern inspired by the flowers that surround the 11th, 12th and 13th holes that comprise the most famous three-hole stretch in golf.