The last few years have seen a resurgence of great footwear coming from PUMA Golf and their TitanTour Ignite shoes were favorites of THPers that posted reviews in the THP Forum. Coming soon, a new model and featuring what they are calling the revolutionary DISC closure system.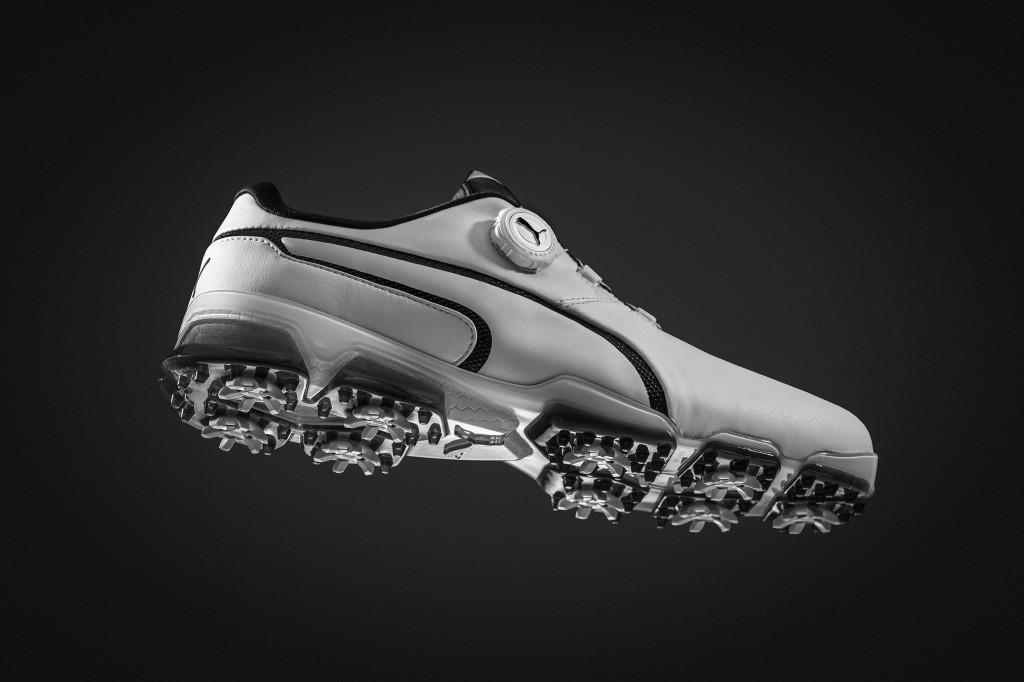 The DISC Collection of footwear is headlined by the TitanTour Ignite DISC and TitanTour Ignite Premium DISC, which combines the popular Ignite foam for comfort and performance with a new system for closure to provide a product that is premium, comfortable and stable. First used in their running shoes, the DISC system is very easy to use. A quick turn of the dial to the right, tightens wire laces in the upper of the shoe to secure the foot in locked in and uniform custom fit. A quick turn to the left, easily loosens the shoe and you can remove from there.
"At PUMA Golf we strive to push the boundaries of innovation in all of our products; while keeping in mind the specific needs of golfers: style, fit, comfort and stability," said Grant Knudson, Head of Footwear, PUMA Golf. "With the addition of PUMA's DISC technology, the coolest and most comfortable shoes in golf now offer a more stable and customized fit than ever before. With just a simple twist of the DISC you have amazing fit and feel that will keep you secure and comfortable during a round. It's quick and easy to 'click it and rip it'!"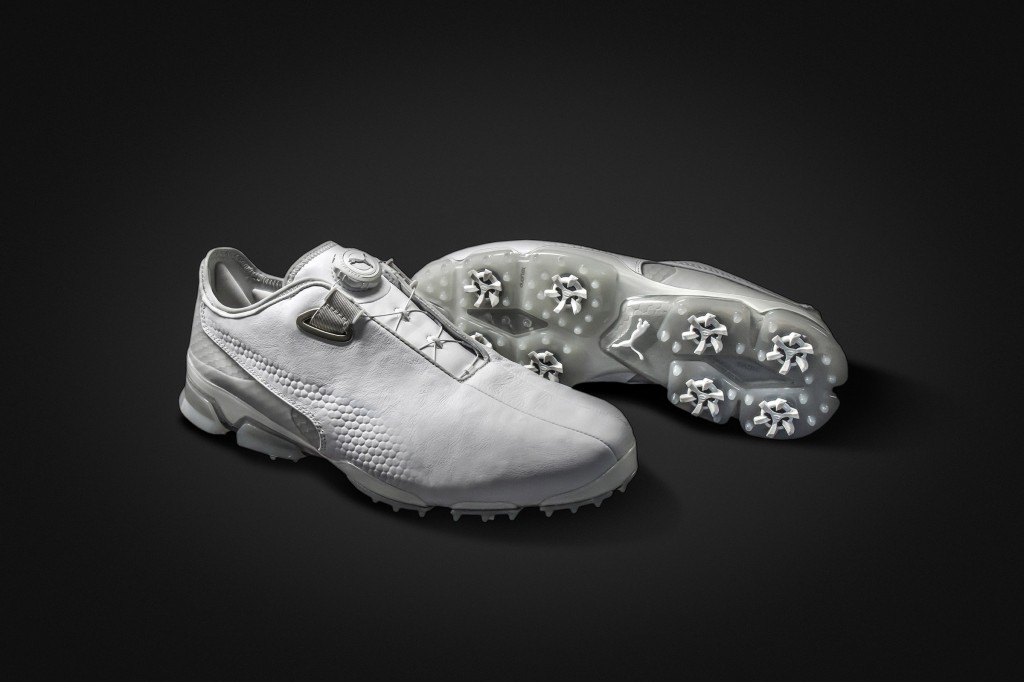 The technology story does not stop with the closure system and Ignite foam however. The TitanTour Ignite DISC also features a PU Sockliner, along with what PUMA calls their PWRFRAME TPU outsole. In THP Testing, the outsole of the shoe holds the midsole area as well as any other, while not increasing the weight of the overall product, so you still feel light on your feet for 18 holes.
Rounding out the DISC family are the Blaze DISC for women, Grip Sport Junior DISC shoes along with a spikeless version for men: the IGNITE Spikeless Sport DISC. The women's Blaze DISC shoe is a fashion-forward, cleated shoe that provides a fast, easy and consistent fit for ultimate comfort and performance. The Grip Sport Junior shoe boasts the same DISC technology in the adult versions, ensuring a stable fit, along with a breathable performance mesh upper and sporty midsole to keep young golfers cool and styling all day long.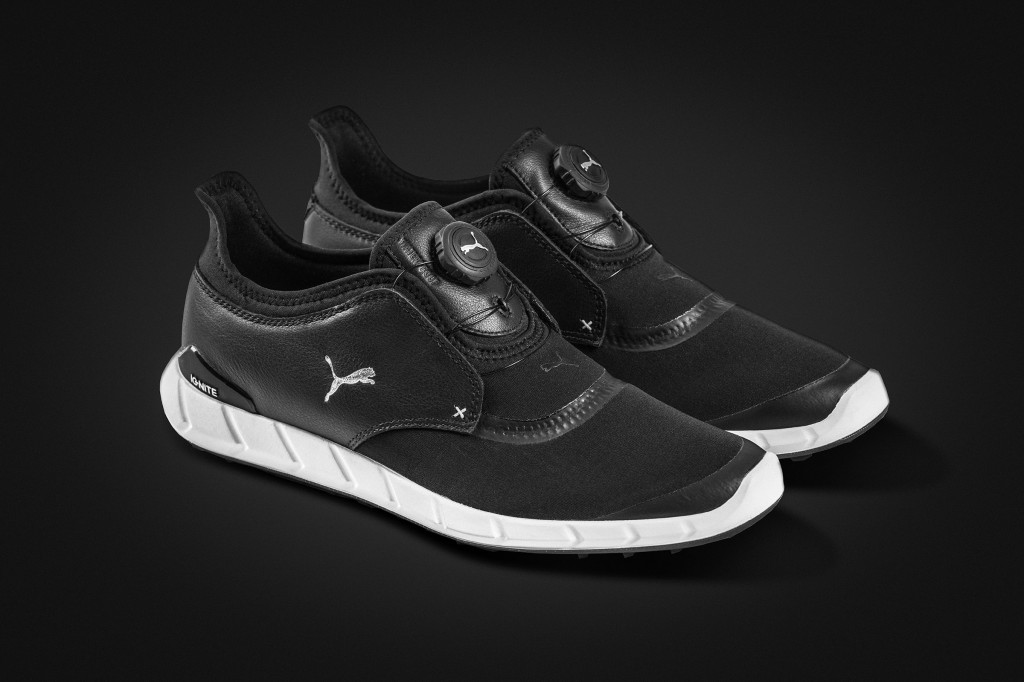 The IGNITE Spikeless Sport, introduced last year, and touted by PGA TOUR professional Bryson DeChambeau as the most comfortable shoe he's ever worn, provide the ultimate in function, versatility and fashion, and will now be available in a new laceless version. DeChambeau will continue to wear this Tour-proven shoe throughout the season.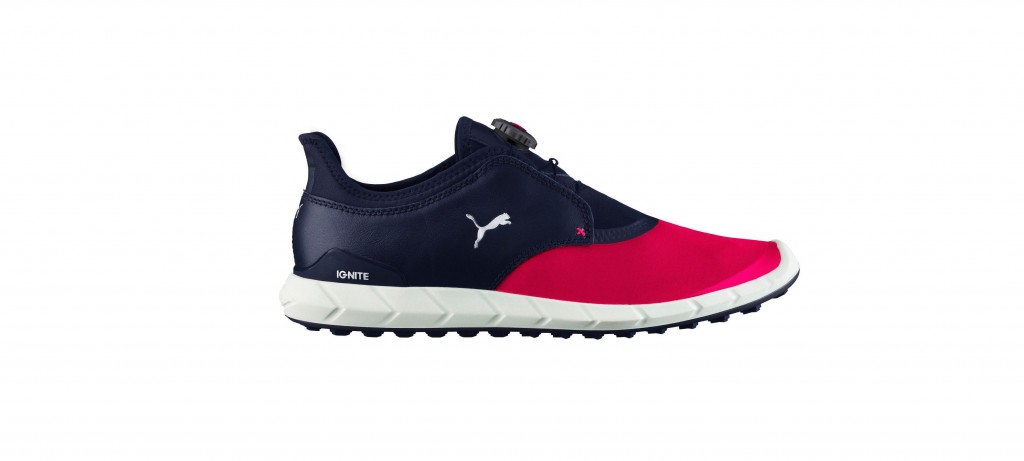 As you can see from the images both above and below, the new Disc Collection from PUMA Golf combines stunning looks with some serious technology for a chance at custom fit and incredible comfort.
The Story
TITANTOUR IGNITE DISC
COLORS: White/Black; White/High Risk Red/Grey Violet; Black/Quiet Shade; Gray Violet/White/Steel Gray and White/True Blue
AVAILABLE: February 1, 2017
PRICE: $180
TITANTOUR IGNITE PREMIUM DISC
COLORS: White/Gray Violet; Black/Dark Shadow and Gray Violet/Vibrant Orange.
AVAILABLE: February 1, 2017
PRICE: $200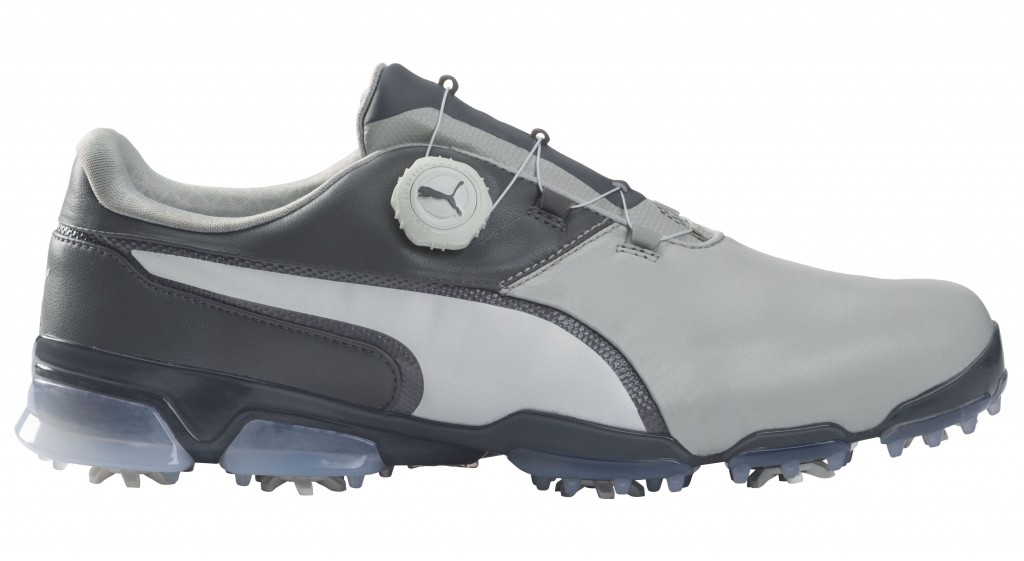 IGNITE SPIKELESS SPORT DISC
COLORS: Black/Silver; Quarry/High-Risk Red/Bright Plasma/Peacoat
AVAILABLE: February 1, 2017
PRICE: $140
PUMA BLAZE DISC – WOMEN
COLORS: White/Silver and White/Bright Rose
AVAILABLE: February 1, 2017
PRICE: $120
PUMA GRIP SPORT JR. DISC
COLORS: Quiet Shade/White/Bluefish and Peacoat/White/Orange Clown Fish
AVAILABLE: February 1, 2017
PRICE: $80