PuttOUT has come a long way since their introduction to golfers around the world with the original Pressure Putt Trainer in 2017 (THP's review can be found here). Since that time, they have expanded into indoor putting mats (THP Review here) and the best putting mirror I have ever personally used (THP Review here), but fans of the brand have been waiting for some time to see a full scale evolution from the company. 
Well, 2021 has been that year.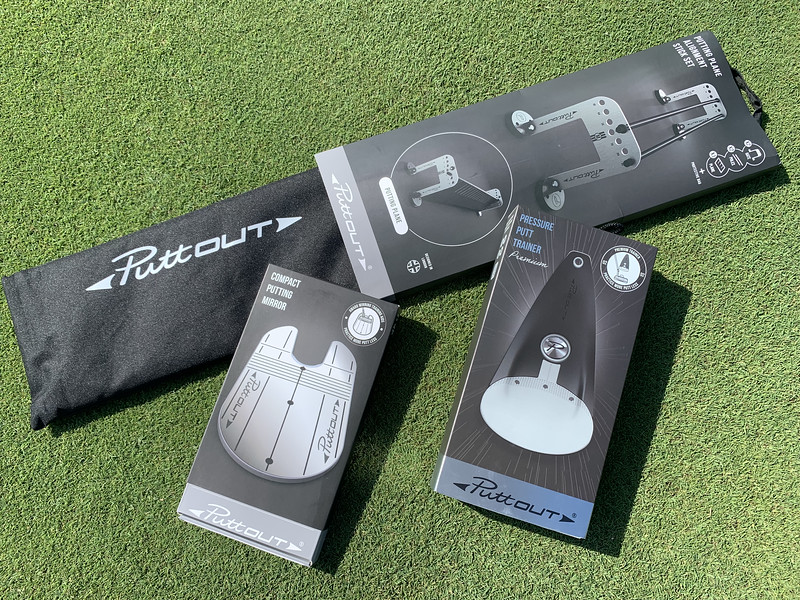 Not only has PuttOUT revamped their trademark training aid, but they have expanded their putting mat options, created a new slimline mirror, and even designed a putting plane alignment system that is as unique as they come.
Better yet? THP got to see every piece of the company's new product up close and personal.
PuttOUT Premium Pressure Trainer
I don't personally know the number of original PuttOUT Pressure Trainers that the company has sold since 2017, but I'm pretty positive the number is massive. The design has been a global golf training aid sensation when it comes to putting improvement, my high school teams even use them, so the decision to improve what is already exceptional is a brave one.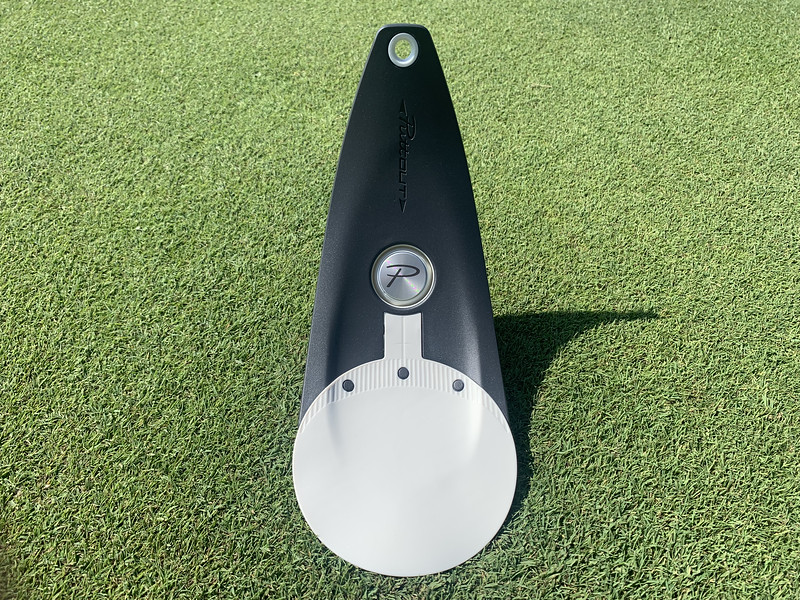 First thing first, the new Premium version operates exactly like its predecessor, putts into the ramp will return to the player the same distance which they had gone past the hole if you were to miss, but don't worry, I know that on the internet no-one ever misses. That said, the rage and euphoria inducing micro-target is still there, and the chase to make the "perfect putt" was as strong as ever for me during testing (remember, they consider a perfect putt that will stick in the micro-target to be one on-line and at a pace to finish 18 inches past the cup). So, what has reallychanged then? Well, two very cool and simple additions.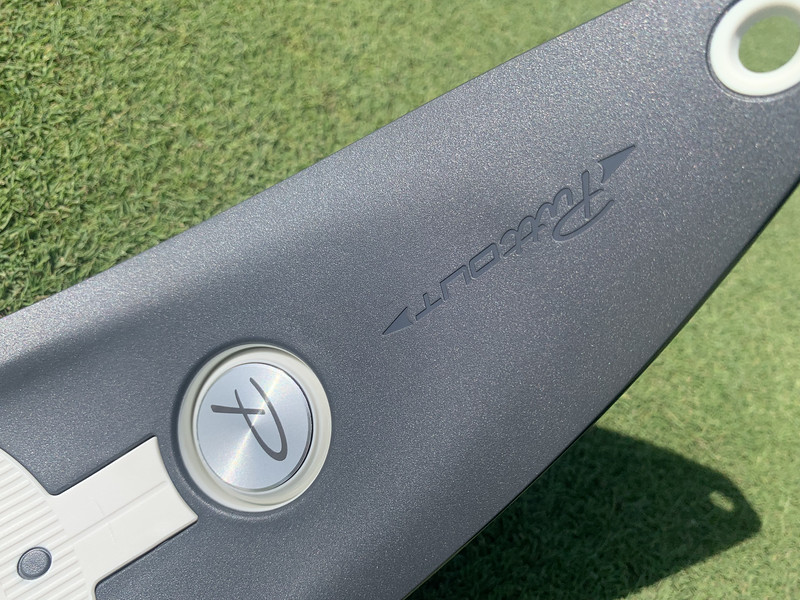 There are now three tiny dots on the back of the base flange which are in a contrasting color, these allow for additional target points to those working with breaking putts, but they also serve to help golfers like me who visually aim for the back of the cup since the base remains the exact dimensions of the hole on course. The coolest addition is the small circle at the top of the PuttOUT, this is where an alignment rod can be snugly slid in and either paired with the company's alignment setup that we will talk about in a bit, or simply used to replicate the string drill.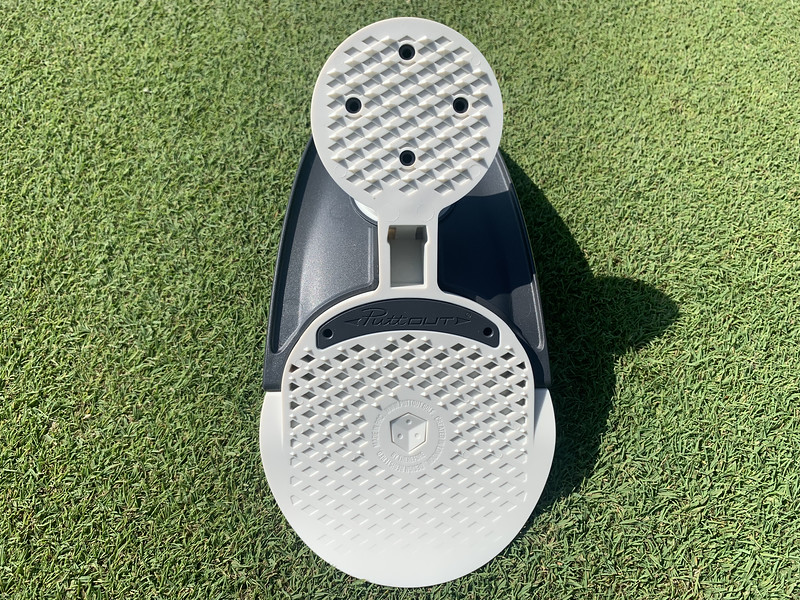 It is cool to see the PuttOUT become more ergonomic and also a multi-use training aid now with the alignment feature. It actually renewed my enjoyment, and frustration (with my own putting), in the Pressure Trainer, and brought the addiction back to me with its new versatility. The Premium version is priced at $39.99 and has officially replaced the original version. If you are feeling fancy, there is even a "Platinum" version which boasts brushed alloy construction and copper plated accents.
PuttOUT Slim Putting Mat
This one is much more of a stroke of savviness than it is any sort of revolutionary design change, and though this focuses on the "Slim" putting mat, it is actually one of two new sizes being added to the lineup. PuttOUT has clearly realized that people have different wants and needs when it comes to putting practice, and even more than that, they understand that the spaces in which people practice varies as well.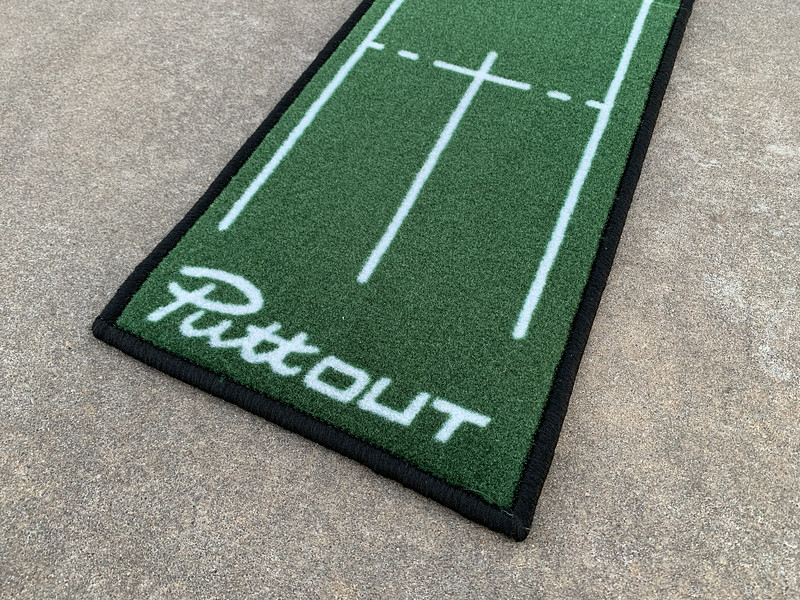 I was able to review the original putting mat, and did so quite favorably, to the point that it is still used in my house years after the review. The "Slim" mat comes in at half the width of the original (which is now called the "Medium" mat) and just a few inches shorter. Its still made of the same thick TPR rubber backing with a surface that stimps a solid 10. Just like the previous version I worked with, this is a pretty killer surface for the price, and so long as it's on a firm surface without much give, it performs excellently. The "Slim" comes in at $59.99, the "Medium" $89.99, and the new "Large" mat which is over five feet longer and wider is priced at $169.99.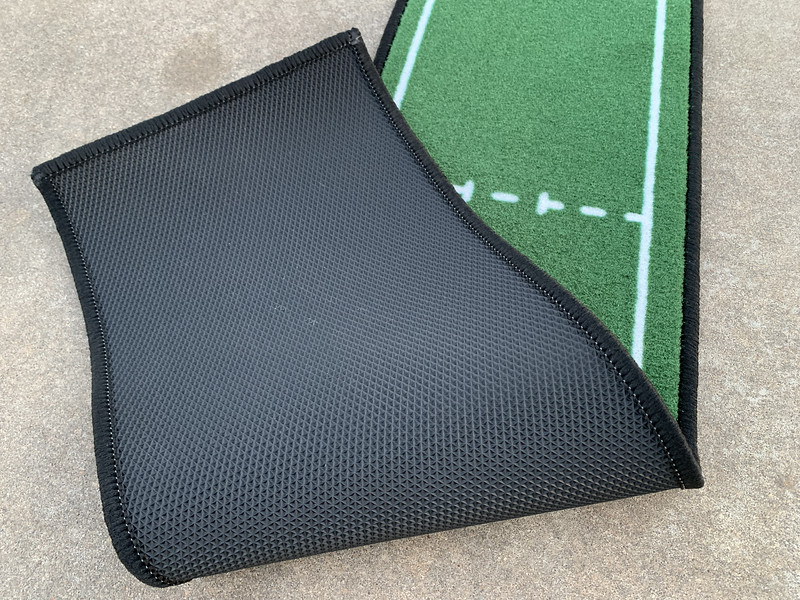 PuttOUT Compact Putting Mirror
While the PuttOUT putting mirror is arguably the most complete and high-end putting mirror on the market, and as much as I enjoyed it, the fact that it has use on the PGA Tour is much more impressive. As good as it is, and as nice as the gate system that comes with it is, the company believed a more compact mirror would be a nice compliment to their lineup.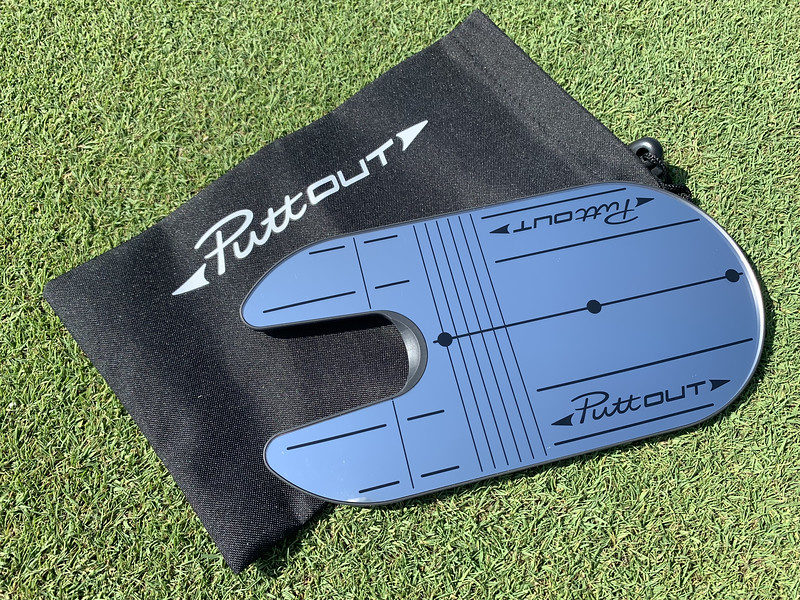 The compact mirror is just 8.5" in overall length and since doing this review it resides in my golf bag full time. The form factor is just nice, and it makes it simple to throw down on the practice green and check alignment and visual setup with all the different lines still on it. Yes, its still not the cheapest mirror out there at $29.99, but it is practically indestructible. If you haven't or don't use a putting mirror, look into it, and make sure this one is among the top of your list.
PuttOUT Putting Plane Alignment Stick Set
I'll be honest, this is the type of innovation that put PuttOUT on the map. The Putting Plane Alignment Stick set is so outside-the-box creative, that it completely blew my mind in its simplicity, effectiveness, and all out cool factor.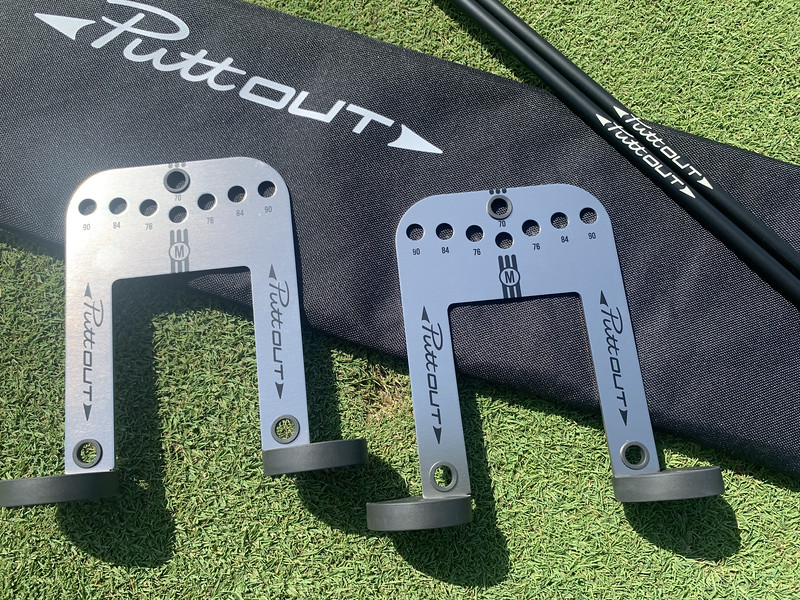 If you have spent any time with the original PuttOUT mirror and their gate system, you know that those weighted gates are incredibly well designed for indoor and outdoor use. They happen to be the base of everything that is happening here, but, with some additional holes in them to allow for multiple uses in this clever design.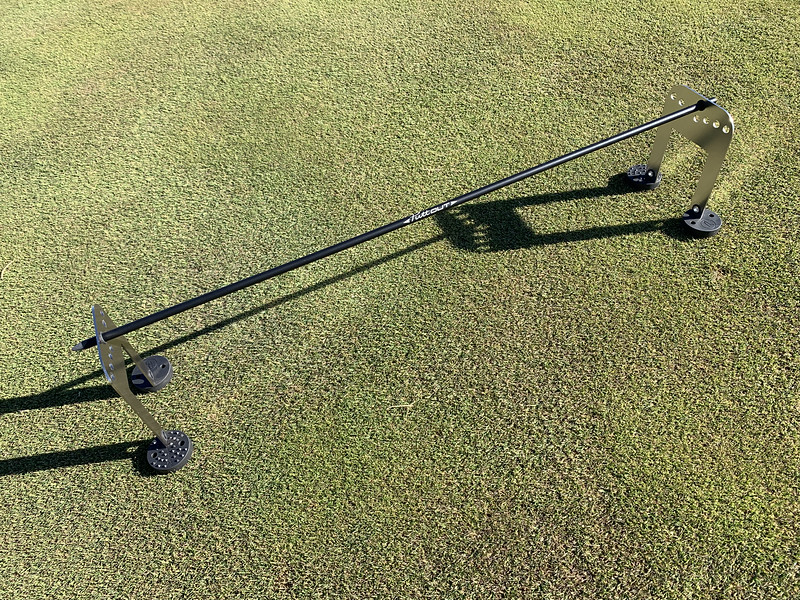 Also included are two alignment sticks which can be used in three different manners in coordination with the gates. One can be placed in the top hole of each gate to create a straight-line practice setup similar to using string, or you can use two to create a simple putting rail between the gates. But the coup de gras is using both sticks to create the putting plane.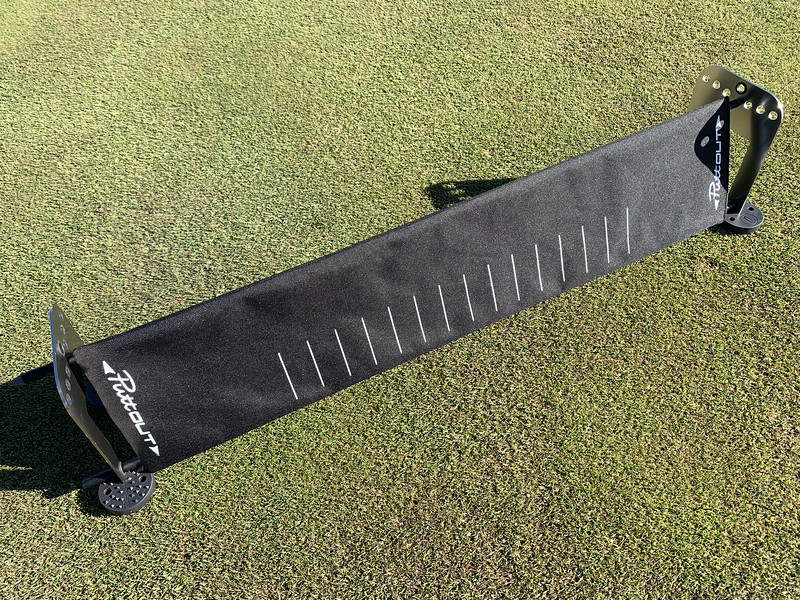 The plane setup works for both RH and LH golfers, and has four different angles (90°, 84°, 78°, 70°) to be set up to. As the angle changes, so too does the arc. I've long been a big fan of a putting arc board and regularly use the old Kostis one, but this is a much more portable setup, and I was impressed with that. But most importantly, it works really well, although for $89.99 you would certainly expect that to be the case.
Parting Thoughts
PuttOUT just "gets it". I think many out there have expected them to just rest on their success and keep riding the wave, but those people need to put that thought to bed. In fact, I'm not sure there is another company putting out putting training aids of this quality that from top to bottom do nothing but impress. I fully expect to see them keep swinging for the fences in 2022 and beyond, and you should too. For more information on these products and the brand, you can visit their website here.
What do you think of the new options from PuttOUT? Do you plan on giving them a look? Let your voice be heard and jump into the conversation below or on the THP Community!