Jumping into our time machine all the way back to 2010, we took a look at the Trueline Putting Greens "Big Murph". At the time, it was simply put, the best indoor putting green we had tested to date. Offering tour level speeds, roll away capability and more importantly, something that simulated putting on a golf course.
We wanted to revisit with the brand and their products to see if the same bold thoughts are still true.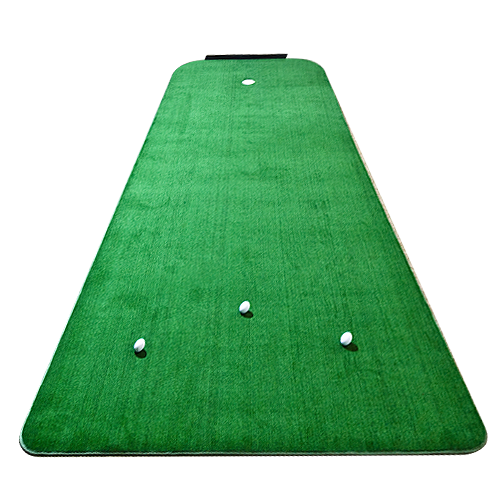 About Truline Putting Greens:
The "Big Murph" measures 12' Long x 65" wide and was named after Bob Murphy, a five-time winner on the PGA Tour and current golf broadcaster on NBC. Other facts about the Big Murph:

• Will not leave "trails" or "grooves" on putting surface
• Regulation cup (4.25 diamter)
• Ability to easily create various degrees of break (system provided)
• 17" of putting surface beyond the cup (ideal putt believed to roll 17" past the cup)
• Indicators may be placed on both sides of green, at any distance, to assist with various practice putting drills
• Portbale – Rolls up easily for storage or transportation
• Lightweight
• Made in the USA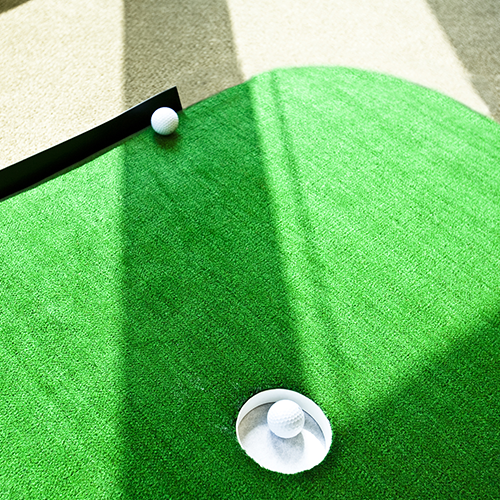 When we tested the Big Murphy back in 2010, the number one question received was about the speed. At the time, the stimpmeter reading was just about 10 on the greens, which simulated your local golf course rather well. Truline listened carefully to THP readers response and now offer two different speeds. Standard Speed, which is similar to the original, and the new Tour Speed, which is said to be the speed used on tour. Getting a chance to work with the new Tour Speed quickly reminded me of just how fast the greens are on tour.
The Big Murph arrived at THP HQ and immediately the unboxing committee was ready to tackle the large box. When you unroll the green there is an expectation of wrinkles, because every green we have tested since the greens from Truline had them. Not a single wrinkle. It looked as though it had been setup for a year and was ready for action. Taking a second to drop the cup in the pre-cut regulation sized hole and a small backstop that keeps your golf ball of choice on the green, we were ready to roll.
Just like our first experience with the Big Murph this one was as true as a golf course (maybe better). Unlike many of the home putting greens that try and simulate and get close to actually putting, working with the Truline options you feel as though you are on the course. Feedback is real. Speed is real. Most importantly, practicing with a purpose can be real. The green comes with a kit that includes skinny black tubing that allows you to create breaks and they were very easy to work with. Want to test out the tricky right to left from 5-7 feet? No problem. This was as close to true rolling as we have seen without the actual blades of grass.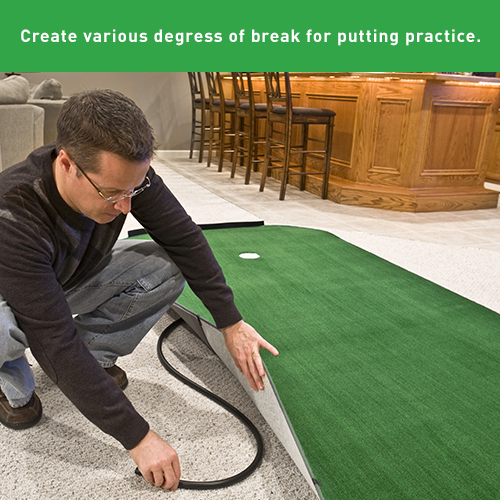 Can the Big Murph be rolled up to store? The answer is yes, with a small caveat. Yes, you can roll it up with no problem and based on the size, most people probably will. There are no damages or wrinkles that take place from doing so and it rolls back flat just like the day you got it. The caveat is the product is large and heavy, so doing so might take a second person, depending on your size and strength.
Revisiting the Truline greens has been a blast. It is a great putting green, training aid or just fun device that never gets old. With prices ranging from $350 to $479 they are not the least expensive option out there, but come with a quality that we can tell you will last for years to come. For more information on the Big Murph or any of the Truline products, check out their website here.