A few months ago we introduced you to a brand called Royal Albartross and detailed their history and what makes them unique in this Brand Story. This all started in some ways as a personal search for incredible footwear outside of the norm you see week in and week out.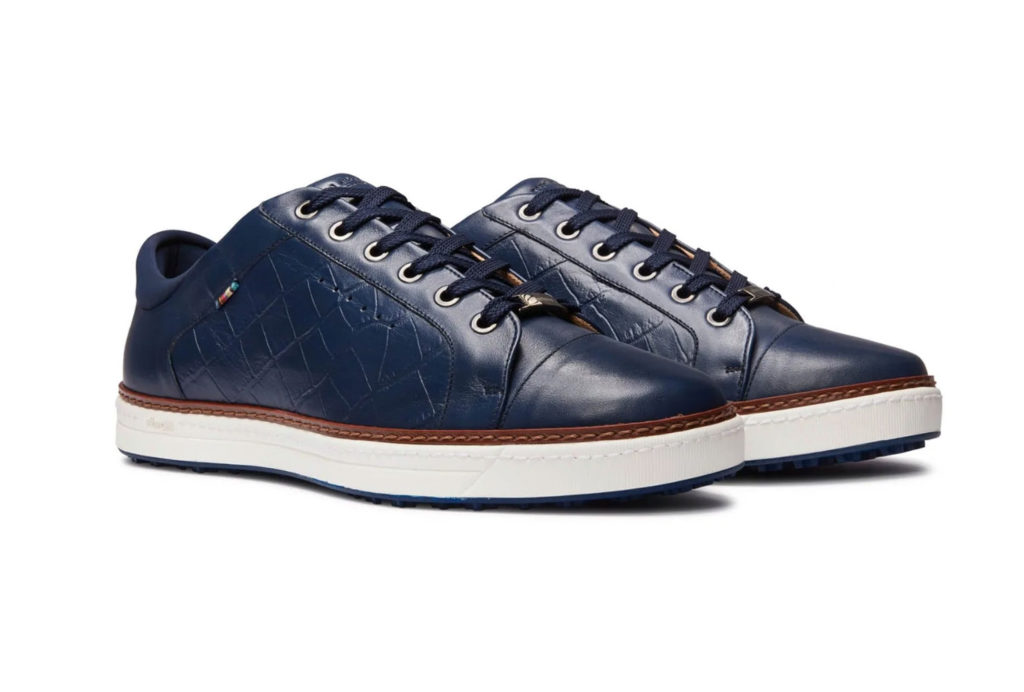 This has led to the Royal Albartross Bond Navy golf shoes and after several months of trial, we want to share some information. The company description.
From London with love. The Bond Navy's crocodile print Italian Napa leather delivers luxuriously understated quality, a refresh of the popular Croco style it's been shaken but not stirred. The new ultra-soft neoprene heel sections and a contoured leather-covered footbed wrap the wearers feet in unrivalled comfort. The result is a handcrafted sneaker that refreshes a classic look.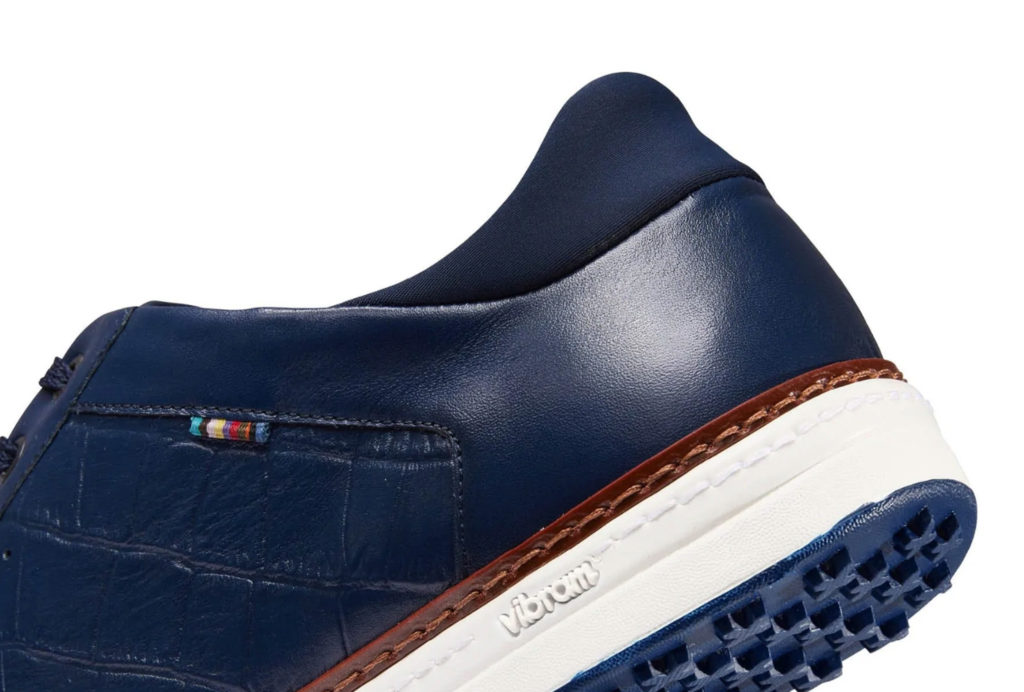 Unlike the vast majority of footwear in the golf space, the Royal Albartross Bond is handmade in Italy and the Navy pair (there are other style and color options) features a faux croc-like effect on the Blue Napa leather upper. Moving towards the heel of the shoe, you notice a fairly high accent, and at first glance might think "not going to like that firmness on the achilles area". The designers thought this through and this portion of the shoe is a super soft neoprene and almost envelopes that area with cushion.
The footbed is contoured leather and at first pass is a bit firm, but softens up almost immediately, and after walking around the office in them for 10 minutes, the Royal Albartross Bond was extremely comfortable. The exterior features the same attention to detail as the rest of the shoe. The VIBRAM Pro Golf rubber outsole is edged in white and offers really good support for a spikeless offering. In fact, early on you might not even realize these are not spiked.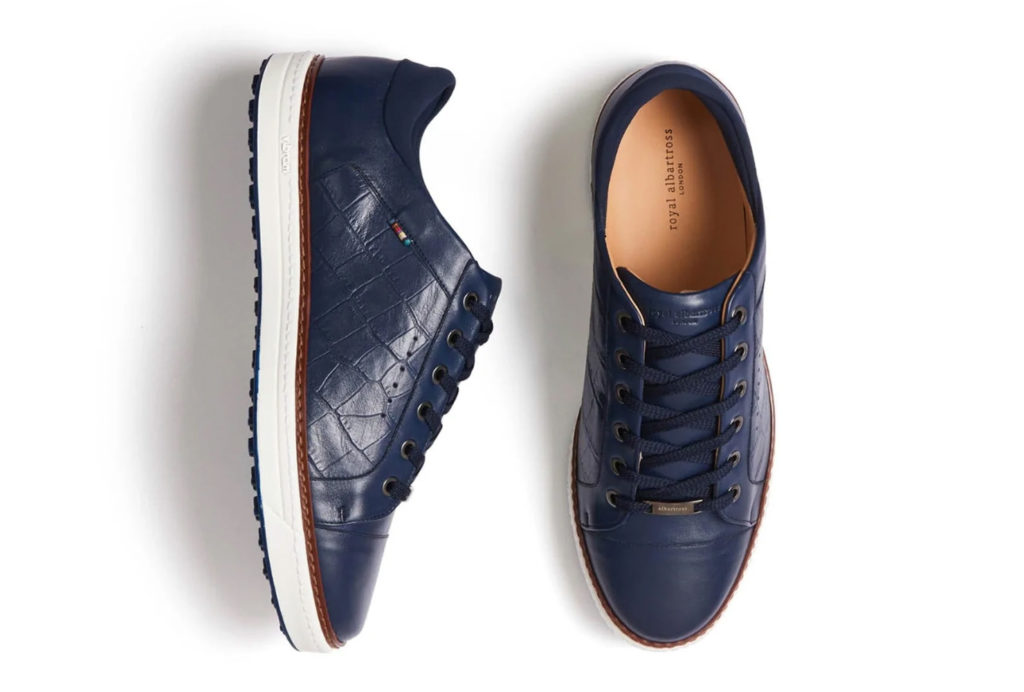 So how do they fit? Starting this off with sizing, they are pretty true to size. If I was in between sizes, I would opt to drop smaller, but otherwise my typical 11.5 order fits here. The heel is nice and snug with no movement eliminating any thoughts of blisters or discomfort, and the toe bed is one of the best we have tested to date. Wider than typical without offering that complete clown shoe type of look, overall the shoe feels as though it was made for me. It wasn't, this isn't a custom option, but probably as close to one as I have found in the premium space.
Can a golf shoe have performance? While that is debatable (not to us), one thing we like to discuss is not just slipping them on and how they fit, but how they handle rounds of golf. So far they have gone through several including extremely cold temperatures during a trip to the Dormie Club in NC when it was low 30s and windy, as well as higher heat and humidity when using them here in FL. We had virtually no discomfort or swell in the higher heat and the shoes surprisingly enough being leather offered some breathability. In the colder weather, there was also zero issue and the wider footbed didn't become too wide (some do) from the lack of swelling of the feet.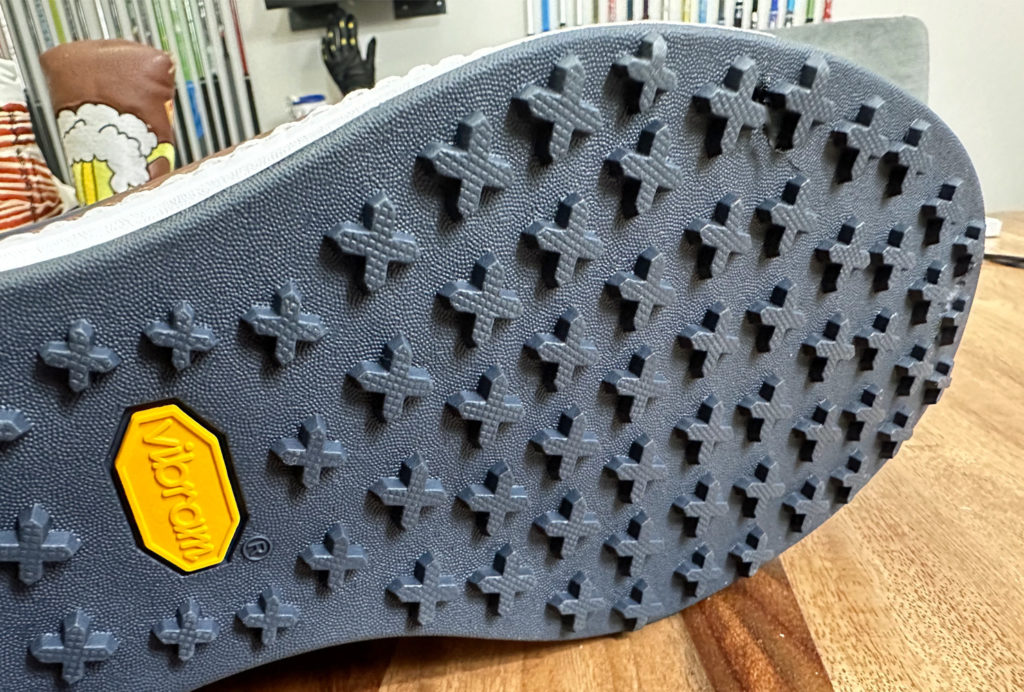 The spikeless design is really well done. Not a single slip since donning them and yet still have a closer to the ground like feeling. One thing to note on wearing them more and more, the sole design really forms to the foot and becomes extremely comfortable the more you wear them.
The Royal Albartross Bond Navy is not a bargain basement shoe. The cost is just over $300 and because of that, we want absolutely fantastic across the board. Did they hit those marks? Honestly, they did. But more so when thinking about the Royal Albartross shoes we own and that includes this pair, the dedication to durability with no sacrifice in comfort is what makes these stand out.
To pick up a pair, check out World Wide Golf Shops as they have a great selection and you can find them all here.
World Wide also features a fairly large selection from Royal Albartross and to shop all of the styles, click here.