While on the golf course, keeping score can sometimes be a hassle.  For golfers who average higher than par on a majority of holes, it can get a little embarrassing to look back at the hole and count strokes while the scorekeeper waits.  ScoreBand has created a simple solution to aid in keeping score without the nuisance of carrying around a scorecard.  Enter the ScoreBand PLAY.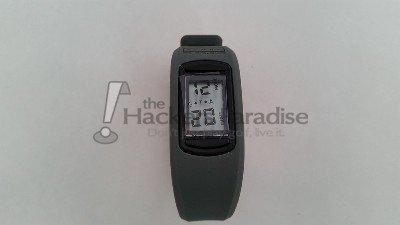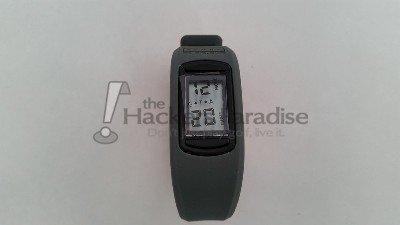 From ScoreBand
We took the original award-winning ScoreBand model and made it even better. Now with a fresh look and even more features, ScoreBand PLAY takes entry level scorekeeping technology to the next level. Three scorekeeping modes (Golf/Tennis/AllScore) plus Time mode give ScoreBand PLAY all you need to keep your game on track. Click for animated diagram.
GOLF MODE
Track Hole and Round score

Running total of strokes display by front & back 9

In-round current score view

Score summary after 9 & 18 holes

Quick & easy stroke correction
TENNIS MODE
Track Game & Set scores

In-match current score view

Quick & easy point error correction
ALLSCORE MODE
Track Game and Series score (up to 99:99)

Quick & easy point error correction

Record statistics or counts for other sports/activities
TIME MODE
12 or 24 hour time view option
FEATURES
WATER RESISTANCE: 3 ATM

BACKLIGHT

'HIBERNATE' FUNCTION TO CONSERVE BATTERY LIFE

REPLACEABLE 1.5 VOLT BUTTON CELL BATTERY

SIZE = 265mm (10.5″) long X 25mm (1″) wide

ONE-YEAR LIMITED WARRANTY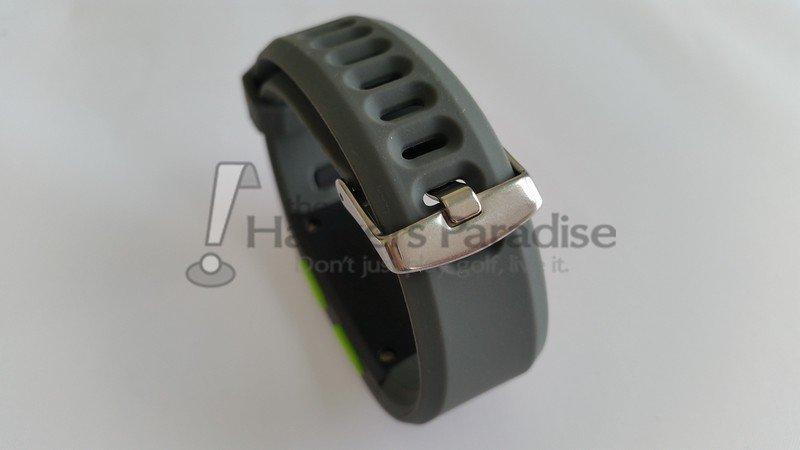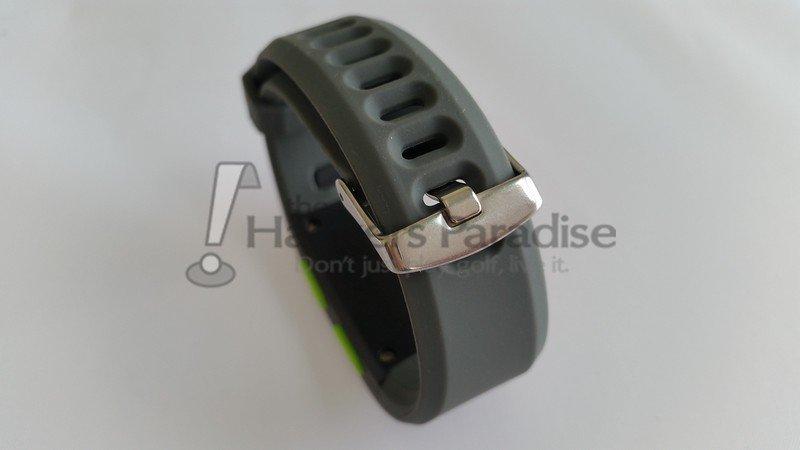 The Band
The first and probably most notable element of the ScoreBand PLAY out of the box is the soft strap that wraps the wrist.  While it is not entirely flimsy, it does have an ideal amount of give to provide a more form fitting feel when worn.  Additionally, there is a bit of stretch to the material, making the fit even easier to accomplish.  The strap material has an overall matte finish, and it offers a bit of grip which seems to limit the amount of sliding that occurs.   During testing both on and off the course, the ScoreBand PLAY exceeded expectations with regards to comfort.  Between the strap and face, the design seemed to really accommodate the wrist.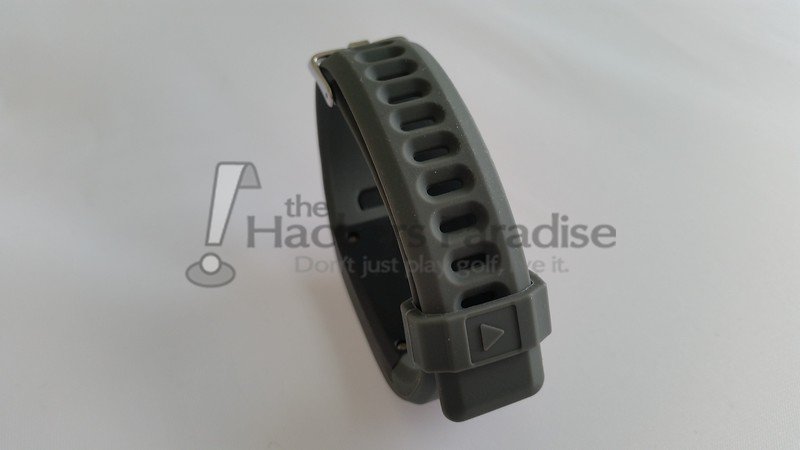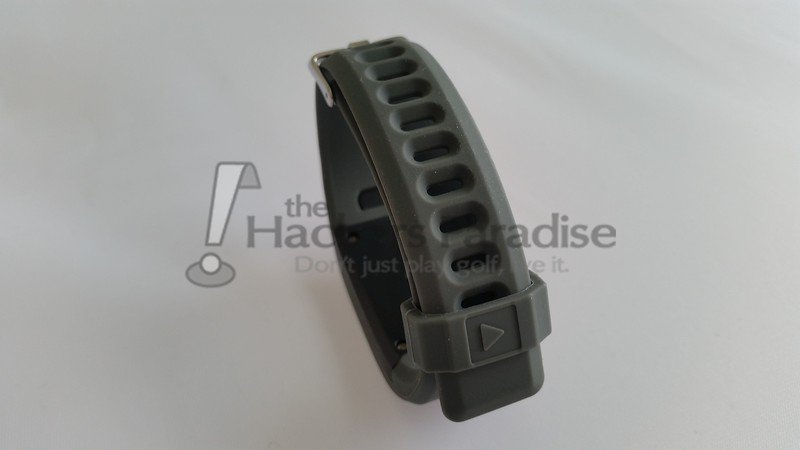 Face Fit
While many watches tend to have a flatter face shape, the ScoreBand PLAY features an angled face that forms around the wrist extremely well.  Considering wrists are not flat, this makes perfect sense, and goes quite a long way in hugging the shape rather than a clunky flat face.  It produces a fit that does not twist or feel bulky which for golfers swinging clubs and wearing gloves is quite important.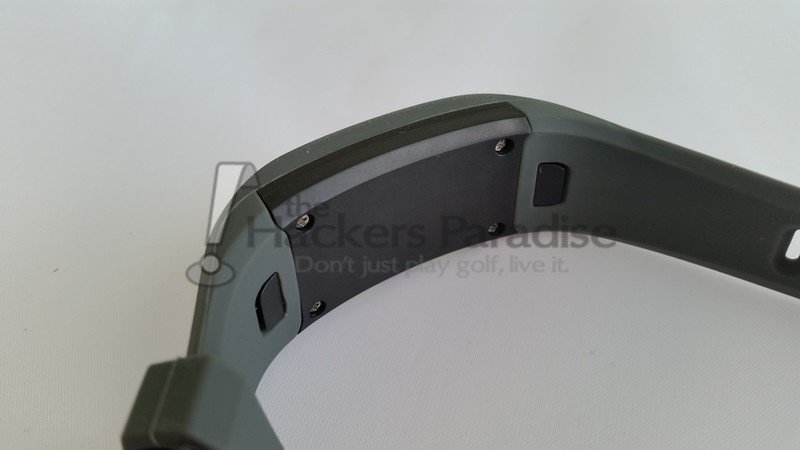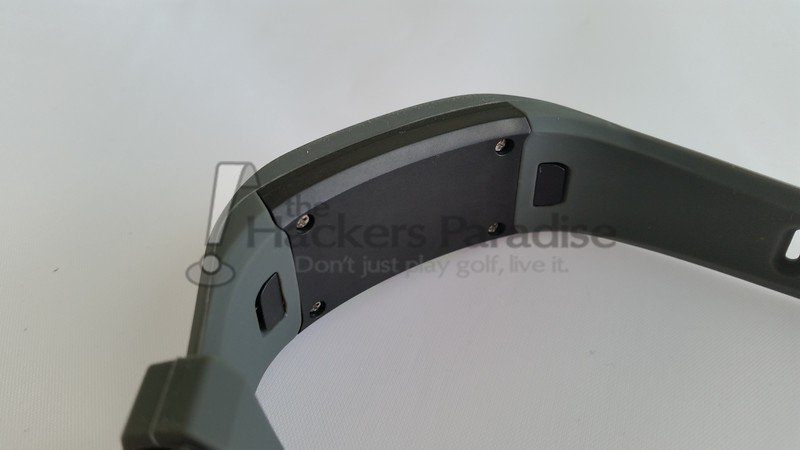 Scoring Feature
The ScoreBand PLAY offers multiple scoring modes for various sports, however the focus of this review is on the golf mode.  Upon round start, a simple green button selection cycles the ScoreBand PLAY through the various modes, the first of which happens to be golf mode.  If not reset, by compressing both black buttons on the top of the face, the watch resets the totals and starts out showing hole one with zero strokes taken.
As strokes are taken each hole, compressing the bottom black button advances the score by one until the golfer holes their ball.  Selecting the top button moves the golfer to the second hole, where they can continue this process until their round is completed.  If a mistake is made on the hole (ex: too many strokes were applied), simply holding down the bottom black button flashes the score, and each compression after that point reduces the total score for the hole.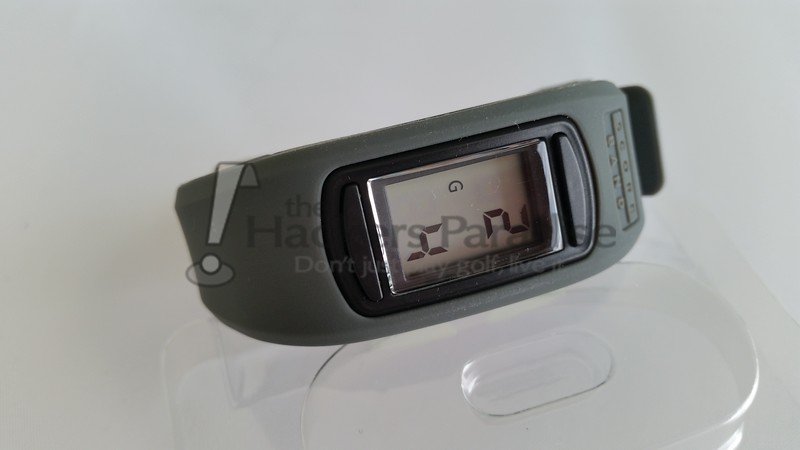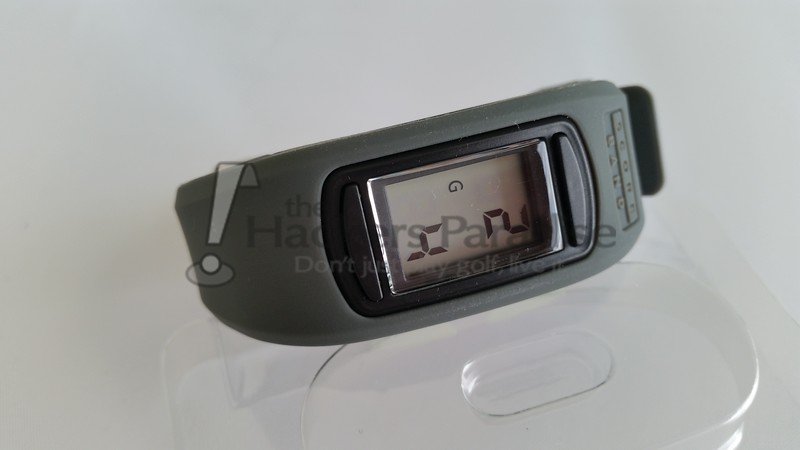 At any time during the round, golfers can check their front and back nine scores by holding down the top black button.  For a brief period of time, separate numbers will be displayed to show the total score on each nine, and then will return to the hole currently being scored.  After nine holes, the score for that nine will be displayed briefly, and then transition to hole ten.
When the final hole is completed, the watch will show both nine scores together, and then the final score will remain on the screen.  Golfers can once again hold down both black buttons to reset for their next round, or simply cycle through the various modes (top green button) until they arrive on the clock feature.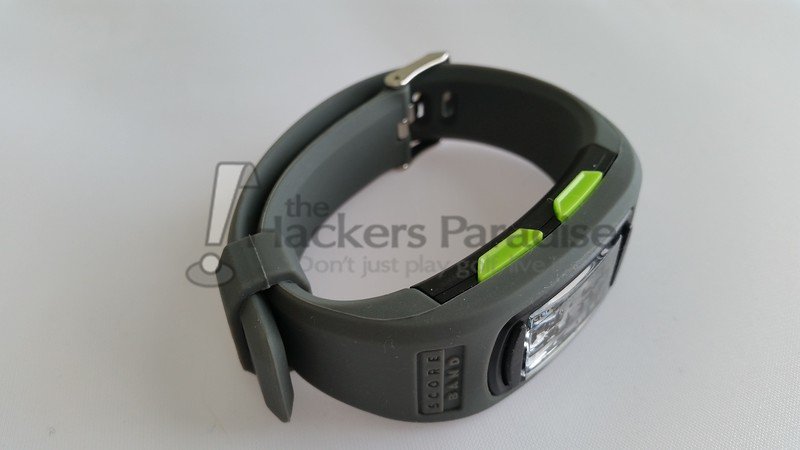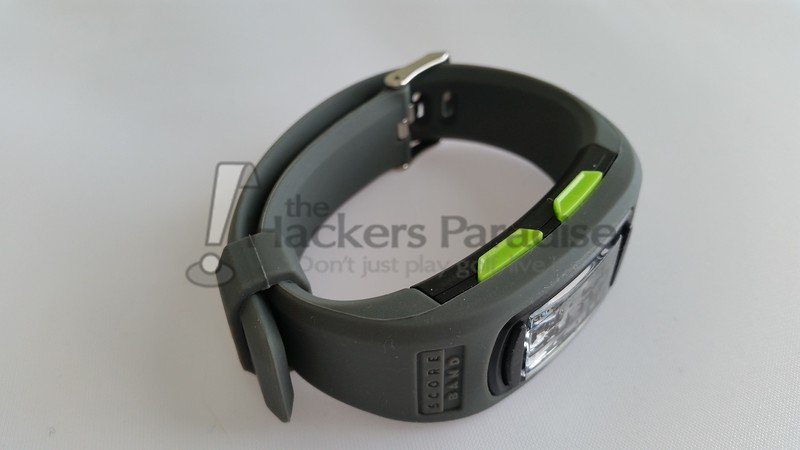 Responsiveness
Overall, the resistance of the buttons are about where they should be.  To make sure accurate scoring is kept, it makes sense to have some mild resistance against brushing and adding strokes unintentionally, however it is not laborious to simply add a stroke each time.  Fast clicking of a scoring button will create mixed results, sometimes counting the proper strokes and sometimes coming up a bit short in that regard.  Best results for the ScoreBand PLAY are when the player is adding each stroke as they happen, not as a group, however it takes very little patience to have the unit track each click properly.
Other Golf Uses
While there is a specific golf mode, the ScoreBand PLAY could be very useful during competitive matches where it is extremely important to keep track of more than one score.  By moving to the "All Score" mode, a user can track either hole by hole scores, or possibly a full round for each golfer (the total is maxed at 99 each).  This feature could also be used if someone wanted to track total balls hit on the range, or make note of good versus bad shots during practice.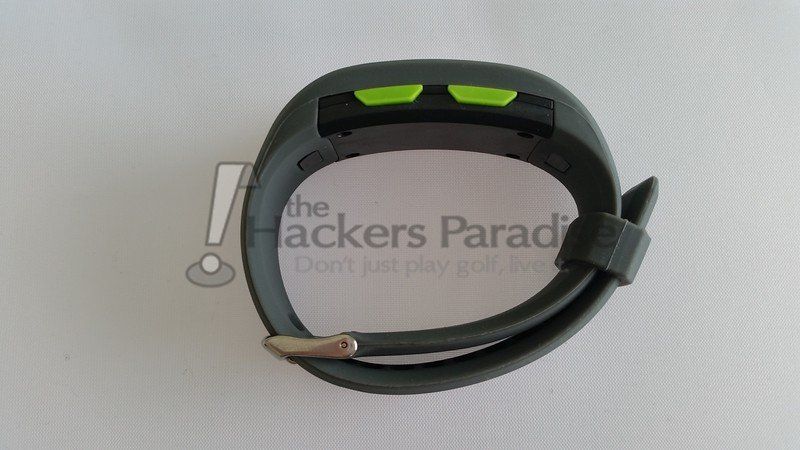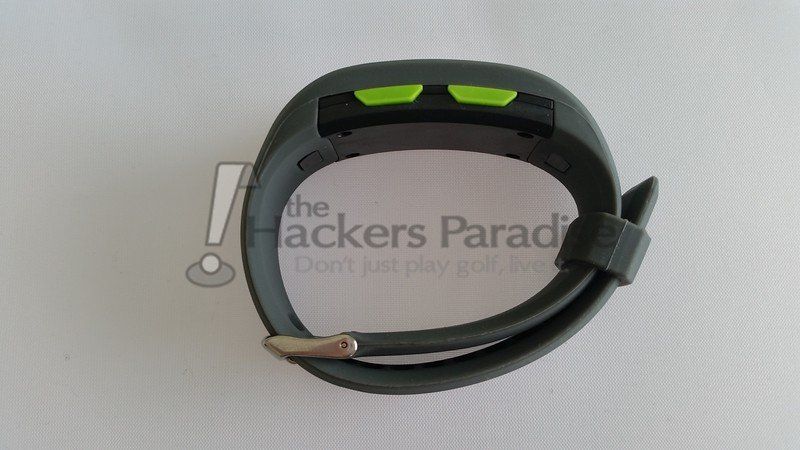 Parting Thoughts
ScoreBand has introduced a unit to accurately maintain score during a round, so the attention of the golfer can be focused on other things.  For golfers who often struggle to maintain their current hole score and are caught looking back trying to recollect their strokes, this is a perfect solution in a very practical and non-obtrusive way.  For more information on the ScoreBand PLAY, visit www.scoreband.net.