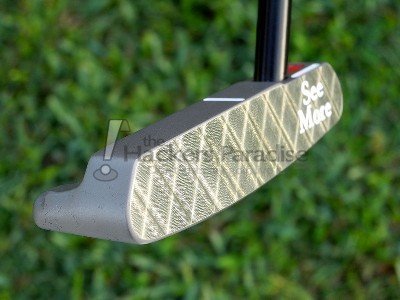 Introduced last year, the PTM series from SeeMore offers a unique blend of value and craftsmanship not often seen in the putter market. By including high-end finishing techniques to lower-cost manufacturing methods, the PTM series is able to provide a boutique experience without the jaw-dropping price tag. In early 2014, SeeMore released enhancements to the PTM line, along with the addition of the PTM2.
Info on the PTM from SeeMore
The Precision Tour Milled (PTM) Series is a line of Made in USA milled putters that is affordable for every golfer. Precision Tour Milled (PTM) RifleScope technology starts with a stainless steel precision cast head made in the USA, and then uses CNC precision milling machines to mill the face, sole, bore hole and RST lines. SeeMore's patented RifleScope Technology (RST) alignment system, for a true reference point for perfect alignment and set up on every putt. Benefits and beauty of 100% milled putter but in an affordable option.
PTM2w
Classic small blade, and is the only true heel shaft putter in the SeeMore mSeries line. Alignment benefits of RifleScope Technology (RST). The m2w is offset version. Full toe hang straight down on PTM2, slightly less on the PTM2w, which is best for those who prefer offset anser-style. Starts with a stainless steel precision cast head made in the USA, and then uses CNC precision milling machines to mill the face, sole, bore hole and RST lines. Full toe hang. Material – 303 stainless steel – platinum finish.
Specs
Custom Length                  Standard (30″ – 37″)
Custom Lie                         68° – 74°
Head Weight (grams)       350
Head Material                   303 Stainless Steel – Precision Tour Milled
Loft (degrees)                    2.5
Available Right Handed   Yes
Available Left Handed     No
Available Offset Shaft      Yes
MSRP                                   $195
Aesthetics and Features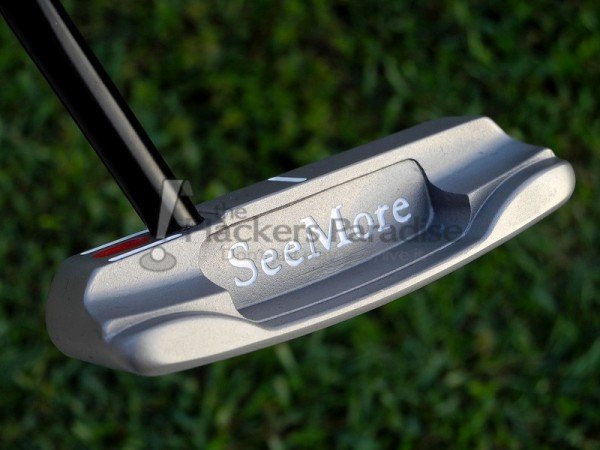 As noted in the material from SeeMore, the PTM2 (an offshoot of the m2) is a shape that helps the company reach out to a segment of consumers that aren't quite ready to make a switch to a center shafted putter, which has historically been SeeMore's bread and butter. With a heel shaft that is also available in an offset position (SeeMore calls it a "whistle" shaft), those players that typically play an Anser style putter have an option that will not only appeal to their eyes, but also to their stroke. For the reviewer who plays an Anser style exclusively, the transition to the whistle-shafted PTM2w was seamless. In addition, SeeMore's iconic RST alignment system gives immediate visual feedback on setup and alignment at address, promoting consistency and introducing fewer variables into the equation.
A visual inspection of the PTM2w shows a classic stepped down flange with heel-toe weighting that is plainly finished in a brushed satin with a single sightline (in addition to the RST) placed on the topline, while the sole is similarly finished and features a small amount of CNC milling. The look is clean and should please those who cherish simplicity. Flipping the putter around reveals the beauty of the PTM line – a tantalizing diamond-shape milling pattern that immediately grabs the eyes' attention. This milling design is truly world class in appearance and something that sets this line apart from the standard Seemore offerings. At the same time, the price of the putter sets it apart from both the mSeries and other higher cost milled offerings from other companies.
At impact, the 303 cast Stainless PTM2w produces a robust click that most will find enjoyable. It's not what one would describe as extremely soft like some deep-milled or soft-metal insert putters for example, but rather a solid milled-putter feel that is pleasing nonetheless.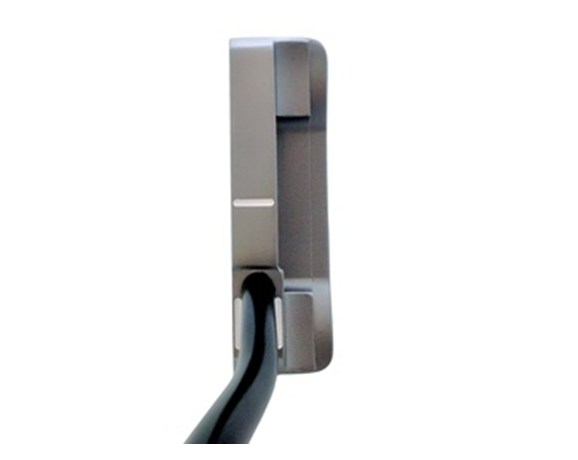 As noted earlier, the putter tested in this review came with the offset 'whistle' shaft, which makes the PTM2w function very much like an Anser putter (a straight shaft is also available). However, there are obviously some visual differences compared to a plumber's neck, which consequently is also available in the DB series from Seemore. Again, this slight difference (bent vs. crank neck) still allowed proper ball position and a putter that was easy to deliver square at impact for an Anser devotee.
At 350g of head weight, the PTM2w feels substantial and well balanced through the stroke, making a smooth stroke easy to execute. However, it should be noted that SeeMore offers a virtual smorgasbord of custom options with their putters, and they can make just about anything a consumer's heart desires with a simple phone call to the company.
Performance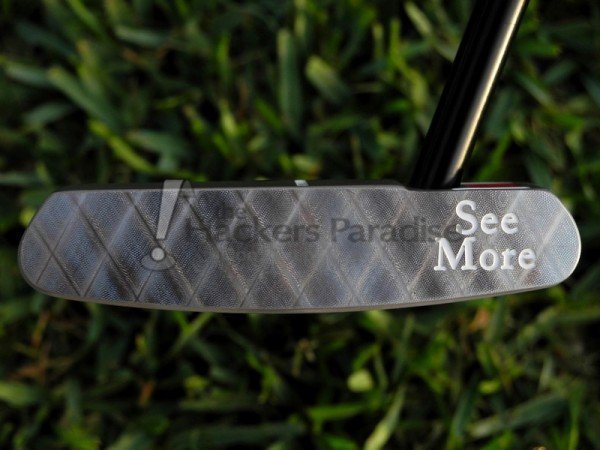 The PTM2w was tested at 35 inches of length during multiple rounds of golf and at a number of different practice greens.
In reality, characterizing performance when it comes to putters is extremely difficult and prone to subjective examinations because the needs and tastes of the individual vary so greatly. However, testing over multiple rounds of golf did show it to perform extremely well for the tester. With a head shape that was comfortable, a little extra head weight, and the benefits of the RST at hand, a number of putts found the bottom of the cup.
For those unfamiliar with the way that RST works, it's designed as a method to ensure consistency at address rather than something that is to be used during the stroke. It allows the user to set up to the ball the same way every time (for example, with body alignment and ball position). After taking those variables out of the equation, the user is free to concentrate on the read and taking a confident stroke. What many will notice over time is they use or pay attention to the RST less and less, which was the case during testing. A quick glance to ensure proper setup is all that is needed after one becomes familiar with the putter and its benefits.
Final Thoughts
With the PTM series, SeeMore closed the gap between boutique and off-the-rack putters within their lineup. With offerings ranging from $150 up to $400+, the PTM sits firmly in the middle and offers the best of both worlds. By adding the PTM2 to the series, they've given a heel shaft option at an affordable price that delivers beauty often only seen at prices above $300 from most manufacturers. For more information on the PTM2, including custom options and ordering information, head to SeeMore's website, www.seemore.com.