SkyCaddie Breeze Review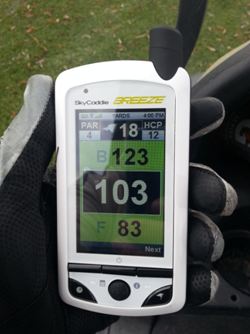 The name SkyCaddie has become one of the most recognizable and respected names in the massive world of golf GPS and rangefinder technology.  In an industry that is as competitive as any, SkyCaddie remains one of the most trusted and used GPS products in the world today.  SkyGolf has offered a steady supply of their GPS units to meet the demanding needs of today's golfers.  The latest generation of SkyCaddie promises to offer the easiest and lowest priced SkyCaddie yet.  THP was sent one of these units to find out for ourselves just how easy and accurate the SkyCaddie Breeze is.
Leading up to the review of the new SkyCaddie Breeze, I spoke to a lot of people, both SkyCaddie owners as well as people who use other companies' GPS units to get their opinions on the subject.   What I learned was quite interesting to me.  Every single SkyCaddie owner I talked to loved their product. They each told me that they'd happily pay the extra money for the device and the membership fees associated with it.  Those who used other GPS units were mostly against the idea of having to pay a membership fee to gain access to the GPS information they need to play their best golf.  I have never owned a SkyCaddie before, so I was admittedly in the latter line of thinking prior to this review.
The more research I did, the more curious I grew as to why SkyGolf charges a membership fee when other GPS companies do not.  I decided to dig into the subject a little deeper and what I found has changed my mind.  It may just change a lot of other peoples' minds as well.
From SkyGolf
The revenue derived from our membership plans is applied toward building and maintaining our SkyCourse golf maps. SkyGolf uses more than one hundred SkyCaddie mappers around the world, driving to remote locations and spending hours recording critical target information from the ground using expensive sub-meter GPS equipment to give our members the most accurate course maps in the game. We send our SkyCaddie mappers out to update and remap thousands of courses every year. Membership revenue ensures that your SkyCaddie is always updated with the latest GPS and critical software information.
There's a lot more to the SkyGolf memberships, including deals like the SkyRewards system and complimentary gift cards. For more information on the SkyGolf membership plans, you can visit their website.  In my research I learned more about the company and why they charge what they do for their services. You certainly do get a lot more than just a yardage.
As I mentioned above, the Breeze is supposed to be the easiest and least expensive SkyCaddie yet.  The Breeze delivers a virtual sprinkler head according to SkyGolf. It offers golfers front, middle and back of the green distances from anywhere on the course without touching a button or aiming.
More from SkyGolf
"The new Breeze addresses the needs of a large segment of golfers who are looking for simplicity and accuracy at a price unmatched in the industry," according to SkyGolf CEO Richard Edmonson. "Even more exciting is the Breeze is also upgradable to provide many other game saving course features and applications that help golfers play even better as their needs and their games grow. This will enable Breeze owners to customize their SkyCaddie to meet their unique needs as golfers without buying a new device or buy features they would not use." Breeze owners seeking more advanced stroke-saving features such as HoleVue, IntelliGreen, RangeVue and PinPoint can do so with a series of optional upgrade packs and membership choices.
THP Testing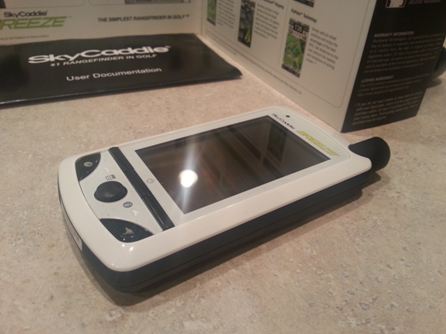 According to the information included in the box, the Breeze comes ready to hit the course.  I decided to check things out a little more, so after the initial charge of the Breeze, which took a couple hours or so, I decided to go ahead and get registered with SkyGolf.  Registration was simple, and the best part so far – free for 30 days.  I did not have to enter credit card information. All I had to do was fill out the registration, install the software on my home PC and I was ready for action.  It was fast and simple and I have to say I was impressed.
The time to get The Breeze out on the course came the very next day. After paying and getting warmed up, I powered up the device on my way to the first tee.  It immediately showed a 'searching for golf course' screen.  I expected a little delay like I've seen with other GPS devices at this point, but the longer I sat, the more concerned I became.  Still nothing and it's time to tee off.  I don't have an exact time it took, but eventually after I teed off and started the hole it had come up, found my location and the hole I was on.  From here we were off.  My first reaction was that the display was very crisp and vibrant.  Nice colors and easy to read numbers greeted me as I used the Breeze.  There was never a need to change holes, as the device continually updates as you go and automatically advances after each hole.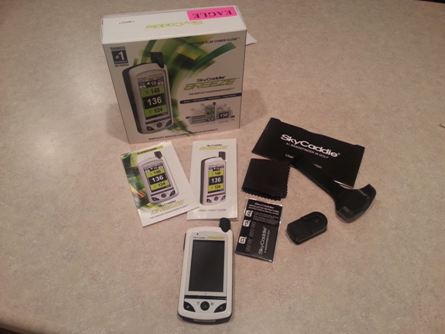 From unboxing to the course, the SkyCaddie Breeze was simple to use.  I have recently reviewed other GPS units that I've had to manually switch holes on or have had to negotiate where I'm at on the golf course within the device itself. That is a pain to me and something I'd rather not have to mess with.  The Breeze finds where you are and you're ready to go with a yardage to the green (front, center and back). It's that simple.
The battery life of the Breeze impressed me quite a bit as well.  I used it for back-to-back days of 18+ holes and it still had over 50% life left when I was done.  The built in battery-saver feature of the Breeze makes this possible. The screen dims when in motion, saving battery life in the process. As soon as the cart stops moving the display becomes bright and vibrant again.  This will help for those times that the GPS gets left in the golf bag accidentally.  I never did test it all the way to a dead battery, but I'm sure I had at least another full round of life left after the back-to-back days of use.
As I used the SkyCaddie Breeze, I was constantly comparing distances with sprinkler heads as I played.  Between sprinkler heads, on-cart GPS and pacing off yardages, I am very confident in the accuracy of the device.  In fact, throughout my time with it I've had multiple playing partners checking yardages off the Breeze, even when they have their own "other" brand GPS.  Many times the yardages were close to the same, but not always.  I know which one I trusted!
I didn't get an opportunity to test the advanced features such as HoleVue, IntelliGreen, RangeVue and PinPoint.  I will be upgrading to get access to these features the second next season starts. If you stay tuned to the THP Forum, I will be sure to come back and update everyone on my findings.  I am a big fan of the option to upgrade to these added features. For those who like to stay basic, it is ready right out of the box.  There are golfers (like me) who want every tidbit of information possible, and with the ability to upgrade, you can have exactly what you desire.
Overall
When considering a GPS unit, I look for two absolute must-have elements.  First is accuracy – if I can't be 100% confident in the yardages that I'm given, I might as well not even use it.  The second thing is ease of use.  The SkyCaddie Breeze is both accurate and easy to use. I have yet to use another GPS device that is this straightforward and simple.  With a very solid battery life to go along with the other traits I enjoyed, I can't find enough positive things to say about this device.
I understand peoples' issue with the membership fee associated with SkyGolf devices.  I also see the reason for the membership fee.  If paying a fee less than the cost of a round of golf provides me with a device that I can be confident in, then I'm quite alright with that.  SkyCaddie is trusted by more serious golfers than all other rangefinders combined.  While reviewing this device, I searched for areas where I could offer up some constructive criticism or find something that I felt needed to be improved upon.  It is very clear that SkyGolf set out to provide consumers with an affordable and easy-to-use GPS device. That is exactly what they have delivered in the Breeze.  The SkyCaddie Breeze is available now and costs $229.95.  A complete breakdown and explanation of the membership options is available on their website www.skygolf.com.