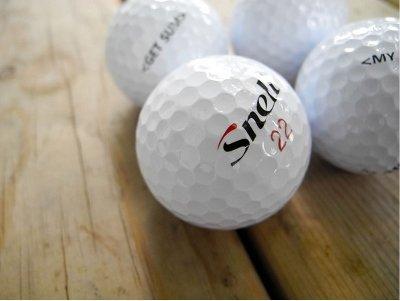 Joining what was at one point a rapidly growing segment of the golf equipment industry, Snell Golf brings the legitimacy gained from years working with larger OEMS to the direct-to-consumer golf ball sales model. The company's two offerings, My Tour Ball and Get Sum, cover the needs of both better players and beginners at a lower price point.
About Dean Snell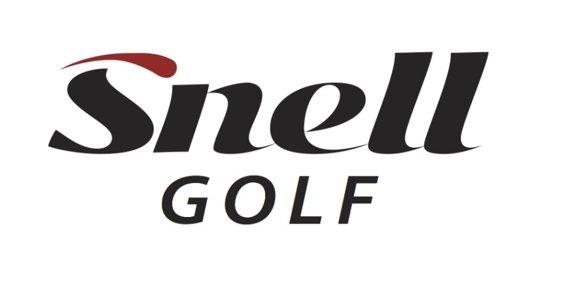 Though falling short of being a household name, Dean Snell is certainly a recognizable and respected name in the golf equipment industry. Mr. Snell has an impressive resume and makes note of the 38 golf ball patents he holds on his website.
Most recently, he was the VP of Research and Development, Golf Balls at Taylormade, where he developed balls many of us know quite well like the TP Red and Black, Penta , Project(a), and Tour Preferred and Tour Preferred X. Prior to that, he was part of the team at Titleist that invented possibly the most successful franchise in all of golf – the Pro V1.
Saying his motivation behind starting the company is 'to help grow the game", Snell says he can do that with the golf ball, "by giving you the technology and performance you are looking for at an affordable price."
My Tour Ball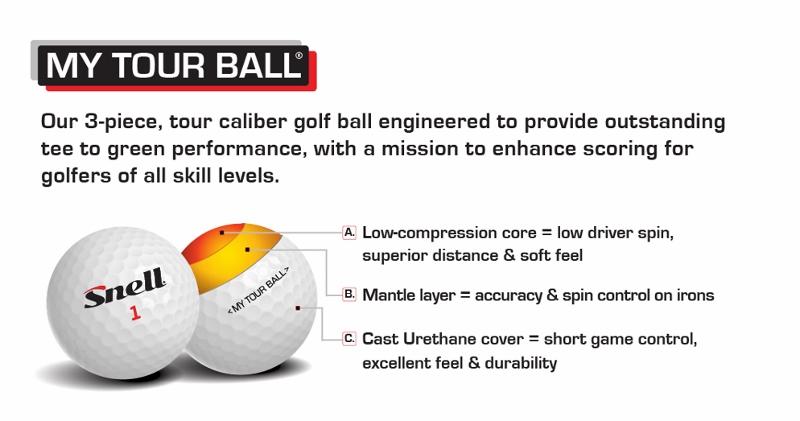 MY TOUR BALL is our 3-piece, tour caliber golf ball engineered to provide outstanding tee to green performance, with a mission to enhance scoring for golfers of all skill levels.
The Core has been developed with a very low compression, soft feel, with high velocity to help with ball speed regardless of swing speed and creates low driver spin rates for longer distances.
The Mantle layer works on longer shots to keep control of the spin, and works with the thin soft cast urethane cover on shorter irons and chip shorts to create higher spin rates for better control into the green.
The Cover layer is made of a thermoset cast urethane tour proven cover. This technology allows very thin covers for better short game spin control, and is very soft and durable.
Price: $31.99/dozen with free shipping
Snell's premium offering is called My Tour Ball (MTB) and is a three-piece, cast-urethane golf ball for those looking for maximum short game spin. Snell makes the statement that high-performance balls like the My Tour Ball are developed with multiple layers to provide the all-around performance that better players desire. Describing the low-compression core as what controls driver spin, the inner mantle as influencing iron spin, and the urethane cover as what provides wedge spin, he says that the My Tour Ball should provide excellent distance and control around the green.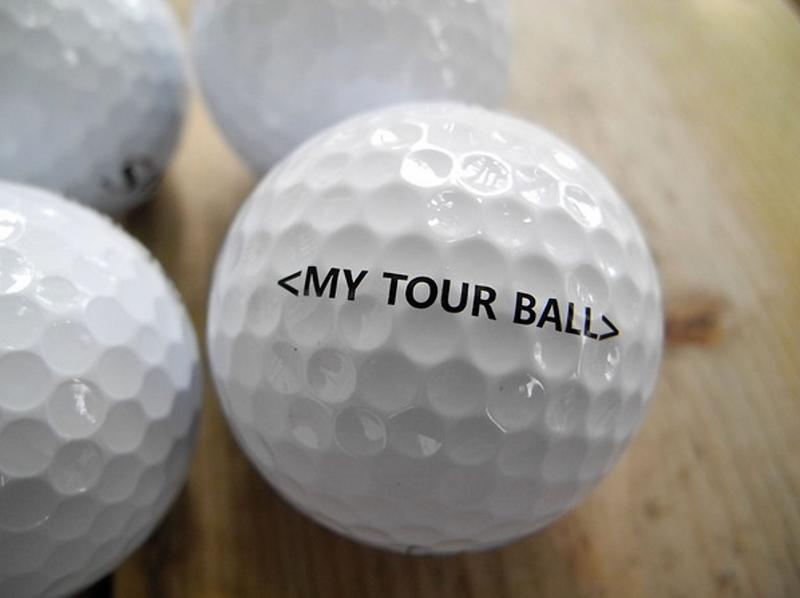 In hand, the MTB's soft and sticky cover is immediately noticeable, similar to any other tour-level ball on the market. The company's logo is prominently displayed in red and black on one side, while the other side utilizes the ball's name as an alignment line for putting. In comparison to some balls, the line is on the large side and the block lettering does seem to add more white space than we'd desire in a perfect world, but testing showed it served its function adequately.
Described as low compression, the MTB does indeed provide a softer feel on iron and wedge shots and putts. In the current climate, where it seems that all we hear is low compression, the MTB does fall a bit short of being pillowy soft like Wilson's FG Tour, but it's still a very pleasant ball to the senses for those that aren't fans of firmness.
The cast urethane cover, with its 350 dimples, is bright white with a noticeable seam. The cover seemed to be relatively durable as far as discoloration goes, though repeated wedge testing did scrape away some of the paint on the logo. Test balls were used during multiple rounds (at times) in addition to launch monitor testing into a net and maintained a reasonable amount of resiliency, especially if we are considering the lower price they come at.
Testing didn't show any notable difference (better or worse) in terms of distance with full swing clubs, though admittedly that isn't a common occurrence anyway in today's world of modern golf balls. Spin rates on half-wedge swings were very impressive, with the MTB matching the performance seen from heavyweights like the 2015 Pro V1, Bridgestone B330-RX, and Srixon Z-Star.
At $31.99, the My Tour Ball provides high-end performance at a very reasonable cost.
Get Sum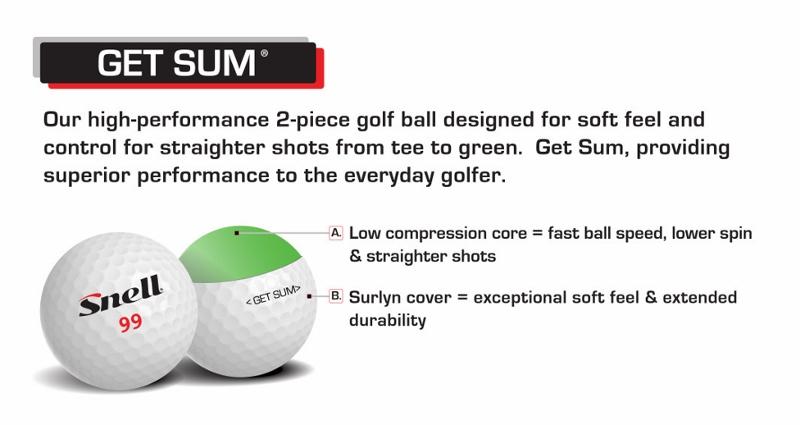 Get Sum is a high performance 2-pc golf ball that offers excellent feel and control.
The large, soft low compression core again allows for the ball to have very low spin rates which increases distance and creates less hooks and slices.
The thin, soft Surlyn® cover contributes to the soft feel of the ball. This core cover combination has been designed to help golfers get the ball in the air easier, and reduced spin rates for straighter shots from tee to green.
All with fast ball speeds for any swing speed, and exceptional soft feel and control.
Price: $20.99/dozen with free shipping.
The Get Sum ball takes its name from the boasting that comes from members of his club making good shots according to Snell. The name is intended to be tongue-in-cheek and fun, though it does risk falling into the same category we've seen many similar off-brand balls lumped into. Still, Get Sum isn't exactly intended to be a 'serious' ball and the somewhat-corny name ensures it will remain that way.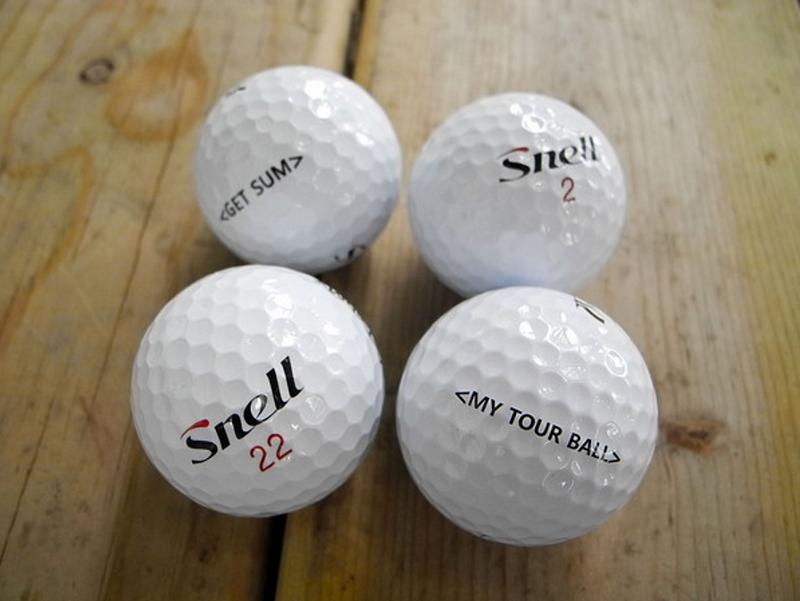 Snell notes that the Get Sum ball is "made for beginners with a very big, low compression core to keep the spin down and a thin cover to keep the feel very, very soft. " It should produce higher launch and lower spin tee to green, which is something that most average hackers can benefit from. In addition, the lower spin should help limit the effects of misses like the slice and hook, both issues that plague beginning and developing golfers alike.
The ionomer cover is firm to the touch and proved to be very durable during extended testing. Still though, the Get Sum was very pleasing to the ears on impacts from full swings to putts. Again, it didn't quite match some of the truly low-compression balls on the market today, but compared decently (in sound) to most of them.
Testing the Get Sum ball showed lower spin rates pretty much across board when compared to the My Tour Ball, which backs up Snell's claims quite well. This isn't a ball that will appeal as much to players looking for maximum greenside control, but many of the golfers that it is aimed at should probably just focus on getting to the green.
At $21.99, the Get Sum ball doesn't seem to offer the same value as the My Tour Ball, since there are a number of two-piece, surlyn balls from major brands for right around that price or even less already. We'd love to see it at $15, as it would be an absolute steal at that price point.
More information on Dean Snell and Snell Golf (including ordering instructions) is available on the company's website, www.snellgolf.com.