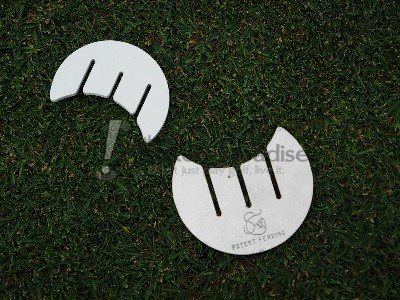 Could something as small as your ball marker make you a better putter? A company by the name of Spakesology believes so and they have a line of ball markers that are designed to do just that. I've had a sampling of their products in the bag for a month now and have some thoughts to share on them today.
The Company
I always root for the smaller companies out there, and Spakesology would definitely be classified as such. It was founded by an everyday golfer like you and me that found something that worked for him. Leland Spakes took his experience with metal work in the auto industry and put it to use for the ball markers he is producing.
The Marker
A New Way of Thinking! A New Way of Putting!
Revolutionary Sight Line and Ball Marker!
Don't Look at it … Look Through it!
As you may have picked up from that slogan, the Spakesology marker isn't designed just for the purpose of marking your ball on the putting green. There is also an alignment aid feature built into it that I'll cover in a little more detail later on in the review.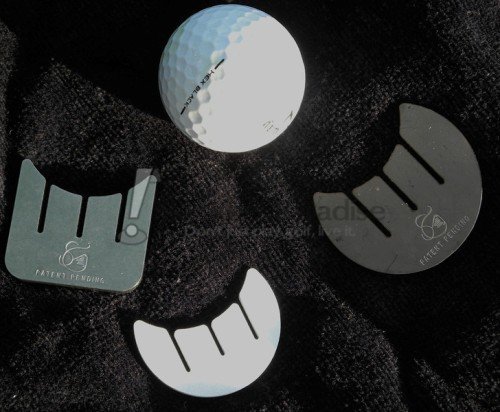 Spakesology crafts their markers out of steel and offers a variety of shapes and finishes. I was able to try out three different shapes in two finishes for the review. However, according to the company, the options for finishes are really limitless. They have, chrome, gold, blue nickel, black, and even diamond coated markers available among the many choices.
The first impression I got while handling the markers is that they are well crafted and extremely sturdy. At around 1/8 of an inch thick, they are built to stand up to regular use. At the same time, they aren't overly heavy – very similar to carrying around a 50-cent piece. Sizes range from fairly small to the size of a poker chip and I found myself most comfortable pocketing the former. The majority of shapes feature a rounded cut-out (to place against a golf ball), but there are other shapes available as well.
The most obvious visual feature of the Spakesology markers is the cut out lines that run towards the rounded edge. These are not just engraved or printed; rather they are cut entirely through the surface of the markers.  The lines are an integral part of the putting method Spakes built around his product.
The Method
Rather than just paraphrase the Spakesology method, I'm going to let a video the company created explain it.
Essentially, the golfer can stand upright while picking a spot to aim, line the cutouts to that spot, and set the marker down directly to the ground from there. At that point, the golf ball's alignment line can be lined up with the cutouts and the golfer can putt the ball. In addition, the marker itself is thin enough that it can remain on the ground for multiple putts during a practice session.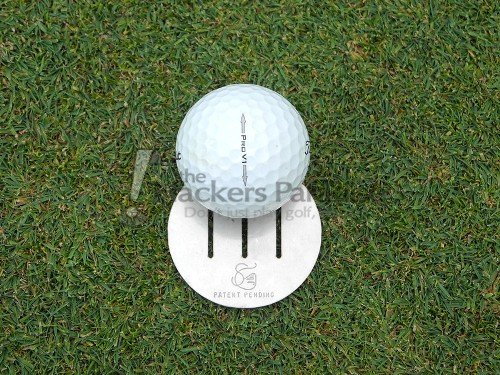 A quote from Nietzsche on the company's website, www.spakesologygolf.com, struck me as extremely wise and I thought I'd share it here before I discussed my experiences with the Spakesology method.
"You have your way. I have my way. As for the right way, the correct way, and the only way, it does not exist."
I found that quote extremely relevant, because in truth, I found little gain using this method. I'm what some I would call a 'line putter'. I imagine a line drawing itself to the hole while standing at ground level behind the ball. My brain just works that way. However, there are many people out there that I would call "spot putters" that may find benefit from this system. By "spot putters" I am referring to those people that pick the spot a putt will break and try to roll their ball from point A to that spot. For my use, looking through the sight lines sort of covered up the imaginary line my brain created and had me focusing more on a spot than the putt in totality. Again, I'll refer you to the quote above. Obviously, Mr. Spakes and I couldn't be more different in how we visualize our putts and there is certainly nothing wrong with that. Those of you that find yourself relating more to hitting a spot could very well enjoy the added benefits that these markers offer.
Final Thoughts
Regardless of my inability to adapt or change my putting style to fit the Spakesology markers, I was impressed at the build quality and number of available options in shape and finish. As a believer in small companies and hand-made products, I would encourage anybody that feels they could benefit from the Spakesology system to look at what they have to offer. You can obtain more information, as well as ordering instructions, at www.spakesologygolf.com.