THP was recently able to spend time with the newest lines from two companies who are focused in on producing extremely high quality women's golf apparel, Sport Haley and Bette & Court. The overall focus on the lines are providing unique yet interchangeable pieces that meet the needs of the more modern-minded female golfer in a category they classify as being "fashletic".
Information on the 2015 Line from Sport Haley:
The Spring 2015 collection is influenced by gardens, flowers and vibrant color. Each of the five groupings has its own personality, but pieces are interchangeable within each group and beyond. The traditional, but updated elements of Viola Vineyards; the modern, athletic and graphic pieces from Clover Lane; the feminine and floral Petal Path line; and, the classic look of bright blue and white in the Burchfield create a timeless, varied, but cohesive Spring 2015 collection.
 The beautiful florals, bold graphics and simple geometric patterns each have a place in a woman's wardrobe. Silhouettes are streamlined with clean and crisp lines, and the colors, textures, prints and patterns take center stage. Haley, the brands' signature owl, is thoughtfully placed as embroidery, zipper pulls or decorative touches throughout. The attention to detail in Sport Haley clothing speaks to the fine quality the brand is known for.
Fabrics for Spring 2015 are lighter and more technical overall. Sport Haley's signature fabric, Haley Cool, is superior in performance and has inherent cooling yarns so the fabric not only has wicking properties, but also is cool to the touch. With a UPF 30 and a slight texture, it is the perfect performing fabric.
Information on the 2015 Line from Bette & Court:
The Spring 2015 Bette & Court line continues to offer a modern twist to dressing for the active woman, while staying true to its core basics. Bette & Court apparel is designed to meet the needs of the busy, younger-minded and active woman who wants "fashletic" or easy to wear, affordable clothing that performs well on the golf course, but also translates fashionably off the course.
The new line, which includes three collections, is full of colorful personality, but easy to merchandise and designed with practicality in mind. The color blocking attributes bring a flattering twist to the short sleeve and sleeveless polo's in each collection. Design details like heathered or printed fabrics, ombre zippers and mesh overlays add stylish touches to this season's pieces. Using quality, high performing fabrics that fit and flatter, this seamless collection is a reflection of Bette & Court's evolution as a fashion forward apparel brand.
Bette & Court's entire collection centers around the brand's best-selling Cool Elements top, the original sun protection mesh sleeved polo, which can be worn on and off the course. In the Spring 2015 collection, Cool Elements tops come in not only 15 color options, but also with two collar styles, six prints and the new Odyssey Mock, which features mesh detailing on the back, heathered fabrication, and thumb holes on the sleeves.
Providing SPF 30+ sun protection, these textured tops can reduce body temperature with its cooling yarns and mesh vents under each sleeve for extra air circulation. With fabric that is lightweight, anti-microbial and moisture wicking, Cool Elements products are the perfect piece for lightweight sun protection.
Pieces from Sport Haley:
 "Amanda" Printed Polo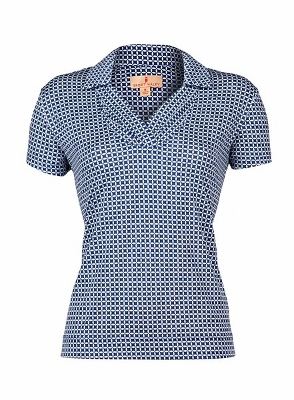 The top is an incredibly solid piece from the collection, in fact it excels in all areas. The no-button V-neck really has a very freeing feeling, and as someone who normally leaves almost all buttons undone, it is a perfect blend for what this reviewer likes in a polo. The "Amanda" also fit true to size and was long enough to tuck in if desired, but not too long to wear untucked.  The design has a nice overall form, which actually gives some shape rather than being boxy.  It was also nice to see that the sleeves were loose. Many companies are doing the athletic fit and the sleeves are typically overly tight, but not here. Pair the overall fit with the lightweight material and it becomes an ideal piece for a hot summer day.  Additionally, the Burch Blue color is a really unique colorway, blending what is almost a periwinkle with some nice and subtle purple undertones. 
The "Amanda" is prices at $89.00
"Stella" Shorts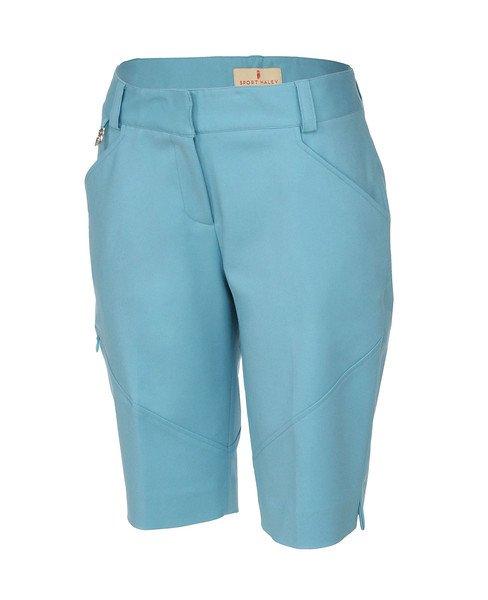 Overall the "Stella" shorts were OK. The fit was a bit snug, but that could also be the in part due to the natural body shape of the reviewer.  These likely will not be the best for pear shaped women, but this particular cut never is.  The pocket placements were very nice and the material was impressively lightweight, stretchy, and breathable. Again the color here is very nice. It really is an eye catching and unique shade.  In the end, remember that body shape definitely plays a role in how certain pieces fit as well as who they work out for the best. These shorts are a great example of that.
The "Stella" shorts have a price point of $82.00
Sport Haley Lightweight Jacket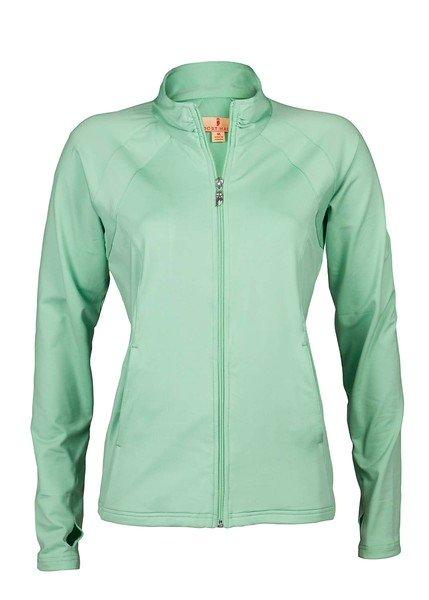 The jacket was maybe the most well-balanced piece sent into THP from Sport Haley. It truly was quite fantastic.  The jacket itself was quite a bit heavier than the pullover we also reviewed here from Bette & Court, but great for those days in the 50's when you want a jacket, but don't want to feel constricted.  The fabric was also super soft and it is definitely a piece that fit true to size.
The jacket is priced at $84.00
Pieces from Bette & Court:
"Balance" Colorblock Polo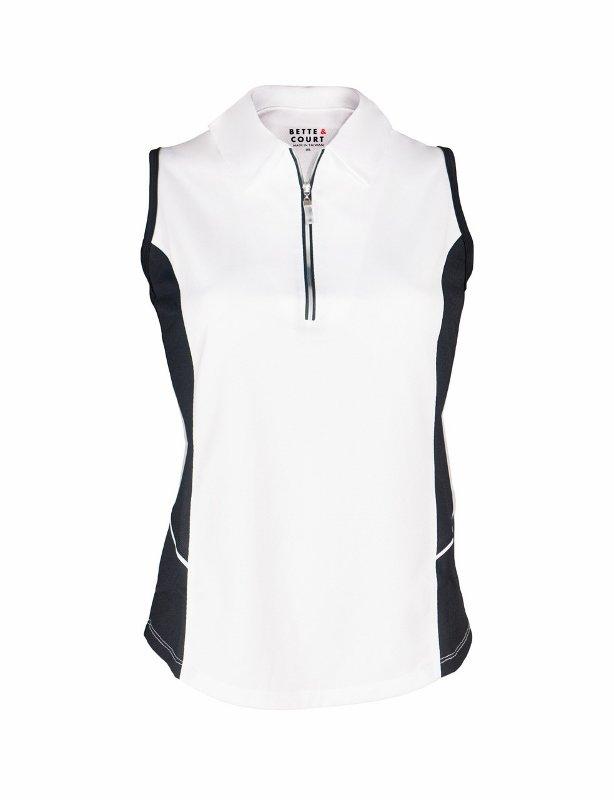 The "Balance" is a sleeveless top that was super lightweight. In fact, it almost felt at times like wearing nothing at all.  The overall fit was true to size and without the saggy armpit area like some sleeveless tops tend to have.  Great fit, very nice feel as well as function, and overall it was simply a wonderful top.
The "Balance" polo has a price of $54.00
"Pendulum" Printed Skirt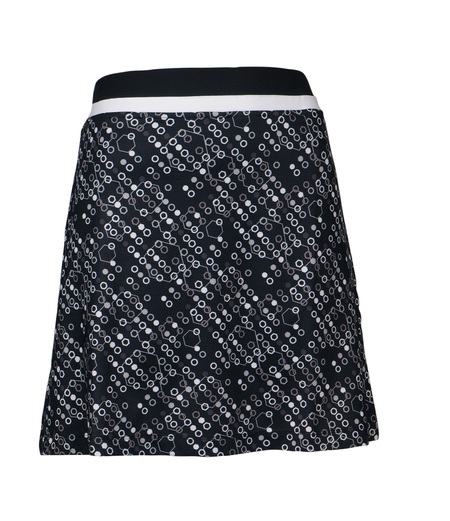 This article might be the most versatile of both lines. In short, it really was fantastic.  This is the type of skort that can be worn out to dinner, to work, or even shopping with friends. The design works great on the course, but transfers to evening or everyday flawlessly.  The fabric is stretchy and soft, with a significant amount of tech built in.  Another bonus is that the shorts underneath did not have that super tight bicycle short feel that this reviewer really loathes. They were snug, but comfortable. Overall, these were a truly spectacular bottom option.
The price point on the "Pendulum" skirt sits at $66.00
 "Legacy" Cool Elements Long-Sleeve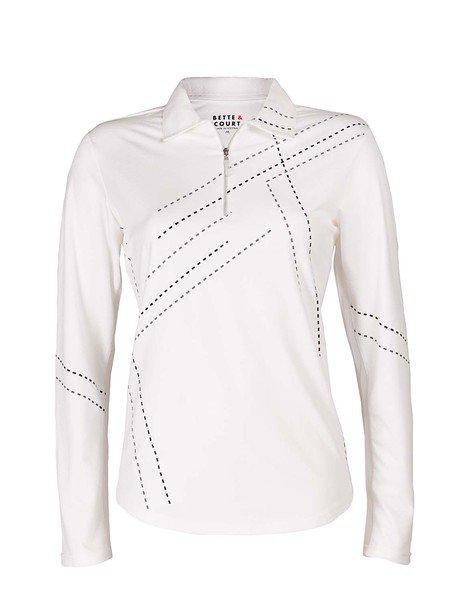 This may be a new go-to pullover for this reviewer.  Just like the sleeveless top, it's so lightweight you don't even feel like you are wearing anything.  Plus, the geometric design is really fun looking and the ¼ zip really ties it all together from a design standpoint.  The "Legacy" fit true to size and went over the sleeveless top perfectly without being constricting or moving too much.  This is one of those pieces you tend to end up wanting in every color available.
The "Legacy" pullover runs a price of $80.00
Closing Thoughts:
Both Bette & Court and Sport Haley are clearly offering a diverse line of apparel where there is almost certainly something for everyone, especially considering the varying price points between the two lines. Quality designs, fantastic materials, and extreme versatility are what was seen from the Spring Collection. It is certainly worth a deeper look for the ladies looking to expand their golf/casual wardrobe.
More offerings from each company can be found at their respective sites, www.SportHaley.com and www.Bette-Court.com.