Can we be honest for a minute? Shelling out $45 or more for a dozen golf balls, only to lose them in the water, trees, or high rough can be irritating. Even more so when one has that eureka moment that they don't necessarily need the high-end golf ball to get the best performance and lower scores. Enter the latest generation of the Soft Feel from Srixon which carries a more budget-friendly price tag.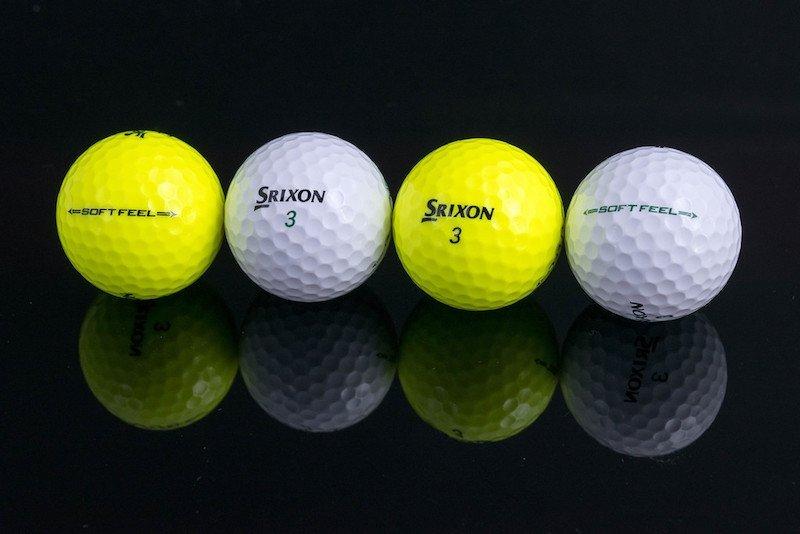 Like most major ball manufactures out there, Srixon has a variety of golf balls to choose from. On their site, they break their offerings into two categories, Tour Performance and 2-Piece Performance. The latter category is where golfers will find the Soft Feel ball alongside the Soft Feel Lady and Q-Star. There are some performance differences that we will touch on later, but before we get to that point, let's take a look at what the Soft Feel ball is all about.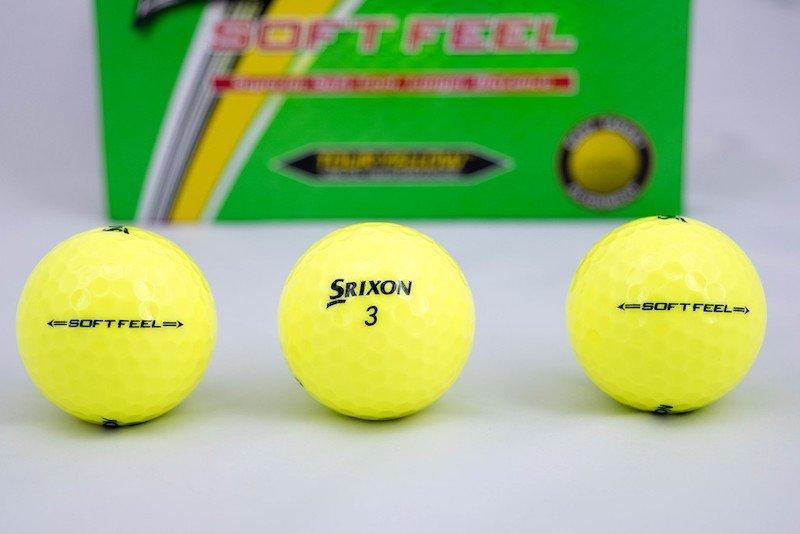 As mentioned above, the Soft Feel is a two-piece golf ball that carries with it a compression rating of 60. What that means is that it will be easier for golfers with moderate swing speeds to get better performance from this ball off the tee and with their irons. A trend that some will pick up on throughout this article is that the Soft Feel ball does indeed feel soft, and part of that is because of the lower compression combined with, the softer cover and Energetic Gradient Growth Core, which is firm on the outside and, you guessed it, soft in the middle.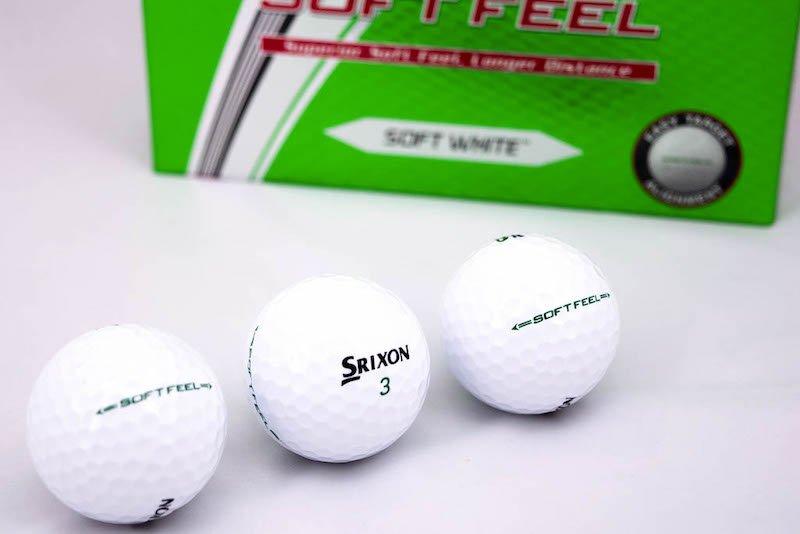 It's relatively common that this genre of golf balls gets presented as the distance ball for players looking to hit the ball further. Like most golf balls on the market, the Soft Feel offers low spin designs off the tee and has some reduced spin on the low to mid irons. In no way, shape, or form, have I ever been considered a golfer who possesses the ability to hit the long ball, but there were some swings recorded where my distance off the tee was formidable. With a mid-90's swing speed, my carry distance off the driver topped out at 247 yards, which admittedly I will gladly take any day of the week. Changing the club over to an 8-iron and the carry distances were right in line with what I have come to expect from my game. With both woods and irons though, the Soft Feel provided a pleasant sensation at impact, and the on-course performance matched up well to other offerings found in Srixon's Tour Performance classification.
Golfers who tend to pride themselves on their short game control likely would not think of the Soft Feel as the ball for them, with the cover material being a significant factor in that decision. Amongst other factors, it has been proven that a urethane covered golf ball will offer more spin than one sporting a non-urethane cover. With that, the question becomes how much spin is one going to lose when it comes to switching to the two-piece ionomer laden Soft Feel? Being a golfer that is not long off the tee, the short game bears more importance on my scores. While it might not seem like a fair fight on paper, or on Twitter, a little side by side comparison took place between Srixon's Tour Ball, the Z-Star, and the new Soft Feel. This side by side test was done both on the course and with the help of a Foresight GC2.
During on course testing the Soft Feel surprised at how well it handled shots into the green from 100 yards. There were times on both Bermuda and bent grass greens where full swing shots landed softly, and at times allowed me to take advantage of some backstops and slopes to get the ball closer to the hole. Being that I am not a real high spin player, there was not a real discernable difference on these shots. Where the difference did become more evident is on longer pitch shots around 50-60 yards. While it felt soft, hence the name, it did not check and hold as well as the Z-Star, which is where the advantage of that urethane cover started to show. When taking a look at the raw data, the numbers back up the performance seen on the course. Below are some screenshots of how the Soft Feel performed on both full and partial shots. On the 100-yard full swing shots, the variance in spin from what we gathered from the Z-Star was around 700 RPM, which overall isn't a massive difference. When we get to that long pitch shot, we did indeed see more separation in the spin numbers as the Z-Star brought with it a higher spin rate by 1,600 RPM.
100-Yard Shots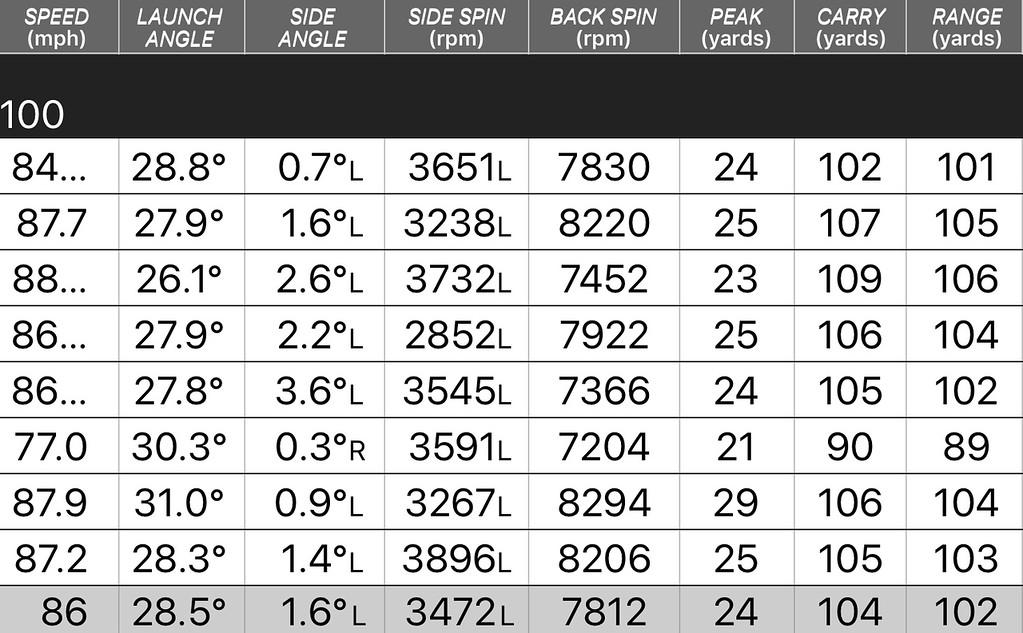 Long Pitch Shots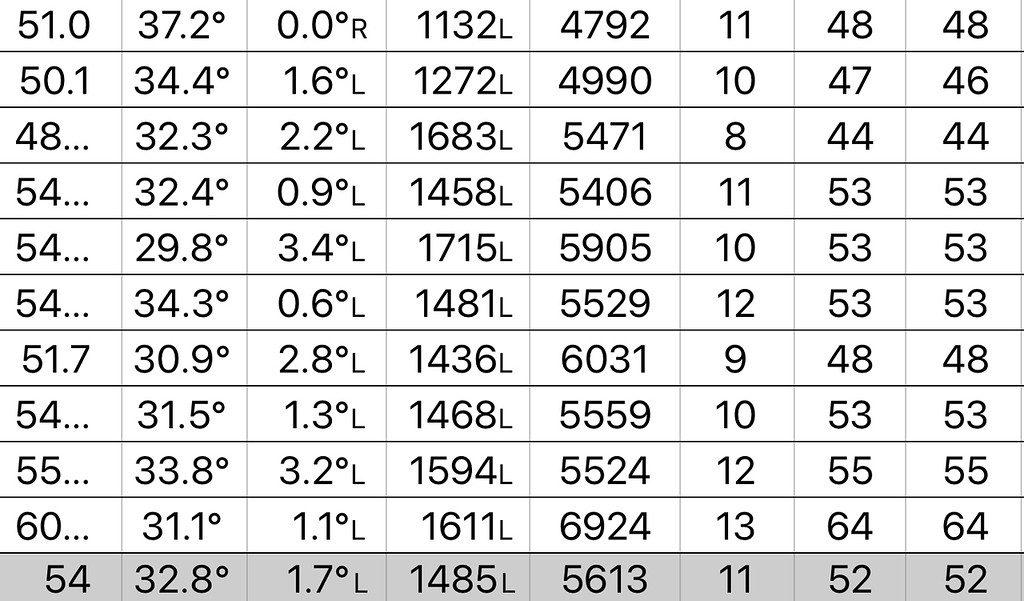 Once on the green, the Soft Feel continues to show that Srixon named this ball appropriately. Off of the putter face, the sound hits that middle range, which keeps it from bearing an overly loud click at impact. Even though some players might use the Easy Target Alignment aide for shots off the tee, it mostly came in to play more consistently when lining up a putt. We've all seen that little plastic tool that allows golfers to draw a straight line on their ball for this very purpose. Well now you can save the ten dollars it would cost to buy that contraption and put it towards the next dozen of Srixon Soft Feel balls.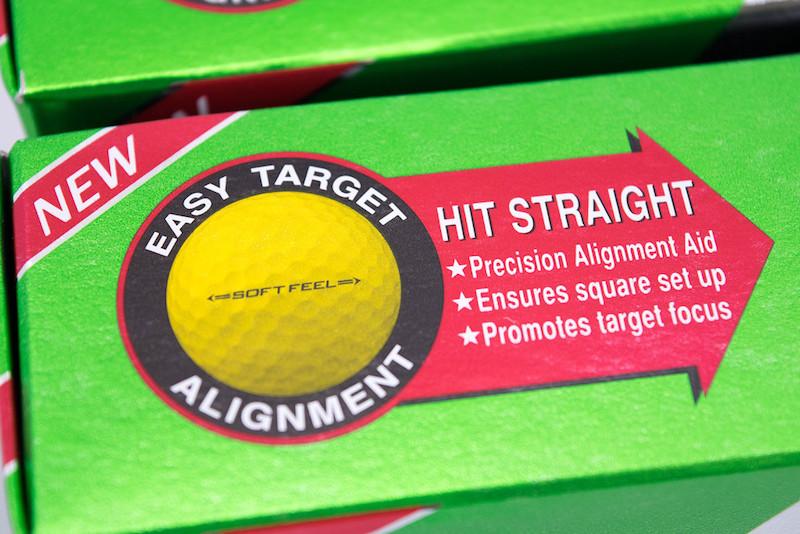 Taking up the bottom tier of Srixon's lineup might make the Soft Feel an overlooked golf ball. In reality, it's a fine ball that feels really good on all shots and held up surprisingly well in some other statistical categories. Nobody will confuse hitting these and hitting a rock, which if you remember the distance balls of yesteryear, you know what I am alluding to. For $20, golfers can pick up this ball in either Soft White, Tour Yellow, or Passion Pink. More information on the 11th generation of the Soft Feel can be found at www.srixon.com.