I won't bury the lead on this one – the Stick It Magnetic Towel is an excellent golf towel.  I never thought I would have a strong reaction on something that doesn't lower my score any strokes, but everything about the Stick It Magnetic Towel just makes sense for the average golfer.  Whether you are riding in a cart or using a pushcart to navigate the course, the Stick It Magnetic Towel will be a great addition to your bag.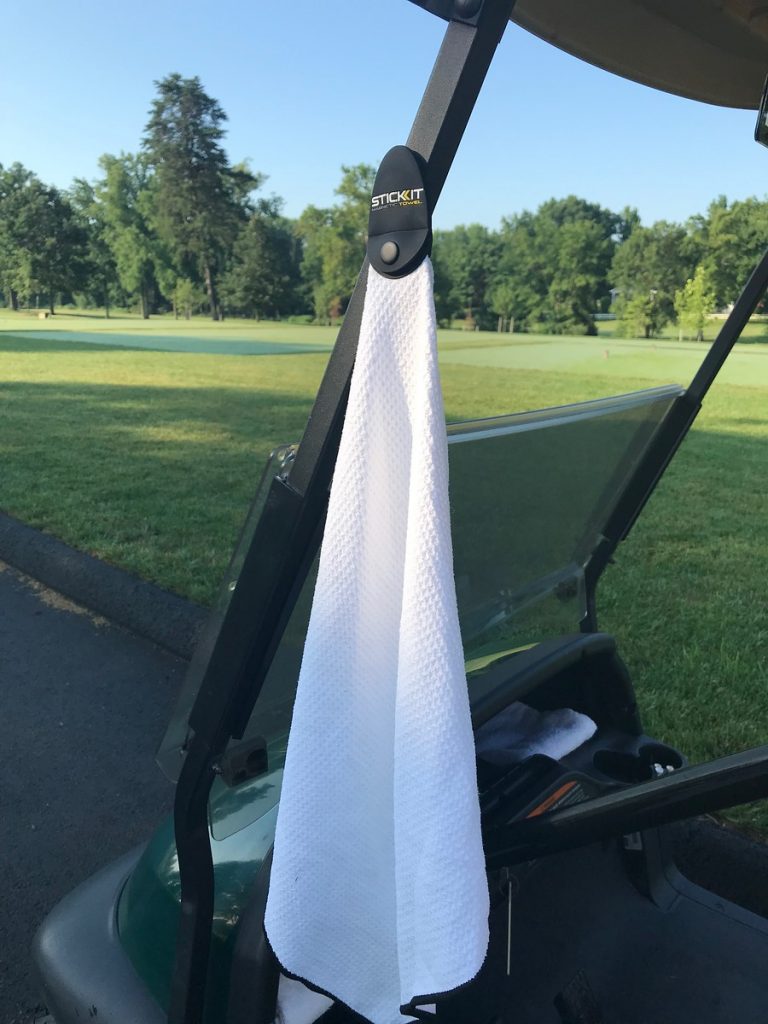 About the Stick It
The Stick It Magnetic Towel is everything you would expect from a high-quality golf towel: absorbent, waffle patterned for cleaner grooves, and made from a high-quality fabric.  The Stick It measures 12'' x 8'' and looks like most other towels on the market at first glance.  But unlike other towels, the Stick It stands out by the addition of a strong, industrial strength magnet that allows you to place the Stick It nearly anywhere you want – a real value add for someone who frequently uses a towel and brings one greenside.  Simply place the Stick It on anything metal and it isn't going anywhere until you want it to.
The Stick It's strong magnet also allows for easy retrieval around the green. Picking up the Stick It towel off the ground is as easy as tapping your putter or wedge to the magnet and its coming back to your golf bag without bending over.   It might sound small, but I really enjoyed this feature during summer rounds where walking can be taxing.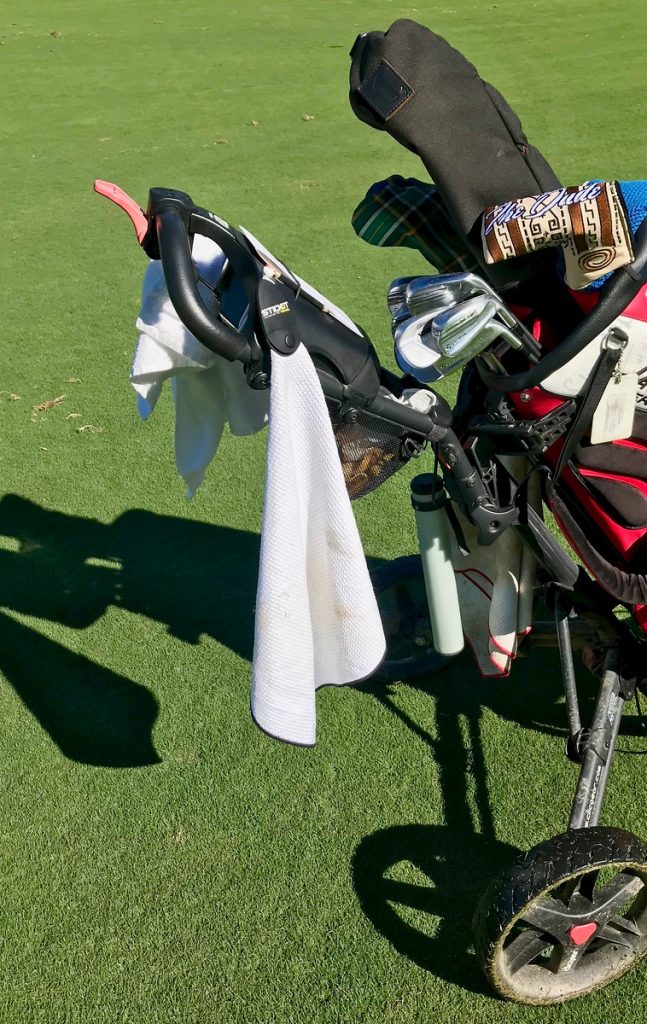 If your putter doesn't have metal or it lacks a large piece of metal, the Stick It Magnetic Towel comes with what the company calls the "putter assist" – a metal insert that can be placed in the end of the putter.  A quick tap of the putter assist to the Stick It will attract the towel and have you on your way quickly.  Of course, if you use a GPS stat tracker such as Game Golf or Arccos you won't be able to take advantage of the putter assist as intended, but it may prove to be very useful if you want to mount the Stick It on a pushcart.
On the Course
The easy pickup of a greenside towel may not lower your score, but it definitely can make a round a bit more enjoyable and easy.  After getting used to using the Stick It, I found myself planning what I took to the green so I could avoid expending unnecessary energy on a green in regulation and I found myself sticking the Stick It to my wedges when I missed the green.  It was more difficult to forget a wedge when there was a large, colorful towel drawing attention to my stray clubs.
As mentioned above, the Stick It is great regardless of if you are riding in a cart or walking with a pushcart.  That said, the Stick It really stands out when you are riding in a cart because anywhere you see metal is a possible mounting place for it.  My favorite spot was on the windshield post because this ensured the Stick It was always within arms reach.  Whether I was cleaning a club while my partner drove to the next tee or I spilled a drink while driving over the bumps in the rough, the Stick It was right there for quick retrieval.  Best of all, the Stick It comes to the green with you after a quick pull so you can go make that birdie putt.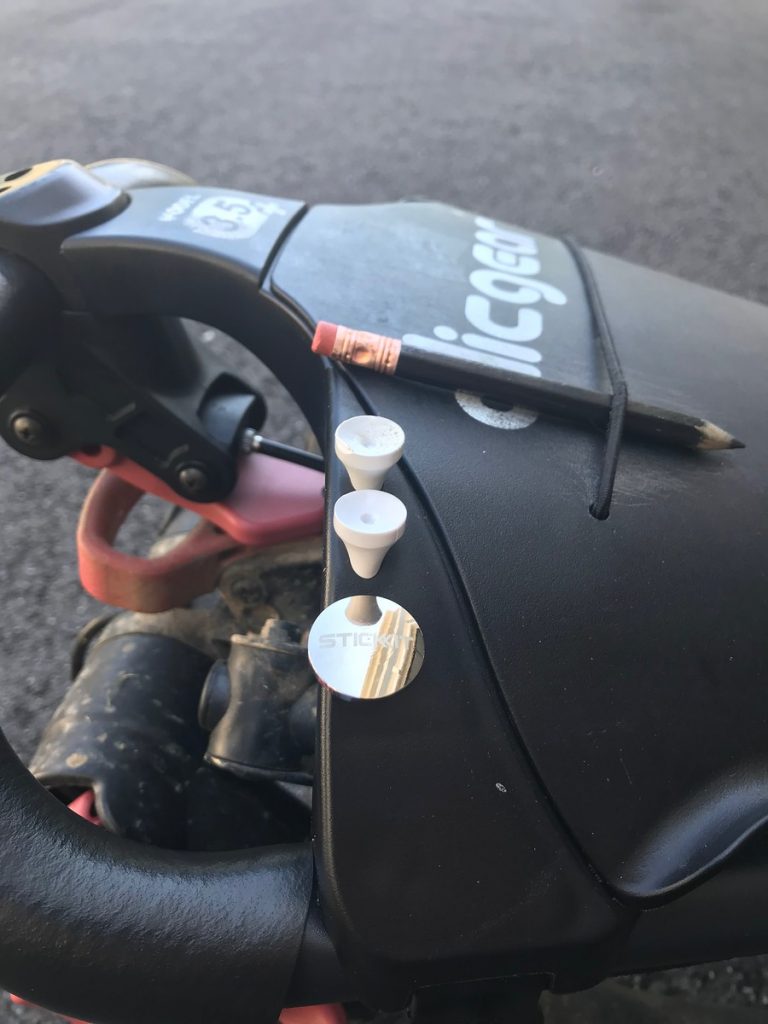 The Stick It Magnetic Towel can also be adapted to mount on a pushcart with a little creativity.  For example, I inserted the putter assist into a tee holder on my Clicgear using only a little pressure and a rubber mallet.  With the putter assist in place, the Stick It has a semi-permanent mount on your pushcart that will hold your towel until you need it, and the putter assist stayed in place without budging.  My days of dropped towels while walking are over.
For those of you who clean golf towels, the magnet is very easy to remove.  Simply disconnect the towel from the magnet by unsnapping the two snap fasteners and the towel is washer ready.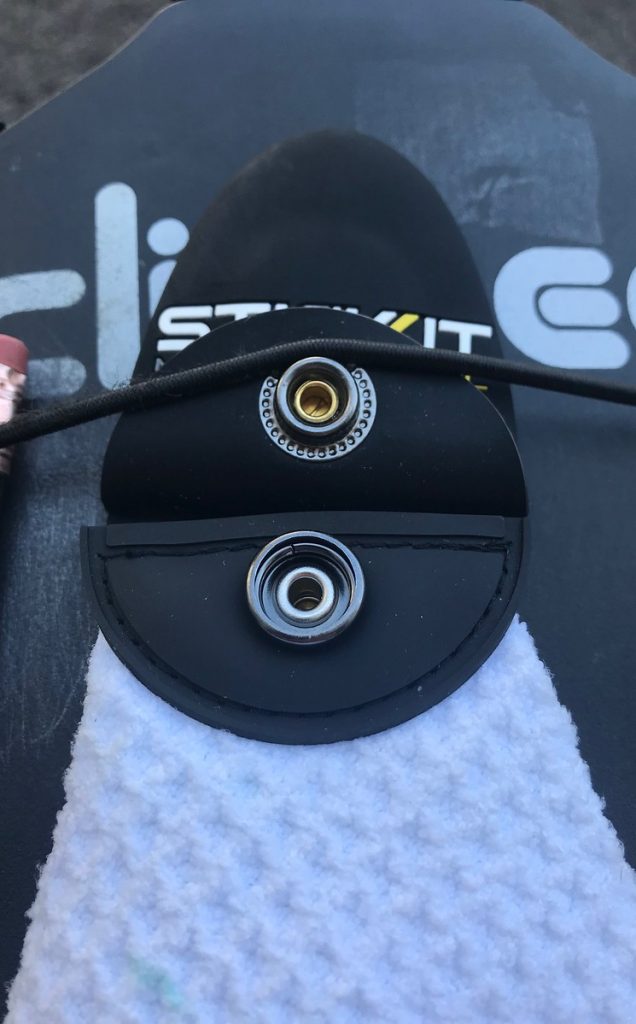 Parting Thoughts
After using the Stick It for a few weeks, I know that my days of cramming a towel in the golf cart cubby, unknowingly dropping my towel off a push cart, or putting a towel on top of my clubs and hoping it stays put are over.  The Stick It Magnetic Towel's strong magnet ensures that the Stick It is exactly where I put it and the only thing to worry about is grabbing it off the cart at the end of the round.
The Stick It provides an elegant solution to a small, previously unrecognized problem and it is a welcome addition to my golf bag.  The Stick It is truly one of those "why didn't I think of this" products but now that it exists I have no idea how this isn't a more common item in the average player's bag. I do know, however, that the Stick It Magnetic Towel is going to stay stuck on my cart for a long time and I bet you will see this design gain popularity and acceptance in the near future. The Stick It currently comes in grey and white and retails for $24.95.  More information can be found at https://monumentgolfer.com.