Golf apparel continues to evolve, not just in materials but also when it comes to the patterns and prints which we are seeing golfers enjoy. Sure, some aren't for everyone, but golf is supposed to be fun, and Straight Down is a company that runs with that.
I was lucky enough to get a polo in to take a closer look at for a full THP rundown. Does it deliver? Definitely.
Quick Take
A new favorite in the golf wardrobe. Without a doubt one of the absolute lightest performance golf polo materials anywhere on the marketplace, it might even trick you into thinking it's silk. Fun prints combined with the materials, good durability, and a true to size athletic leaning fit make for a top-notch piece of apparel.
The Straight Down Story
I think it is worth taking a quick look into the brand itself because most likely aren't familiar with it, and frankly it's a pretty cool history.
Straight Down was actually founded way back in 1989, so although their recent surge into golf shops across America may make them feel new era, they are not at all a fly by night apparel brand. The company has been family owned for the past 30 years and they are in it for their love of golf, a passion they try to shine as bright as possible.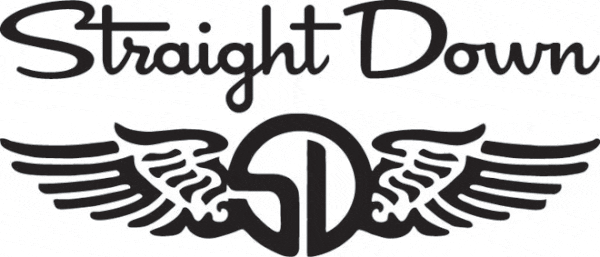 One way they have done that is in 2021 the brand committed to the goal of making 95% of their products from shoes to shirts and everything in-between out of recycled polyester and recycled cotton fibers from discarded clothing. This is to help push the industry to more sustainable methods while also proving that recycled can still mean top of the line comfort. It is always neat to see a company put their money, and reputation, on the line to back up their ambitions.
Straight Down – Axe to Grind Polo
I was sent the "Axe to Grind" polo for this review and frankly, there could not have been a more fun and apropos pattern for this Okie. The deep rich navy polo is adorned with alternating patters of buffalo and throwing axes in white which allow them to pop just enough to not come off as gaudy. No, it won't be for everyone, but I have gotten a lot of compliments on this one in tournaments around here since getting it in hand.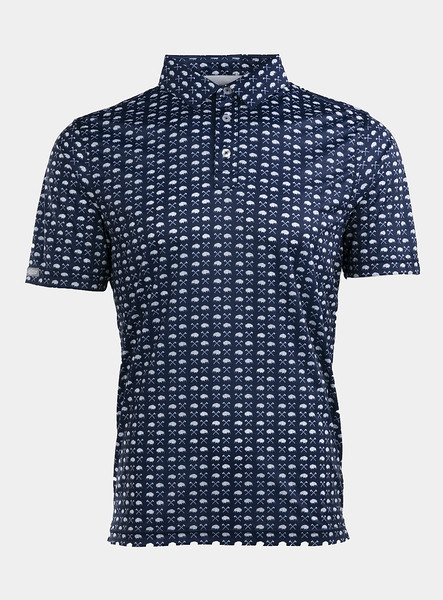 The design itself is an athletic leaning fit that for me was true to size (large) and it balances having enough snug in the arms while also not having an overzealous taper to the body of the shirt. The three-button placket is clean and allows for a variety of dress options.
However, I have sat on the biggest part of the story for long enough. This material is insane. The Axe to Grind is made of what Straight Down refers to as their "Airfiber" material that is 100% polyester. Now, pay attention to this very carefully as you read it, this feels like silk. When I opened the package, I was in awe because as a golf polo addict who only wears performance materials, this is unlike anything I have ever held in hand.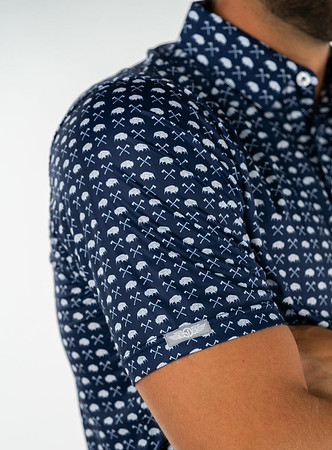 My immediate concern was likely the same as you, will it hold up? In a word, yes. As of writing this article, I have washed the shirt three times and worn it in three different outings (two tournaments and one night out), and the stitching has held up flawlessly and it has no snags or pulls anywhere on it. Impressive for a shirt that feels as light as air.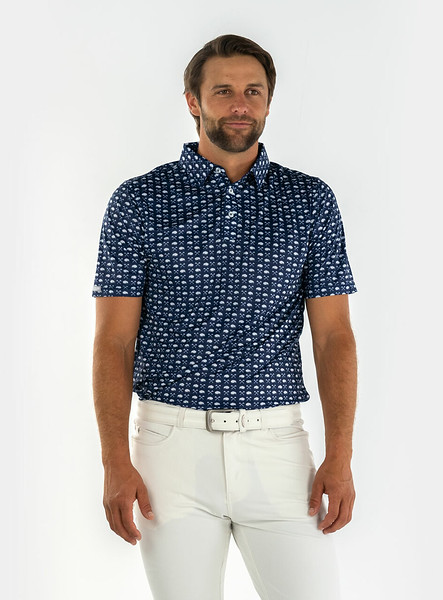 More options are always good, and Straight Down continues to not just work their way into stores and golf shops across America, they are also diversifying their products to run the gamut of golf apparel. It is also important to point out that though patterns like this one I reviewed are fun, they also know that they aren't for everyone, so more subdued option are in their lineup as well.
The Axe to Grind polo comes in at $84.00 and is available in sizes S through XXL. While that price may cause some issues for some, it is well within the trend of the market, especially given the quality. For more information on Straight Down apparel and to see other options available, please visit their website www.straightdown.com.
Have you tried Straight Down apparel before? Jump into the conversation below or directly on the THP community and let us know your thoughts!