Every year THP hosts an outing for it's members where people from all over the world travel to play golf for an unforgettable weekend. With each year we have hosted this event we have heard complaints from our members about how their travel golf bag did not hold up or simply did not perform like they had hoped for. So when we had the chance to see the new Sun Mountain ClubGlider Travel Bag at the 2012 PGA Show we had to test it out.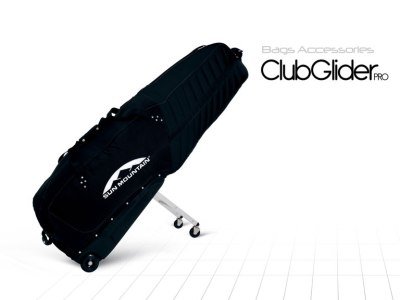 From the Company:
ClubGlider from Sun Mountain is the next evolution in golf travel bags offering extendable legs and wheels to support 100% of the weight, while eliminating the repeated bending and lifting required with traditional travel bags. With the ClubGlider, walking around is effortless thanks to the maneuverability of the bag's pivoting wheels. ClubGlider is available in three different models – Pro, Meridian, and the new-for-2012 Journey – offering protection for golfers ranging from weekend warriors to touring professionals.
ClubGlider literally glides from parking lot to luggage counter and back again with retractable legs that easily extend and then tuck away securely for travel. And, thanks to the maneuverability of ClubGlider's pivoting wheels, walking around is effortless. ClubGlider offers all or more of the protection and storage space of a traditional golf travel bag while eliminating the heavy lifting and constant bending normally required to get through the airport. 
Benefits of ClubGlider include legs that support 100% of the weight, eliminating on average over 22 pounds of pressure from the golfer's shoulders and back. ClubGlider can also be loaded while standing, eliminating the need to bend all the way over as with other travel bags. Additionally, with the ClubGlider, the repeated bending and lifting while waiting in line is a thing of the past. Plus, ClubGlider can support additional luggage, freeing the traveler's hands. ClubGlider is simple, fast and easy to use with retractable legs and wheels that lock securely for travel. ClubGlider includes heavy-duty two-way zippers, thick foam padding extending down the travel bag to protect clubheads and shafts, internal storage pockets, internal cinch straps, ballistic fabric, vinyl-reinforced wear areas, and a lift-assist handle.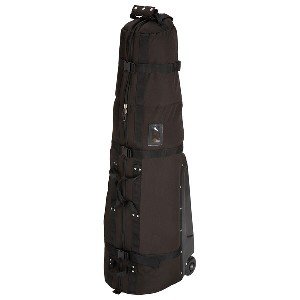 Sun Mountain was nice enough to send us two bags, one for us to review, and one for a friend of ours who plays on the LPGA. One of the hardest parts of travel for her is lugging her giant golf travel bag around. It's never easy trying to navigate through an airport with that huge bag. Since she carries a staff bag she tried the ClubGlider Pro because it is big enough to hold a staff bag. After heading off to different countries and stops within the US she had nothing but great things to say about the Sun Mountain bag. She said it has changed the way she travels with her clubs. Being able to roll the bag around the airport has been such a tremendous benefit for her and her crazy travel schedule.
After hearing her rave about the travel bag I couldn't wait to take a trip so I could try it too. Over the past couple of months I have traveled quite a bit and made sure to take my golf clubs and Sun Mountain travel bag with me. She wasn't lying, this bag is great! Having the retractable wheels makes all the difference in the world. It's so easy to get from point A to point B without dragging the bag on the ground or complaining that my arm hurts from lugging this giant bag around. Yes, I admit I normally complain about that a lot when I travel. One of the features I loved the most about the bag was that I never really needed to bend down. For some reason I can never remember to zip up my purse and there is nothing more annoying then bending over to pick up your bag, or fix your bag and then all the contents of my purse come flying out all over the place. I am sure the men reading this can't relate, but the ladies know what I am talking about.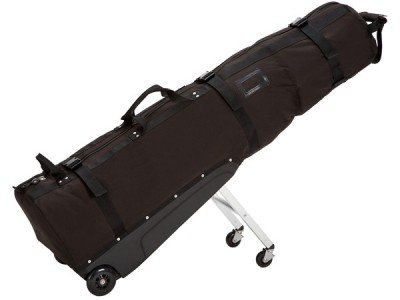 After several uses on multiple flights our bags were still in great shape. Even with the rough treatment of the airlines the bags held up great and the bag looked and performed just like it did the day we took them out of the box. If we had to nit pick the only negative we found from the bag was the weight. Not because it was too heavy to carry, because the wheels make it light as a feather, but it did limit how many extra things we could throw into the bag along with our clubs before it was considered over weight by the airlines and then they could charge more. Technically you aren't supposed to have extra stuff in there anyhow so this really is a very minor issue and nothing that would deter either of us from using this bag or recommending it to others.
If you plan to travel with your golf clubs, even if just for one trip, I highly recommend taking a look at this bag. With a price tag ranging from $199-$299 depending on the style you choose the price might seem high but for what it gives you I think it's well worth. I promise your shoulders and back will thank you. For more information on the new Sun Mountain ClubGlider Travel Bag you can visit their website at www.sunmountain.com. Happy traveling!