After over three years of success with its incredibly popular Traxion line, SuperStroke is introducing Zenergy, its next generation of putter grips. Featuring new technologies, colorways, and customization, the company believes Zenergy will help them continue dominating the putter grip space among both amateurs and touring professionals.

The Zenergy line features multi-layer construction. The outer layer is soft and tacky to ensure players have a solid grip on their putter, while the inner core is made of a firm rubber to provide stability and feedback into the hands. The ultimate goal is that players can take their hands out of the putter stroke to achieve a consistent roll over and over again.
"There's nothing like feeling connected over the ball when you're putting," says SuperStroke CEO Dean Dingman. "Our new Zenergy line is the culmination of Tour player feedback, tireless research, and subtle innovation to put in your hands the most comfortable, responsive, and performance-driven putter grip you've ever used. Only SuperStroke Zenergy, designed in 10 different models to accommodate players' unique preferences and putting styles, delivers the ultimate confidence you can touch and feel, stripping away the distractions of golf's most pressure-packed shots and helping you find your zone and Zen."
A consistent grip and setup are key to a repeatable putting stroke, and SuperStroke's new Spyne Technology, an embossed ridge on the underside of each Zenergy grip, should assist players in finding the same hand position every time they pick up the putter.
Additionally, to improve feel in the hands, all new Multi-Zone Texturing provides "strategically placed texture in high-sensory areas to optimize feedback and comfort from the incredibly soft polyurethane outer layer." SuperStroke's patented No-Taper Shaping minimizes grip pressure, while their Tech-Port, located at the top of the grip, provides easy access to install their Counter-Core weight system or performance tracking sensors.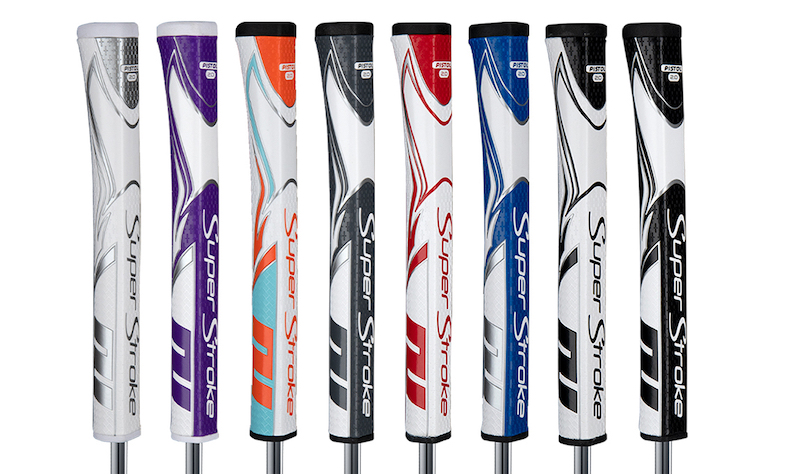 SuperStroke has designed new graphics and eight new colorways for the Zenergy line, including Orange-Blue-and-White, Purple-and-White, Grey-and-White, and White-and-Silver. Possibly the most exciting new development for expressing oneself is a wide-ranging customization program. Names, images, and custom logos can all be added to a grip on the company's website by pressing the "Customize Your Grip" button and following step-by-step instructions.

As usual, SuperStroke has a huge assortment of designs and shapes available in the Zenergy line. Check out the company's website for pricing, colorways, and customization options.
Zenergy Tour
• Original No Taper Design
• Available in four sizes: Tour 1.0, Tour 2.0, Tour 3.0, and Tour 5.0
• Tour 1.0 is not available with Tech-Port
Zenergy Pistol
• Classic pistol shape with no taper technology
• Ideal for players seeking a more traditional putter grip shape
• Available in three sizes: Pistol Tour, Pistol 1.0, and Pistol 2.0
Zenergy Flatso
• Pentagonal profile with a wide flat front and five pronounced edges
• Available in three sizes: Flatso 1.0, Flatso 2.0, and Flatso 3.0
Zenergy SS2R Squared
• 1" square profile
• Accommodates players who prefer opposing hand placement
Zenergy Claw
• Graduated shape – Pistol shape at the butt end gradually transitions to a square shape
• 100% designed to provide comfort and stability for golfers who prefer a claw-style grip
Zenergy XL Plus
• Extended 13.5" length
• Ideal for golfers who use mid-length putters or want a little extra counter-balance
• Available in three sizes: Tour 2.0XL, Tour 3.0XL, and Flatso 2.0XL
17" Zenergy Flatso
• Extra-long length measuring 17 inches and a wide-front design
• Ideal for golfers who position the putter grip against their lead forearm
Zenergy WristLock
• WristLock is 3″ longer than standard grips and has a pronounced butt section designed to lock your wrist during the stroke
• Works for both right-handed and left-handed golfers as well as most putting styles
• USGA-approved
Zenergy 1.0PT
• 1.0PT has a smaller overall profile and features a pistol-style with a more pronounced arc under the top hand extending into the grip's butt area
Zenergy Tour 1.0 2pc
• 2-piece split putter grip
• Classic 1" diameter
CounterCore Weight
• Sold separately
• With three weight options, quickly and easily back-weight Zenergy putter grips to accommodate golfer preference
SuperStroke did not increase the prices with the new line which is a nice surprise. $29.99 USD for all other than The Flatso 17 which comes in at $34.99.
• All CounterCore weights come with a wrench