Founded by Sam Swanson, a Minnesota native, Swannies is a golf apparel company that stated with sandals of all places. What started as a pair of soft-spiked sandals has grown into a full-fledged golf fashion/style company with the belief that golf is, above all else, fun. Recently, Swannies sent in three pieces from their current line of apparel for THP to take a closer look at, all pieces were sized large, which is typically my size.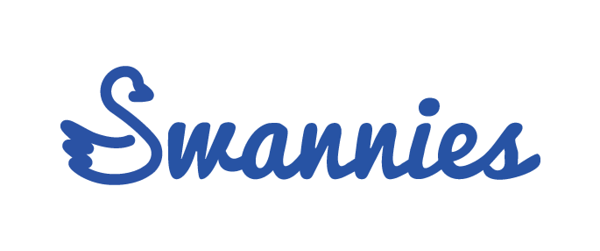 Slit Pocket Polo – "Lagoon"
"Fashionable and functional?! You better believe it. The pocket is just the right place to store all those new numbers you'll be getting."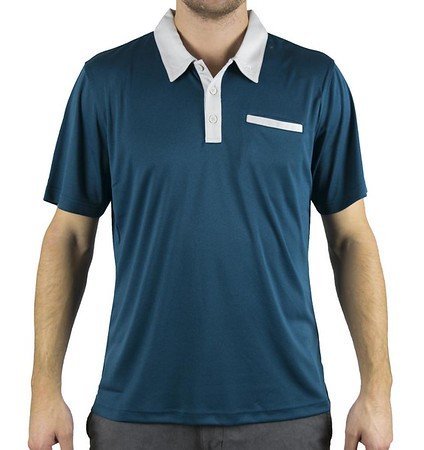 Design Details:
92% Poly – 8% Spandex

3-Button Placket

Moisture Wicking

Single-Usable Pocket

Colors: Lagoon, Soft Orange

$54.00
In-Hand Thoughts:
The Slit Pocket Polo is a fairly straight forward design, it features a nice solid body color and contrasting 3-button placket. Additionally, it features a single pocket on the design with the same accent as the placket. The material is super lightweight, which was a bit surprising at first, but with 92% polyester ratio it makes sense. Additionally, the stitching quality is better than anticipated, and overall it makes for a very clean and complete look. The other nice thing about the poly/spandex blend is that it allows it to be moisture wicking, something that most golfers have come to expect out of their polos. An interesting note is that Swannies describes their fit as "athletic" through much of their apparel and recommend sizing up, and this was indeed the case for this reviewer as it is was more snug through the chest and midsection than the vast majority of larges, including other "athletic" cut options. All that said, coming in at $54.00, the price is definitely going to be something that catches eyes, and if the fit is right, there is a lot to like at that price-point.
Blair Quarter-Zip – "Charcoal Grey"
"Some people say you shouldn't reinvent the wheel, but we did, and we made it better. An updated feel to our classic Tez quarter zip, this piece can we worn confidently just about anywhere."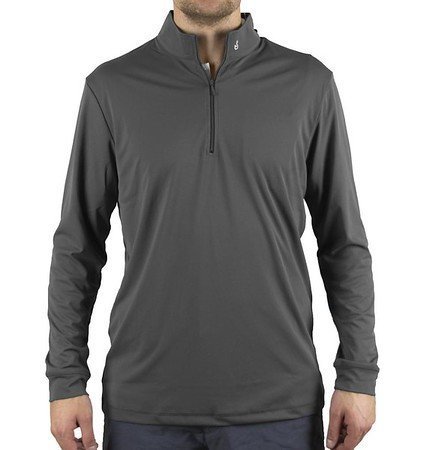 Design Details:
100% Poly

Moisture Wicking

Colors: Charcoal Grey, Navy, White

$59.00
In-Hand Thoughts:
The Blair is every bit the traditional quarter-zip design. The solid color design (three options available) keeps it clean, while the 100% polyester material keeps it comfortable. It's a lighter weight overall which makes it perfect for cooler or even windier days. The top also has a pretty standard collar height which works well with T's or polos. It flexes enough to work on the course, and it's clean enough to wear off of it. Sizing is pretty traditional here compared to the other pieces and the large was fairly true to size, also of note is the sleeves and core of the quarter-zip were plenty long enough for a taller person.
Heather Quarter-Zip – "Heather Charcoal"
"You might have to check my math on this but I'm pretty sure this quarter zip is made of 100% comfort, 100% performance, and 100% style."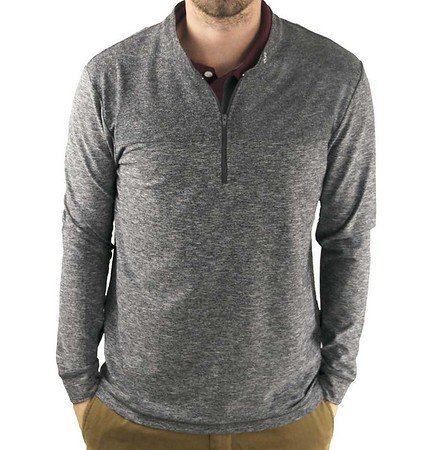 Design Details:
88% Poly – 12% Spandex

Athletic Cut

Colors: Heather Charcoal

$59.00
In-Hand Thoughts:
While labeled as a quarter-zip, to me the Heather is much more of a blend of a quarter-zip and a sweater as it has a shorter collar that shows a polo collar nicely underneath. This one features a bit more spandex which makes for a thicker feel and the overall cut is more athletic than the previously discussed Blair, and again Swannies actually mentions that sizing up may be prudent here. The overall fit is definitely on the snugger side for a large, and it's shorter in the core than the Blair was as well. In a size up however, this one would have been the star of the show because it was the most quality-apparent piece sent in, and at a $59.00 price point it should garner some attention.
Parting Thoughts:
As far as new brands go, Swannies is an intriguing one. The name and logo will draw the most curiosity and comments, followed quickly by their trademark sandals, but beyond all of that is a company that does indeed seem to be putting the correct foot forward to build something. While it would be nice to see some more eye catching designs when it comes to polos, every company has to start somewhere and every piece they have definitely falls in line with their "golf is fun" mantra. In the end, an American founded and driven brand at solid price points has its merits, and it will be interesting to see where they go from here.  You can see more offerings from the brand on their website www.swannies.co.