Playing a round of golf really takes a toll on my feet. The first thing I want to do after my round is take off my shoes and put my feet up. Heat and perspiration can also cause discomfort and blistering. I've never been willing to spend much money on something as simple as a sock, so I was very curious when I found out I'd be reviewing socks from a company by the name of Swiftwick. Prior to this review, I just looked at socks as something you put on before your shoes. They serve a purpose of absorbing sweat and drawing it to areas where air can evaporate the perspiration. Did you know the foot is among the heaviest producers of sweat in the body? It's able to produce over one pint of perspiration per day!
A statistic like that makes me realize the importance of having a good sock. Swiftwick is an innovator in designing and producing the best active wear products on the planet. Their vision is to manufacture high performance compression socks that deliver a competitive advantage to every customer in their chosen sport. For those of you who are not aware of Swiftwick socks, let this review serve you as an introduction to a wonderful product that will change how you look at the socks you wear. These started as my go-to golf socks, but have quickly become a staple in my everyday wear.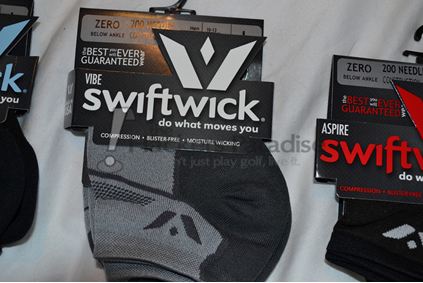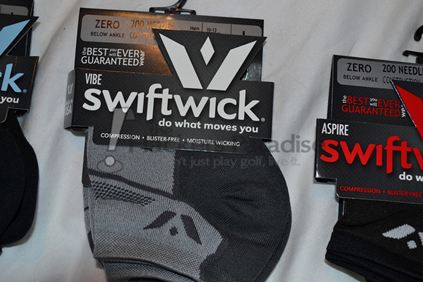 FROM THE COMPANY
Our Performance Line socks are knitted at 200 needles; the highest density you'll find in socks. The higher the needle count, the tighter the knit. Our socks are so tightly knitted that trail debris or foreign material can't penetrate your sock to cause irritation and blistering. This structure creates a second-skin feel, prevents shifting or bunching and eliminates the risk of friction blisters while making your shoes fit more comfortably. Our high-gauge construction produces a softer, denser, and more durable garment. Wear Swiftwick and you'll buy fewer socks — It's that simple.
COMPRESSION
Compression improves blood flow and circulation, extending your endurance and peak performance. Every Swiftwick sock is a compression sock, built to last and produced on state of the art machines, right here in America.
Constructed predominantly at the 200 needle standard and with specialized, linked-toe construction, we are the technology leader and undisputed advocate for your feet. To test compression in the foot bed, Swiftwick uses a new three point compression test method developed by the Manufacturing Solutions Center in Hickory NC (formerly known as the "Hosiery Technology Center"). This testing discipline was created at the request of Swiftwick, the only company in America exclusively manufacturing moisture wicking, linked toe compression socks at 200 needles in both a synthetic and natural merino wool fibers.
Swiftwick customers are measured and tested athletes. Our socks are measured and independently tested too, by as many as three different laboratories. Swiftwick has developed and introduced the Managed Compression concept. While other sock guys focus on the region from your ankle to the knee, Swiftwick addresses the entire foot bed first and delivers a targeted compression value where it matters most.
Our shared goal: Swiftwick socks are not just more comfortable, but they stay on and they stay up, in the most intensive and demanding athletic environments.
Made in the USA
Domestic production affords us improved quality control. We keep a close eye on the sources of our materials and the integrity of our finished product. Swiftwick is proud to employ an American workforce, with all of our socks made in Tennessee.
Swiftwick Guarantee
We unconditionally guarantee every Swiftwick product to be the best performance product you have ever worn, or we invite you to mail us the laundered socks and a request for a competitor's replacement pair of equal value. Visit HERE for more details. Try a pair. You'll be hooked.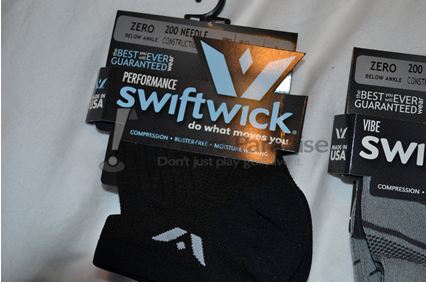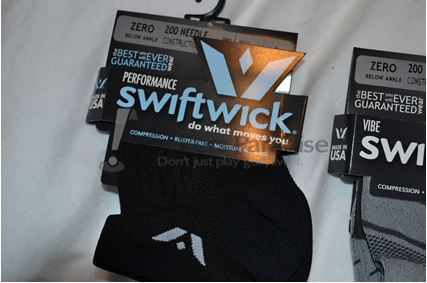 MATERIALS
Swiftwick uses the finest materials in every aspect of sock construction. The primary wicking material is merino wool or the durable extruded olefin — one natural, one synthetic. No cotton. No acrylic. No chemicals. No cheap nylon. No corners cut. If you want a natural material in your sock, shop the merino product line. Select synthetic socks to wander throughout various olefin based product lines.
NATURAL
Merino wool is a sustainable, naturally antibacterial and highly thermostatic fiber, which keeps your feet warmer on cold days and cooler on hot ones. Its extraordinary wicking properties, itch less feel and soft embrace will rejuvenate your feet and keep you dry.
SYNTHETIC
The most environmentally friendly materials and processes are used in building Swiftwick's synthetic sock. As the only Nobel Prize winning fiber, olefin retains less than .01% of its weight in moisture. It also resists deterioration from detergents and perspiration. This produces a fast drying, lightweight sock with incredible breathability. The capillary action of trilobal nylons and multifilament olefin is a mechanical wicking action, which by design, manages moisture without the need for chemicals. Balancing for intended thickness, performance, cost and purpose. Each line is specifically constructed for fit and function.
PRODUCT LINES
PERFORMANCE
A sock that doesn't wear out in a week of hard use? This is the firstborn, the tested, the beloved, the game changer, the elite, the original — Swiftwick PERFORMANCE sock. This is not your cotton, chemically treated sock. This is your heart beat. This is the high expectation, hole in one, get you through the tournament, grip it and rip it…….sock. Yes, it's that sock.
ASPIRE
If Swiftwick claimed a masterpiece, the ASPIRE line would be our Mona Lisa. Perfect for narrow feet, the ASPIRE compression sock is constructed for unmatched comfort, moisture management and an optimal fit. It's thin and light for minimalist running shoes, tight cycling shoes and the form fit hockey skate or ski boot. We eliminated the toe seam using linked toe technology, which means no bunching in the toe box, no pinky toe torture, and no event that you can't finish due to blisters. …This sock will directly influence your game.
VIBE
Unique in the Swiftwick family, the VIBE line is a little more plush, and a lot more colorful. Using a half height terry loop throughout the footbed, the VIBE offers a highly consistent, thicker feeling with linked toe construction and slightly less compression. To carry the color, it's flat knit, super thin upper is smooth and snug.
PURSUIT
Ageless — meaning never growing old, eternal, timeless. Constructed from Merino Wool, our PURSUIT line never goes out of style. Born from the same technology and spirit of our several synthetic lines except fused with the natural wicking and thermal properties of super fine, 36 micron Merino Wool from Australia, this is the only 200-needle compression wool sock on the market. Your feet deserve it.
PULSE
Tested and proven by world class Olympic athletes from around the globe, we have invested two years in perfecting the PULSE. The PULSE features linked toe construction on a 168 needle machine and is crafted for the skin tight environment of your track spikes, or the highly formed cycling shoe, ski boots and skates – The PULSE is the low volume sock of choice for speed. There is no compression sock thinner than the PULSE. The PULSE breathes, Helps you avoid blisters and features our new and exclusive micro silver bonding.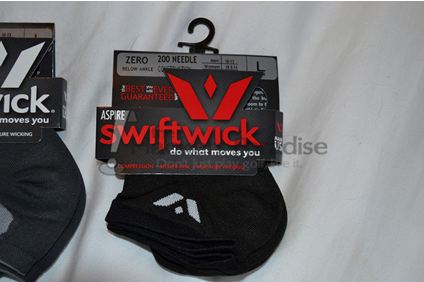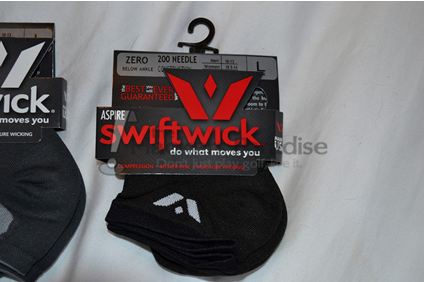 Thoughts on Performance
I've had the pleasure of wearing Swiftwick socks for a few months now and my feet can't thank me enough. During this time, I have played well over 20 rounds of golf. The one thing I am seeing after each round is that my feet feel great. I feel like I can easily play 18 more holes after my first round is over. The one major difference I see is that my feet are dry. During a recent trip to Myrtle Beach, SC, I played a number of rounds in the scorching heat and found that my feet were the only thing dry at the end of the round. Not only were they dry, but I could tell that the compression from the sock left my foot feeling like a million bucks. With my previous socks, I didn't enjoy being on my feet all day. They felt sore, tired, and ready for some time off.
I have very low arches, so I also feel like the compression helps with some of that support. It was very typical for me to finish a round with my arches feeling like I had just run 10 miles. Another great quality I would like to touch on is that the Swiftwicks do not move as you move. There is nothing more frustrating than having to take off your shoe mid round to pull your socks back into place. Since wearing these socks I have never had to re adjust my socks mid round. I am now a firm believer in the importance of a good sock and I will continue to use Swiftwick socks every day!
For more information, you can check out www.swiftwick.com. There are a number of styles available, from ankle length up to heights that will provide compression to the calves.