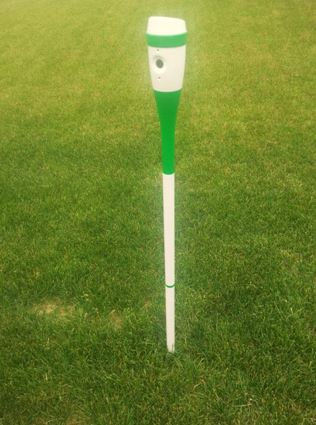 Raise your hand if you are always trying to improve your golf game.  Every single person who has picked up a club should have their hand up right now, because every single one of us wants to improve our golf game.  Golfers spend an insane amount of time and money on lessons and training aids on this endless pursuit of improvement.  Capturing videos of the swing is usually something that most teaching professionals use to help aid in this process; however, most of us never see our own swing beyond those lessons.  If you were able to easily record your swing would you be able to self-diagnose some of the common mistakes you make? 
THP was recently sent a product for review that offers you that chance.  The company is called Swingshot and the product is the Cyclops Pro which is designed for the sole purpose of being a golf video camera.  The idea behind the Swingshot is to make it easy to capture video while you play golf.  Whether you want to record for the purpose of improving your swing or to capture some footage of a scenic course you're playing, the Cyclops Pro is supposed to offer you an easy and convenient way to do that. 
About the Cyclops Pro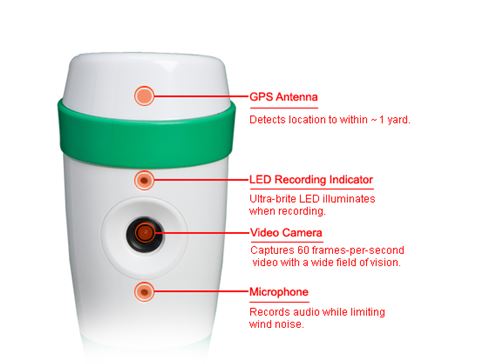 Our Cyclops Pro™ on-course camera records audio and HD video at 720p 60fps or 1080p 30fps resolution. The 8GB memory and 2100mAh battery is enough to record 2 rounds of golf in Course or Scenic modes or ~2 hours of continuous recording in Lesson or Range modes. Each package includes a rechargeable battery, 2-piece shaft, stainless steel turf spike, AC charger, instructions & USB cable
Features:
GPS Antenna- detects location to within ~ 1 yard

LED Recording Indicator- Ultra-brite LED illuminates when recording

Video Camera- Captures 60 frames per second video with a wide field of vision

Microphone- Records audio while limiting wind noise

Four Recording Modes- Lesson, Range, Course, Scenic

High Impact Plastic Body- Resists damage from rough conditions found on the golf course

Stainless Steel Turf Spike- Allows camera to be firmly planted in the grass for each shot

Club Length Shaft- Easy storage in golf bag and positions lens at golfers torso for best recording angle
Using the Cyclops Pro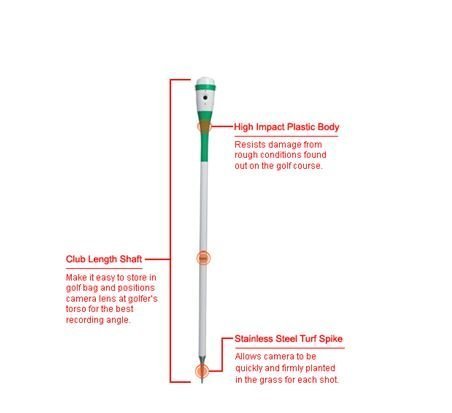 First of all, setup is a breeze.  The Cyclops Pro comes in several easy to connect pieces and within minutes you're ready to hit the course and start capturing video.  I've personally attempted to use my Flip camera and/or cell phone with very limited success, so I was excited to get started with the Cyclops Pro.  After skimming over the instructions and deciding what recording mode best suited my first time out I was ready to go.  The stainless steel spike makes positioning very simple and within seconds you're recording.  The display counts down how many seconds you have until recording starts and you're able to adjust the amount of recording time per shot (except in Lesson mode).  
Modes
Lesson- In lesson mode the Cyclops Pro continually records at 720p and 60fps

Range- While using range mode recording is on a 10 second delay followed by 10, 15 or 20 seconds of recording depending on your setting.  Records 720p and 60fps

Course- 10 second delay followed by 30, 45, 60 or 75 seconds of recording.  Great for recording a video of you playing a hole.  Records at 720p and 60fps

Scenic- Same as course mode only it records in 1080p and 60fps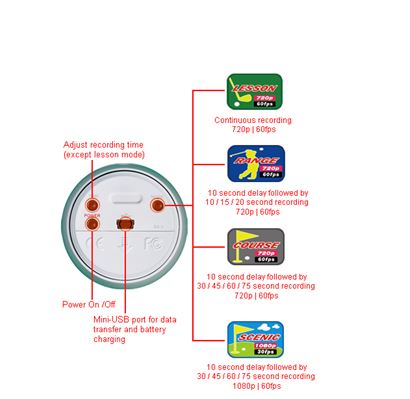 I thought that setup was easy and fast. I used Range mode more than anything else and I'll say I wasn't 100% sure when it was recording and when it wasn't.  I just hit record and started hitting shots.  Once I got home and connected the camera to my computer via USB cable I then was able to see a series of 20 second videos stored right on the camera's internal memory.  Some of the shots were great. It captured me from pre-shot routine well through the shot.  Sometimes however it would start recording just as I was finishing a shot and as I was preparing for my next shot but stopping again as I was about to hit.  It was not a huge concern for me however, because in an average recording session in Range mode I had several good videos that allowed me to see what it was I was looking for in my swing at that particular day.
While testing the Cyclops Pro I recorded some fun "Video Hole of the Day" videos that we like to post up on the THP Forum. We have a lot of fun with these videos.  In Course mode, the Cyclops Pro works great. It not only captures a great video, it's very quick and easy to just stick the device in the ground, hit record and go.  To me Course mode is the best of all the options and one that I found myself using the most, even on the range actually.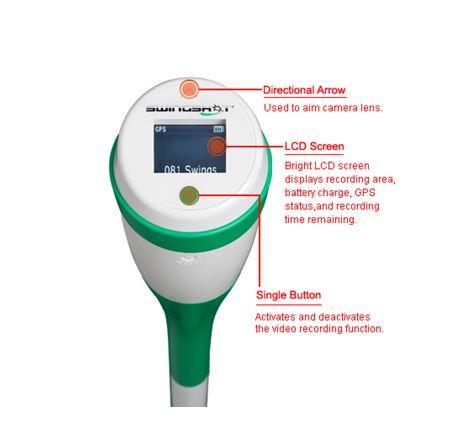 The video quality is top notch – much better than my cell phone camera and even considerably better than the Flip camera I've used most often as well.  I also loved that you could stake the device into the ground roughly 10 feet away and know that you're going to capture a quality video every time.  In the entire time that I used the Cyclops Pro for testing I've had more than enough storage for all the swings. In the event it gets full, it is very easy to just delete some old videos to make room for more.
In conclusion, I am quite impressed with the Cyclops Pr. For someone like me that enjoys getting some on-course footage as well as some practice footage to use for improvement I don't think there's a better option that I'm aware of.  I would have liked to see some kind of software program packaged in to be able to watch and analyze my swing a little easier.  I used my computer's standard video software for viewing, so I had to be quick with the pause button to look at certain positions in my swing.  I did find a 3rd party website called SwingAcademy very useful, as you can upload and analyze videos quite easily there.  I think the folks at SwingShot should seriously consider packaging a program like that right in with the Cyclops.  The Cyclops Pro reviewed costs $299.99.