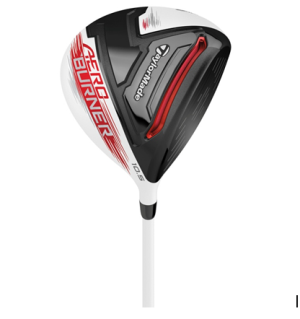 Iconic "Burner" Franchise Returns with Introduction of Company's Most Aerodynamic Driver & Fairway and Rescue club with Largest Speed Pocket Ever
CARLSBAD, CALIF. (November 17, 2014) – TaylorMade Golf Company, makers of the No. 1 Driver and No. 1 Fairway in golf, today announced its AeroBurner franchise – a matte white colored driver, fairway and Rescue club trio that feature an improved Speed Pocket and advanced aerodynamics to promote effortless distance for all player types.
"For the golfers who missed the phenomenon that was RocketBallz, or for those who are ready to upgrade to more speed and distance in their metalwoods, AeroBurner is what you are looking for," said Brian Bazzel, Senior Director of Product Creation for Metalwoods. "We've drastically improved the performance of the sole's Speed Pocket and significantly improved the aerodynamics to deliver maximum speed to the golfer."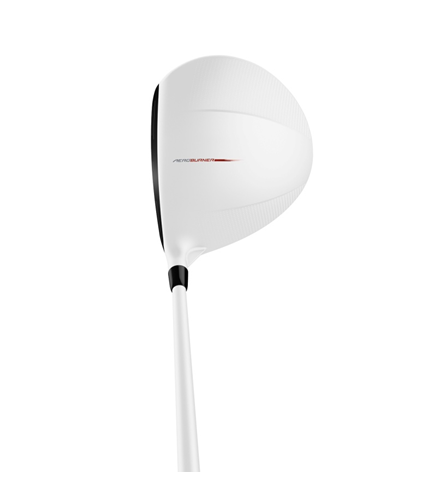 The name "AeroBurner" derives from the product's advanced aerodynamics, a performance variable that TaylorMade R&D members have long obsessed over in their quest to engineer fast driver heads. To accomplish this, AeroBurner metalwoods feature an "Aero hosel," (small fin located at the heel of the club to reduce drag) a raised center crown and rounded toe section. All three of these variables work as a system to improve aerodynamics and lower drag force.
Next, the AeroBurner family has the largest Speed Pocket ever, which enhances the sweet spot and protects ball speed on mishits.
AeroBurner Driver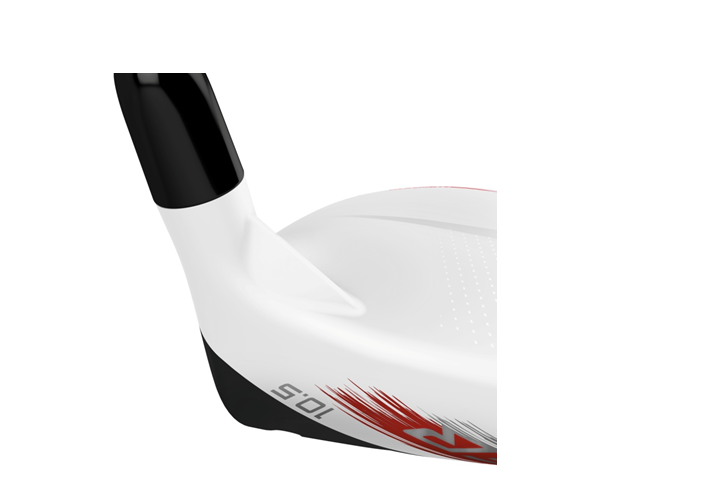 First, the driver which is presented in a new matte white pearlized paint and uses a black PVD face to provide contrast and help in alignment.
The driver's biggest advancement is its new Speed Pocket which is twice as big as the JetSpeed (first driver to feature the technology). Unlike JetSpeed, AeroBurner drivers do not have loft sleeve technology which offers loft and lie adjustability. This allowed company engineers to extend the length of the Speed Pocket across the entire sole for maximum performance.
The AeroBurner driver also features Inverted Cone, a technology used in every TaylorMade driver since the R500 Series in 2002. The Inverted Cone milled into the inner side of the clubface promotes higher ball speed on off-center hits.
Finally, the AeroBurner driver features an ultra-light 50-gram Matrix Speed Rul-Z shaft. The longer, lighter shaft and light grip adds up to less than 300 grams of total club weight, promoting faster swing speed.
Fairways and Rescue clubs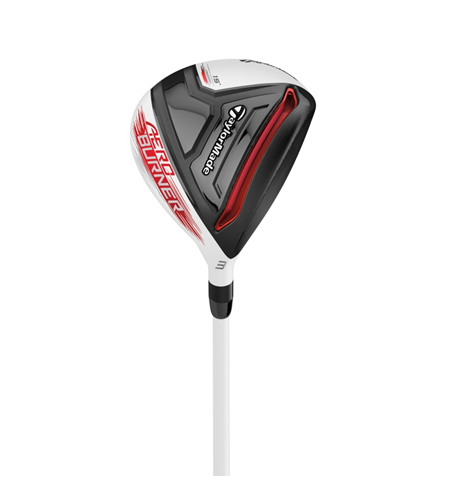 Rounding out the AeroBurner metalwood franchise is the fairway wood and Rescue club, both featuring the largest Speed Pocket in combination with an extremely low and forward center of gravity (CG).
The AeroBurner fairway is a culmination of years of technology development in the fairway wood category. This technology first came into market in 2008 when TaylorMade determined that there was still significant opportunity to achieve more distance in fairways if both the ball speed could be increased and the spin could be reduced. As TaylorMade engineers developed the Speed Pocket prototypes, they discovered that sole slots could also dramatically reduce spin, especially if combined with a low balance point CG projection which can be accomplished with low forward CG.
"The original RocketBallz represented a breakthrough in performance which started a whole new replacement cycle for fairway woods, said Bazzel. "We have continued to pour R&D resources into better understanding the potential of flexible sole boundary conditions which has led us to AeroBurner, a fairway with our largest Speed Pocket ever. We are now achieving driver like launch conditions with a fairway wood."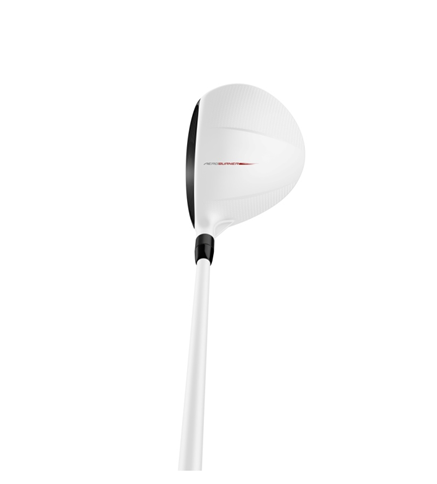 The Aero Burner fairway combines the size of the RocketBallz fairway channel with the technology of the through slot of the JetSpeed fairway to produce an ultimate Speed Pocket. Compared to the original RocketBallz, the AeroBurner has a face size that is 2.5mm shallower for better playability from the turf. The AeroBurner also has a 2X larger sweet spot (COR) compared to JetSpeed.
The AeroBurner 3-wood is equipped with a Matrix Speed RUL-Z 60 (X, S, R flexes) measuring at 43.25" (USGA length measurement method). The overall length has been shortened from previous fairway offerings to increase its playability while maintaining the speed from new head advancements.
AeroBurner Rescue club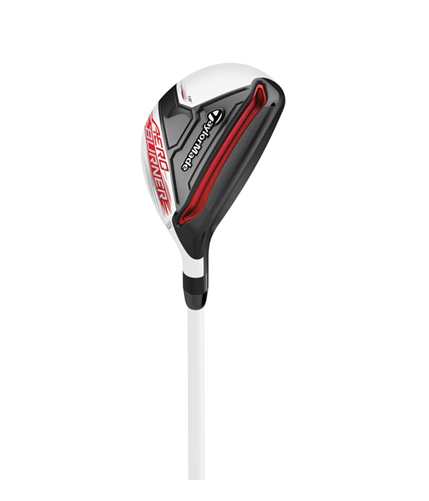 The AeroBurner Rescue club has a larger Speed Pocket like the fairway wood. Like the driver and fairway wood, it has the same white crown with black contrasting face, and crown alignment features to help with accuracy and consistency needed for hybrid clubs. AeroBurner Rescues are equipped with Matrix RUL-Z 70 variant, which is slightly heavier to approach steel shaft weights, and fit better in iron flow sets. The overall club length has been shortened by ½" from the previous JetSpeed Rescue clubs to provide more playability and forgiveness.
AeroBurner fairways and Rescue clubs share the following:
Ultra-high strength, Ni-Co 300 Superalloy Steel

The largest Open Channel Speed Pocket

Precision-cast crowns with our Thick-Thin crown technology

Shallow face and low-and-forward CG location with refined crown curvature and sole camber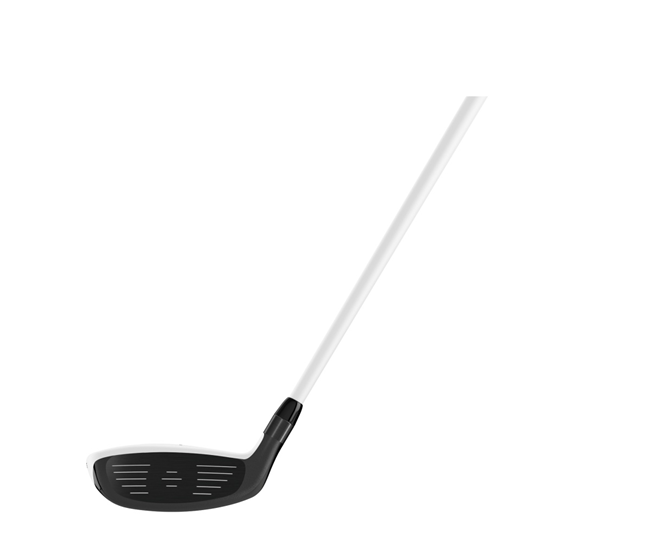 TP Options
TaylorMade is pleased to offer Tour Preferred (TP) versions for its AeroBurner family of metalwoods. The driver has a longer .335 hosel to allow for a wide range of TP shaft offerings ($70 upcharge). Its stock offering is the new Matrix Ozik 6X4 White Tie shaft.
Both the AeroBurner TP fairway and Rescue club sit 2?flatter and 1? more open to suit the eye of the better player. The TP fairway has a smaller footprint (better workability) and a deeper face (better off tee) and is equipped with a Matrix Ozik 7X4 White Tie shaft, while the Rescue features a Matrix Ozik HX4 White Tie shaft.
Ladies Shaft Options
A ladies Matrix Speed RUL-Z 45 shaft is available in the driver, while the fairway will have a Matrix Speed RUL-Z 50 in the fairway and a Matrix Speed RUL-Z 55 in the Rescue club.
Pricing, Options and Availability
The AeroBurner driver (460cc) is offered at $299 and is available in four lofts– 9.5°, 10.5°, 12° and HL. It features a 50-gram Matrix Speed RUL-Z 60 (X, S, R and M flexes). Its stock grip is the TaylorMade Speed Rubber.
Available in four models – 3, 3-HL, 5, 5-HL, 7, the AeroBurner FW is offered at $229, while the TP version is $299.
The AeroBurner Rescue club is equipped with a Matrix Speed RUL-Z 70 (X, S, R and M flexes). Retail price is $199 and $269 for the TP version.
Availability begins at retail January 9, 2015.
For more information, please visit taylormadegolf.com