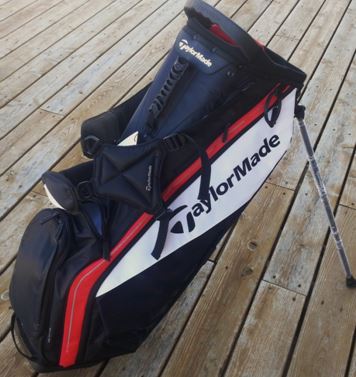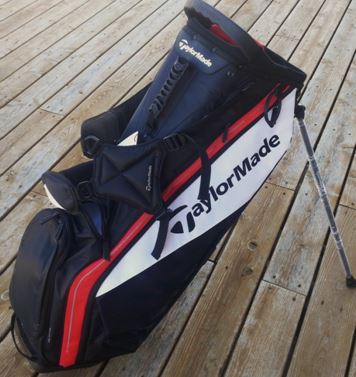 It's tough to identify the importance of a quality golf bag.  It seems like many golfers I play with have used the same bag for as long as I can remember, and more often than not they are well past the point of needing replaced.   The fact is, finding the right bag for your needs is a lot easier than it sounds.  I have become a bit of a golf bag connoisseur here lately.  Between my own bag swapping and my duties as an equipment tester for THP I've been through more than my share of bags in the recent past.  Recently, TaylorMade Golf sent us one of their brand new Purelite stand bags they are rolling out in 2014.  Right away I knew this bag was different – let me explain why.
Features:
5-Way Top with handle (9.5" x 8.25")
Zip-off ball pocket for embroidery
Embroidered logos
Pen sleeve
Nylon webbing trunk handle
Anti-split stand system
4 pt. shoulder strap
EVA ergonomically molded hip pad
7 total pockets, featuring velour-lined valuable pocket and insulated cooler sleeve
Umbrella sleeve
Rain hood
Towel loop
Cart compatible base
Full length dividers
5.5 lbs.
Looking over the features you'll see what you see with a lot of golf bags on the market these days.  All these features are definitely a crucial component of a good golf bag, but the Purelite offers a little something else that really makes this bag stand out.  From a distance you don't notice anything different, but get up close and you'll see it, and at first you'll probably be like me and scratch your head and think… hmmm.  The shape of the top is not your traditional oval with the dividers sectioned off. Instead it's squared off and at first it looks quite different.  My immediate reaction was one of mixed feelings. It is definitely a little bit odd looking at first.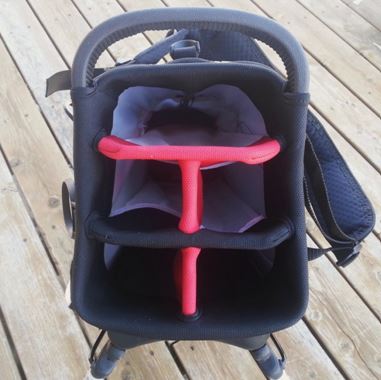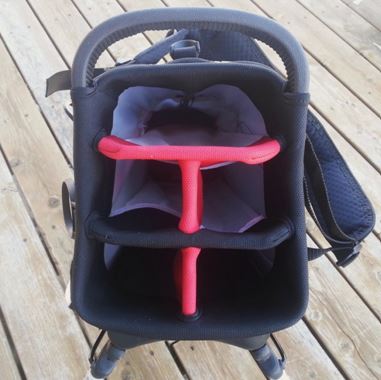 We'll get into how the bag functions shortly, but first I want to talk about the looks.  Simply stated and clean come to mind when I try to describe the look to someone who cannot see this bag.  Big sections of black, white and red trim dominate this solid look with the iconic TaylorMade branding prominently displayed on the side panel.  I like the look a lot. It stands out with the contrasts of the colors, but it's not over-the-top obnoxious with colors and strange graphics.  It's pure TaylorMade in every sense of the word.  I love the added touch of the logos being embroidered. It's something that may seem minor, but the attention to detail really stands out and I like it.
The 5 way divider with the square shape really provides plenty of room for all 14 clubs plus an additional training device that I carry with me at all times.  There are 2 full-length dividers to help section everything off and keep grips from cluttering up in the bottom of the bag that really serve their intended purpose perfectly.  The way this bag's opening is set up really allows the golf clubs to sit in the bag without moving or sliding around. I am very particular on how my clubs are positioned in my bag and nothing irritates me more than the shifting of clubs due to the rounded off sections in most club dividers.  The Purelite allows you to position the clubs how you like them and they stay in place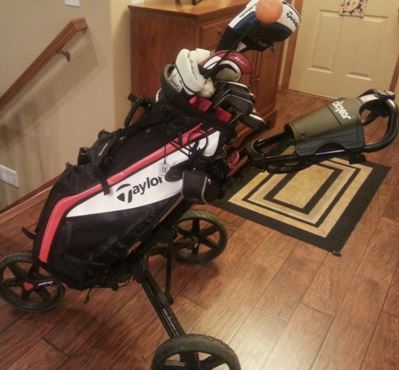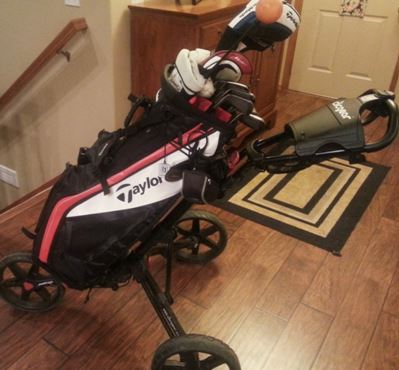 Something that is particularly important to me is how well the bag works in conjunction with my push cart.  I have a Clicgear 3.0 and was very happy with how the bag sits on the cart. Often times with stand bags they work fine, but not great.  The Purelite sits nice and flush in the cart and everything remains very accessible while strapped in. 
Functionality is where the Purelite shines in my opinion.  I couldn't be more impressed with how the square club divider keeps all the clubs in place.  The size of the sections is more than enough room to get my clubs in and out without any of the irritating club jams that always seems to happen with stand bags.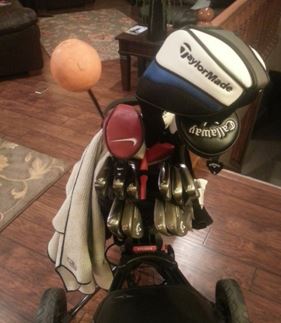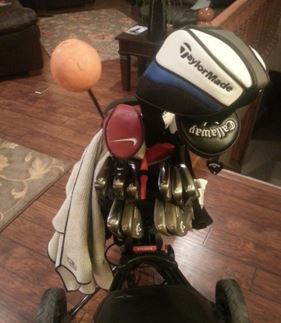 With more than enough pockets to hold everything I possibly need on the golf course, the Purelite continues to deliver in the storage category as well.  Another nice feature is the rather big cooler pocket that is plenty large enough for a quart sized bottle of water.  It is without a doubt one of the best cooler pockets I've seen in a stand bag.
I don't know if there's such a thing as the bag to end all bags, but the Purelite certainly delivers on every aspect in my opinion.  Coming in at 5.5 lbs. it's also very light and easy to carry.  The cart-compatible base works great with a push cart and also sits nice and squarely on a motorized golf cart.  I have turned into a very picky person when it comes to selecting the golf bag that I'll use. There are simply so many options on the market today that you'd be crazy to settle in even the slightest way.  Few bags out there today offer great style and functionality like the TaylorMade Purelite.  Check one out today. They're available everywhere for around $180, which also happens to be very competitively priced.