The Spider putter family is getting bigger, and a little more forward. 
TaylorMade is introducing the new Spider FCG putter, a singular head shape that in its appearance is similar, yet totally unique from any other Spider we have seen.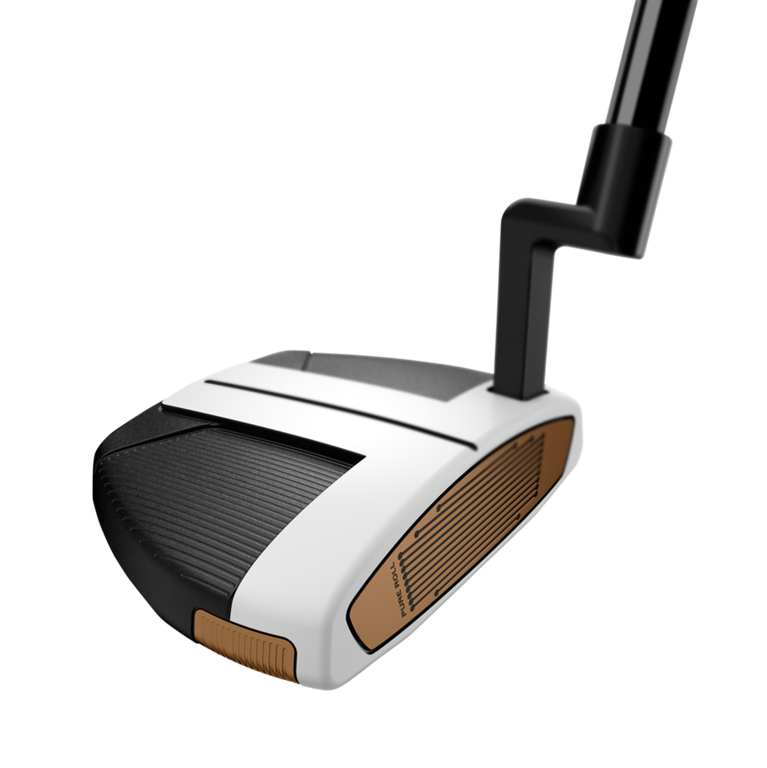 What is "FCG"?
To the point, FCG stands for Forward Center of Gravity, and we have little doubt that THP readers are familiar with this concept when it comes to putters as it was done last year by another OEM. While that fact makes the Spider FCG feel a bit reactionary, the THP testing on the forward CG concept with putters has shown that it works, and with TaylorMade following into the concept perhaps it will bring more eyes to a concept that deserves it.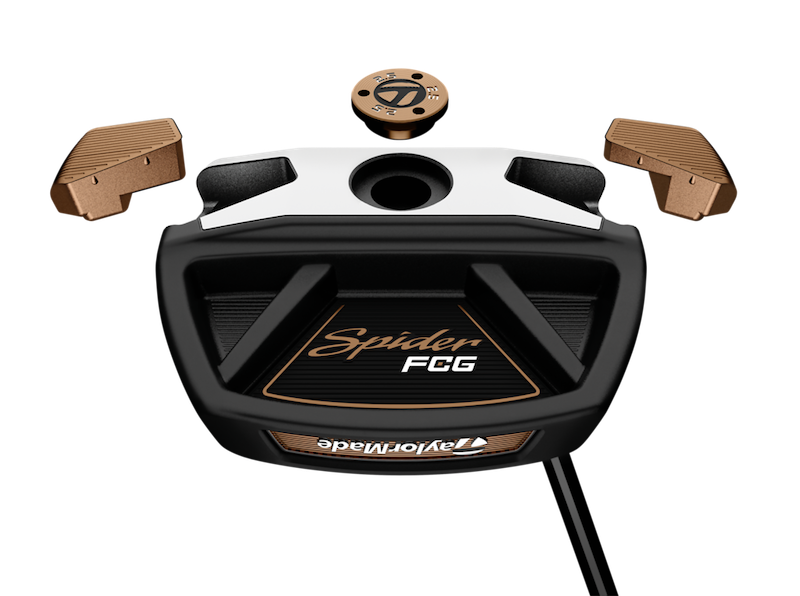 TaylorMade's story with this one is "Looks like a mallet, feels like a blade, forgives like a spider" and given what we know about forward CG in putters, it makes sense. The overall shape, which is akin to a Spider Mini, is one that allows for perimeter weighting and a higher MOI by nature, but sometimes with mallets that feature leads to a stroke and strike with less feel and feedback than a blade. By moving weight forward, in this case with a central weight as well as heel and toe tungsten weights placed just behind the face, you bring back the feel and release sensation of a blade while keeping some of the higher MOI benefits. That is FCG in a nutshell, and something TaylorMade is calling "forward loading".
But Wait…There's More
While the forward weight is the main part of the story here, it is worth noting there is more than just that going on.
For the Spider FCG, TaylorMade is also implementing an all new copper (CU29) Pure Roll insert which itself is 25g and only adds to the forward center of gravity design. According to TM, the material change also makes for a firmer feel and sound, which is interesting as most of the Pure Roll putters are on the firm side of the spectrum.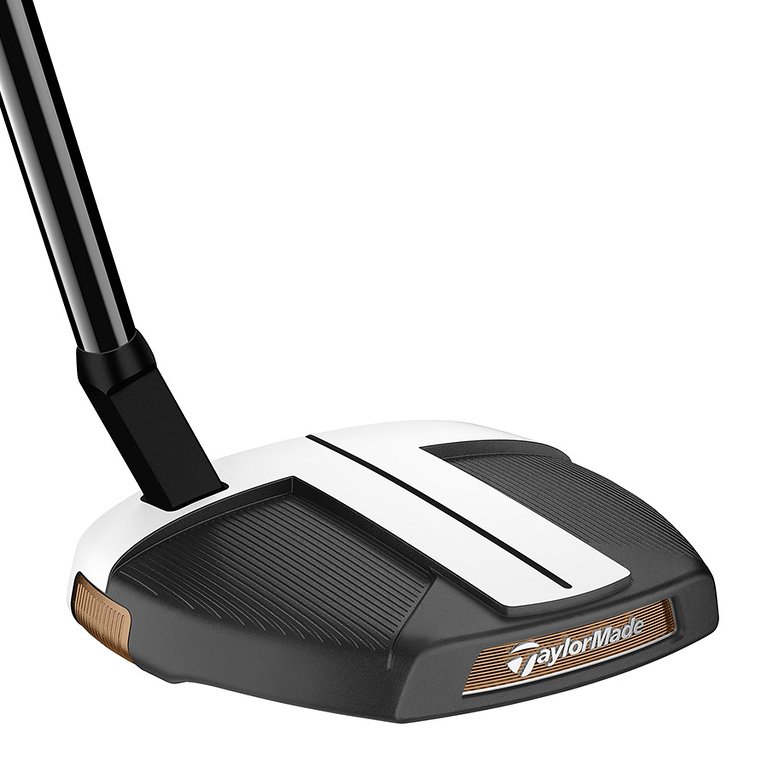 Additionally, they are showing once and for all that they are committed to the companies "True Path" alignment which features a significant high contrast white alignment section down the center of the putter head. Size wise, this one looks in line with the SpiderX, but here there is also a section across the topline of the Spider FCG shape that turns it into a "T" alignment mechanism. TaylorMade claims this will allow for alignment front to back, or heel to toe.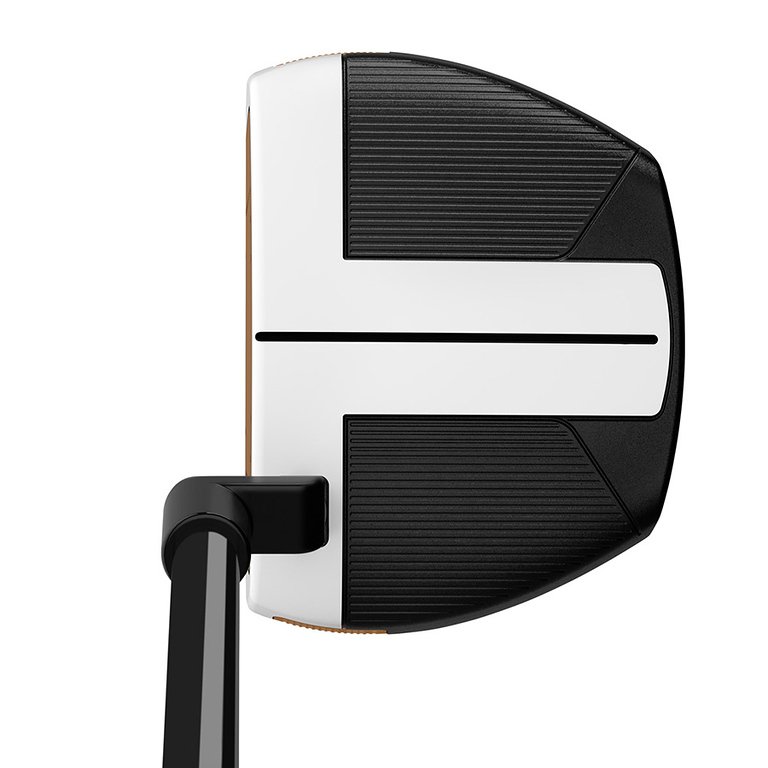 Finally, the FCG offers three neck types (Small Slant, L-Neck, Single-Bend) and is finished out with a KBS Black CT Tour putter shaft for extreme stability. Also, the central forward weight is adjustable within the design to hit a player's preferred swing weight or head weight. On the head weight topic, based on what TaylorMade is saying, it would appear as if the head weights will vary depending on neck type and playing length in order to hit a specific swing weight, getting progressively lighter as the putters get longer ranging from 350g to 329g.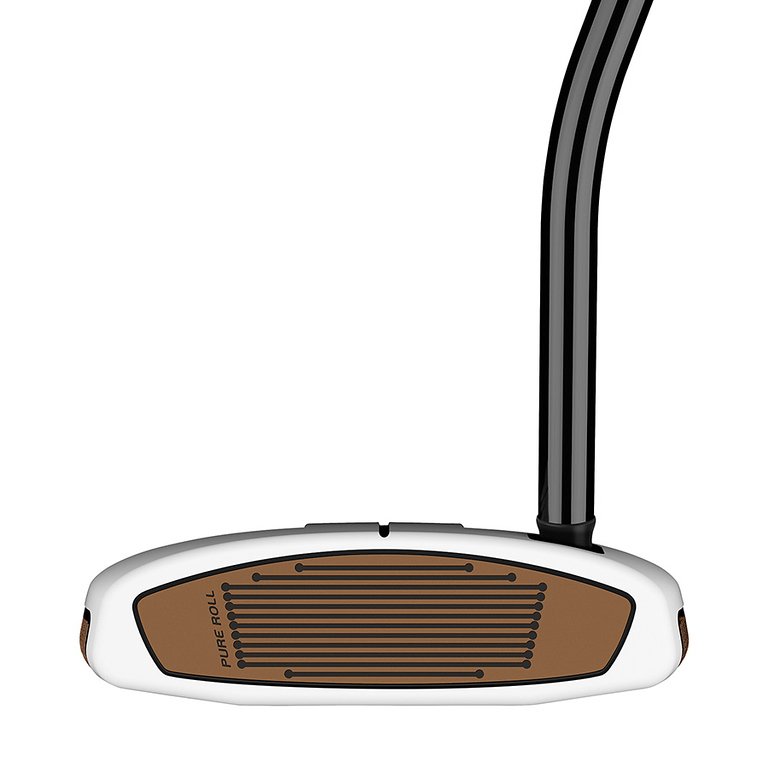 This is an interesting release for TaylorMade, and reception to the look as well as the technology story is going to be interesting to watch, we know it works, but it's an interesting reaction from TM overall to go this way. What are your thoughts? Do you plan on giving one a roll? Be sure to jump in the conversation and let us know by leaving a comment here or on the THP community!