TaylorMade Golf Company, the No. 1 driver brand in golf, today introduced RocketBallz Stage 2, a driver that combines a lower and more forward CG location, a more aerodynamic head shape and an expansive, 4,100 square millimeter club face to promote up to nine more yards for better players compared to the first generation RBZ driver.
Characterized by its unique crown graphic which enhances alignment, the RBZ Stage 2 driver also features TaylorMade's Loft-Sleeve technology, which gives players the ability to easily tune loft and club face angle to fit their swing.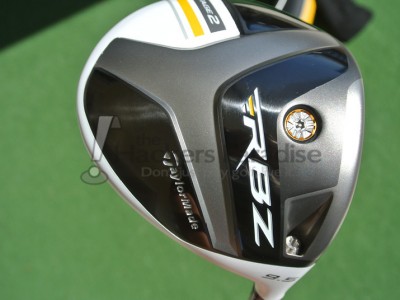 "It's hard to imagine bringing a driver to market that outperforms the original RocketBallz driver," said Todd Beach, vice president of metalwoods R&D. "Making the head of the RBZ Stage 2 driver more aerodynamic while also making the clubface larger was a tremendous challenge and succeeding was critical to promoting performance that's superior to the first generation RBZ driver."
The combination of a longer, lighter (50-gram) Fujikura RocketFuel shaft and light grip enabled TaylorMade to keep RBZ Stage 2 under 300 grams of total club weight. That, along with balancing the club to a slightly higher swing weight, allows the RBZ Stage 2 driver to promote faster swing speed for most golfers. The lightweight characteristics of the shaft coupled with the RBZ Stage 2 driver's mass properties work together to create a moderate draw bias.
Like the first-generation RBZ driver, the RBZ Stage 2 retains a large address footprint while incorporating a slightly deeper and larger face.
TaylorMade is also offering a RocketBallz Stage 2 Tour model, which has a lower and more forward center of gravity and a stock Matrix 6Q3 shaft to promote a more penetrating ball flight. Availability for the standard model begins 2/1 at $299, while the Tour version is available 2/15 at $349.
To learn more about these drivers and the rest of the RocketBallz Stage 2 metalwoods, visit taylormadegolf.com.
Loft Sleeve Technology
Loft Sleeve Technology (formerly called Flight Control Technology) allows the player to easily adjust the loft, lie angle and face angle of the clubhead. The RBZ Stage 2 has been updated to offer 12 positions within the window of 1.5° loft adjustment.
Lower, More Forward CG
TaylorMade engineers discovered with the R11 driver that a low-and-forward CG location helps promote faster ball speed and a higher launch angle, both of which promote more distance. The RBZ Stage 2 Tour driver incorporates a CG location that's lower and more forward than the first generation RBZ driver, promoting increased distance.
Expansive Clubface
The RBZ Stage 2 driver's huge and deep clubface (4,100) gives the golfer more area to look at, which inspires confidence to swing faster and more freely for more distance.
Crown Alignment Decals
The white metalwood crown that TaylorMade introduced in 2011 on our R11 metalwoods works with the black clubface to make it easier to align the face accurately at address. We've enhanced that alignment benefit on the RBZ Stage 2 driver with the addition of a prominent crown decal. According to Dr. Steve Hitzeman, Professor of Sports Optometry at the University of Indiana, the additional linear reference features on the RBZ Stage 2 crown benefit golfers by providing additional visual cues for alignment.
Designing the linear reference features was complicated, as we had to manage parallax as well as the rounded surface geometry of typical metalwoods. We used our MAT-T (Motion Analysis Technology by TaylorMade) System to define the visual angular range for most golfers using typical metalwoods' lengths and lie angles. This produced a visual reference angle of approximately 70° from the ground for metalwoods. We fed that information into our Pro Engineer CAD system, which allowed us to define the exact layout of the decal in terms of position and angular orientation.
Inverted Cone Technology
Used in every U.S. TaylorMade driver since the R500 Series in 2002, the Inverted Cone milled into the inner side of the clubface promotes higher ball speed on off-center hits.
Thick-thin Crown Technology
The Thick-thin Crown design employed in the RBZ Stage 2 driver ranges from 0.6 to 0.4 mm thick, allowing TaylorMade engineers to save three grams versus the 0.6 mm Thick-thin Crown previously incorporated in the R11S and RocketBallz Tour drivers (2012).
Click here to see more in hand pictures of the RBZ Stage 2 from THP