The new campaign from TaylorMade Golf is hitting its stride and getting attention throughout the tour level events and THP wants you to be a part of it.
The Prize
THP will be giving away a brand new custom TaylorMade Staff Bag that shows off some THP pride with this bold attention getter on the front of it.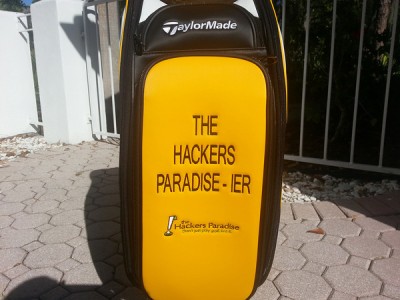 Rules
One entry only per participant.
To enter, follow the steps below.
This contest is open to anybody that would like to participate.
The winner will be randomly drawn.
The deadline of this contest is Monday April 8th, 2013 at 11:59pm EST. All entries must be received by then to be considered.
Entering
Entering the contest is done in two steps.
Step 1 – Leave a comment in the section below about why would you like the IER staff bag. Also include you Twitter handle in the comments.
Step 2 – Send this tweet from your Twitter account. " I want to win the @hackersparadise & @TaylorMadeGolf Custom IER staff bag contest going on now —> http://bit.ly/YXMh9T "
THP will announce the winner of the contest on the THP Forum at the conclusion.
If you are not a forum member but would like to sign up, Click Here. Registration is always fast, free, and easy
Good luck everybody.