The Memorial is a special tournament each year that brings to us memories. The history and the tradition of this game, the charitable contributions that are done and having it fall on the week of Memorial Day brings the attention of all that have worked hard to make this great country what it is today. The Stars & Stripes of the American Flag will undoubtedly be present during this wonderful event and TaylorMade Golf wanted to honor that in a different way.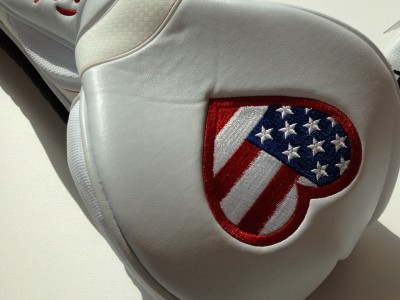 The Prize
As you can see pictured above, TaylorMade Golf has a special limited edition Stars and Stripes Driver Love head cover that they are bringing back for this tournament and all of their staff members will be using these. THP & TaylorMade have teamed up to give FIVE of these beauties away this week.
Rules
One entry only per participant
To enter, simply talk about TaylorMade Drive Love in the comments section below.
This contest is open to anybody that would like to participate
Winners will be randomly drawn.
The deadline of this contest is Friday June 1st, 2012 at 11:59pm EST. All entries must be received by then to be considered.
Bonus Entries
Your comment counts as 1 entry in the "hat" for each day.
If you Tweet this contest on twitter you will also receive a bonus entry in the "hat" each day. You can do so by clicking the green "retweet" button at the top of this article or by mentioning the contest & the twitter handle @hackersparadise in a tweet.
If you mention this contest on Facebook by tagging the THP Facebook Fan Page & "like" THP you will also receive a bonus entry.
If you are a forum member with at least 10 posts, and 5 in the last 30 days, you will receive 5 entries in the "hat" each day rather than 1, if you choose to enter.
You must include your forum screen name, twitter handle & Facebook Page link in the comments section to qualify for bonus entries.
If you are not a forum member but would like to sign up, Click Here. Registration is always fast, free, and easy.
Good luck everybody. Winners will be announced in the THP Forum in the contests section the week following the PGA Tour Memorial Tournament.