Laser rangefinders are largely ubiquitous in today's game, in large part because they provide incredibly accurate data in essentially no time.  It makes sense that passionate golfers would want accurate, on-demand information as a way to make rounds faster and more enjoyable.   One of the final barriers in the rangefinder market is the practical concern of cost – typical rangefinders are pricy and are something that budget conscious golfers could do without.  TecTecTec has set out to address this issue.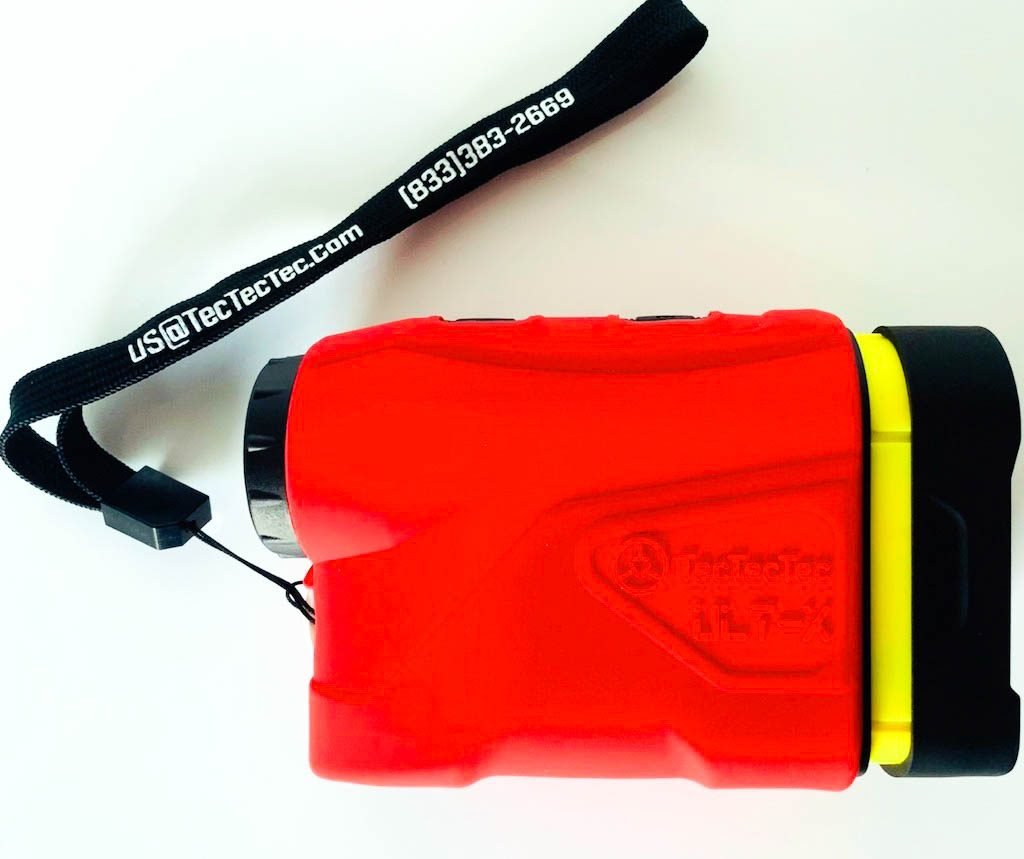 Started in 2014, TecTecTec has been pioneering in the affordable but technologically advanced rangefinder space. Headquartered in France with representation in Houston, Texas and Bali, TecTecTec set out to provide affordable rangefinders to consumers that are also a great value.  With a quasi-direct to consumer model, TecTecTec has set out to eliminate the middleman, eliminate the cost associated with the middleman, and to eliminate the stigma of limitations associated with "affordable" or "budget" rangefinders.  In late 2018, TecTecTec launched its most technologically advanced device, the ULT-X and we have one in for review.
With the ULT-X, which the company calls "The Ultimate Rangefinder," they aimed really, really high in its goal of providing great value without sacrificing the bells and whistles that typical consumers have come to expect in laser rangefinders, while maintaining the very reasonable price point they are known for.  In nearly every meaningful way, I'd say they reached their goal.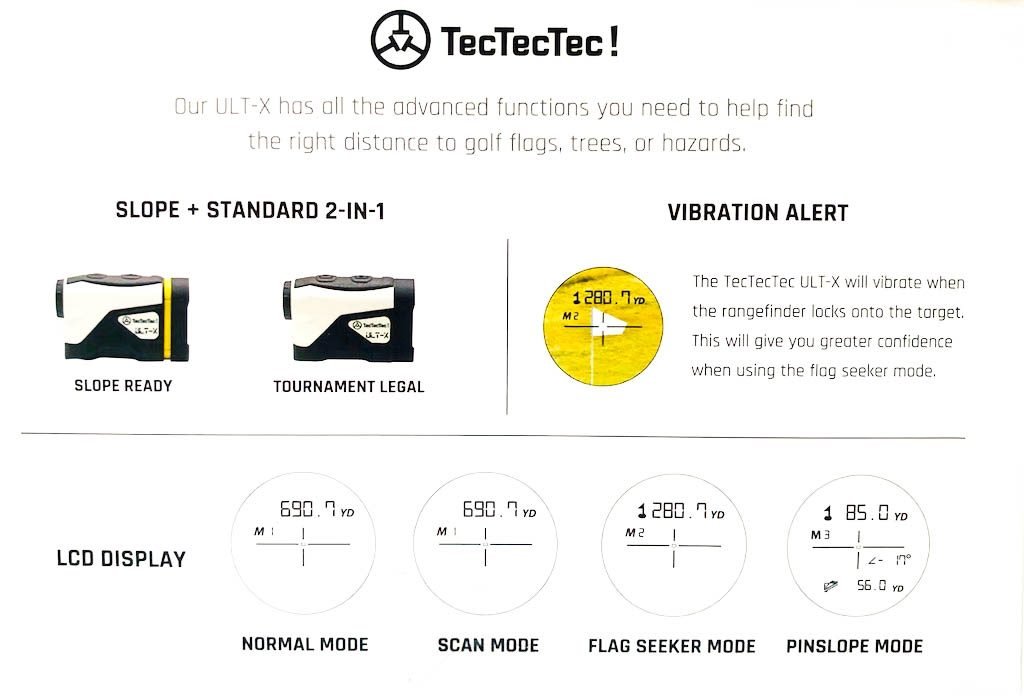 Optics
One critical part of getting accurate data and trusting that data is knowing you are locked on your target and not just some target.  With the ULT-X, TecTecTec has added Target Lock Technology (TLT) that vibrates when a target is acquired.  In "Pin Mode" (one of three available modes) the ULT-X eliminates the "noise" of items behind the green and locks onto the pin.  This addition provides confidence that you have the distance to your target in sight.
The ULT-X laser rangefinder can acquire flags up to 450 yards (way longer than I would ever need but maybe Cameron Champ needs a new rangefinder) and hazards at up to 1000 yards with high quality 6x magnification.  Tuning the optical eyepiece is also very simple, going from blurry to clear with a small adjustment on the tuning dial.
TecTecTec claims the ULT-X is accurate to ± 0.3 yards at distances of up to 300 yards and I tested with a comparison between the ULT-X and a unit that cost nearly double.  All told, I see no basis to dispute the accuracy claims.  And one additional feature of the ULT-X that I love is that it displays what the degree of the slope actually is. Being able to see what a +5 degree slope looks like and then see what it translates into for yardage calculations could prove very useful for tournament rounds.  It may not make you a better golfer but it could make your distance judgments better in competitive rounds.   The distances are displayed in the eyepiece clearly and prominently, although the only option is to display the distance in black text.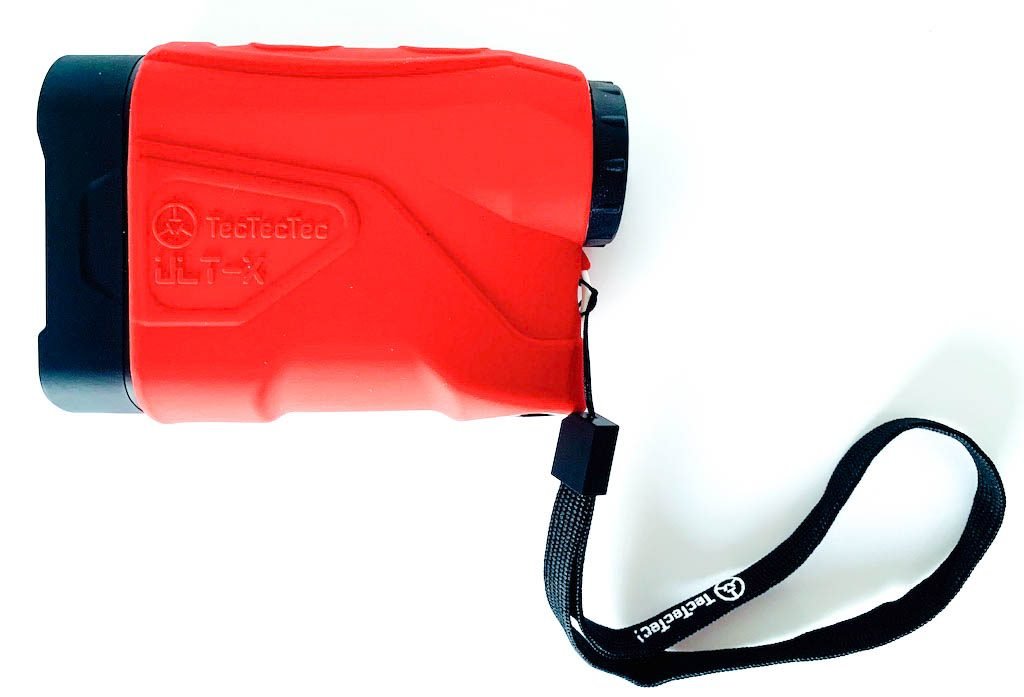 Structure and Case
The chassis of the ULT-X is compact in hand – nearly half the size of other rangefinders I have owned in the last five years.  It is also rainproof and moisture resistant so you can use it without fear in whatever Mother Nature throws your way mid-round.  My one criticism is that the chassis is a little slippery in its original state (more on how to fix that later).  While there are rubberized portions to provide grip, I found myself longing for a bit more grip so I didn't accidently drop it.  Thankfully, TecTecTec also included a silicon case (presumably an additional purchase) and I would highly recommend using one to protect your investment from avoidable bumps and bruises.  With the silicon case, the ULT-X stays put in your hand and in the provided protective case.
Tournament legal to slope and back again
The ULT-X has its slope faceplate built-in and toggling it on and off is a breeze.  A simple slide to extend the faceplate turns the slope feature on and a slide back in the opposite direction turns it right back off. The ULT-X eliminates the need for removable faceplates and the risk of losing one – both are always in place and you can easily switch from slope mode to tournament legal mode with a simple slide.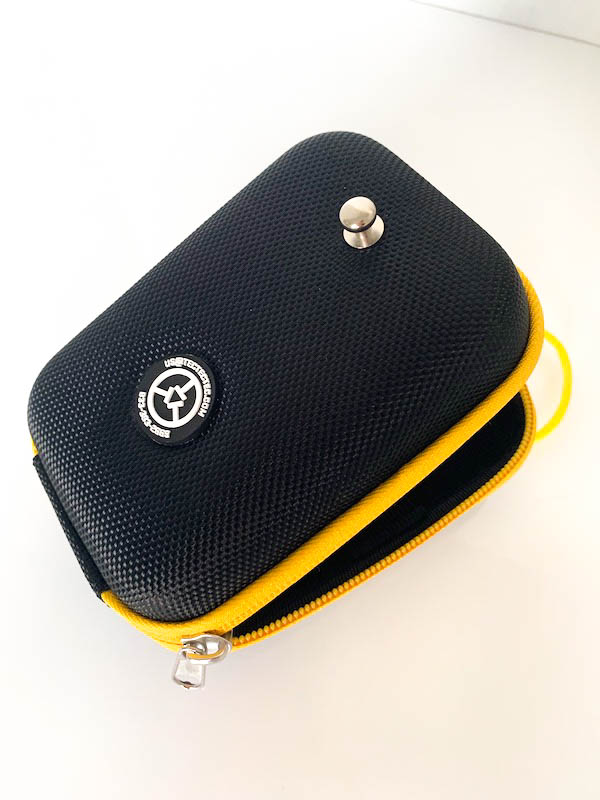 The slope faceplate slider functions as expected, is well built, and the slope feature works exactly as advertised.  It is truly as simple as sliding the faceplate to reveal the yellow coloring to activate slope mode or sliding the faceplate back to hide the yellow portion to deactivate slope.  You can even toggle slope while the rangefinder is in use.  The only minor issue with the design is that returning the ULT-X to its protective case tends to force the slider back to the tournament legal mode.
Based on my experience with the ULT-X, it doesn't surprise me that TecTecTec has the #1 best selling rangefinder on Amazon and I wouldn't be surprised if the ULT-X ascended the ranks as well.  You can find out more about TecTecTec and the ULT-X at: https://us.tectectec.com