In 2011, the USGA and the PGA of America came together to promote the 'Tee it Forward' initiative. Most of us have seen advertisements, read articles and talked about the subject since that time. Essentially, the two organizations are looking to help golfers play shorter clubs into greens, shoot lower scores, and speed up pace of play. I've never taken it as a recommendation to play a set of tees that is too short for me, but rather as a reminder that the game is more fun when I'm not outmatched by the distance of a course.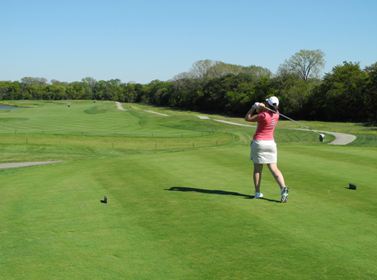 Though some may disagree, I felt the Tee it Forward initiative was a great idea. I think we've all either seen somebody or been the person that is playing from too long of a distance. Everybody is certainly different, but I do enjoy the game more when I have a chance at hitting a green with a shorter club in my hand. Driver/hybrid golf just gets old after a while.
Recently, I had the opportunity to play a round of golf with GolferGal, one of THP's owners, and we had interesting conversation about Tee it Forward
and its relevance for lady golfers.
A Few Observations
The forward tee boxes that day measured 5,039 yards.

GolferGal hits the ball farther on average than most amateur female golfers I've played with.

She rarely had less than a hybrid for most approach shots and many par 4 holes required her to either hit a fairway wood or layup.

While her drives were often even with or slightly farther than the male golfers in our group, she was still left with a similar distance to the green. This caused a disproportionate distance gap on approach shots. While we may have been hitting something in between a 7 and 9 iron from 140 yards, she was left with a hybrid from the same distance.
After our conversation, I did a little research and found that average distance from the forward tees at ten local courses in my area was 5,186 yards. The Tee it Forward initiative recommends the following course lengths based on driver distances:

From my personal observations, 200 yards is a pretty long distance for many amateur female golfers to hit a driver. Obviously there are exceptions, but it seems that most courses have tee boxes that are unfairly long for many of their lady customers. Worse yet, a female golfer doesn't really have the choice to Tee it Forward like many of us do. I'm not sure I'd be happy being forced to play a course that was 500-600 yards out of my wheelhouse every time I teed it up.
Who's to blame? I'm not really sure about that, but it does appear that forward tees are often an afterthought for many courses when it comes to placement, length, and conditioning. THP would love to hear your thoughts on the matter. You can leave a comment below or join in the conversation on our forums.
Thanks for reading and best of luck on the course this year.
Ryan H.