The 2nd Morgan Cup was announced just a few months ago and the excitement around it is at a fever pitch. For those that are unaware of the Morgan Cup and what it entails, click here to see what the ultimate amateur golf experience is all about. Part of the excitement around an event of this magnitude is the selection process and golfers from all over the world submitted audition videos to become part of this huge weekend.
The video viewing party will be held this Saturday Night, December 3rd at 7pm EST and it will be a live webcast. You can join in on the fun of the excitement as the party will consist of two live webcast boxes as you can see below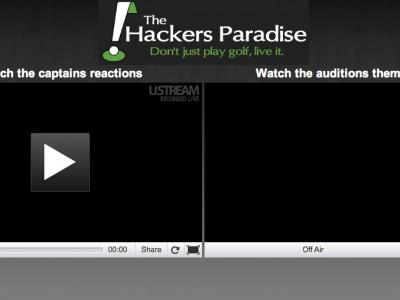 Not only will you be able to watch all of the submissions done by the THP members from around the world, you will be able to watch the reactions from the guests that are viewing them with you. The guests in attendance during this fun evening are the captains of Team Hackers, Team Paradise and Team THP and each one is planning on leading their teams to victory in the weekend event. Also joining them in the viewing are 3 of the judges that make up the panel that will be deciding who gets into the Morgan Cup.
Golfer Gal, organizer of this amazing opportunity and CEO of THP Media, Inc. as well as Kris Tamulis and Moira Dunn of LPGA fame. The three of them will be watching intently and taking notes as the videos are shown from the wonderful submissions that came in from THP members from around the world.
Join us for this party of epic proportions and watch the Video Viewing Party live on THP and join in the fun of the banter back and forth as the hopefuls watch as their entries go live before your very eyes. The banter will be in the THP Forum and you can access that chat here. Good luck and we cannot wait to see the creativity shine through in the videos.