When the world of golf equipment collides with the idea of playing better, few things come to mind quite like the putter. Far too often the putter is labeled as personal or personal preference. What if the idea existed that looking down on something you love style wise, could coincide with science to make you more efficient?
Good news, it does. It takes very little time, and now it is pretty darn affordable. For years, the best players in the world used fitting as a tool to marry their equipment to their game to be more efficient. Few areas are more important than that of the putter and the fitting might be much easier than you think.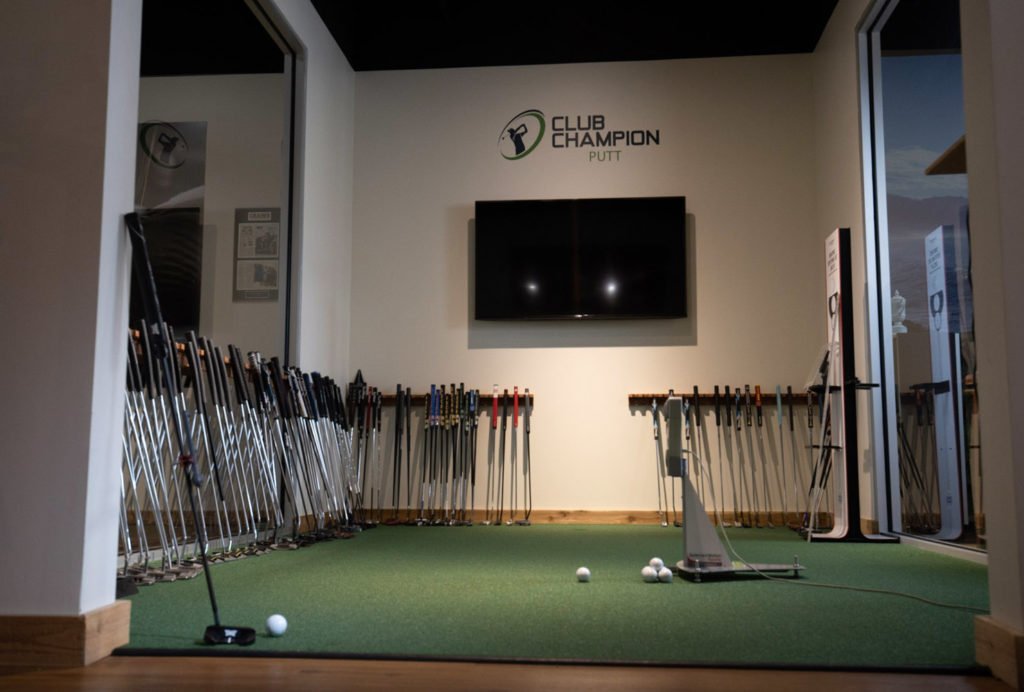 Rather than go on and on about the science behind it, I wanted to share a personal journey of my putter fitting and the impact it had, while still sharing some of the technology that makes it unique. Before diving into that, let's start with a few questions.
Are you like me where the idea of putting practice was rolling more putts? Maybe a training aid or two and finding a putter I loved the look of without worrying about much else? If the answer is yes, don't sweat it, it means you are a golfer, and systematically putting is rarely something we train for. For most, putts account for over 40% of your strokes on the course, yet most discussions center around "finding your putter is personal" or "if I like the look of it, I will make more putts". And to be fair, it can be true. For the rest of us, sprinkling in a little science to go along with personal preference isn't a bad thing. I wanted to experience it for myself and see how good or bad my selection process over the years has been.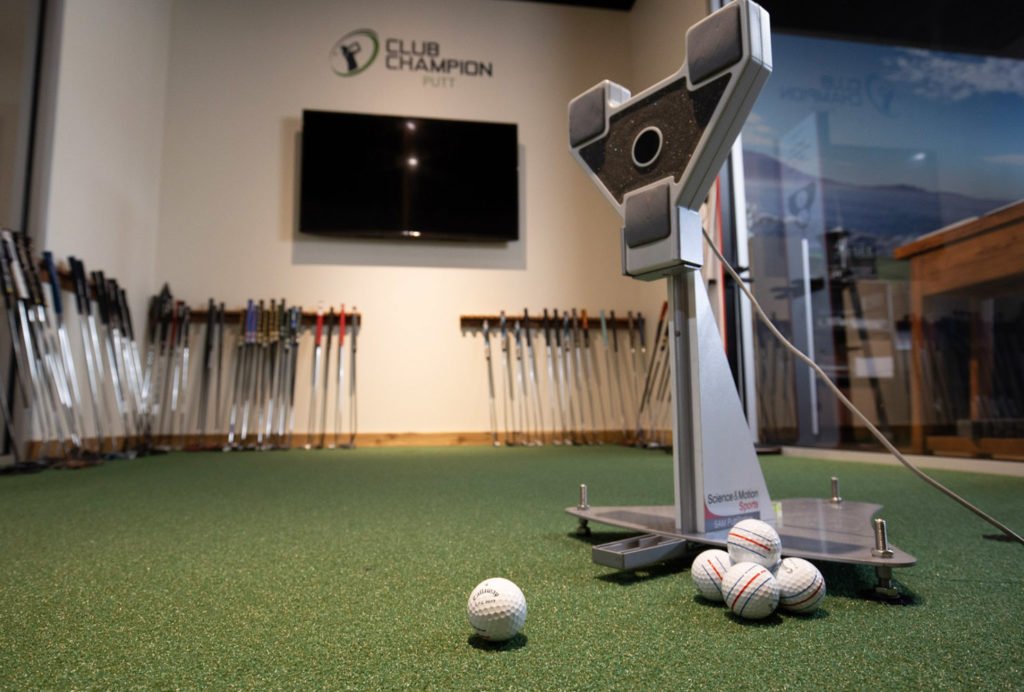 Before beginning, I want to say that putter fitting doesn't mean hit hundreds of putts and then someone tells you what putter you should use. Looks, sound and feel can and should still play a role in the decision and my experience echoed that.
When I made the decision to get fit, I didn't want a simple static fitting about length and lie angle, I wanted much more. It was full steam ahead, and that meant SAM PuttLab, which is widely considered the gold standard in putter fitting, training and analysis. It also happens to be what they use at Club Champion, along with a host of the best instructors in the world. If you are a THPer at heart, like me, analysis and breaking down your golf equipment is something that is enjoyed. Reading a Sam PuttLab report is literally like pornography for the golfer that likes this kind of thing. Also fairly humbling, but more on that later.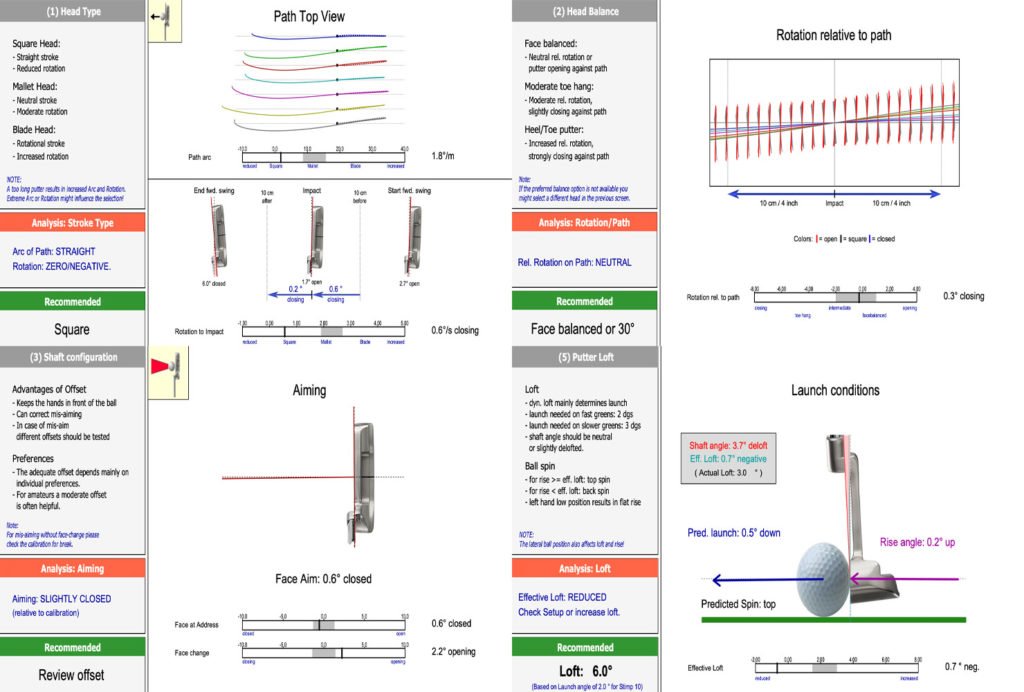 I will try to break down the fitting, to make it easy to understand, but to start with, it was a lot of fun and quite educational on a personal front.
The fitting starts with an interview almost. What type of putter am I, how did I choose the equipment I am using, do I have brand preferences, insert vs milled, etc. From there, it is time to hit some putts, but fortunately I was given time to roll a few first. With a little gizmo (technical term) attached to the shaft of my putter, it was time to stand next to Sam, and start putting.
I learned before starting I was only going to hit about 7 putts on Sam to start with, because we wanted to see organic data, not something where adjustments are made naturally. I tried hard to make sure that each one was my normal stroke, rather than putting too much into it and changing the dynamic of the data. Those 7 strokes were eye opening.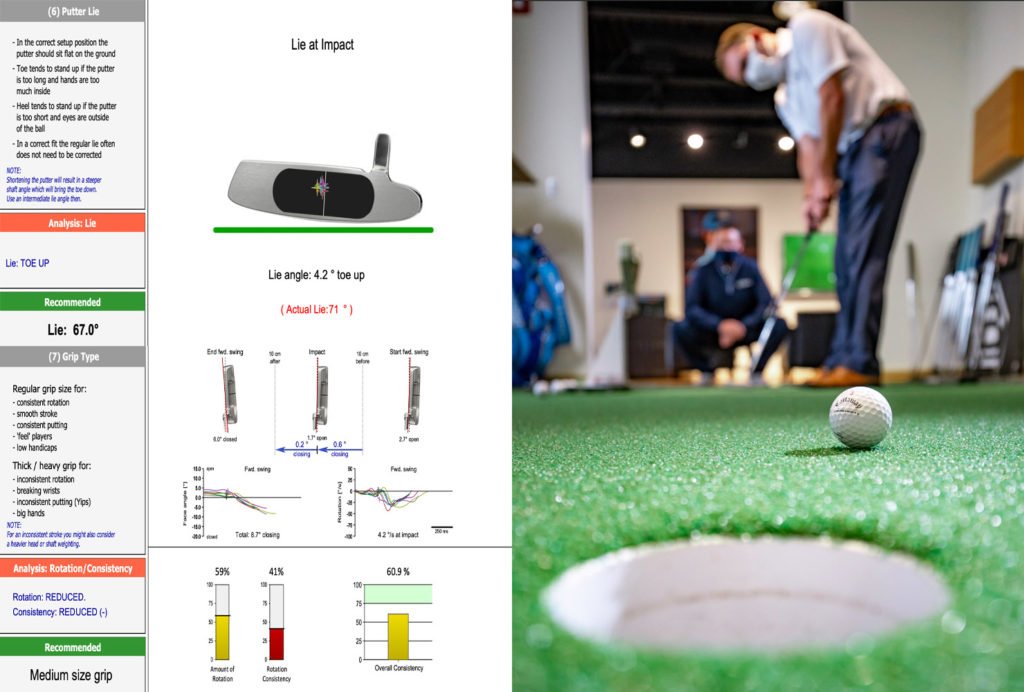 With the data ready, it was time to discuss and try options. Let me be the first to say that the putter fitting is not over after those slightly more than a handful of strokes. The process in total took close to an hour.
We started with head type and discussing the arc of my path. Was I closer to a straight back and straight through person or have a larger arc? I learned from my fitter that a putter that is too long (which I was using prior to fitting) could impact this greatly.
We moved to face balancing, which we have done a number of videos on, but the easy way to tell what putter you have toe hang wise, is to balance it on your hand.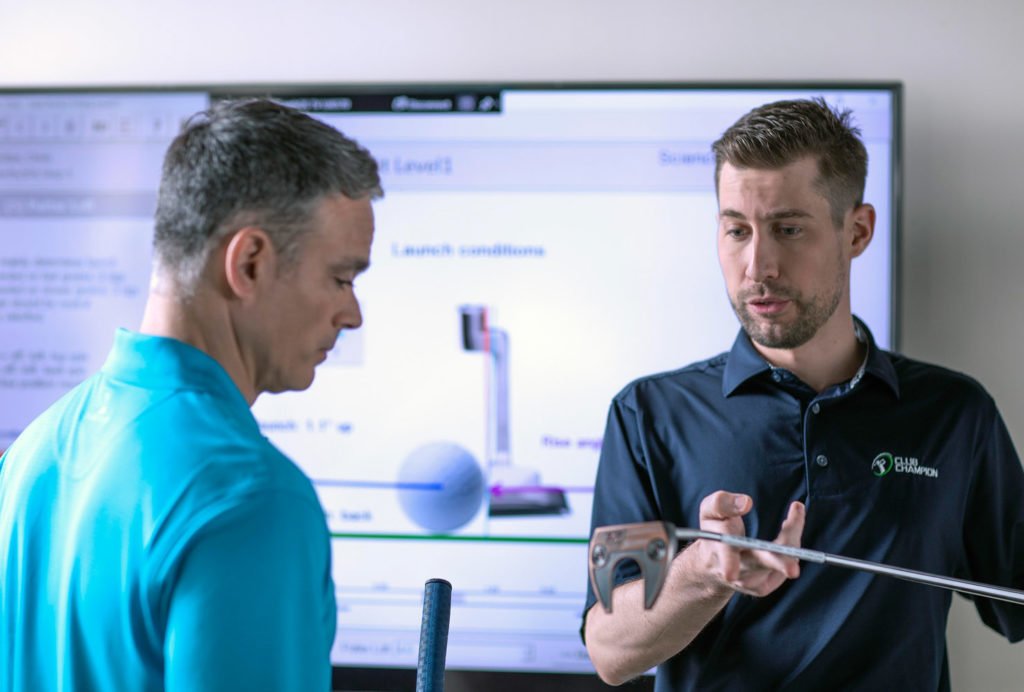 Combining this part of the fitting with the stroke type can really help dial in what head shape to use. If you have your eye on a certain head shape, it could also confirm or help with the rest of the fitting.
Next up is offset, and at this point if you do not understand any of this, that is normal. The fitter walks you through what each aspect of the data is and how it impacts your game. For a lot of golfers, moderate offset can be extremely helpful since we do not always aim correctly, but individual preferences certainly apply here.
We then started discussing length and how I setup to the ball. Was I more bent at address or upright? All things that will play a role in the length. There are some general guidelines for length between short and long that go along with eye position, all of which is discussed with the fitter. I learned in this process that I should be playing a slightly shorter putter, moving to 34″ from 35″.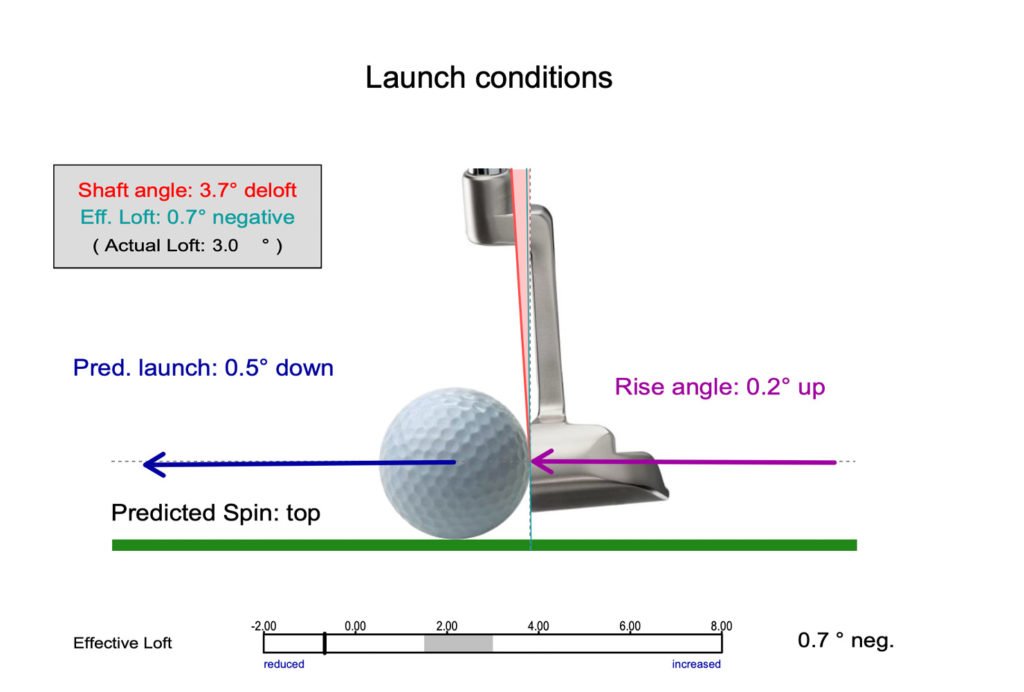 Loft and lie comes next and it was the most eye opening aspect of the fitting for me. Ironically enough, lie angle was pretty standard for my game, putter dependent, but loft was anything but. Part of this process is discussing where you play and the types of greens you are on in terms of speed. Slower greens could warrant a bit more launch than those regularly putting on something rather fast.
Finally we discussed grip and the type I prefer, which is a Golf Pride Tour SNSR grip. During the entire rundown of the data, we did roll some more putts with a couple of putters to confirm some of the data and now it was time to talk about choices. This goes back to the original interview portion where I talked about shapes I liked to look at, feel I was accustomed to and some other items.
Time to test some options. The fitter grabbed a putter for me to try and we ended up going through about a half dozen. This might be the hardest part to put into words, but during this process of testing, you just know when it clicks. The 3rd of a handful of options felt as though it was an extension of my arm and everything was fluid. No forcing or fighting, just relaxed and naturally "stroking the putt" and seeing the results.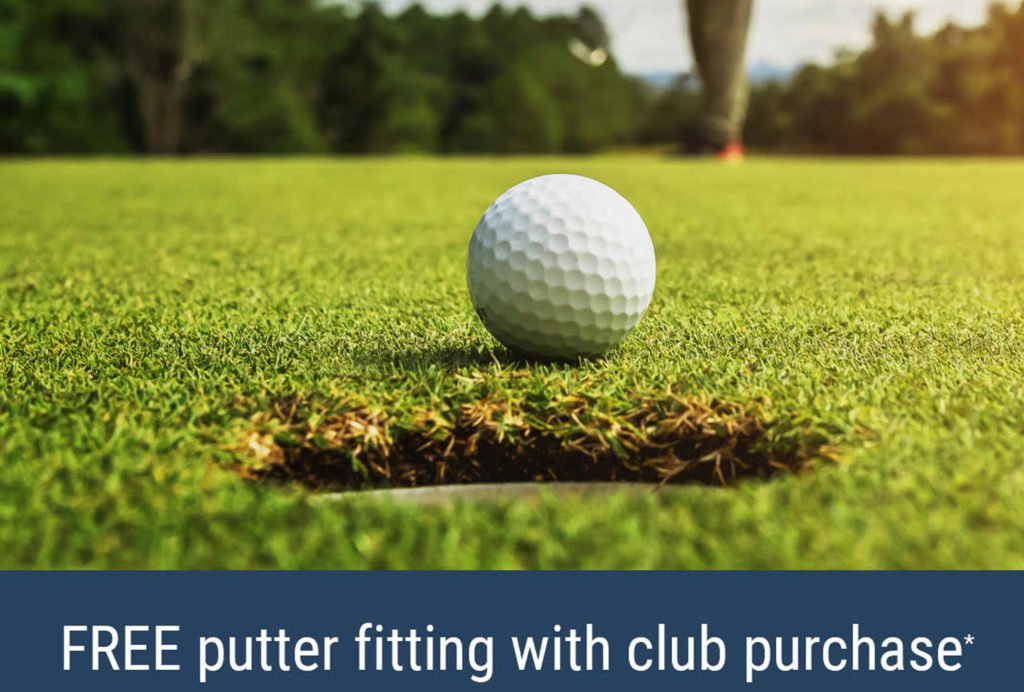 The million dollar question is did it work? Very hard to quantify, but based on pure data, Shot Scope says it did. I make more putts now than before the fitting, especially in the 10 ft range. In true THPer fashion, I have changed putters a few times, because I like shiny and new things. With that said, I am now armed with the knowledge of what to look for and get it made properly for my stroke.
The timing of this post is not a coincidence however, but as you can see from the image above, our partners at Club Champion are offering a free putter fitting with club purchase. For those asking for a disclaimer, we are not paid or compensated if you book a fitting or make a purchase.
This "sale" wasn't going on when I went through my fitting and I would still do it, but with this latest promotion, I thought the timing was right to share my experience. More putter fitting questions are coming to the THP Forum each week and hopefully this answers a few of them and golfers that try it out have the same success that I did.
To find a Club Champion location nearest to you click here.