The World's First Live Streaming Golf Demo Day!
Leading Golf Lifestyle Website Continues Its Tradition of Innovation
Tune here Friday from 9am EST to 3pm EST and watch as THPers from around the world converge on Orlando, FL for an equipment testing unlike any other before it. Feedback live, as it happens by regular golfers just like you hitting everything under the sun, and getting fit on a launch monitor outside on the range.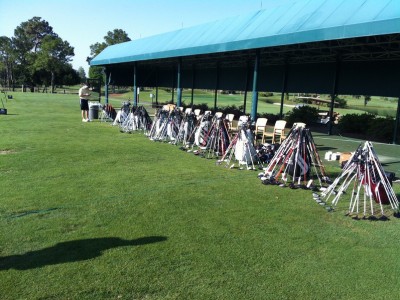 THP (The Hackers Paradise) Media, which hosts an interactive golf forum, publishes a monthly newsletter and hosts a weekly internet radio show, today announced the latest addition to its popular annual THP Outing and Demo Day event – live streaming, real-time feedback from attendees.
THP's "Ultimate Weekend of Golf," was started in 2009 to be the only authentic multi-line demo day with no vendor presence for uncompromising no holds barred, real world equipment feedback from regular golfers. For 4 years, THP has published post-event feedback and photos to its community of golf enthusiasts through its website and interactive golf discussion forum. This year, at the Reunion Resort in Orlando, FL, THP will take this concept to the next level by allowing its members to provide commentary on the equipment they are demoing as it happens via a live streaming camera.
"We are proud of our track record of success with our annual THP Outing and Demo Day, as both our attendees and our industry partners have really grown to value the event," said Morgan Babbitt, Company Relations Director. "By adding this new live streaming element our members will be able to tell the world just what they think of standout clubs as they hit them. Our forum members and readers of the site not in attendance will have the opportunity to feel like a bigger part of Demo Day than ever before, as they can chat live and ask questions to our testers as they hit balls."
When you come to THP on Friday, there will be a page to open to view and enjoy the 2013 THP Demo Day.  You will be able to sit back and wait for the reviews to come to you, or get interactive and request feedback on anything and everything available.