Several months ago, the idea of THP Sweep with Budget Golf was born and one of the most unique ideas to be done on THP was announced. A chance for a lucky golfer to have 60 seconds to run around a huge warehouse filled with golf equipment and take anything they would like and can fit into a shopping cart.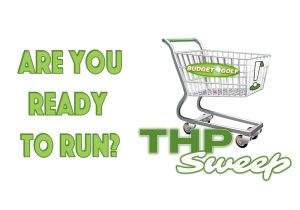 Fast forward to a few weeks ago and THP Sweep was kicked up a few notches when we unveiled the full details that it would be not just one, but two lucky participants competing in the most unique game show around golf, ever created. If you missed the full details, they can be found in full here.
Now the time is here. A chance at greatness is upon us and two lucky THPers are to be announced and will automatically be winners. What is included?
Airfare
Hotel
An iron fitting at Wilson Golf
A chance at The Championship Run
And a WHOLE LOT MORE!
Before we announce the two winners, please remember that this will be broadcast on THP Live on the THP Forum for all to see and if you did not win, but follow along with the broadcast, you will have a chance to win a HUGE PRIZE!
Do not forget that THPers receive a discount off the already low prices at Budget Golf and you can find that coupon on the right hand side of the screen and find the Budget Golf THP Sweep Page at right here.
Please join me in congratulating the two THP Sweep with Budget Golf winners.
Rock26
OITW
Congratulations to these two lucky THPers and come July 10th, you will want to be tuned in right here to not miss any of the action and have a chance to take home some prizes of your own.