Last week THP threw out a teaser about Ultimate Club Testing coming to the members of the community and today we want to expand and give some details. As many of you know, THP believes that equipment testing should not only be done by us here at HQ, but also by the wonderful readers. Because of that THP launched forum testing, the Morgan Cup, The THP Demo Day, Tour Van Events, THP Invitationals, etc. These are all great ways to get real info, straight from regular golfers just like you, but THP felt as though even more could be done to assist those looking for a plethora of information on equipment.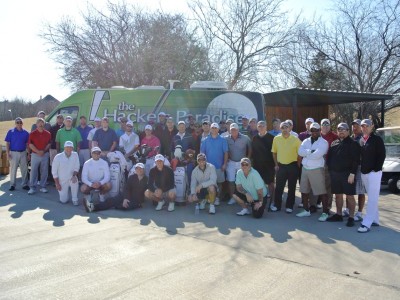 Evolving through creativity and innovation, it's what we live for, it's what keeps us ticking and it's what helps us grow. It's what gave us the fundamentals behind The Ultimate Club Testing.
Club Testing – It will be your job to test the club fully. Both on site of the event and after the weekend concludes.
Education – You will be educated on the club, directly from the company that puts it out. No quick notes or synopsis from a local rep or store, but getting all of your questions answered on why it works the way it does.
Fitting – Real fitting, by the company behind the equipment, outside on a range, with a launch monitor just like the pros do.
Reviews – Just like with THP Forum Testing, you will be responsible for a long-term review of the equipment being tested, as well as answering questions from the members of THP.
Destination – Ultimate Club Testing hosted by THP, will be on location at a destination golf locale.
Golf – Not only will you get fit for the equipment you will be testing, but you will put it right in the bag and into play for multiple rounds of golf with other THPers, as well as the company behind the gear for a couple of days.
When
August 31st – September 1st (Saturday & Sunday)
Where
Mission Inn Resort in Florida
El Campeon – Featuring The Devil's Delight
This hidden gem of a golf resort is located about 30 miles north of Orlando and while it is well known by those around the area, some have not heard of it. El Campeon (one of their two courses at Mission Inn) is one of the best golf courses in the area based on just about every list that has come out over the last 20 years. You can see pictures of the course on THP right here.
Equipment Being Tested
As of now, no info can be given. What you need to know is that this equipment will be pre-release and each participant must sign a NDA (non-disclosure agreement) before taking part in this event. While you will be reviewing the club and every aspect of it, reviews will not be published until the embargo date has been reached.
Itinerary
Saturday Morning – Fitting & Education
Each participant will spend time with the company involved to learn more about the equipment they are testing as well as get personally fit with the team. More information will be coming out soon about this part, but we have to keep it fairly quiet right now because it involves pre-release equipment.
Saturday Afternoon – Golf Round
Put the new equipment in play for 18 holes as you test for full reviews. You will be asked to put it through its paces and take notes so that you can update the review thread when the embargo date reaches.
Sunday Morning – Golf Round
Another round of testing on the course similar to the above.
Bonus Round
You receive a 3rd round of golf as part of this package, and that can be used any time during your stay.
Lodging
Each participant will be staying on site at the Mission Inn Resort as part of the package for 2 nights. Check in will be Friday.
Signing Up
There will be sixteen spots open for this event.
Signup announcements will be coming soon.
Cost for this event will be $349.00 and will include all of the above.
The Finale
At the end of the weekend, you get to keep your newly fitted and tested equipment to be named later to continue to review.
More Details Coming Soon Including When Signup Will Begin.