With the entire golf media discussing virtually nothing outside the return of Tiger Woods to the PGA Championship, the question was swirling about what the 1st round performance would be like. It was answered half way through day 1 and the question might change to whether or not he will be around for the weekend. Not due to a withdraw or bad back mind you (although that could happen to anybody), but due to a lackluster performance.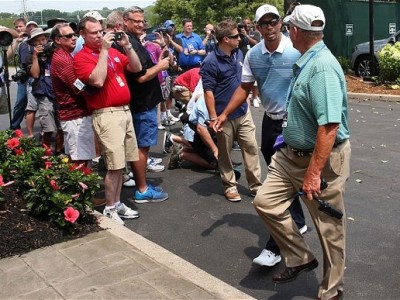 While scoring was there for the taking by many, Tiger sputtered a bit throughout and finished with a +3 first round of 74, a full 9 shots behind the current leader. Before people begin the "he is done" talk, it must not be forgotten (and how could it) that the former #1 player in the world is just recently back from major surgery and just a few days back from spasms that led to a withdraw. As the day is still only half over for the field, and many of the top stars of the sport are on the course, the fans are looking for answers. The question has changed a bit, from will he be able to contend, to will he be able to get it together.
Tomorrow is another day and Woods goes out in the afternoon alongside Phil Mickelson and Padraig Harrington. The media presence and fan presence will once again be historically large, all searching for answers…Albeit, not sure what the question is.