No top tens in a dozen years.  A course that did not suit his eye.  Recent performances at TPC Sawgrass were not exactly what was expected.  All things that were said heading into the event this week and yet when the dust settled, Tiger Woods won again this year marking his #1 in the world status with a tournament some call the fifth major.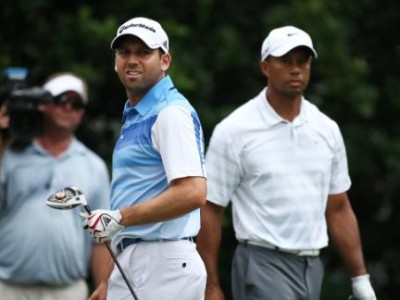 As the week turned to the weekend, Tiger Woods and Sergio Garcia were playing at a high level along with a handful of other golfers. Due to some perfect scoring conditions, birdies were being made from all over and at times it looked as if -18 was going to be with in reach. During the Saturday round, in which Tiger and Sergio were paired together there were some tense situations and when the round was complete (early Sunday morning), both players were still right at the top of the leader board.
Then the Sunday Tiger Woods took over. New form, took on old form it appeared as putts were dropping from everywhere. On a course where driver was not needed all that much, the one area of weakness that Woods has had, became a strength as he could bring out the new Covert fairway wood and put the ball where it was needed to be in perfect condition to score. By the turn, there was a two stroke lead, and then a few bad holes pop up and all of the sudden we have a crowded leader board with Sergio and Tiger tied with a couple of holes to play. On the famous 17th island green, Garcia comes up short and goes in the water and then decides to reenact the movie Tin Cup by reloading from the tee box and going in the water again.
The story was Tiger Woods and how well he was playing. He played the course as if it were a tuneup for the US Open. Making sure to hit fairways off the tee. Taking chances only where it was necessary, but then almost automatically capitalizing on those that were taken. It was as if he had a mission to show that Pete Dye (designer of this famous course) had not defeated him and that all of those statistics spouted before this event each year that showed a lack of success were absurd.
Tiger Woods did what Tiger Woods used to do. Make birdies when they were with in reach and minimize mistakes. With this win, Woods gets close to that 80 mark that could [should] happen before the end of the year. Here are the clubs that were used to secure the victory.
Tiger Woods WITB
Driver – Nike VR Tour 8.5*
FW Woods – Nike Covert 3 Wood & 5 Wood
Irons – Nike VR Pro Blade (3-Pw)
Wedges – Nike VR Pro 56* 60*
Putter – Nike Method 001
Ball – Nike One Tour D