Preparing for the 2016 golf season, Bob Vokey faced one tough challenge. In fact, it was a challenge that he himself created. The task before him was how to produce a wedge that is going to be an improvement from the well received SM5. To the drawing board he went, and the result is a new generation of the Spin Milled Wedge series, the SM6.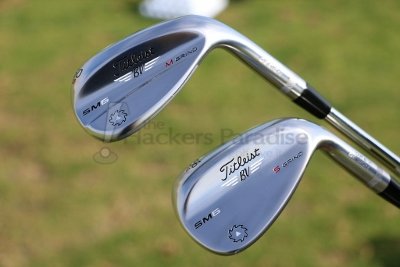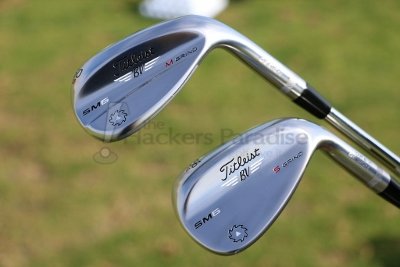 From Titleist
New Spin Milled 6 wedges establish a new performance standard by improving in the three key areas of wedge play: precise distance gapping, shot versatility and maximum spin.
Precise distance and trajectory control with exceptional feel from progressive Center of Gravity (CG) location.
Enhanced shot versatility to fit your swing type and course conditions courtesy of Bob's tour proven grinds.
More spin from 100% inspected TX4 grooves with new parallel face texture producing a sharper, more consistent groove edge.
Advanced personalization with an industry leading selection of custom options.
Tech Talk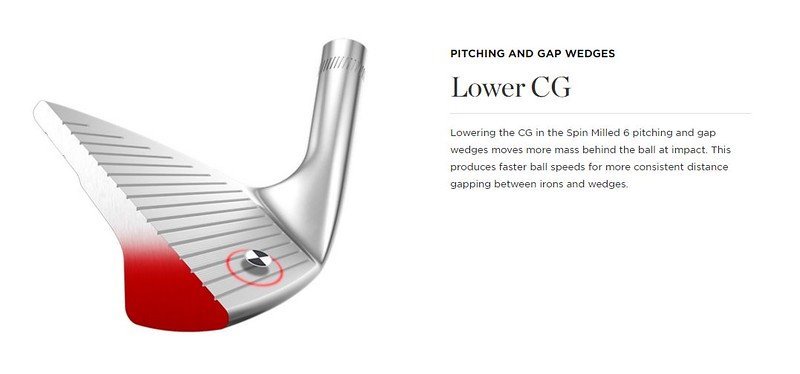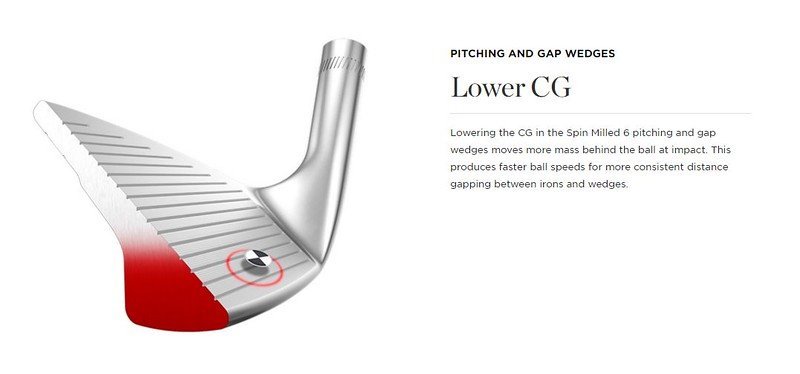 Taking center stage on the technology front for the SM6 wedges is the newly designed progressive center of gravity(CG). Since the short game is composed of a large variety of shot types, it stands to reason that each wedge will be used in a different manner. Thanks in part to the new CG locations in the lower and higher lofted heads, players might face a slightly different approach when it comes to picking out wedges.
What is progressive center of gravity? It helps align the CG in the most advantageous location within the wedge head. On the lower lofted wedges, where one would use as a pitching wedge replacement or a gap wedge, the CG location is the lowest in this set. This allows for the ball to get up in the air quickly and land softly. Thanks to today's iron design, irons are meant to fly high, which can at times lead to a difficult matter of choosing wedges that slot in to one's yardage gaps properly. Therefore, by having a lower center of gravity in the lower lofted wedges, it can lead to a better transition and more consistency when taking full swings with a SM6.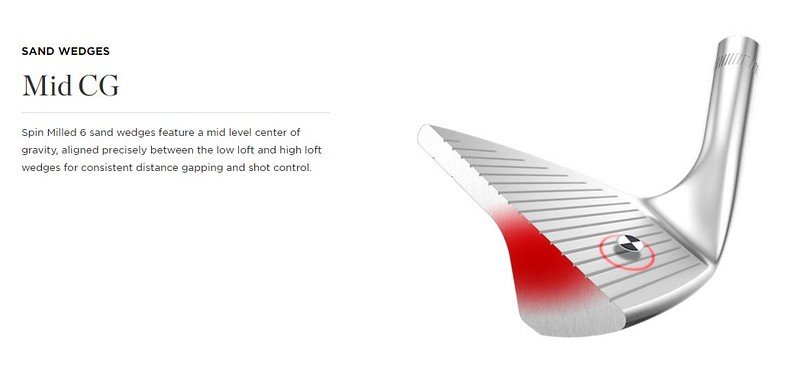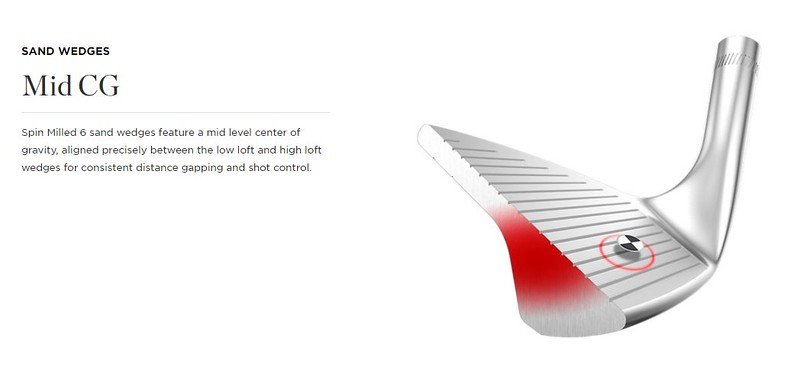 As the loft numbers rise in this set, creeping all the way up to 62°, so does the center of gravity. Therefore, in the more traditional sand wedge lofts, 54°-56°, the CG is raised slightly from the location of the gap wedges. The same principal goes for the lob wedge lofts. Now the question that might be on some minds is, why would I want a raised CG in my higher lofted wedges? The answer in its most simplistic form is because it will allow for players to control the ball flight in an easier fashion, allowing for one to flight the ball and control spin into the greens. Again, with the short game being compromised of so many different shots, having a wedge that will afford the ability to hit the low spinning shot, or the hop and stop, or a flop shot that lands softly next to the hole, is important to those who employ the full arsenal of shots.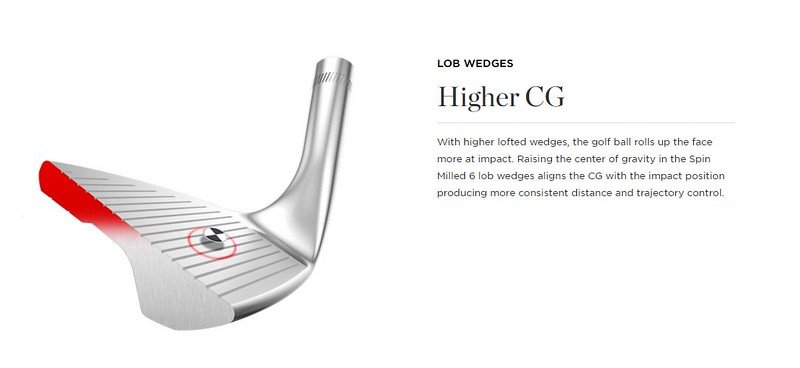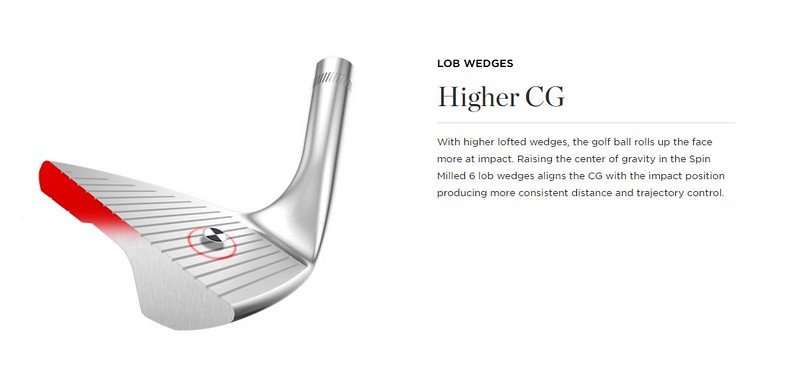 Another technical improvement which the SM6 wedges carry is the new TX4 grooves. Similar to what has been done with the center of gravity throughout the set, the grooves on the lower lofted wedges are different than those on the higher lofted. Grooves found on the 46° to 54° wedges are a bit deeper, and narrower. Conversely, a wider and shallower groove pattern is employed on the 56° to 62° faces. Bob Vokey has also utilized a new parallel face texture to help provide a more consistent and sharper groove edge. All of these design elements help to make the SM6 a wedge that is going to produce a strong amount of spin from any location on the course.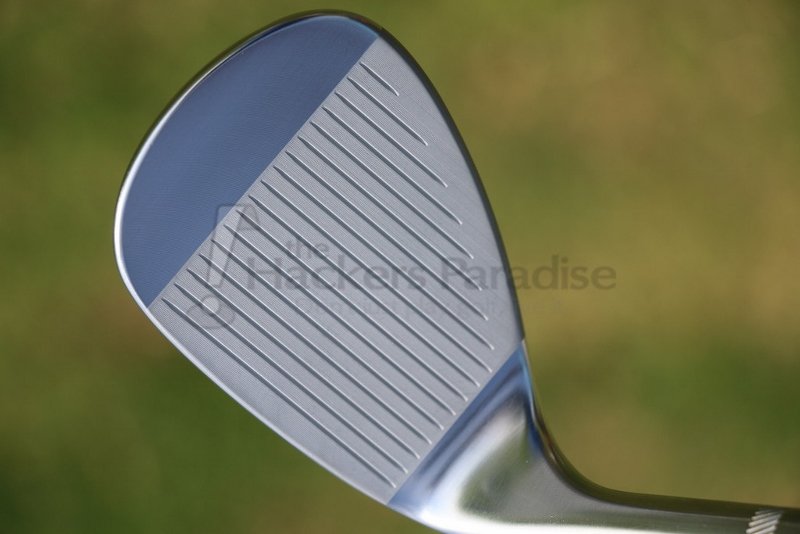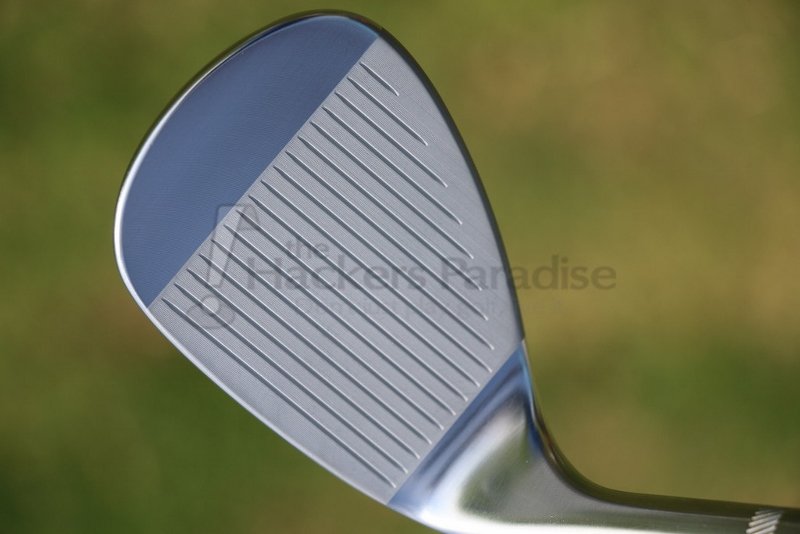 Options Galore
Gone are the days of just going to a store and picking from a single company, with a handful of different lofts. These days Vokey wedges offer consumers an extensive variety of loft, bounce, grind, and finish options. When it comes to selection, players will have a choice of nine different lofts. Lofts start at 46 ° and increase by two all the way up to 62 °. With all of these different lofts available, it becomes somewhat easier to find the perfect wedge combination to have a properly distance-gapped bottom half of the bag.
The story of the SM6 wedges is not one that is based solely on lofts, it also includes the ability for players to find the perfect balance of grind and bounce for their style of play. Titleist offers five different grinds on these wedges, giving options for players who tend to get steep, pick the ball clean, or offer a more neutral attack angle.  Below is a quick rundown of each grind, and which player they are intended for.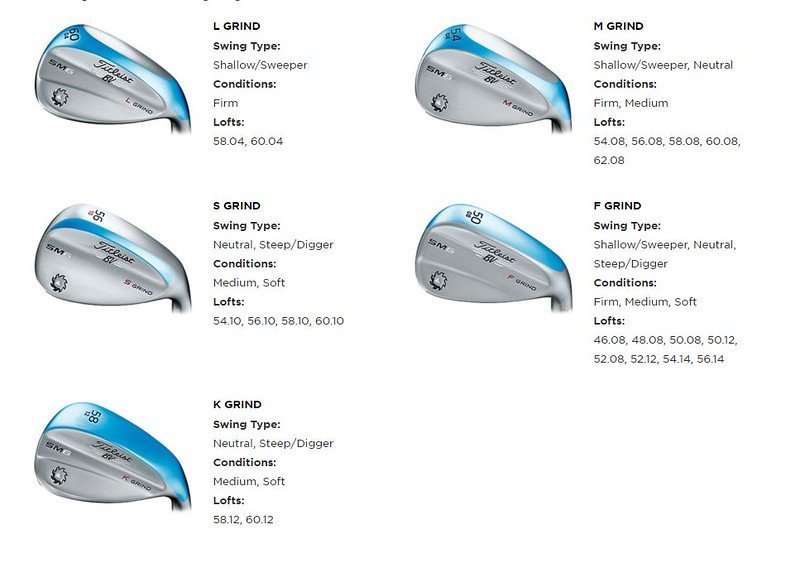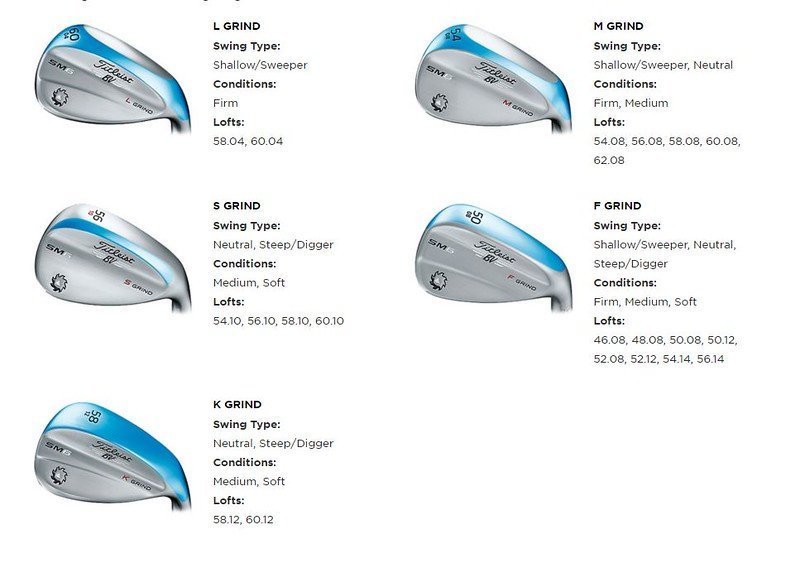 F Grind – This grind is found in eight different models of the SM6, mostly in the lower lofts all the way up to the sand wedge. Shaped with a standard full wedge sole, it offers solid performance on full swings. In the higher 54° and 56° lofts, it offers the most bounce within the set.
S Grind – Featured in lofts from 54° to 60°, offers a consistent 10 ° of bounce throughout. Wedges with this grind employ a bit of relief off of the trailing edge, which slightly shaves down the full sole. A great option for golfers who like to play shots with a square face angle.
K Grind – Only present in the 58° and 60° heads, the K Grind employs a full wide sole with a medium to high amount of bounce. Players who end up getting steep on the ball will undoubtedly enjoy what this grind has to offer. Those who find themselves in softer conditions also should take a good look at this option.
M Grind – Similar to the S Grind in that it offers a consistent amount of bounce throughout. This grind can be found on lofts from 54° all the way up to 62°. Combine the mid to low bounce design with the heel and toe relief, and the result is a wedge that gives a lot of versatility.
L Grind – Only utilized in the 58° and 60° heads, it presents just four degrees of bounce.  Players who really want to open the face to get the ball up in the air off of those tighter surfaces, should look here. Also caters to those who tend to sweep the ball instead of those who get steep, thanks in part to its narrow sole.
When adding the different lofts to the choices of bounce and grinds, the total number of afforded options swell to 21. To cap it all off, Titliest also includes a choice of finish as consumers can choose between Tour Chrome, Steel Gray, or Jet Black. With so many variations available, picking out the perfect set of wedges just became a little more interesting.


Performance
For the purpose of this review the wedges that were tested were the 56.10 S grind and 60.08 M grind. Testing was conducted on the range, course and short game practice facilities. Being that these wedges are based on their progressive center of gravity designs, it might be best to break down the performance of the two wedges received individually.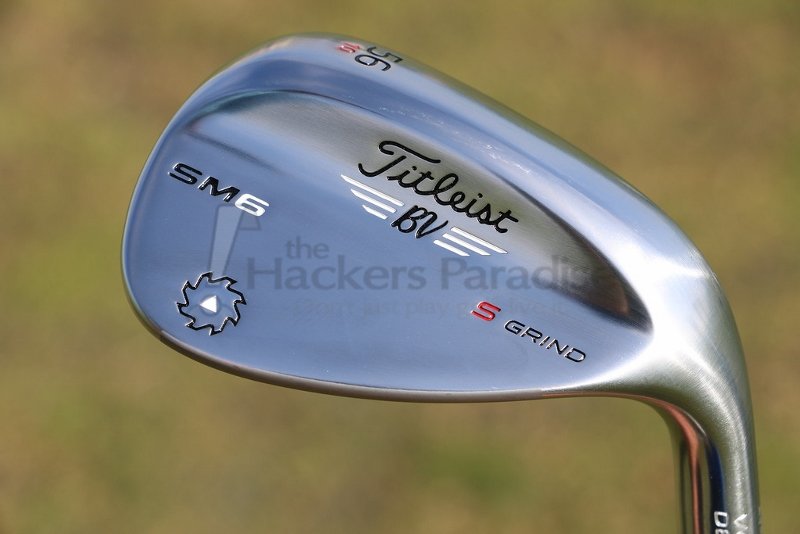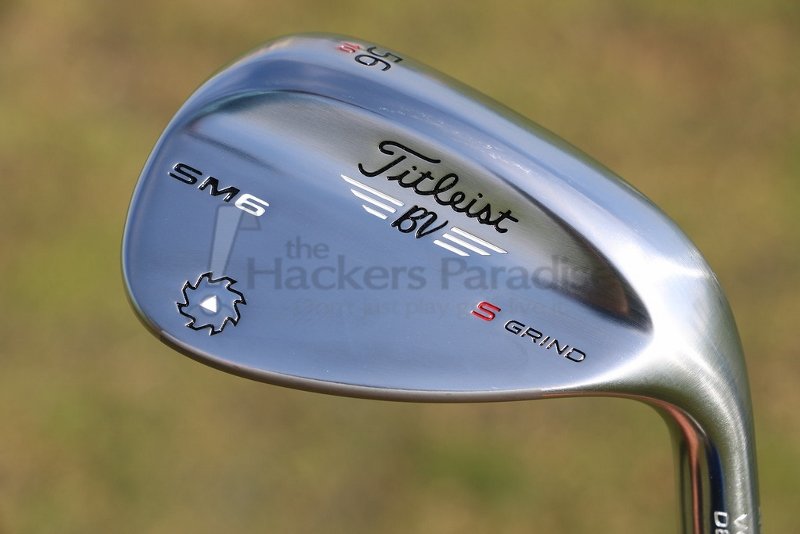 When it comes to the talk about the new progressive center of gravity locations for the SM6 wedges, the somewhat exception to the rule are those wedges that are in the traditional sand wedge lofts. The 56° has an extremely similar CG location to that of its older-sibling, the SM5 wedge.
The S grind is known as the Steve Stricker grind, as it sets the club up to be played with a bit more of a straight face. Employing a bit of heel relief, it allows the club to be manipulated just enough to be one extremely useful club from all over the course. Whether it be a full shot, long pitch shot or a greenside bunker look, the S grind provided plenty of play to make this an all-around strong performer.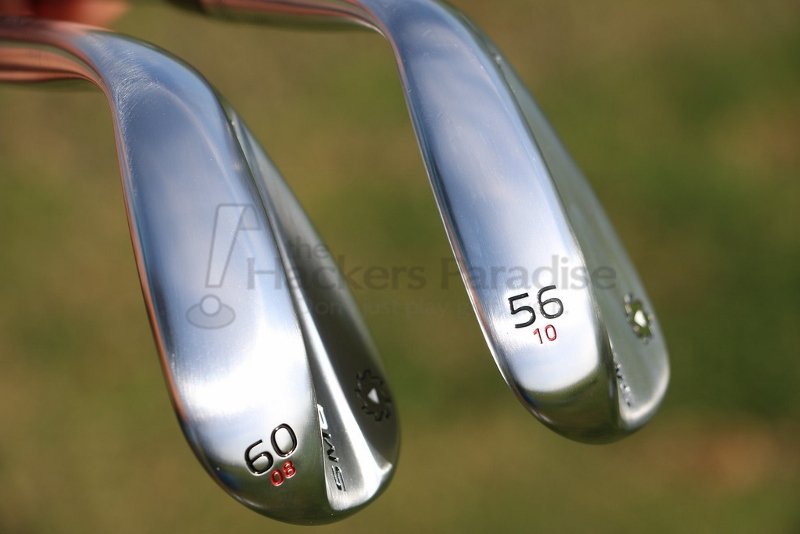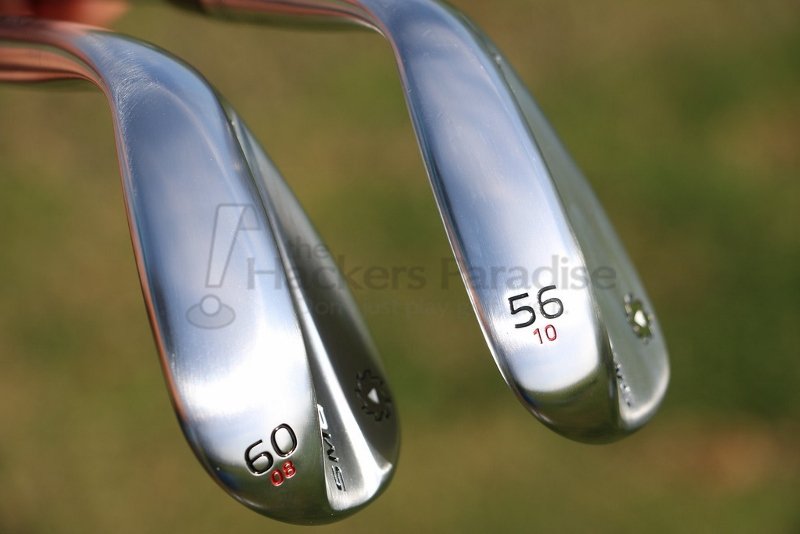 On paper the 60.08 M grind wedge was not one that would be considered the most ideal fit for a player with a steeper angle of attack. However, the grind on this wedge really allowed for some creativity around the greens. Thanks to the mid-sole design, with a moderate amount of heel and toe relief, this 60° degree wedge was really up to any challenge it faced. With the raised center of gravity, shot trajectory was a bit easier to control. Even with as much loft as there is, being able to use it on long pitch shots and keep the ball from shooting up high in the air was a very welcomed result.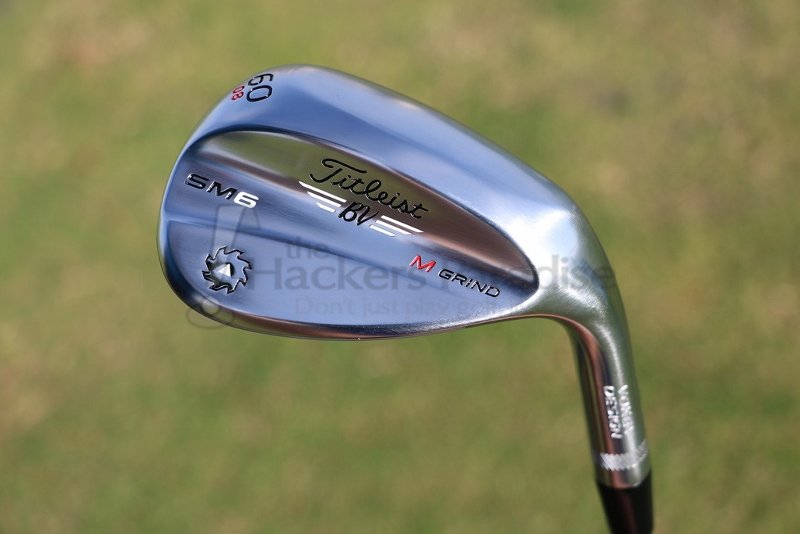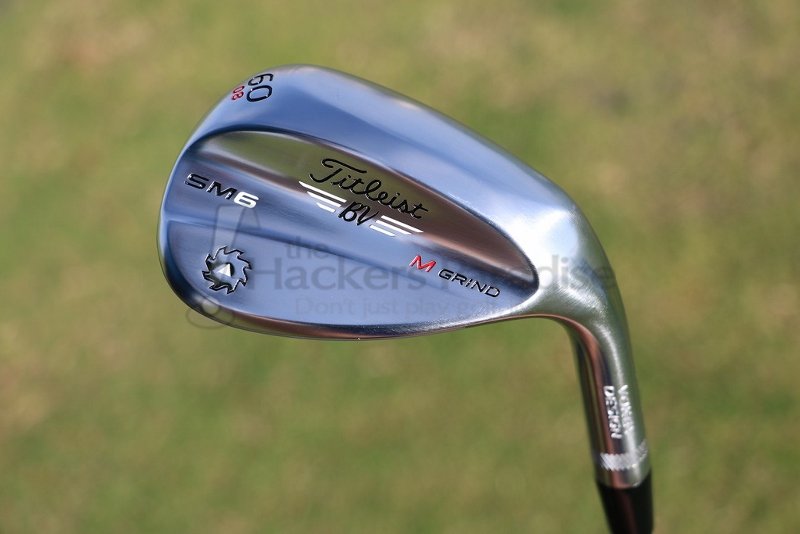 Utilizing the M grind to its fullest, it was found that opening the face to hit a flop shot or just a higher trajectory shot was no difficult task. When bunker conditions weren't overly soft, this wedge shined. The eight degrees of bounce provided just enough help to keep this club from digging on softer conditions. As was cited earlier, those looking for more bounce on a lob wedge will have other options within the SM6 lineup.
Both of these wedges had something in common that really stood out, and that was spin. With the fresh grooves and a tour caliber golf ball, seeing a shot hit and stop, or come back several feet was a regular occurrence. That extra amount of grab was certainly appreciated on shots from inside 100 yards. Keep in mind that all new wedges on the market place offer a good amount of spin, and it becomes more of an equation of wedge, ball type, and contact/technique, to impart a maximum amount of spin.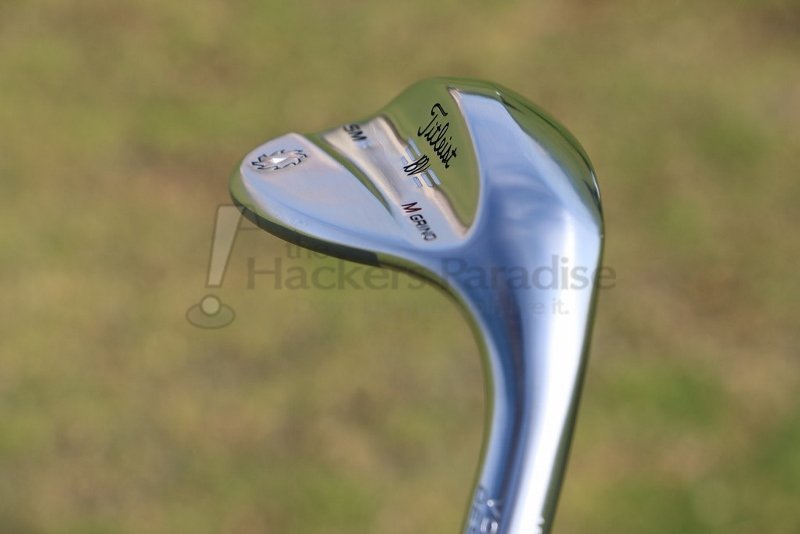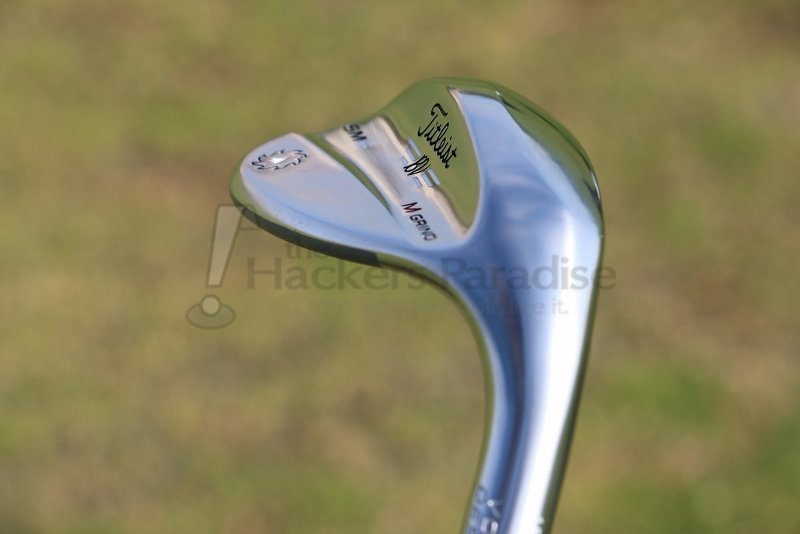 Conclusion 
Much of selecting golf equipment is based on personal preference and performance. Picking out a wedge is no different and that is where the SM6 lineup really shines. With a large catalog of options, both of bounce, grind, and finish, Titliest really empowers the consumer to pick out the perfect wedges for one's game. Due to the fact that there are so many variations of the SM6, it might be a good idea to get out and get fit. Bounce is one of those golf topics that can be rather confusing to many, therefore spending time with a fitter could be very beneficial, and lead to some lower scores by obtaining the proper short game tools for the bag. If that is something of interest, keep an eye out for Titliest Thursdays over the summer where players can get a complimentary fitting assessment. Priced at $149.99, the SM6 wedges are now available for purchase. More information on these wedges and where to find the nearest Titleist Thursday fitting location near you can be found at www.titleist.com.