Sometimes the simplest things can make the biggest impressions on someone. This is exactly what one of the latest items I reviewed did for me. Usually, when you think of Tommy Hilfiger designs your brain switches right to a nautical or preppy theme, which it should, but with the recent success of the PGA Tour's Keegan Bradley, 'Tommy' is now making waves in the golf fashion world. Case in point: The Lambert Comfort Tech Polo from Tommy Hilfiger. Its clean lines, tailored fit, and simple fashion sense were a pleasant surprise for me to wear and review.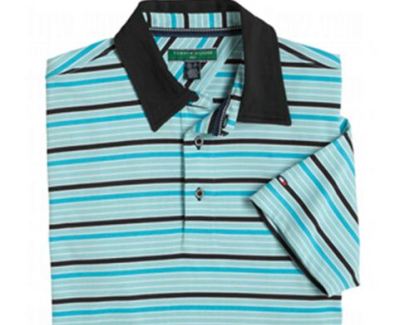 Did You Know?
The color Aqua Haze was inspired by St. Barth's, the French island with Swedish heritage?
Key Features, Technology & Functionality
Blended cotton and polyester

Moisture wicking

Odor inhibiting

Quick drying

Contrast collar

Drop tail

Open sleeves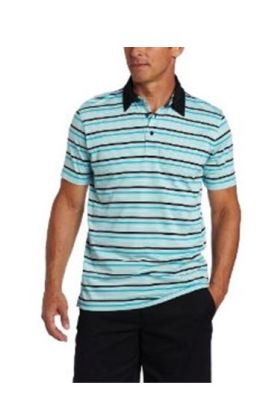 Initial Thoughts
After taking the Lambert polo out of its wrapping, I was taken back as I felt the material for the first time. I could tell that there was cotton in the shirt, but when I touched the blend of cotton and polyester it felt nothing like I expected. The material was very light and thin feeling, which is a major plus as far as I'm concerned. Another thing I liked was that it didn't even look like a cotton shirt due to the thinness of the material. Less shirt material is a subtle way for one to appear thinner. No more sucking in the golf gut, guys! The contrasting black collar really picked up the black stripes in the Lambert without being overpowering. It almost stood out while blending in with the rest of the shirt. It was subtle, yet sneaky. Finally, another subtle nicety this shirt had was its open sleeves. This means that there's no piping or gathered sleeve look that can stretch out over time or constrict the upper arm if too small. The shirt just ends at the bottom of the sleeve and offers a clean and somewhat dressy look. The Lambert passed the initial look and feel test, but would it pass the functionality test?
Testing
Before I get into the functionality and performance of this shirt, I want to touch on how it fit. I'm 6'1" with an athletic build and normally choose a size L for the majority of my golf shirts. I will wear a size XL with some brands, since L can sometimes run small on me, but not with the Lambert polo. I found it to run true to size for me, if not a shade on the narrow side. It was almost like a Euro cut that typically runs smaller, narrower, and shorter. This is a welcome departure from the typical large, long, and boxy fitting shirts that most American designers tend to put out. The Lambert polo provides a custom-tailored look that gives the appearance of a very expensive golf shirt. Sleeve length is important to me and I found that they sat a bit above the elbow, which is exactly what I prefer. I also found that it tucked very nicely for a clean look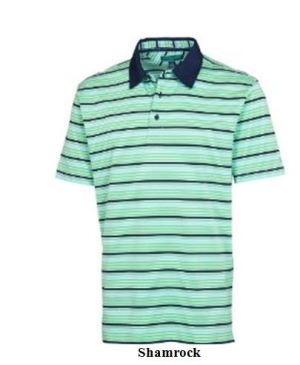 I managed to wear the Lambert in both warm (80's) and somewhat cooler (high 60's) weather and came away impressed with how it felt in the varying temperatures. On the 80° day, I felt cool and comfortable walking around and didn't feel like I was wearing a cotton-polyester blend shirt. While sitting in the sun at lunch that day, I noticed that the shirt tended to hold more moisture than I cared for, but this was probably a combination of the material composition and the lack of a cooling breeze. On the day in the high 60's, the shirt was an absolute winner! The material kept me just warm enough that I didn't have to wear a windbreaker and just cool enough to be thankful I wasn't wearing a long sleeve shirt. I think this particular blend of materials really lends itself best to temperatures below 80 degrees. The color that was sent to me, Azure Blue, is a color scheme geared towards the warmer part of the year, but it can also be worn in the cooler months without people thinking that you're going on a cruise. If the Azure Blue isn't your thing, there's 'Shamrock', which carries much of the same design concept in a green tone.
Overall
Tech material golf shirts are quickly becoming more prevalent both on the golf course and around the office. The style and cut of Tommy Lambert shirt is anything but typical and should be checked out if you're looking to add some variety to your wardrobe without looking too trendy. Pricing for the Lambert polo varies by retail outlet, so check around to see if there are good deals out there. Also, you can head to www.Tommy.com to see what else he has in store for the golfing world. Tommy Hilfiger may not yet be a household name in the world of golf, but if more shirts like the Lambert are in the pipeline, I think you'll soon see more Tommy on a course near you.
T. Hanks