It really feels like Tour Edge has hit a stride when it comes to their Exotics lineup releases and more importantly, they are having confident fun with it. Not just in terms of marketing, although I'm here for all the Bo Jackson they want to give me, but also in just keeping us on our toes. No better example of that this year from them than when it comes to irons. While the E723 and C723 had a lot of anticipation behind them given the success of their predecessors, the new 723 Pro irons seemingly came from nowhere to potentially fill a very real void that Tour Edge had in their Exotics lineup.
It is safe to say that they accomplished that, and a whole lot more.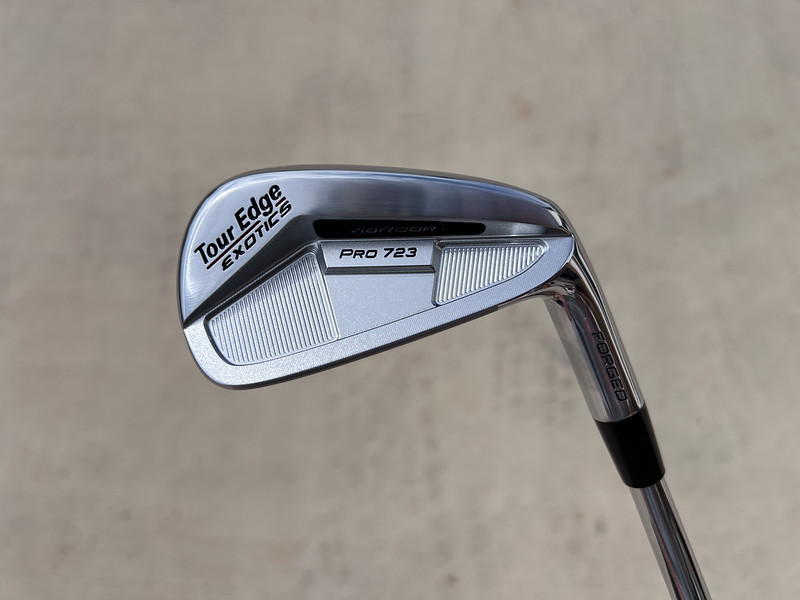 Quick Take
One of the most complete modern players cavity iron sets I have tested. The 723 Pro irons have come seemingly out of nowhere to offer all the bells, whistles, and performance that better ball strikers seek in a compact iron design. Surprising power wrapped into a chrome plated design in which the attention to detail when it comes to size, shaping, and sound (feel) is on par with any other iron design in the segment from any manufacturer.
Tour Edge Exotics 723 Pro Irons
I will admit, I went through an interesting series of mental events when it came to processing the 723 Pro irons when first reading about them in our own Ryan Hawk's release article here. The E723 and C723 were no brainers for the company, and to an extent the BL Proto's didn't surprise me because, well, they were prototypes, and we know by now how meticulous Bernhard Langer is. The 723 Pro's were the style of iron I had hoped to see from Exotics, but didn't necessarily expect.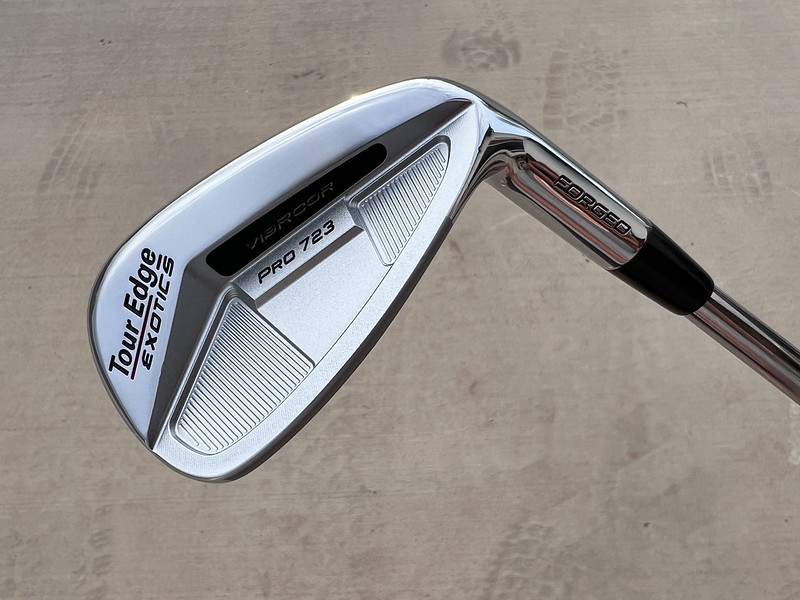 Before that comment draws any potential gasps or guffaws from the audience, that thought process was never about the company's ability to produce this kind of set, just more about if they would ever jump all the way into this category. What category is it specifically? Well, although I don't like categories in golf equipment personally, they do help differentiate, and in the case of the Exotics 723 Pro irons I would place them firmly into the modern player's cavity queue. This is a segment which is aimed at ball-strikers who demand a compact and clean look while also blending forged precision with modern design. It has become one of the most competitive realms of iron design out there because in a size like this, you can only do so much, which means you must be meticulous and bold to stand out.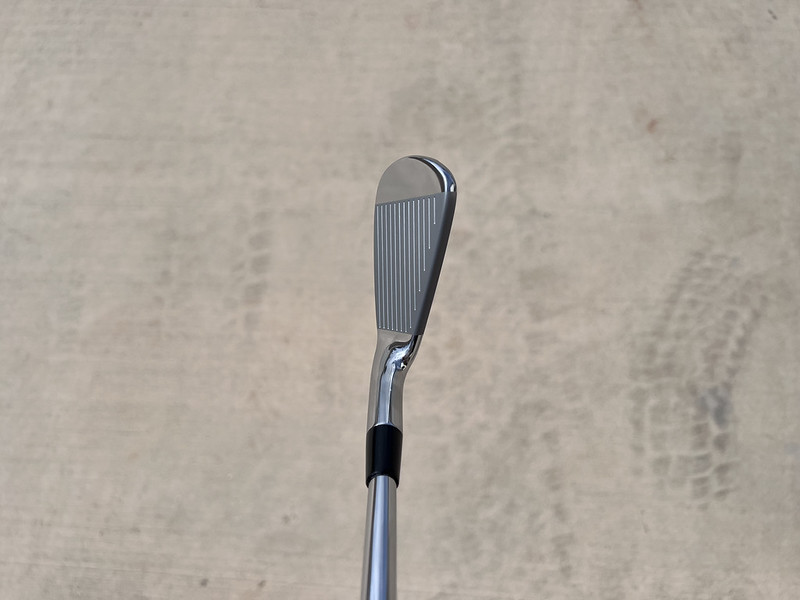 The Exotics 723 Pro irons in the pre-release pictures are one thing, and what I unboxed was an entirely different one. In that box was the 723 Pro irons in 5-PW orientation (3, 4, and AW are available) with the standard True Temper DG105 (S) shafts in them. I will admit, I am not a polished chrome fan, it may just be where I sit in tweener land when it comes to age demographics, but the polished look has historically done very little for me. I expected the polished look when I opened these, and I definitely got it, but I must admit that the shaping and angles of the 723 Pro are definitely showcased better in this finish than they would have been in satin.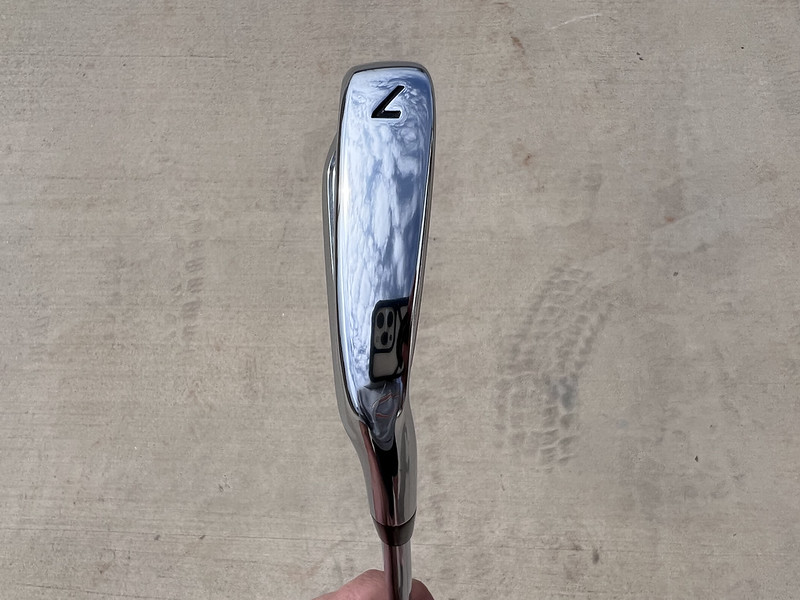 Driven by the many requests of the company's Tour Staff, the Pro 723 irons do indeed fill a void which needed to be addressed. Yes, there was some Tour play with their EXS Pro irons, and the C's have done well also, but the 723 Pro hit that middle ground of size and playability. The irons are, of course, forged carbon heads which have undergone a meticulous forging/milling process to end up with what the company calls a "slightly larger forged cavity design", but I don't totally agree. Yes, the shaping is well done, with special attention to mass relocation behind the hitting areas while using an internal channel filled with VIBRCOR to keep feel and the offset stays tight, with a topline which blends rounded with more square while staying petite. But, these are compact irons, equally so as some of the most played out there. My point is, these are still a demanding looking iron, and that is why they are so visually impressive.

Performance wise, there is no let down. I was curious to discover what the speed/launch/spin situation would be with the 723 Pro's given their more modern loft structure playing off a 44-degree PW which happens to be the same as the irons I have been playing the past year. Before the pitchforks are prepared by the loft-jacking-army out there, I urge you to look at the various data within the article recorded on Foresight for the 5, 7, and 9 irons to see that it isn't just about distance. What I found was as expected, the internal pocket has allowed more power/flex within an iron of this profile and size, so the lofts help ensure that they hit the windows Tour Edge's R&D department needs them to.

Even working through the winter rust which has plagued my club delivery a bit, you can see in the data that the irons offer a lot to like from a numbers perspective. The speed is higher than anticipated while the spin remains within a realm I prefer. Plus, for my swing speed I was pleased to see the peak heights staying within that 30-yard realm keeping good descent angles into greens for the 9 and 7 specifically while the 5 at 25-degrees of loft is good for me off the turf right now and the spin average was a happy result there.

Out on the course, they performed just as I hoped, in fact other than maybe a shaft tweak I would make for me on a personal level, they stood toe to toe in all aspects to my gamer irons. While that may not seem a big deal, it for me means that the 723 Pro's are one of the most complete irons in this segment I have put into play. The turf interaction of the sole is excellent even in the mud and muck for the more confident ball-striker, and their sound (feel) is flat out addicting, possessing a tendency to turn heads on well struck shots. No, they are not the most forgiving irons out there, but they aren't supposed to be either. They offer a well done platform to keep things playable on misses for the golfer who likes a smaller look, and be showstoppers in the hands of a confident swing.
The Details
Pleasant surprise doesn't adequately explain the experience of the 723 Pro irons during this testing/review period for me. While the C723 and E723 will, and should, keep the vast majority of attention and play within this year's Exotic iron releases, Tour Edge now has the iron which blends into that more traditional players cavity realm that truly rounds out their offerings for 2023.
Availability: Now
Price: $169.99/stick – 7-Piece (4-PW) $1189.99 – 3-Iron and AW available
Standard Shaft – True Temper DG105 (R, S, X)
For more information on this or any other Tour Edge product, check out their website at www.touredge.com.