When you find something that works, it makes sense to run with it. As a manufacturer, it's safe to say that Tour Edge has found their something. The C721 lineup has been a massive success garnering accolades from just about every single outlet within the industry. Offering a visible and internal tech that is as deep and impressive as anything out there, and Tour Edge has absolutely brought it. This success is in no small part thanks to the incredibly open lines of communication that the company has with their ever growing stable of PGA Tour Champions players as well as those not on staff but putting the most Tour Edge clubs into Tour play that the company has ever seen.
Last year, this relationship led to what Tour Edge referred to as a "Straight From the Tour Van" release of a new driver, fairway, and hybrid model that were each limited to one thousand pieces. Well, the EXS Pro line was so successful in offering even more dialed in and high-performance designs for the better golfers that it makes perfect sense that it is happening again.
Say hello to the Tour Edge Pro 721 lineup.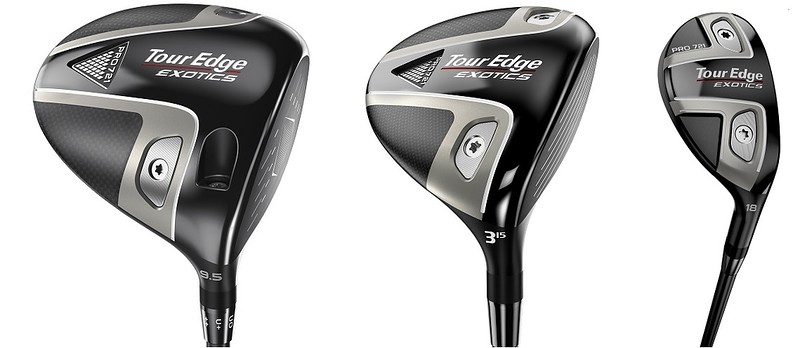 Straight From the Tour Van
As mentioned, this is a truly limited release from Tour Edge, and they are sticking to the same one thousand pieces per design quote which applied to the EXS Pro's. But what is in this design that makes them so special? Well, these are very targeted releases that aren't going to be for everyone. As mentioned, the driving force behind each of these designs has been the Tour feedback that Tour Edge is getting as well as from the masterminds of David Glod and company as well.
From the broad perspective, much of what has made the C721 metalwoods and hybrids a huge success is still in effect here. From Diamond Face 2.0 which offers more mini trampoline like diamond shapes on the backside of the Beta Titanium face than in the past, to the Sound Diffusion Panels which arguably made the C721 releases some of the most pleasing sounding/feeling clubs out there.
Externally we see Extreme Heel and Toe Flight Tuning System that is allowing for two weights placed at the extremes of the club to fine tune the ball flight depending on the combination and selection between weights ranging from 3g all the way up to 15g, with a weight kit to be available.
But for those curious, yes, Ridgeback Support and Dual Carbon Wings are present and accounted for in both the driver and fairway designs. Here, the combination and size of the Titanium Ridgeback with the carbon fiber wings to the heel and toe side of the clubheads has allowed for an even more fine-tuned CG placement low and forward to create an even more low spin long ball experience.

Ah, yes, almost forgot. For the Pro 721 lineup, Tour Edge is going matte, and if early pictures stand true, they are going to make for a pretty impressive look.
Now, a closer look at each part of the Pro 721 limited release.
Tour Edge Exotics Pro 721 Driver
Besides the tech discussed above, the Exotics Pro 721 might just end up the lowest spinning driver on the market if David Glod and Tour Edge deliver on their claims. This one is specifically created for faster swingers who want a more compact profile with a deeper face (I'm sure that will perk some ears up). The head comes in at 440cc vs 460cc and its deeper face is accompanied by a more compact heel to toe and front to back shaping. With this, the CG is also lower and forward than before, taking what is already one of the lowest spin drivers that THP has tested in 2021 and decreasing that spin by 400 RPM according to Tour Edge. Workable power, that is what is at play here, and Tour Edge seems to be taking things to a whole new level of it.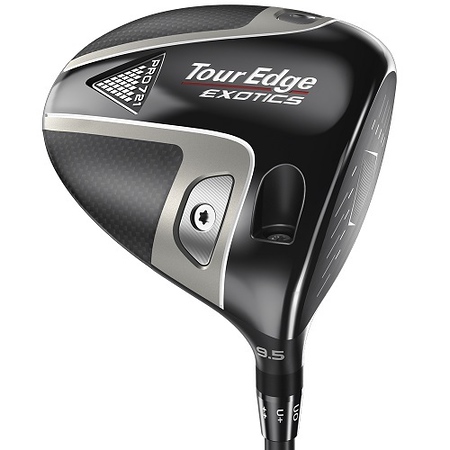 The Pro 721 driver will be available in 9.5° and 10.5° base lofts with the company's adjustable sleeve allowing for a total range from 7.5° to 12.5°. Not stopping there, Tour Edge has also gone all in offering the Mitsubishi Tensei AV RAW series in Orange, White, and Blue as the shaft option.
Also of important note, this limited driver is going to be priced at $449.99 from Tour Edge.
Tour Edge Exotics Pro 721 Fairway
This one has me and many others potentially the most excited, however. When David Glod and crew start throwing phrases like bringing Tour Edge fairways back to the low spin rocket launcher like days of the CBX and CBX119, you had better pay attention.
Like the driver, the fairway is utilizing Ridgeback still but also in a more compact overall shape with a deeper face than we have seen from TE in quite a while. Coming in at 155cc, this is a player's profile that is designed to be high speed and ultra-low spin that is being compared to a mini-driver in distance, but at a super traditional footprint.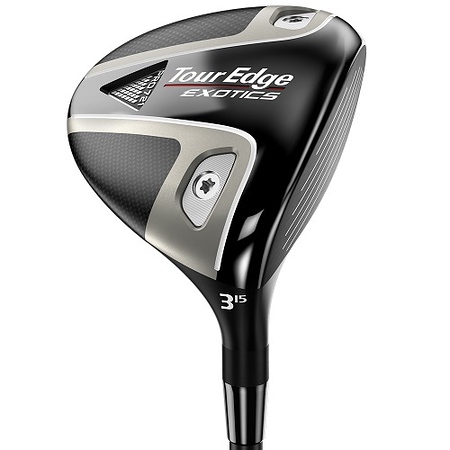 There are three different 3-Wood lofts available with the Pro 721 fairways, 13.5°, 15.0°, and 16.5° with bonded hosels. At this time there are no plans for any other lofts in this limited release. Like the drivers, the stock shaft is an impressive Mitsubishi Tensei AV RAW Orange, White, or Blue.
The Pro 721 fairway is going to be priced at $299.99 when it drops.
Tour Edge Exotics Pro 721 Hybrid
Rounding out the release is the Pro 721 hybrid which is aimed at being a long iron replacement, more specifically their Tour staff wanted a super compact player's style hybrid from a footprint standpoint. With the extreme heel/toe adjustable weighting it can be dialed in extremely neutral to even fade-biased in combination with the naturally square face angle. The Pro 721 hybrid also has a deeper overall face compared to the past couple hybrid releases from Tour Edge.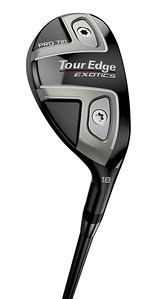 With the focus on these being meant to be swung as a long iron replacement, there are four loft options coming in at 17°, 18°, 19°, and 20°. Additionally, these will be sporting the hybrid shaft version of the Mitsubishi Tensei AV RAW in Blue or White as its standard shaft option.
This one will come in at $249.99 upon its release.
Momentum Continued
The initial feedback from Tour Edge with this Pro 721 limited release is that their Tour Staff, and a great deal of those not on their Tour Staff are ripe with anticipation for these clubs. The fact that the company has again decided to make a limited number available to us mortal gearheads as well continues to show just how in-touch they actually are with the marketplace right now. Combine this limited release with the massive buzz the standard C721's has garnered, and it will be a fun few months to watch when it comes to Tour Edge.
What do you think about the new limited Pro 721 metalwood options coming from Tour Edge and their Exotics lineup? Is it something that interests you? Jump into the discussion on the THP community or below and let us know!