When it comes to innovation and thinking outside of the box, Tour Edge has quietly become a leader. This comes via their willingness to be different while also acknowledging the trends and evolution of designs as time has gone on. However, their PGA Tour Champions relationships have been just as, if not more, critical in their growth and success via the wealth of knowledge and feedback it has given them from some of the best to ever play this game we all love so much. Time to dive in a bit deeper with our Tour Edge Exotics Wingman Wedges review.
The latest example of all those worlds colliding is Tour Edge releasing their new Wingman wedge designs under the Exotics umbrella. It goes without saying, we have never seen anything quite like this from the company before, and in my opinion, that proves to be a very good thing.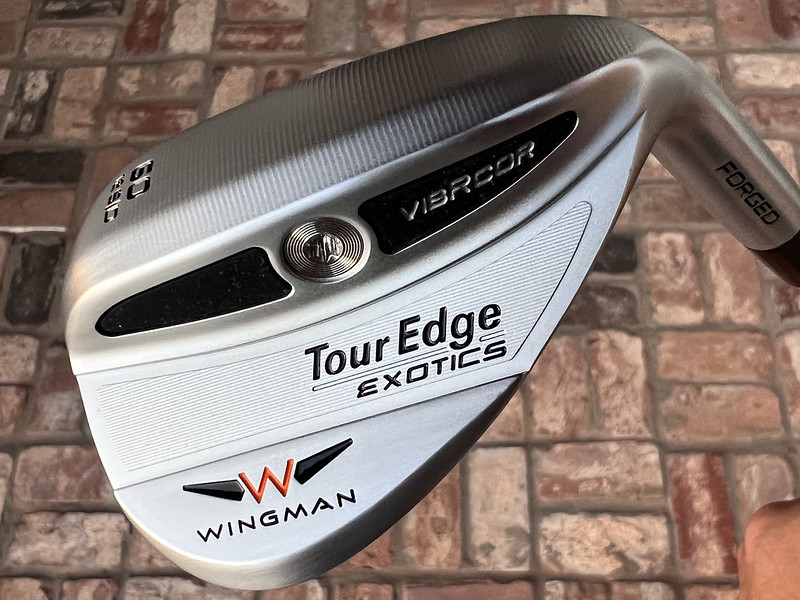 Quick Take
While we have seen high-toe type designs done aplenty, the application of not only offset into the Tour Edge Exotics Wingman wedges, but also their VIBRCOR material has lead to one of the most playable and enjoyable wedges out there. The Wingman offers a blend of precision and versatility which rivals any other on the market right now, not to mention, a quality that will turn misinformed opinions of the brand upside down forevermore.
Tour Edge Exotics Wingman Wedges
While the naming is a bit of a mouthful, I am not entirely sure that people are ready for the level of eye candy that Tour Edge has brought with this one. When I first learned about the Wingman release and saw the same images you did, I will admit, I was underwhelmed. You would think by now I would know better than to doubt this brand, but one more lesson was apparently needed on my end. Upon unboxing the 56 F/S and 60 S/D wedges I was smacked directly in the face with the best finish and attention to detail I have seen to this point from Tour Edge Exotics in any non metalwood.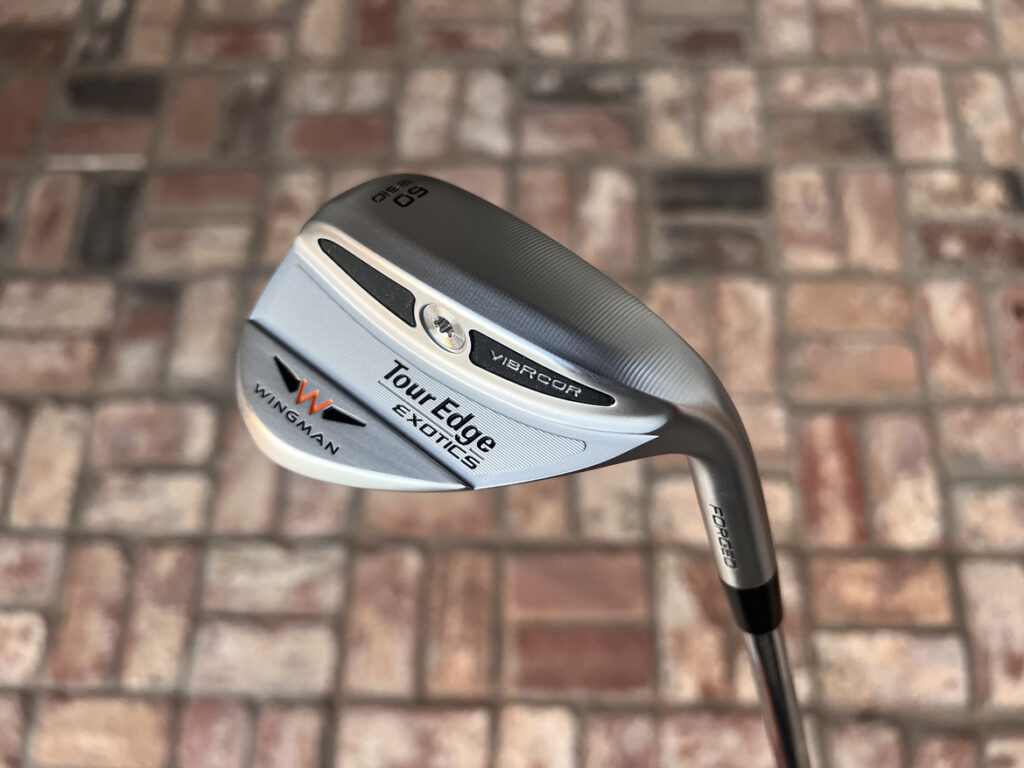 Right away, the satin finish is one of the cleanest of any wedge design on the market, not only eliminating any concern of glare on the slightly larger face, but also allowing a plethora of milling to shine through. Forged from 8620 Carbon Steel, the Wingman shaping is certainly unique, but the precision milling marks on the sole absolutely pop while the high-toe weight pad balances the look of the VIBRCOR pockets towards the bottom of the clubhead.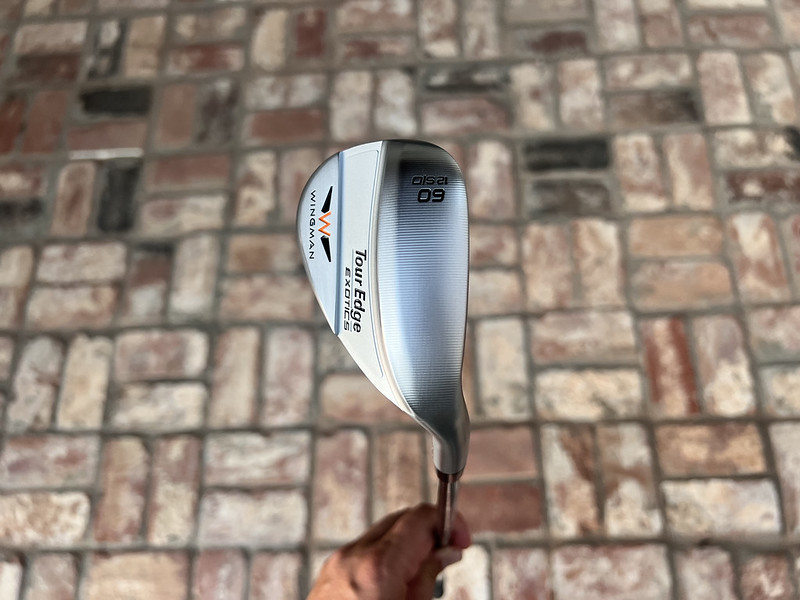 That very VIBRCOR is a key element of the design, allowing more weight to be shifted via the milled pockets for which the material sits. That weight has gone to the overall perimeter as well as the "Milled High-Toe Pad" which was done to move the CG both away from the hosel as well as higher in the clubhead to bring down the launch and increase spin. Thankfully, Tour Edge recognized that this needed to be varied based on the different lofts to dial things in rather than implementing a blanket design.
It is all brought together in an offset design which came about via the mind of the companies most notable Tour staff member, the legendary Bernhard Langer. This is both a nod to some of the most legendary wedge designs of the past, as well as Bernhard believing that the offset allows golfers to get their hands more forward without having to force it, a fatal sin for many in their short games. In all, there is 3 mm of offset in each head.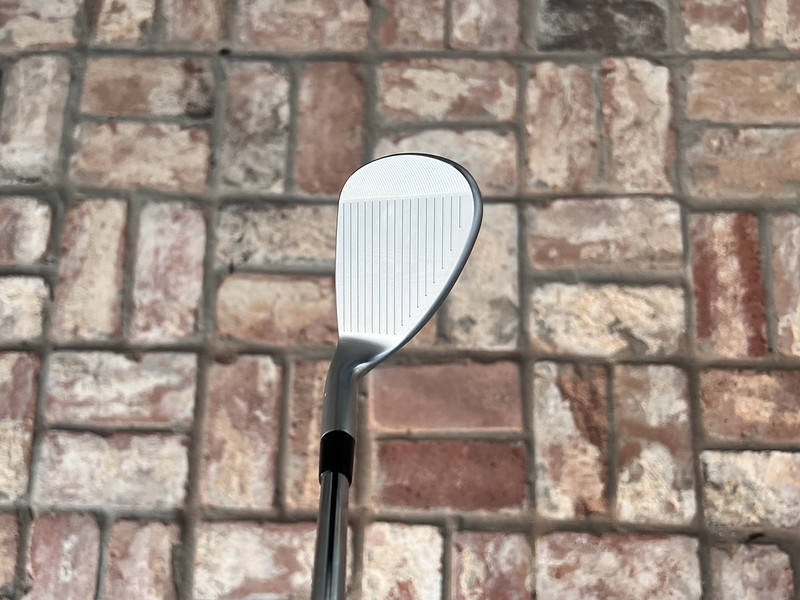 Performance Rundown
By now, some of you are rightfully asking: But do they perform? Well, for me, the answer to that is an emphatic 'yes'. While on a personal level I do wish they had gone a little easier on all the engraving, these look as premium as anything else out there when you get them in hand, and probably better than most when in the bag. It absolutely took me a bit to acclimate to the offset look at address, but it immediately reminded me of my youth and being introduced to the game with an old Eye 2 wedge of my fathers. It was at that moment when I stopped pressing, literally stopped pressing my hands in the swing, and simply let the clubs work, the simple intelligence of the concept shined through.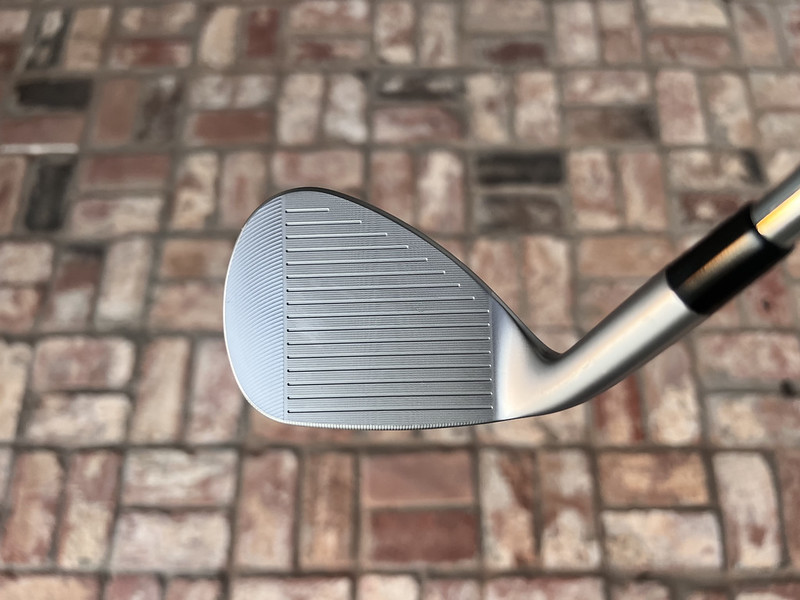 Whether it was full swings, or partial swings, as you will see in the Foresight powered data sets for both the 56 F/S and 60 S/D that I worked with, it was when I got out of the way and stopped forcing things that the Wingman wedges had their best performance. The natural flight for me on full swings was repeatable but I found myself still able to manipulate it despite the Dynamic Gold 115 shaft not being a great fit for my swing. Moreover, in the 60 degree I saw the thicker high-toe wight pad go to work with a flatter look than I expected given the offset.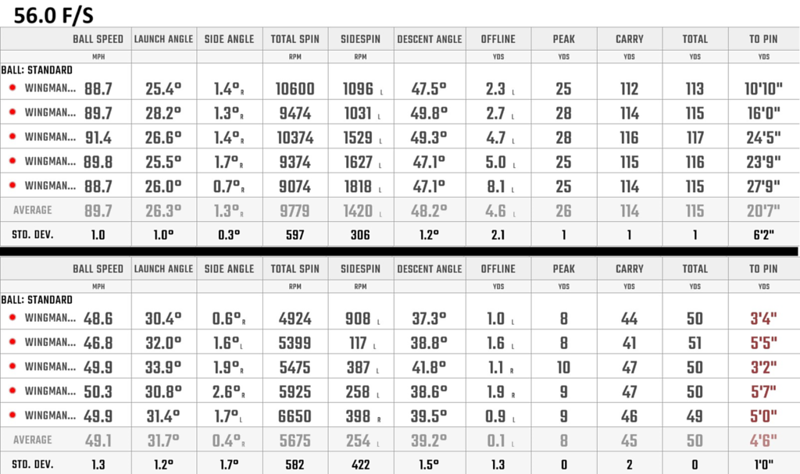 Although I only had two of the three grind options in hand, it was enough for me to be confident in saying that Tour Edge did well in their simplification into three different choices. Both the F/S and S/D did precisely what their claimed design intended, and that is enough for me to believe that the M/N would be much the same. What was most surprising for me in this realm was the 12.0 degree bounce 60 S/D showing much more versatility than I anticipated, specifically on tighter lies. Both continued the trend I saw with the offset in that getting out of their way and trusting the design is when it shined most.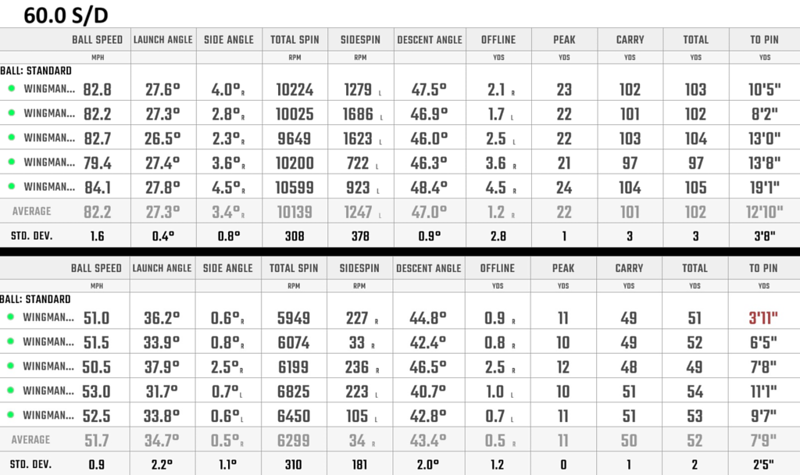 Personally, my favorite aspect of the Wingman wedges is the sound/feel. Tour Edge's VIBRCOR remains a criminally under discussed TPU application among all manufacturers at the moment, but the implementation into these wedges is top-tier. There is a rich, dense, thumpy nature to the wedges from all lies and shot types that just screams "soft". However, there was at the same time no loss of feedback as it pertained to strike location. Not to mention, the decision to implement adjustable weighting between the VIBRCOR to alter swing weight is a fitting dream. It is standard 5g but other weights will be available for purchase (2.5, 7.5, 10.5, 12.5). This is an absolute game changer in the design for Tour Edge.
The Wingman Wedges Review Details
In all, these are wedges that merit being on golfers short lists to at least try before coming to their own conclusions. Yes, the offset is an odd duck of sorts among the current market, but I would remind you some of the most successful wedges of the last 5 years, let alone of all-time, utilize it too. More than anything though, the versatility, feel, and attention to detail are as good as it gets.
These are the most complete wedges we have ever seen from Tour Edge Exotics. They are priced at $139.99 and available in RH only with loft options from 50 to 60 degrees across the three grind options. All options are available now at www.touredge.com.