Fairway woods are interesting clubs. They're asked to do a lot of things for a golfer. Whether it be a substitute driver for when yours is not behaving nicely, a club that you can use to go for a par 5 in 2, or one that can help erase the memory of a short tee shot, a fairway wood can be a great asset to a golfer's bag. The fairway wood is slowly experiencing a renaissance of sorts and finding their way into golf bags once more. When Tour Edge sent over not one but two completely different fairway woods for THP to test, that alone suggested to me that fairway woods may becoming more important and fast. How did these work out for yours truly? Check it out.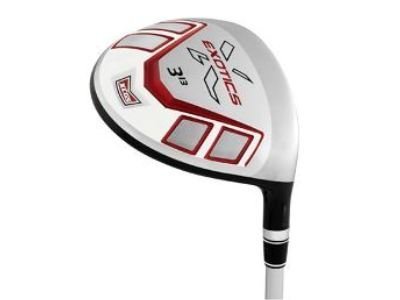 From the Company
• Titanium cup face and crown with Beta titanium face insert
• Heavy tungsten sole plate accounts for 68% of head's total weight and optimizes center of gravity
• Boomerang face technology maximizes spring effect from more contact points for consistently long shots
Look
When I first unboxed the fairway woods the first thing I noticed were the different shafts. One was a black Aldila RIP Sigma 72g and the other was a white Graphite Design Tour AD 40 43g, both in stiff flex. The pairing of these shafts with respective their club heads is great as it is but when I saw that two different lofts (11.5* and 15*) were sent too, well, my mind started to wonder how these unique pairing would work out for me. The 11.5* option was paired with the Aldila shaft while the 15* option was paired with the Graphite Design one. What makes the Graphite Design Tour AD 40 shaft stand out that much more is the stock white Winn Lite grip that brought the hole package together in a clean yet trendy way. The Aldila Rip Sigma shaft came with a black and white Golf Pride New Decade Compound grip which completes its respective look nicely. All of this talk has been primarily about the shafts so far and I haven't touched on the club heads yet!
The club heads of the Tour Edge Exotics XCG5 fairway woods really appeal to me. They do not have an overly big profile which should mean more versatility for a golfer and in addition to that the profile of the club face is smaller as well. For me personally, I think that's what makes a fairway wood much easier to hit as well as use. The sole of the club is edgy yet has some classic lines to it. The combination of red, white,black, titanium and tungsten really pulls this package together into a look that is truly unique to any design I've seen on a club before let alone a fairway wood. The look actually makes you want to hit these!
Technology
Having never personally hit a Tour Edge club before, I did know that owners of these clubs praise the amount of technology and craftsmanship that goes into each Tour Edge Exotics product. I was anxious to see if this was true and I wasn't disappointed. Most golfers are familiar with golf companies utilizing titanium in their clubs but Tour Edge takes it a step further and uses tungsten as well. See, it's not just for wedding bands! As mentioned above, the XCG5 fairway features a titanium cup face and crown, a beta titanium face insert, and a heavy tungsten sole plate that provides 68% of the club head's total weight. The XCG5 is the only fairway wood on the market to use a titanium cupped face and tungsten sole. Now that's technology!
What does this mean for you? According to Tour Edge, distance. And lots of it. Unlike other fairway woods, they've eliminated welding the club together by brazing the titanium and tungsten parts. Extremely expensive, combo-brazing is utilized when only the highest-quality joint is needed. The parts must be fitted to 1/1000 of an inch and the base metals must be exceptionally clean and free of oxides. The process is expensive because it is performed inside a vacuum chamber over several hours. The end result is exceptional because it greatly reduces residual part stresses by using slow heating and cooling cycles. This,in turn, significantly improves the thermal and mechanical properties of the material for longer better feeling shots.
Finally, let's touch on the Boomerang face design. This design offers multiple levels of variable face thickness that make the most of the rebound effect from more contact points on the face. The V-shaped boomerangs allow for thinner and thicker areas on the face that produce a hotter launch and better feel even on off center hits. So even my mis-hits will go a long way? Nice.
So all of this sounds cool in theory but how does it all work on the course? Let's find out.

Testing
When I tested these great fairway woods I made sure to see how they performed off the tee, from the fairway, and out of the rough. There was only one similarity between the two and that was how nice the club head moved through the turf of the fairway and how well it moved through the rough. So both options had good turf interaction with the club head but where did they differ? Here's a break down of each club.
11.5* FW with Aldila RIP Sigma shaft (s flex)
I've never hit a fairway wood with a loft lower than 15* so to say that I was intrigued by this was an understatement. Off the tee this club is long, way long for a fairway wood. Is it a driver replacement? Maybe, maybe not. I did notice some good distances with it as well as a pretty tight dispersion; however, I did notice that all my misses were primarily pushes or blocks to the right (RH golfer). This could be a result of the shaft being a little on the stout side for me. When you catch the ball on the center of the club face the ball screams off the club face in a way that I haven't experienced before with any club I've either used or tested. When it came to misses on the heel or toe I saw only minimal distance loss which was great to see. Shots caught low on the club face still ended up being pretty good, however, misses high on the club face didn't go nearly as far even with the lower loft.
Hitting this club off the fairway was pretty fun in that shots had a low and penetrating flight which really helped on some of the windier testing days I had with these clubs. That being said it was a little tricky to manage off the deck due to the lower loft combined with the stout shaft. I found the best results for me were to not completely take a 'sweeping swing' with it and instead come in slightly steeper. This gave the ball flight a little bit of a higher trajectory and allowed for more of a softer landing as opposed to more run from the shot.
Using this club from the rough was a little more problematic. I already said that that the club head goes through the rough just fine however the lower loft wouldn't always get the ball up and out of the rough quick enough. In order to make sure this happened I found myself over swinging a bit which caused other issues beyond getting the ball out of the rough.
15* FW with Graphite Design Tour AD 40 shaft (s flex)
While the white shaft is really cool on this club, I was concerned that it would draw my attention away from the ball or crown of the club at address. Stepping up to the ball on the tee box and setting up at address, I quickly became adjusted to the white shaft so there's no issues with that to start. Using this club off the tee proved to be a great option for me during my testing. It was far more consistent for me than its 11.5* cousin was and was easier to control as well. It had a nice mid-high trajectory to it with the same performance and feel off the face as the 11.5* had. This time though, I could feel the shaft load a little better for me and the dispersion was actually better than expected for a 3w. Pair all of these up with a truly unique 'crack' sound off the face and you have the makings of a club that you feel very comfortable hitting.
Fairway? No problem. The loft and shaft worked extremely well in this situation and while I wasn't reaching par 5's in 2, I was seeing this club save me from a short tee shot more often than not which is a shot that I need to have in my bag at all times. If I needed to be sure about carrying a hazard or making sure that I reached a certain yardage slightly on the aggressive side, I would pull this club when the lie was just right with good results. I'm not sure if the heavier tungsten sole pad came into play or not but I could feel this club bottoming out of my swing more thereby keeping my head down and through the shot which helped maximize this club's usefulness.
Hitting shots out of the rough was easier with the 15* for me as well. The loft and shaft once again worked their Tour Edge Exotics magic and managed to get the ball out of the rough more often than not in a manner where I didn't feel like I was wasting a shot in some way. A shot out of the rough with this one was one that you still could feel good about and not feel as if you had to waste a shot by punching out. I noticed that I did not have to over swing at all in order for this to happen and that's something that should not be overlooked with this set up.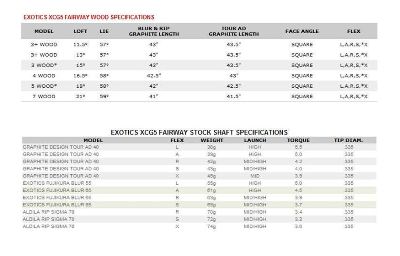 Overall
For more information on the line of Tour Edge Exotics XCG5 fairway woods, click on over to www.touredge.com Retail price is on the higher side of $299 however all Tour Edge clubs come with a lifetime warranty. Yes, a lifetime warranty. Now that is really standing behind your product isn't it? Armed with that knowledge, go ahead and check these out at your local golf club, golf store, or check the website for a demo day near you and who knows, maybe you'll become a believer in the quality and craftsmanship that I discovered is a part of every club Tour Edge makes. You can find these fairway woods at several local and online retailers, such as THP approved Blind9 Golf.
T. Hanks