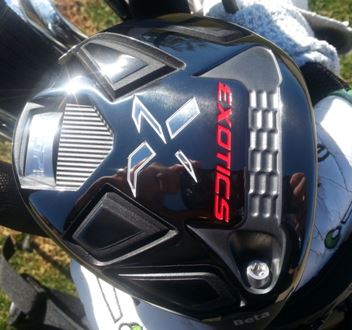 It's hard to use the term 'under the radar' when talking about a golf equipment company as widely distributed as Tour Edge Exotics, but it seems to be the case – at least to me anyway.  I always hear great things and I'm usually quite attracted to the looks of the clubs, yet for whatever reason I've never owned one of them myself.  Tour Edge, and particularly the Exotics line, always seem to be taking the new trends in the golf equipment industry and making them better.  THP was sent one of their new drivers, the XCG7 Beta, for a closer look.
As with previous Tour Edge Exotics offerings the XCG7 Beta is packed with technology.   Here are some technical specs from the company:

With a smaller (440cc) and deeper head made of 6A4V titanium the XCG7 Beta is designed to offer a lower and more penetrating ball flight.  Along with the Beta titanium face that delivers powerful launch speeds at impact; this driver is built for speed and distance.  The other thing it has going for it is the high amount of adjustability that is available as well.  With 8 different settings ranging from lower straight balls to high draws, there is a setting for everyone.
A feature that I've yet to see in a driver offering is the Power Grid.  Maximizing distance, engineers designed a Power Grid positioned directly behind the hitting area to create an accordion-like effect and increase spring-effect by flexing at impact. The Power Grid alternates in thickness from 0.5mm to 1.0mm, allowing the thinner dimple-slots to flex to produce a hotter launch.
Four advanced-position hexahedron weight pads maximize MOI for greater stability. The weighting also positions the center of gravity in the optimal location higher and closer to the face to minimize spin and deliver a more penetrating launch angle.
Further enhancing stability, weight is removed from the rear center of the sole courtesy of a dual-step cavity. The cavity allows the extra weighting in the rear heel and toe to provide maximum forgiveness. 
Variable face thickness technology offers multiple levels of thickness that maximize the spring-like effect from more points on the face, especially in the heel and toe areas.
Aesthetics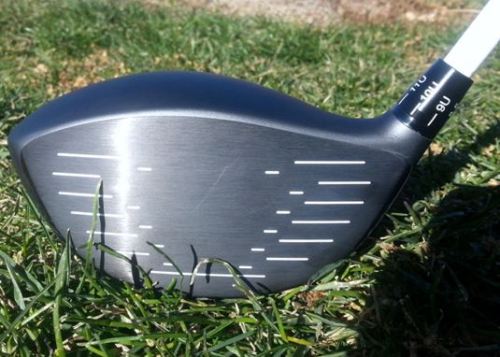 Undoubtedly a very subjective topic, a clubs looks, sound and feel can vary dramatically from one person to the next.  One thing that is hard to argue with however is the looks of the XCG7 Beta.  With a matte black finish, the crown of the club really delivers a very stealth look at address.  Minimal graphics from the address position offers very little to distract players from focusing on putting a good swing on the ball each and every time.  When turning the club around and looking at the solethere is definitely more going on, but again it's a very smooth look that I was quite find of.  I've often said that Tour Edge Exotics has some great looking clubs, but the XCG7 Beta takes home the beauty contest blue ribbon for sure.
The looks of the club sort of threw me off on the sound a bit.  With that matte black finish I was expecting a sound more along the lines of a dull thud, but that's not the case at all.  There is certainly a louder crack at impact, but it's a sound that I came to enjoy, as the better you hit the ball the more feedback you get in terms of that sound. 
The XCG7 Beta is a driver that may be geared toward better players with the smaller club head.  That club head was routinely very good about letting you know right where you hit ball.  I liked how I knew from the second I made impact whether or not I hit the ball on the sweet spot.  Shots hit on that sweet spot were rewarded with not only a great feel, but an even lower more pronounced crack sound. 
Performance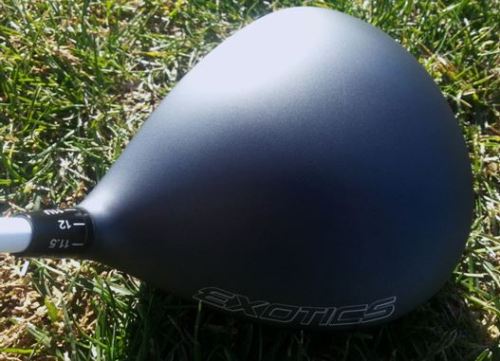 The second I took the driver in my hands I could tell it was going to be a stable club.  That might have to do with the fact that in the stock configuration is it 44.75 inches long.  That is right around an inch (or more in some cases) shorter than most drivers on the market currently.  That shorter shaft immediately gives me the impression of control and accuracy.  That was exactly what I noticed from the beginning – a very straight ball that was indeed lower with a more penetrating trajectory.  My testing began with the driver set to 9.5 degree, which has a face angle of 3 degrees open.  It definitely was a setting that I enjoyed a lot. The trajectory served me very well, especially in breezy fall conditions.
The first round with the XCG7 Beta in play I felt as if the accuracy and control would come with a slight sacrifice in distance.  Not much, but I felt like I was hitting the ball just a little shorter than I had been hitting the ball with my previous driver.  The more I got comfortable with the driver the more I began to really trust that control and found myself swinging a little harder, and as such, I did tap into a few more yards.  This driver isn't the longest I've ever tested, but it is definitely not much shorter and it comes with the added bonus of some outstanding control and accuracy.
My ball flight for most of this season has been a slight draw, which is something I've worked hard on maintaining and have come to trust and rely upon quite a bit here lately.  With the XCG7 Beta, I did not get the ball to turn over right to left in the slightest.  Instead, I had either a dead straight ball or one with a very minimal fade of about 5 to a maximum of 10 yards.  Definitely a ball flight I could come to enjoy and I knew it was one that I could trust. I just found it strange that I could not get that ball to go left for me at all.  This was true even with the adjustability set to a higher loft with a draw biased setting.  Eventually I accepted the tiny fade and just began to really enjoy that repeatable shot shape.

Something that really impresses me with the XCG7 Beta driver is the three quality stock shaft options that are available.  Tour Edge Exotics has always been a company that was not afraid to throw a quality shaft in their drivers and that trend continues here.  Three very solid and very different shafts in terms of what they offer golfers the Matrix White, Red and Black Tie shafts seem to pair up great with this club head.  My testing was done with the White Tie shaft.  Weighing in at 55g, the White Tie is a shaft that is going to give players a ball flight in the mid to high trajectory range.  Paired up with a lower spin head such as the XCG7 Beta it really created a very suitable combination for me.  I had a very predictable trajectory and shot shape.
Closing thoughts
I began this testing opportunity pleasantly surprised with the looks of the driver and that continued with each test that I put the XCG7 Beta through.  Every time I put the club to the test in a different situation it rose to the occasion and offered me very predictable and repeatable results.  The more I continued to see this, the more I realized just how much I really liked this.  It wasn't the longest driver I ever hit, but it was definitely hanging in the neighborhood of those longer than it.  The thing the XCG7 Beta has that longer drivers don't is the accuracy and control. 
Often times as golfers we're forced to give up distance to secure some accuracy, and while that is the case to a very minor point here, the sacrifice of distance is not nearly as dramatic as you'd expect.  This driver just flat out wants to go straight – period.  I haven't played a driver that was this easy to find a fairway with in a long time. In fact, maybe never.  The Tour Edge Exotics XCG7 Beta is available now for $349.99 and I highly recommend this driver gets added to anyone's short list of drivers to demo.  For more information visit their website at www.touredge.com.