Can golf equipment offer affordability and performance? Though the predominant theory out there has always been no, Tour Edge begs to differ. Enter their HL3 lineup, the newest evolution of Hot Launch that is aimed at a price-point that others are not putting as much emphasis on. The HL3 line generated a lot of buzz at the 2018 PGA Show and Demo Day, and initial signs all point towards that continuing.
THP got both the HL3 Iron-Woods as well as the Irons in to put them through their paces, this review will focus on the Irons in particular.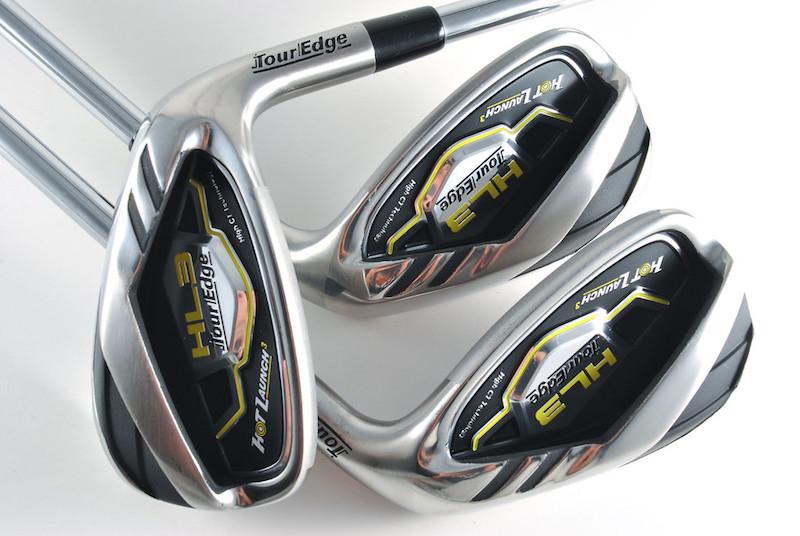 Tour Edge on the HL3 Irons:

HL3 irons incorporate an expanded undercut cavity to provide maximum forgiveness and consistent performance. Featuring advanced toe weighting, the soft 431 stainless steel design provides great accuracy and feel for players of all levels. The HL3's undercut cavity allows weight to be moved away from the face and into the sole for a higher MOI, launch angle, and enhanced forgiveness.

A notch hosel featured in the 3 through 7-irons removes weight from the heel and repositions it to the toe, elongating the sweet spot for unsurpassed forgiveness. The 8-iron through PW feature a more traditional set up designed to deliver exceptional feel and control on approach shots.

CUSTOM AFFORDABILITY – Built to your specifications including length, lie angle, loft, shaft flex and grip size.

Price: $419.99/$489.99 (Steel/Graphite)
Specifications:
| | | | | |
| --- | --- | --- | --- | --- |
| MODEL | LOFT | LIE | GRAPHITE / STEEL SHAFT LENGTH | FLEX |
| #3 IRON | 20.0° | 60.5° | 39.25″ | L,A,R,S |
| #4 IRON | 22.0° | 61.0° | 38.75″ | L,A,R,S |
| #5 IRON | 25.0° | 61.5° | 38.25″ | L,A,R,S |
| #6 IRON | 28.0° | 62.0° | 37.75″ | L,A,R,S |
| #7 IRON | 32.0.0° | 62.5° | 37.25″ | L,A,R,S |
| #8 IRON | 36.0° | 63.0° | 36.75″ | L,A,R,S |
| #9 IRON | 41.0° | 63.5° | 36.25″ | L,A,R,S |
| PW | 46.0° | 64.0° | 35.75″ | L,A,R,S |
| AW | 50.0° | 64.0° | 35.75″ | L,A,R,S |
| SW | 55.0° | 64.0° | 35.75″ | L,A,R,S |
| LW | 60.0° | 64.0° | 35.75″ | L,A,R,S |
In-Hand Thoughts:
At first glance, there is a lot going on with the HL3 Irons, especially compared to the Iron-Woods, which is strange to say since those are the bigger of the two, but it's true. As is the case with the Iron-Woods, from the top down at address the irons feature a nice brushed satin look which wears exponentially better than polished chrome. The sole though, is trimmed out in polished chrome with a geometrical accent that flows with the angle of the design. Past that, the cavity features badging which is a mix of chrome and accent yellow that are very reminiscent of some Japanese GI models. That doesn't mean to say it's a bad thing, simply that they manage to look more modern/futuristic compared to what one might expect at the $419.99/$489.99 price point.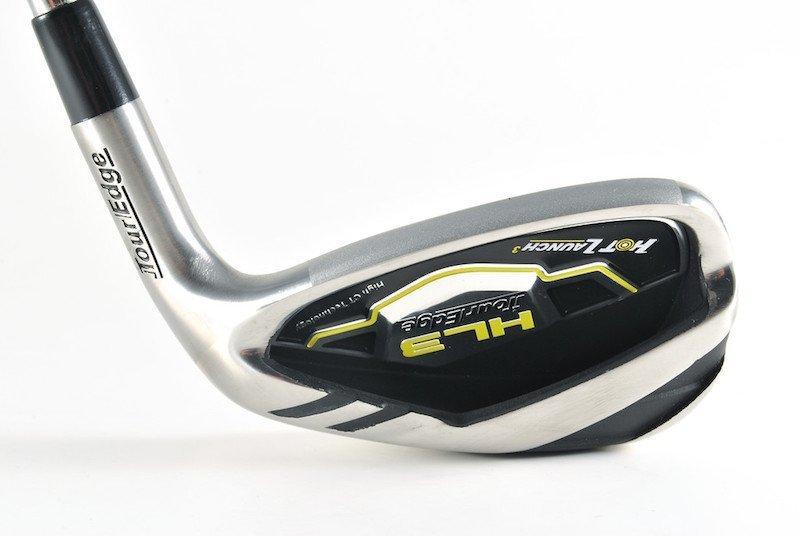 The shape is that of a balanced game-improvement design. At address you get the thicker topline and also the decent offset that you expect. That in mind, both are much more subdued than most are going to assume for an iron at this price-point. Tour Edge is emphatic that they believe the HL3 iron can fit the eye and needs of a much wider base of golfers than just the GI crowd, and from address they are right. Add in that the sole width isn't cumbersome, even with the massive undercut implemented into the cavity here. This is a well thought out iron design that will visually compete with, and potentially usurp, any other out there at this price range.
Performance:
Testing done with both the HL3 Iron-Woods and the Irons showed one absolute with both, and that is the ball goes high. Both sets really launch the ball, now, it isn't an apples to apples comparison given the 6/7 was tested in one and the 8/9/PW in these, but that just lent to how well these potentially can flow together to give golfers at the more affordable price realm options typically only beholden to premium price point products. Tour Edge truly believes and tries to live it when they refer to themselves as "Golf's Most Solid Investment".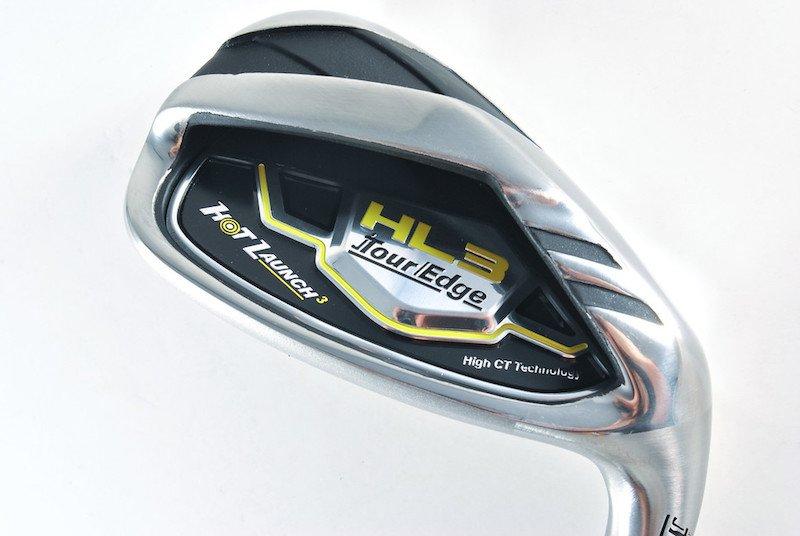 At impact, these are on the more firm end of sound/feel, but they still give off a "hot" sensation thanks to the super deep undercut in the cavity. In terms of launch and spin, time with the HL3 Irons on the Foresight GC2 confirmed the same things that were seen in the Iron-Wood review, significant launch angles combined with low-mid spin numbers. All of these things combined to make an iron that is plenty capable of achieving very good distance, moreso than many will ever dream out of a set at this price point.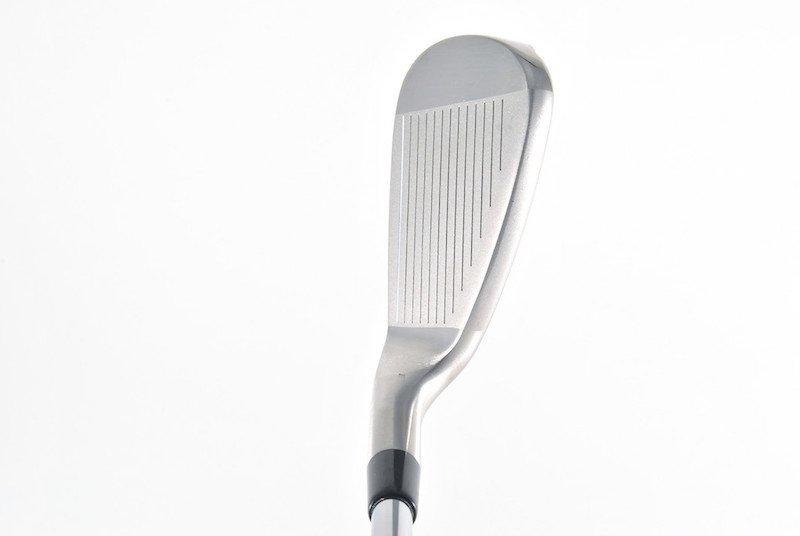 What stood out the most in the review though was dispersion. In the hands of several different golfers, all found that the setup just wanted to stay in play, to the point that it was their number one talking point. With all that however, workability is obviously effected, that is the nature of a forgiving design like this. The overall thing that stood out is that they are playable, very playable, and that fits dead on with what Tour Edge said they wanted to accomplish with the HL3 options.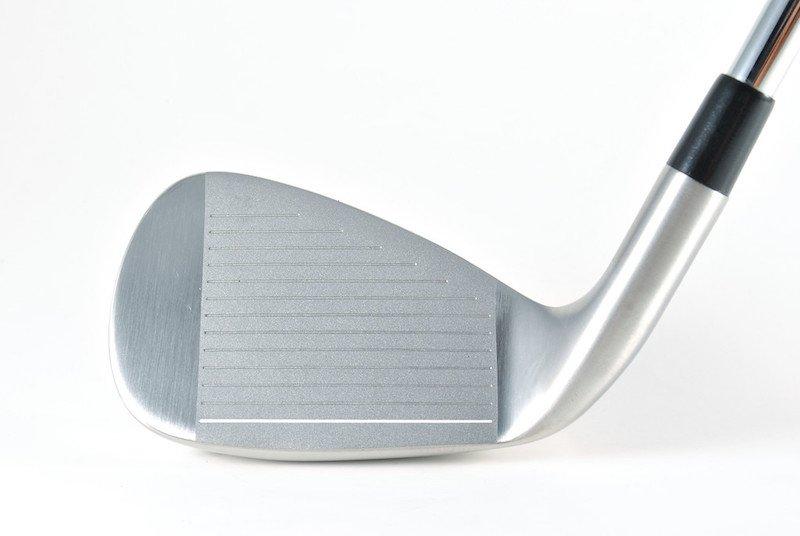 Parting Thoughts:
The Hot Launch lineup of clubs has always offered a lot of performance for a great price, but it has also always fallen to the pitfalls of being overlooked because of that price point. This year, it is clear that Tour Edge is intent on using that to their advantage and the 2018 PGA Show was a kicking off point. The key is, they know that there are a lot of people out there who want to enjoy the game with forgiving and playable clubs, but simply cannot afford top tier equipment. Therein lies the brilliance here with HL3 line, not only is it price advantageous, not only does it perform very well, but it is also available to full fittings through dealers across the country. It will be interesting to see just what the future holds for the HL3 lineup as it is being aggressively pushed in a price range lacking any true competition, whatever happens, it will be fun to witness.
For more on the rest of the HL3 lineup, go to www.TourEdge.com.