As a brand, Tour Edge has two very distinct product lines with Exotics and Hot Launch. While the former gains more attention from the gearheads, quietly, the Hot Launch lineup continues to perform very well at the cash register. These two product lines aim at two very different golfers, with the Exotics being more premium technology and material based, and Hot Launch brings in a high amount of performance for the price philosophy. Today, the Tour Edge Hot Launch 522 series is being announced, which will incorporate several key pieces of tech found in the Exotics line over to a more budget-friendly product.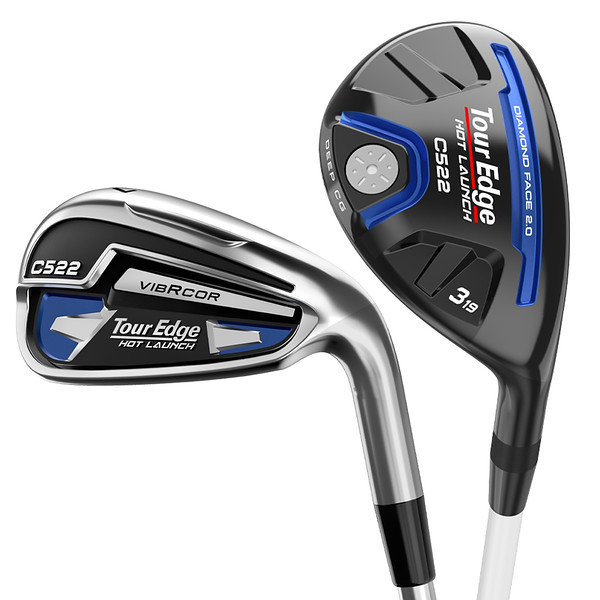 Following a similar playbook used in the 521 line, these new 522 offerings will have an E and C range. The E stands for Extreme, which is their Super Game-Improvement model. With the E range, golfers can expect to see products that rely on an extremely low center of gravity, more offset, shallower faces, and shorter shaft lengths. These traits aim to help produce effortless launch, helping golfers elevate the ball more and achieve maximum yardage. Clubs within the C, or Competition, Series have more classic shaping, with some state of art game improvement designs offering a higher MOI. Both the E522 and C522 cover the gambit as both these lines consist of drivers, fairway woods, hybrids, irons, and wedges.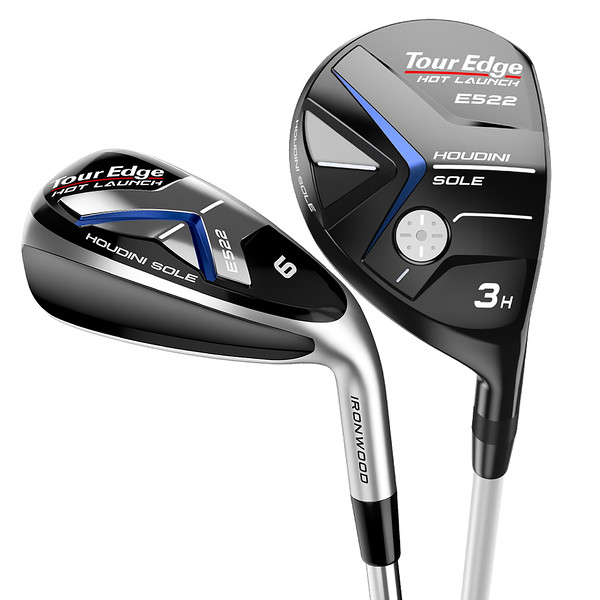 According to David Glod, President of Tour Edge, "We're bringing as much technology to this lineup from Exotics that we can to extend performance benefits to every golfer type, all while satisfying the huge demand for Game-Improvement clubs in the marketplace."
E522
As was mentioned above, the E522 range is all about making the game easier. When looking at the construction of these clubs, there is no mistaking their target audience.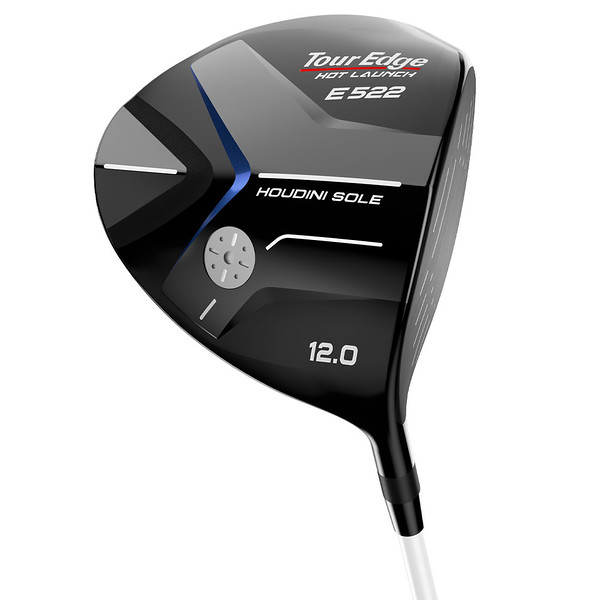 For their metalwoods, the E522 offers three different driver lofts, five different fairway metals, and four hybrids for right-handed golfers. Lefties don't get shut out, but they lose out on the two higher lofted drivers and fairway metals. Baked into all these options is some serious technology such as Tour Edge's Diamond Face 2.0 and Cup Face Technology. Diamond Face 2.0 consists of 42 variable thickness locations and diamond shapes behind the face. According to Tour Edge, all these shapes create a slew of "mini-trampolines" behind the face. Pairing this face design with a cup face makes these metalwoods fast and forgiving on centered and off-centered strikes.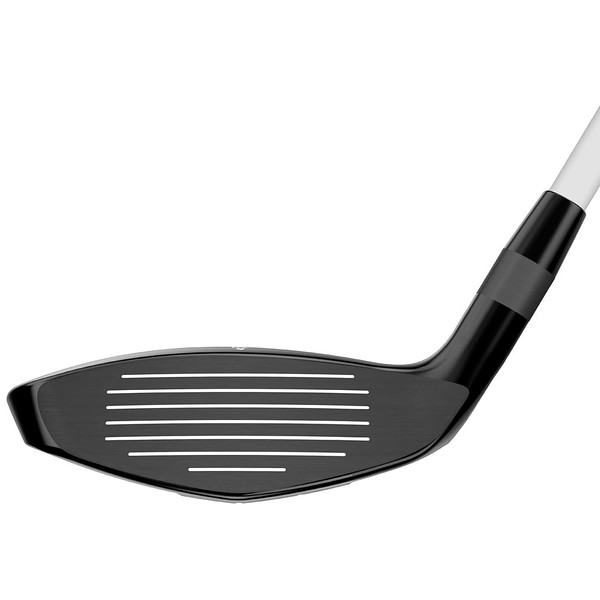 E522 woods and hybrids continue to use the Houdini Sole. Perhaps the best way to describe the Houdini Sole is to look towards the sea. On the bottom of a ship is a keel that stretches from front to back along the hull. In the water, this element helps provide stability and control. That very same principle comes to play on these metalwoods. This design limits the amount of sole that comes in contact with the ground, allowing for smoother turf interaction. Houdini Sole also helps pull that center of gravity lower and deeper into these heads, which helps optimize launch conditions. With a name like Houdini, you wouldn't expect this design to be a one-trick pony, would you? Throughout these metalwoods, golfers should expect to see a heel-weighted bias to help mitigate that dreaded slice, as well as some extra offset.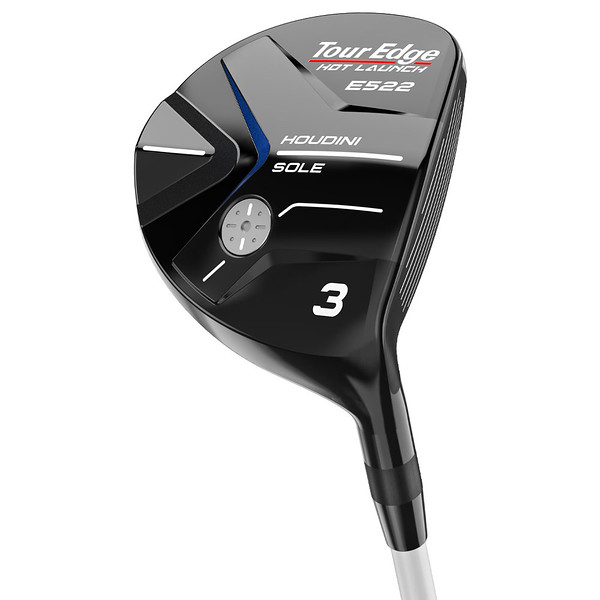 When it comes to shaft options, Tour Edge offers a series of super-light Mitsubishi Chemical Fubuki HL shafts that range in weight from 45g to 60g. Another caveat to these shafts is that they come in Control Length to help improve contact efficiency and accuracy.
E522 Driver Lofts: 10.5°(RH/LH), 12.5°(RH), HL/15°(RH)
E522 Fairway Metal Lofts: 16° 3-wood(RH/LH), 20° 5-wood(RH/LH), 23° 7-wood(RH/LH), 25° 9-wood(RH), 27° 11-wood(RH)
E522 Hybrid Lofts: #3/19°(RH/LH), #4/22°(RH/LH), #5/25°(RH/LH) #6/28°(RH/LH)
For the E522 irons, we get a hollow-body design that will push the perimeter weighting to the extreme, producing irons that will play like metalwoods. These hybrid-style irons have the makeup of an incredibly forgiving club thanks to the low and back center of gravity. As is a staple of the E522 series, the Houdini Sole is present, again aiding in turf interaction by a 35% reduction in the amount of sole that comes in contact with the turf. Think about some of the troublesome lies one might encounter during play; this sole will undoubtedly help in those situations. Similar to the metalwoods, the E522 irons offer more offset, draw weighting, and shallower face heights.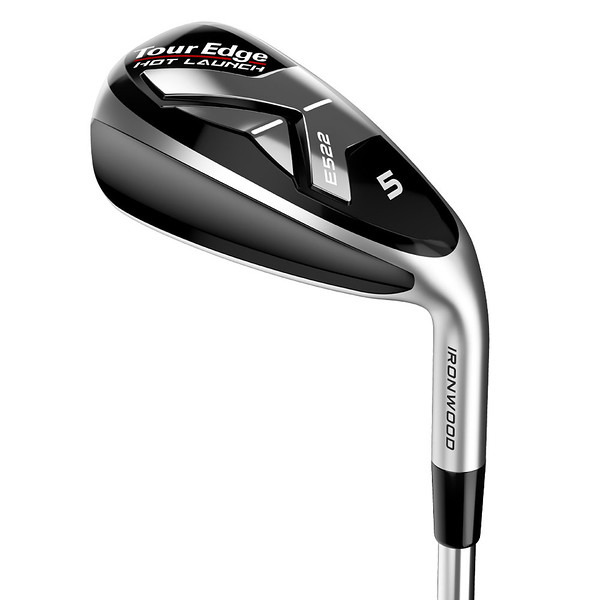 The final piece to the puzzle is the E522 wedge. Intending to design a friendlier wedge, Tour Edge has again called on Houdini, this time in a super-wide sole and a heavier head design. By combining these design elements, the E522 wedge should promote less digging and even help eliminate those embarrassing flubs. There is also enough camber underneath to allow this wedge to maintain versatility when facing all those short game shots that arise. As has been a trend lately in the wedge industry, the E522 wedge will have an oversized face that features full-face grooves. E522 wedges are available in three lofts (52°, 56°, 60°) for RH and LH golfers.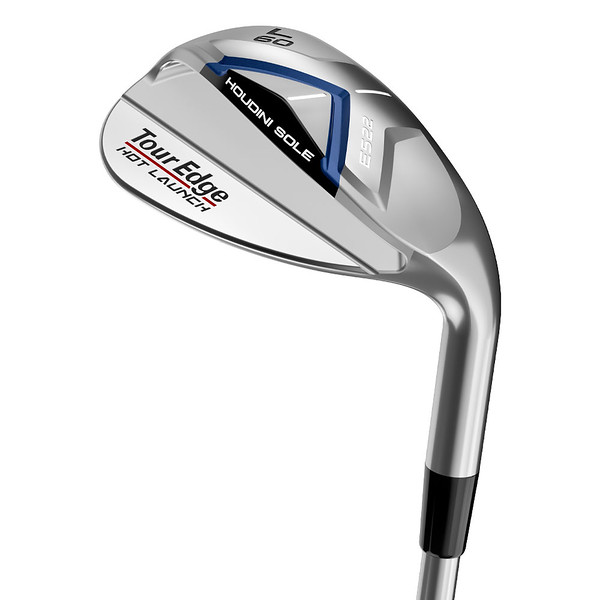 C522
If the E522 line is too extreme for your tastes, the C522 should be much more charming. This competition series should appeal to the golfer looking for more traditional shaping and less offset, while still offering plenty of that game improvement technology to help make the game more enjoyable.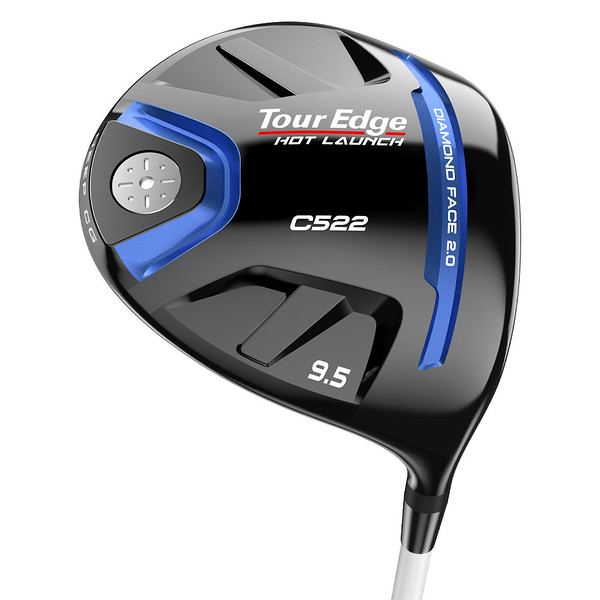 These Hot Launch C522 woods have an impressive amount of technology found within. One notable similarity with their E522 siblings is the Diamond Face 2.0 and cup face design, which will help produce more ball speeds and consistency across the face. Since the main focus of C522 is not necessarily to combat a slice, the weight has been pushed to the extreme rear of these clubs and in their own all-new Deep CG casing. This casing helps get the weight to the trailing edge, creating an extremely high-M.O.I. rating for increased stability.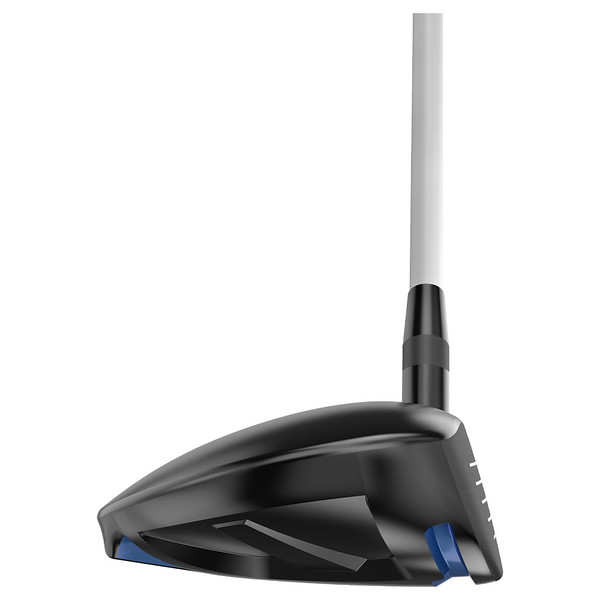 Also present in the C522 woods are an upgraded Acoustic Resonance Channels, which serve as both a piece of visible technology as well as helping to alter the sound making these clubs sound more premium. Those ARC channels are not the only ones featured on the sole, as there is also a power channel that stretches behind the clubface, which also helps with ball speeds, and forgiveness on balls struck low on the face.
C522 Driver Lofts: 9.5°(RH), 10.5°(RH), 12°(RH)
C522 Fairway Metals Lofts: 15° 3-Wood(RH), 17° 4-wood(RH), 18° 5-wood(RH) 22° 7-wood(RH)
C522 Hybrid Lofts: #3/19°(RH), #4/22°(RH), #5/25°(RH) #6/28°(RH)
We've been talking about pieces of technology that have migrated over to the Hot Launch series, and when it comes to the C522 irons, they have a rather significant addition. After seeing some success with the Exotics C721 irons, VIBRCOR Technology premieres in the Hot Launch line. So, what is VIBRCOR? VIBRCOR is a high-grade TPU found in the deep undercut cavity. The addition of this material helps enhance the feel but also aids in producing more ball speeds. Moving this tech over to the Hot Launch side of things is a rather big deal for Tour Edge. Pairing VIBRCOR with a 431 stainless construction, the C522 irons hope to stand out in a crowded game-improvement market when it comes to feel.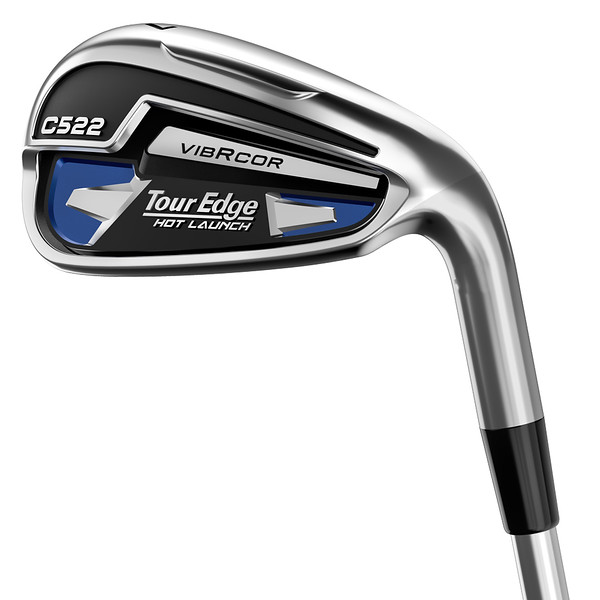 VIBRCOR might be the main attraction, but there are plenty of other attractive aspects of the C522 irons, a lot of which one might expect from this style of iron. Instead of heel side weighting, these irons feature advanced toe weighting, which will help improve stability on off-center strikes. A wider sole helps to lower the center of gravity which will help increase launch angles. Surely you didn't think we'd get through a conversation about irons without mentioning the lofts. Tour Edge labels these as being power lofted, but when taking a quick look at the loft structure, they aren't anything offensive. Believe it or not, the lofts on these are a degree or two weaker than those present on the Exotics C721 irons, with the wedges being the exception.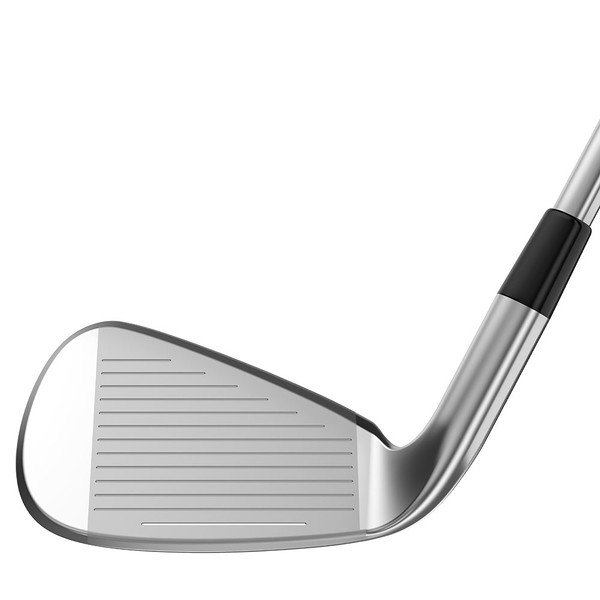 C522 Iron Lofts: #4/22°, #5/25°, #6/28°, #7/31°, #8/35°, #9/40°, P/44°, A/49°, S/54°, L/59°
While it does not have the C522 moniker, the Hot Launch SuperSpin wedge more aligns with the competition series than it does the extreme. Take a poll of golfers about what they look forward to the most in their wedges, and undoubtedly one of the most common answers will be about feel. That is why it's exciting to see VIBRCOR also make an appearance in this SuperSpin wedge. A more traditional-looking sole with a beveled leading edge and more camber allow for better versatility and performance.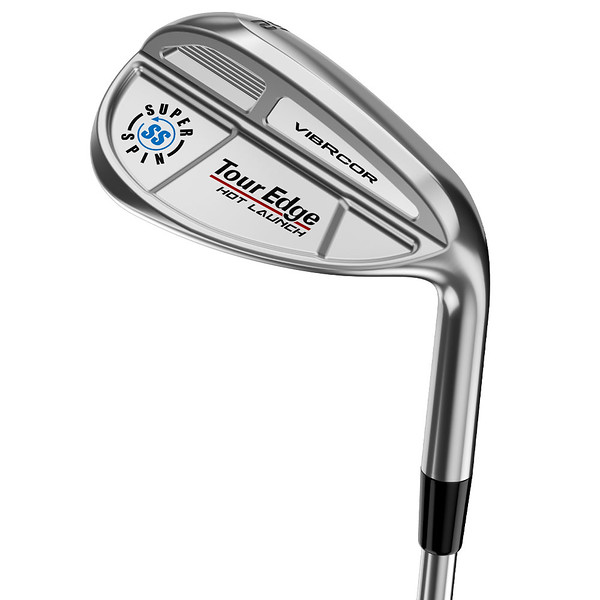 Tour Edge has also utilized a weight pad to push weight behind the upper part of the face. By having weight placed higher in the clubhead, the sweet spot expands vertically as well, which will aid in retaining ball speeds on shots that find the northern grooves. Higher weight might not be a factor for many shots, but it might come into play when opening that face up for around the green.
SuperSpin VIBRCOR Wegde Lofts: 50°(RH), 52°(RH/LH), 54°(RH), 56°(RH/LH), 58°(RH), 60°(RH/LH).
The Details Tour Edge Hot Launch 522 Series
Available: October 1, 2021
Price:
Drivers – $249
Fairways – $159
Hybrids – $139
Irons – C522 – $79.99 per club
E522 – $99.99 per club
Wedges: $89.99