Tour Edge is digging in and finding success in ways which we, and the entire golf industry, should be pay attention.
While the Exotics lines have been nothing short of eye opening both in our formal as well as community reviews, it is my opinion that the real brilliance of this surge Tour Edge is riding as a company sits with none other than Hot Launch.
This release marks the seventh iteration of Hot Launch for Tour Edge, and if you want to see just how far the company has continued to push and evolve, look no further than the new C523 and E523 designs.
What is Hot Launch?
Before we dive deep, and I do mean deep, into the technical aspects of this new Hot Launch line from Tour Edge, it is more than worth discussing just what the line is as well as what it has done not just for the company but golfers as well.
Hot Launch at its root is about performance-value, the realization that the largest segment of golfers on the planet are in the middle, those who benefit from game-improvement and super-game-improvement styles but are also very cognizant of price to performance ratios. Tour Edge was among the first to see this consumer group and instead of them being an afterthought as many companies have over the years, they embraced them.
However, it is in the past couple of releases which Tour Edge has taken Hot Launch to a new level. You see, rather than shorting the technology and innovation for this more affordable price point, they instead doubled down on putting as much tech as they could into them. Then, they split the line into Competition (C) and Extreme (E) options under the same umbrella. If that wasn't enough, the company then went all the way in on custom fitting the Hot Launch release by providing mobile fitting bags at over one-thousand locations and backing it up with a 48-hour custom fit shipping arrival guarantee. Though COVID played havoc with that in the past, Tour Edge is adamant that things have stabilized and in 48-hours you can have a fully custom fit set of Hot Launch clubs at your doorstep.
That is the bedrock which Tour Edge has entrenched themselves, and Hot Launch is not just a throw away release, far from it. Hot Launch may very well be the every-person's release, the one which embraces those who love the game, want the tech, want the performance, but at a more sensible price segment.
So, want to know where the company is headed with the new Hot Launch 523 release? Let's get into it.

Tour Edge Hot Launch E523
Extreme. The E-Series is all about maximizing forgiveness and making the game fun for those who need the most help. That said, this is not just a one or two club lineup, the entire 523 series is a driver through wedge offering, with each design specifically created to fit the needs of that segment of golfers.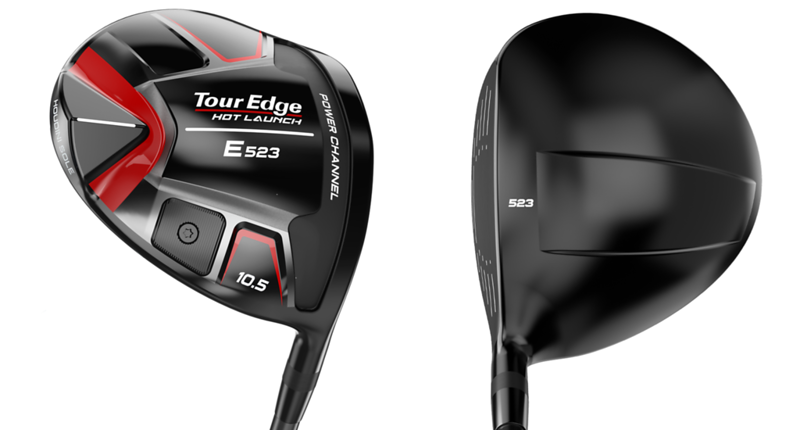 The Hot Launch E523 Driver is available as a 10.5, 12, and HL (15) degree option which showcases Tour Edge flexing their muscles through implementation of a variety of technology. Leading the way is Diamond Face VFT with its 39 zones of variable thickness mini-trampolines to ensure ball speed and retention across the entire face. Within the rest of the heel-weighted offset slice killing design is the Houdini Sole putting more mass at the rear of the head through geometric designs to keep the CG as low as possible for easy launch. More eye catching is the inclusion of Ridgeback from the Exotics lines to increase rigidity in the right places and how it coincides with the new Power Channel which allows new weight distribution as well as maximizing face flexion for increased forgiveness and lower-spin potential. The E523 is paired with UST Mamiya designed Hot Launch shafts ranging from 49g to 65g and will be $269.99.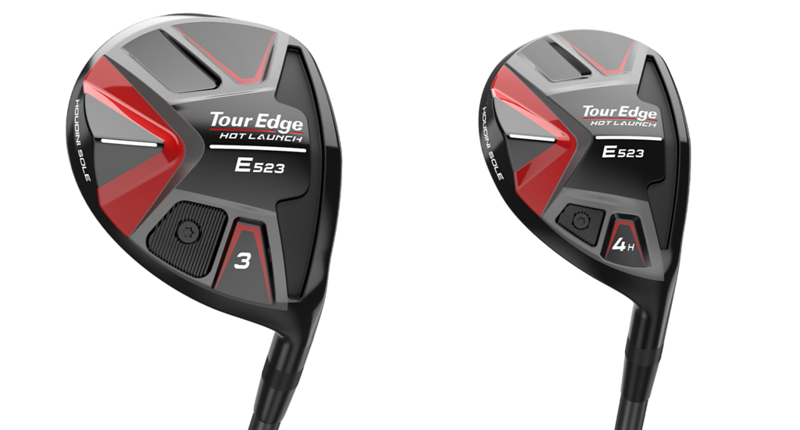 Another option, the Hot Launch E523 Fairways and Hybrids, amazingly feature the same heel-weighted offset design as well as all of the technology discussed above with the driver. The key additional focus here is that both showcase a bigger than average footprint and a shallow face which is perfect for this range of golfers and their need to be able to elevate the longer clubs in their bags. The Fairways are available in five different heads from 3W to 11W (16, 20, 23, 25, and 27 degrees) at $169.99. Hybrids have 3H through 6H offerings (19, 22, 25, 28 degrees) at $149.99. These also showcase the new Hot Launch shaft design from UST Mamiya.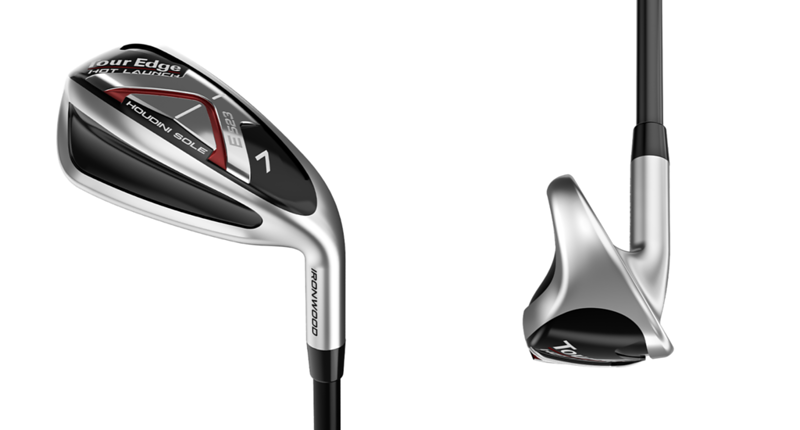 When it comes to the Hot Launch E523 Ironwoods, Tour Edge is showcasing a hollow body club which allows for massive perimeter weighting that takes forgiveness to the max. They are certainly a large clubhead with a notably shallow face and offset design which are aimed to launch easily and consistently. By implementing what the company is calling Concave Technology they have made for smoother lines and been able to visually hide much more of the mass at setup than in the past, a great deal of attention was put into this to ensure a more comfortable appearance. Of course, the showstopper might still be the Houdini Sole which doesn't just allow weight movement back and low but reduces drag by 33%. The same UST Mamiya designed Hot Launch shaft is available here as well as a lightweight steel X85 option from True Temper. The E523 irons will be $99.99 a stick and are available 3-AW (20-to-49-degree loft range) and can also be ordered as part of a combo set with the E523 hybrids.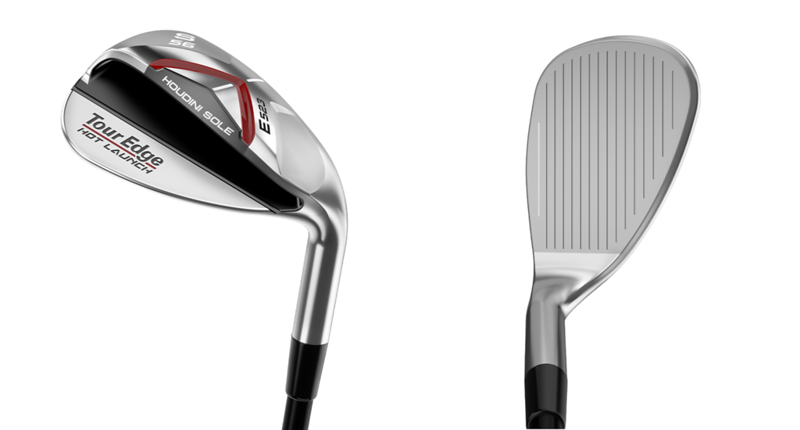 Rounding things out here, the Tour Edge E523 Wedge which at $89.99 per wedge is a super wide sole club which will be available in GW, SW, LW choices (52, 56, 60 degree) and the same shaft options as the irons. The wedges showcase the re-designed look with Houdini Sole that also has added camber to it this time around. With its massive undercut and full-face grooves, Tour Edge believe they have the perfect option for a full bag of E523 clubs.

Tour Edge Hot Launch C523
Next up, of course, the "Competition" part of the 523 releases, the C523's. Here, the focus remains playability, but more in the game-improvement realm which visually will appeal to golfers who want help, but without the offset or such notable heel weighting of the E523. This is about the golfer who has more ability, but still wants all the performance at an easier price point.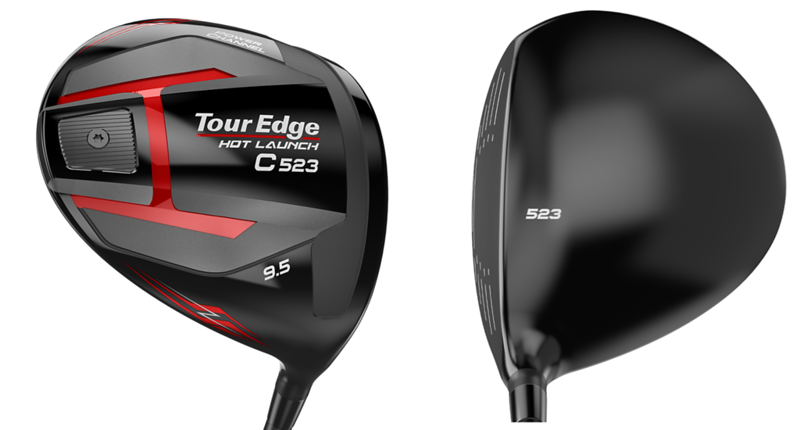 Right away, the Hot Launch C523 Driver looks to be a head turner. With the same $269.99 price point as the E523, this driver has a whole lot under the hood. With a more traditional 460cc look minus the offset of its sibling, the C523 takes the previously discussed Diamond Face VFT and puts it in front of an all-new Sole Rail design in the center of things moving the CG extremely low but also keeping spin more optimized for distance potential by running the entire length of the head rather than being only in the back like Houdini Sole. If that isn't enough, there is also an MOI Boosting Sole Weight at the rear moving the measurement to over 5,000 grams per cubic centimeter which is toe to toe with anything in the segment from any manufacturer at any price point. Add in the new largerPower Channel and 360 Cup Face and it would appear the company very well could have put Exotics on this one as it has all the tech and then some. The C523 Driver will be available in 9.5, 10.5, and 12.0 square-faced lofts paired with the UST Mamiya Designed Hot Launch shafts.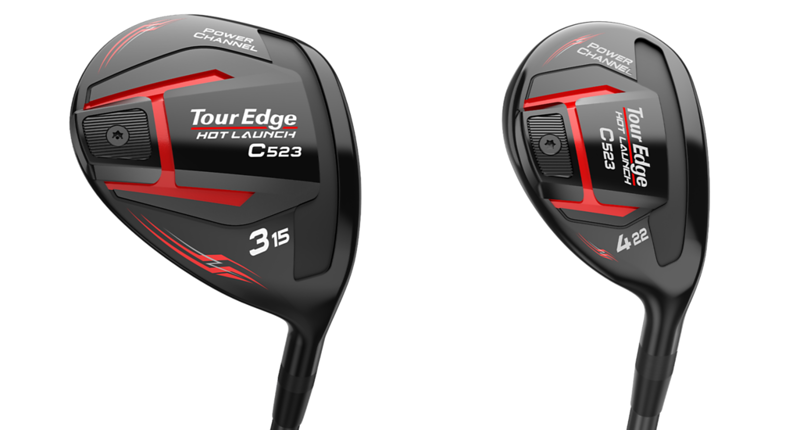 Looking at the Hot Launch C523 Fairways and Hybrids, these like their driver counterpart are pulling absolutely no punches. Featuring every single technology of the C523 driver, both these designs are also a more player friendly footprint with its shaping and compact front to back paired with a deeper face. If that isn't enough, they also sit slightly open according to Tour Edge, taking the company even further on their path to squash the assumptions about the Hot Launch lineup and prove there is something for everyone. Combined with the UST Mamiya designed Hot Launch shaft choices, the fairways are available in 3W-7W (15, 17, 19, 22 degree) at $169.99 and the hybrids in 3H-6H (19, 22, 25, 28 degree) at $149.99.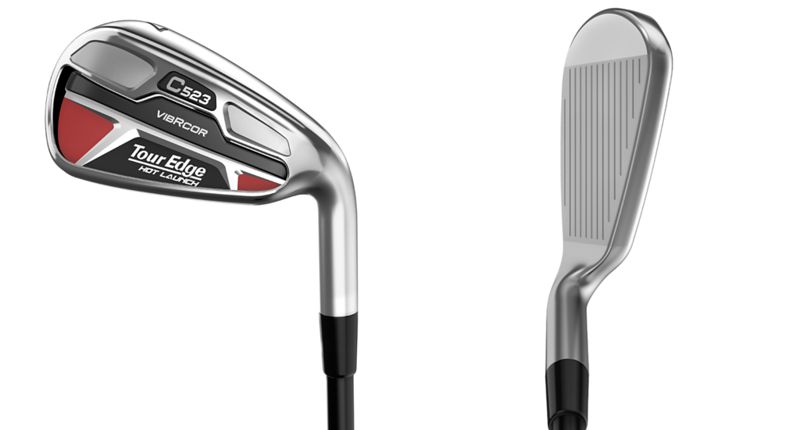 The Hot Launch C523 Irons are visually most certainly game-improvement irons. That said, Tour Edge spent much time seeking to improve the visual and the sound (feel) of this version over past models. To do so, they have worked to shorten the overall blade length and create a smaller topline which allowed for more weight to shift low in the head improving the CG. The soles are wide here, but combined with the 360 Undercut Cavity they aimed to create cleaner turf interaction while also making more face flex allowing more speed and launch potential. More toe weight and Power Lofts seek to maximize both stability through impact (particularly lateral misses) and creating the efficient relationship between spin, launch, and speed to achieve consistent distance. Impressively, Tour Edge has also implemented their VibRCor TPU which has been a game changer in the Exotics irons, this put a significant amount of material in the undercut to dampen the sound and shock which creates a more pleasant feel. The UST Mamiya designed Hot Launch shaft is an option as well as a lightweight steel X85 from True Temper. The C523 irons will be $75.99 a stick and are available 4-LW (20-to-59-degree loft range) and can also be ordered as part of a combo set with the C523 hybrids.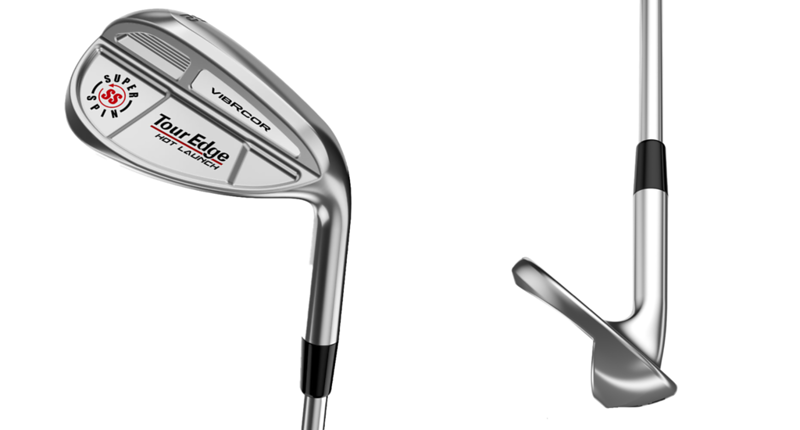 Although the C523 set does have options into the LW, there are also now Super Spin VibRCor Wedges as well. These showcase a more traditional looking wedge than the E523 with a more beveled leading edge and cambered sole design to minimize digging while also creating ease of use without the sacrifice of versatility for those who want it. There are also CNC Milled Grooves and a Center-Weighted Design that pushes things a little higher to stretch the sweet spot to where most amateurs miss on their wedges. Add in the completely internal VibRCor TPU and Tour Edge believes they have a special wedge on their hands for this segment of competition golfers for which the C-Series was created. At $89.99, these are available in 50, 52, 54, 56, 58, and 60 degree options which are paired with either a True Temper XP85 Steel shaft or UST Mamiya designed Hot Launch lightweight graphite.
The Details
As you can see, this is not just a throw away release. Tour Edge has swung for the fences once again to not just cement themselves as the King of affordable high performance custom fit golf club options, but as a company for allgolfers. The evolution of Hot Launch is nothing short of staggering to look back on, from the tech all the way to the aesthetics of the new 523 release which as you can see from the images is easily the highest quality and most balanced look we have seen from Tour Edge.
The entirety of the 523 Hot Launch line will be available at retail starting 11/1/22, and rest assured, THP will have much more to come on the lineups. What do you think about this newest release from Tour Edge? Do they solidify their foothold in this section of the industry? Jump in and let us hear your take either below in the comments or on the THP Community with thousands of golfers just like you!