Throughout golf history there are brand names that just resonate with the fans of the game, and for those who remember the big names of yesteryear, Tourney should bring upon some serious recollections. There is one big caveat though, this is not the Tourney from decades ago, and instead of being stamped on the back of a club, the name will be found in tag form on a piece of apparel.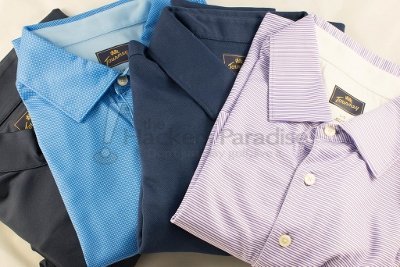 Tops
In order to get a thorough look at their offerings, Tourney sent in four different shirts for THP to review. Three of those shirts being short sleeved, and one being a lightweight ¼ zip pullover. Every single one of these tops presented a style that offered a more contemporary take on the fashion designs of the past, and they all easily passed the eye test. Below is a brief rundown of the polos that were received.
Ace: Solid navy polo with a pocket on the left chest. White pipping around the sleeves and at the top of the pocket make this an incredibly well done throwback design. Available in two colors, the navy blue that is seen here, and white.
Mashie: With a base color of light blue, the tonal mini diamond pattern just pops. Just like the Ace, this polo is available in two color offerings, with black being the alternative to palace blue.
Brassie: A staple in every golfer's closet is the striped polo. Having been such a popular design throughout history, it's no wonder that Tourney has made this available in four different colors.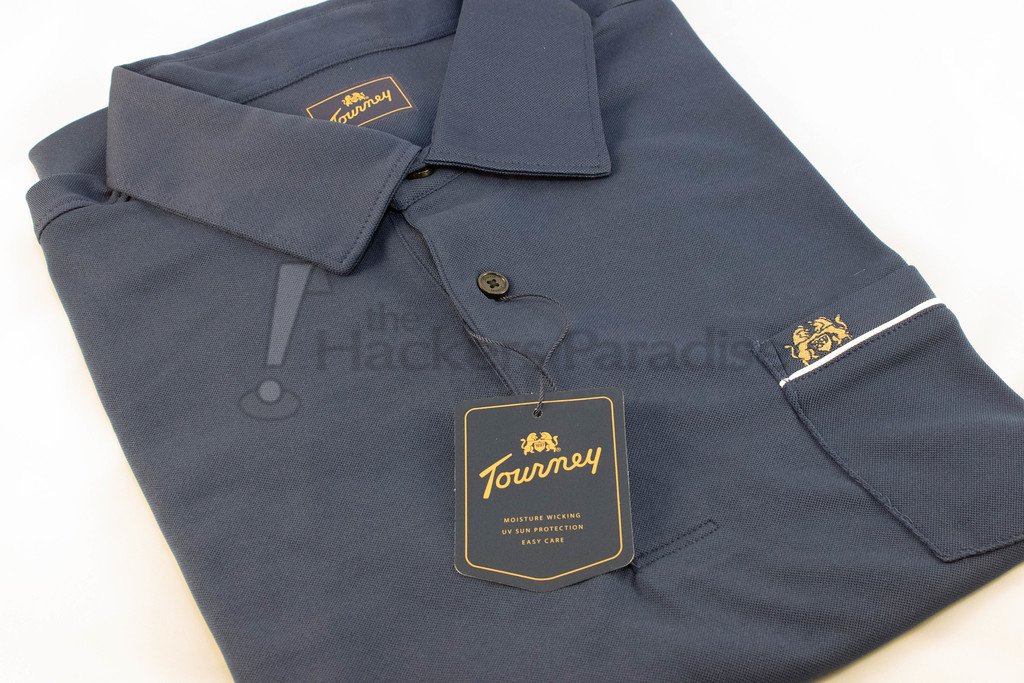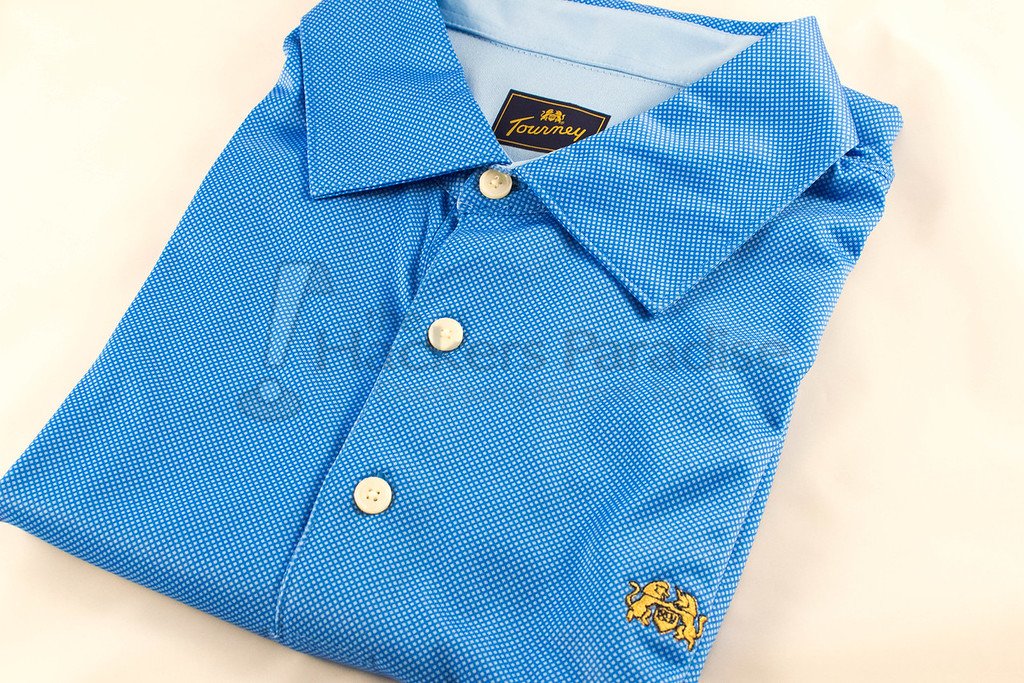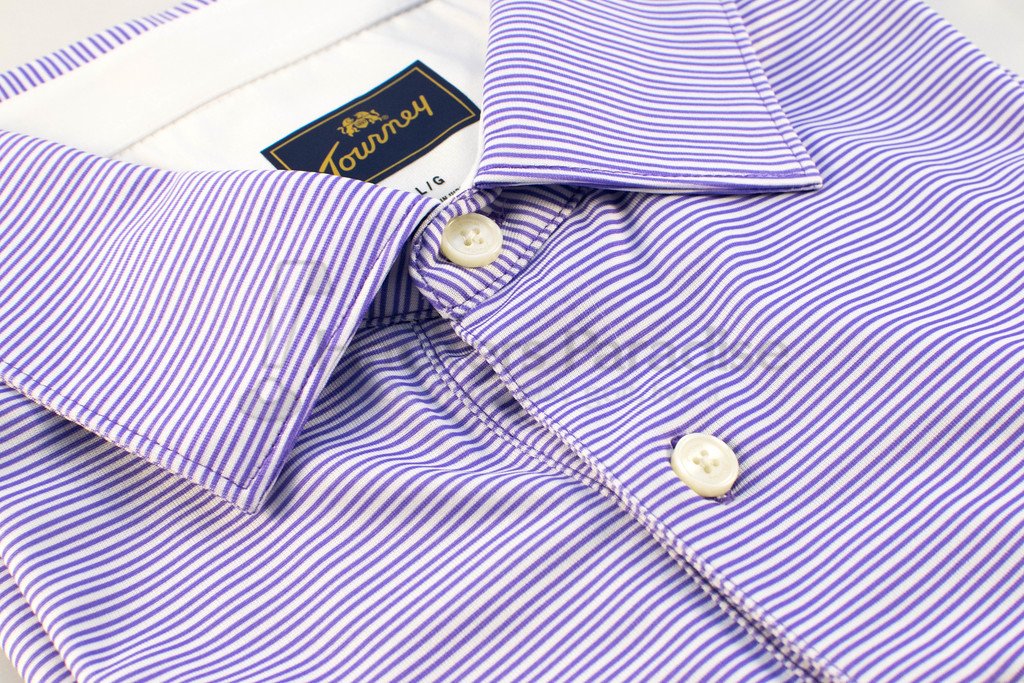 Each one of these polos is crafted of microfiber polyester, which helps give them a certain softness, while incorporating moisture wicking technology. In terms of sizing, Tourney offers options from small all the way up to 3XL. Any player looking to add some of these polos to their wardrobe can feel comfortable ordering their normal size, as the fit of these ran pretty true.
Of the three polos, the top performing garment award could be handed to the Ace. Thanks to the thinner and lighter feel, the fabric here seemed to easily move with the body and not give any real resistance. Both the Mashie and Brassie polo felt as if they were a bit thicker, which did not allow for as much free movement as was gained with the Ace. All three polos did deliver on their promise of moisture wicking, keeping the body dry from perspiration.
Current weather conditions were not conducive for the Whins ¼ zip to see a lot of on-course action. However, the ability to take some dry swings with it on showed that it would work well with another polo underneath. Material wise, this long sleeve option felt much more like the Ace polo, with a more lightweight build, in comparison to the Brassie and Mashie polo. To go along with a comfortable weight, this pullover hit the sweet spot in terms of length, ending just past waist-high.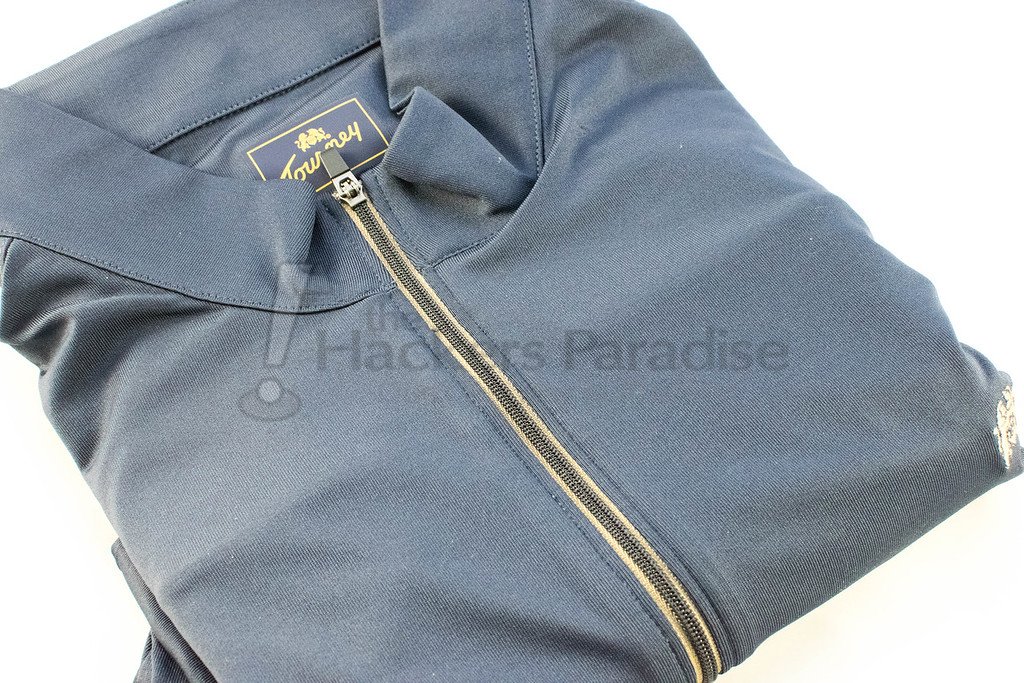 All three of the abovementioned polos can be purchased for $29.99, while the ¼ zip pullover comes in at a price of $34.99.
Shorts
Keeping with the same classic designs that are featured in their tops, Tourney has stuck with the basic solid colors for their Redan shorts. Without a doubt the standout feature of these shorts was the stretch waistband, which not only provided a bit more comfort, but did a good job of assisting with keeping a polo neatly tucked.  Yes, there is some give to the waistline, but not so much that it would be recommended ordering anything but one's normal size. With an inseam that measures 10", the length was just about perfect, ending just at the top of the kneecap. There is nothing super flashy about the Redan shorts, but each pair offers a nice lightweight package, that will keep players looking proper on the course. Sizes range from 30 all the way up to 42, with a variance of four color options to choose form. Normally priced at $34.99, golfers can currently purchase two for the price of $60.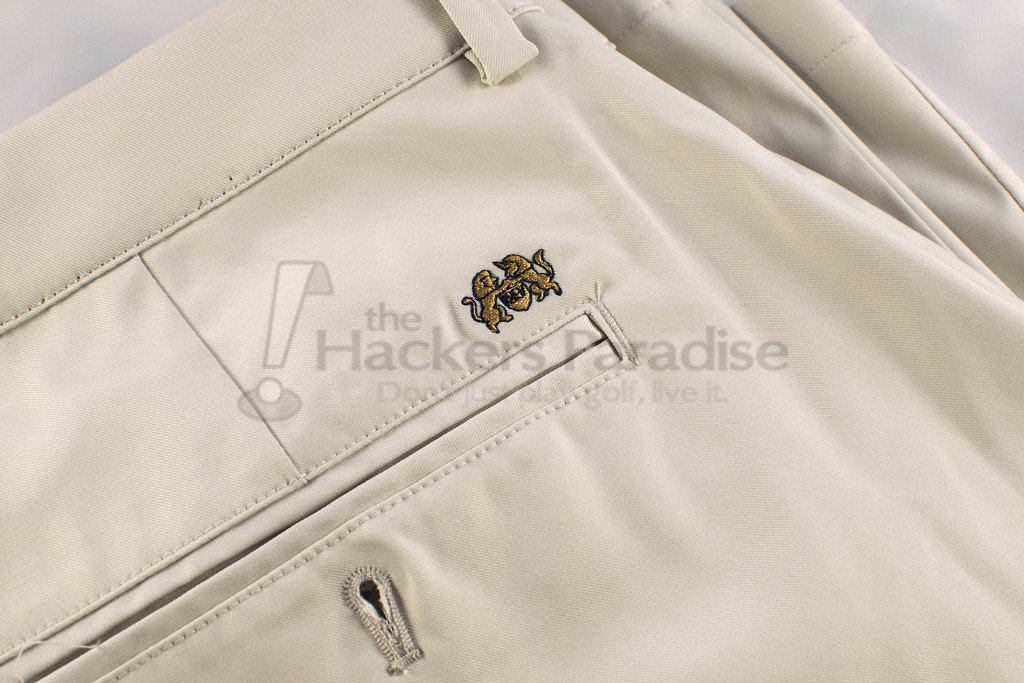 Conclusion
Ever hear the old motto that you have to look good to play good? There are certainly many out there who feel that way, but with all of the advanced fabrics and designs on the market, looking good can sometimes cost a bit too much. Tourney golf has brought some vintage designs, with a modern day ultra-clean appearance, which will have golfers everywhere looking and feeling good. The entire lineup of Tourney apparel can be purchased at www.globalgolf.com.