Golf fashion. Sounds like an oxymoron doesn't it? Well today's golf fashion doesn't just need to look good or feel good. It also needs to be versatile too. Can it be worn on the course? In the country club? Heck, at the office? Very few golf companies design and make golf apparel that fits these different needs. Fortunately there is a company that makes apparel that does all of that well and that's Travis Mathew. This Southern California based company has been making some classic yet stylish apparel since 2008 that doesn't look overly 'trendy.' Are their designs and clothes California Cool or are they just California Dreaming? Check it out.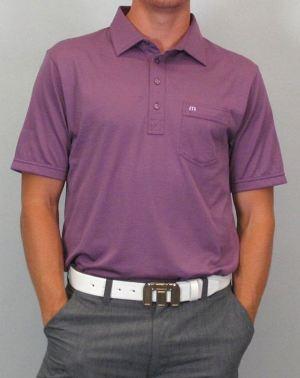 Did You Know?
The Travis Mathew brand is inspired by fashion, sports, music, and art?
Key Features, Technology & Functionality
• 60% Pima Cotton / 40% Polyester blend
• Material 'stretches' to add to the tailored fit
• Moisture wicking
• UV Protection
• Anti-microbial
• Carded collars (lay flat without shrinking)
Initial Thoughts
I have a few Travis Mathew shirts already in my closet and the feeling that each one has is the same no matter how new or how old they are. Upon taking these shirts out of the packaging I was glad to see that the same feeling is still there. There's a very high end feel to the 60/40 pima cotton/polyester mix. I would say almost like the feeling you get when touching high thread count bed sheets, very smooth and silky. These shirts are not the traditionally thin golf shirts that you may be used to from other companies. These are ever so slightly thicker, however, don't let that throw you off because these shirts still perform but I'll touch on that later. I love to have some different colors and prints in my golf shirt rotation and the two shirts that Travis Mathew sent for review don't disappoint in this area. The Dremel is a wonderful purple/lavender color with a small pocket on the front and the Bristol is a sharp black shirt with a black/gray/white matrix-like pattern across the chest. Two very versatile shirts that can be worn in the fall and even in the spring and summer months as well.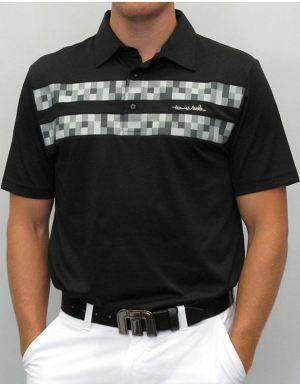 Testing
Testing a golf shirt is fairly easy to do but ultimately comes down to personal preference. Everyone has something they look for in a shirt that may be different from another so what I'm about to explain is based purely on my preferences alone.
First I look for overall fit. Do the sleeves come up short on the arms, fall down to the elbows, or are they just right? Both shirts (size L) passed this important test for me. This is the main thing I look for in a golf shirt and these sleeves fall to the middle of my upper arm if not slightly past the middle which is just fine for me.
Next I look at the length of the shirt. Is it too long where you're going to have too much material to tuck in or is it too short where you're going to become untucked on your second swing of the day? Both of these shirts have just the right amount of length to them. They stayed tucked in throughout my range sessions and rounds beautifully. One other thing about the length is that when you blouse it our over your belt after tucking it in it lays perfectly around your waist. No extreme amount of fabric that will add 'phantom weight' to your frame.
The cut of these shirts is somewhere between American and European which I really like. It's tailored enough to map your body yet also has just enough room to avoid a clingy feel to it. The stretch fit that the material has really helps in this regard and you feel as if the shirt is a part of you, blending in seamlessly to your body and swing. You never feel like you have that 'I'm wearing a shirt' feeling. You already have enough stuff on your mind playing golf, why add to it with having to think about how uncomfortable your shirt is?
Finally, one area of the golf shirt that I think gets overlooked sometimes is the collar. If a collar crinkles up on you then it takes away from the look of the shirt. This isn't the case with a Travis Mathew shirt though. I've never had a collar of theirs crinkle up on me and I can say that these shirts are consistent with that claim. Golf wear is beginning to creep into the work place so not only does it need to look good on the course but it has to look good in the office as well. You're spending good money for your clothes, why limit wearing them to just the course right? When wearing these shirts around the office I noticed that the collars never moved, even after 8 hours sitting at my desk typing away on my computer.
As far as performance goes, these shirts are a hit with me. Now that fall has come in the Northeast part of the country where I live you may not need a super thin top since the weather is in the high 50's or low 60's. Instead you might want a slightly heavier top and if that's the case then look at a Travis Mathew shirt. I felt 'just right' when wearing just the shirt on days like that and even when paired with a lightweight wind shirt I never felt too warm or too cold. The fabric composition and weight of the fabric is a perfect match. Although I don't sweat as much in the fall as I do in the summer I noticed no issues with these shirts wicking my sweat away from my body. Since these shirts are a pima cotton blend you may have some moisture issues in hotter temperatures since there is a bit of cotton in the shirt and not a 100% synthetic material so that may be something that you need to keep in the back of your head when selecting your next outfit for your round.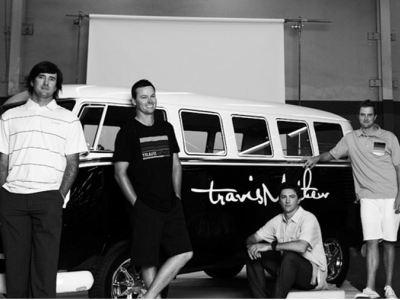 Overall
If you don't have a Travis Mathew shirt in your closet I think you're missing out. They designs are fresh, original, versatile, trendy, and classic. That's a lot of adjectives but there's a lot to these shirts and they'll bring a lot to your wardrobe. Click on over to www.travismathew.com where you'll see the Dremel and Bristol designs for yourself along with the other offerings that are available to you. You can also find great Travis Mathew gear at great online retailers such as FairwayStyles. Not only are the shirts and other apparel and accessories cool but the website itself has a cool vibe to it which makes you feel like you're not even shopping for a shirt but rather browsing an art gallery. The Dremel retails for $74.95 and the Bristol retails for $84.85. A little pricey? Maybe. Knowing that you'll get plenty of wear with these on and off the course? Priceless.
If these shirts are good enough for the likes of Bubba Watson, John Mallinger, Kevin Chappell, Chris Kirk, Peter Tomasulo, and Tommy Armour III then why not check them out for yourself? Your closet and wardrobe will thank you for it.
T. Hanks